2016-2017
ARCHIVE
Results
Fixture
Result
Score
Scorers
POTM
Mar 05 vs Surbiton
Mar
05
Surbiton
  H  
  [EH U16 C6]  
(H)  EH U16 C6
W

W  

2-1
Daniel Phillips,Daniel Phillips
Alex Merron
Mar 05 vs Bromley & Beckenham
Mar
05
Bromley & Beckenham
  H  
  [EH U16 C6]  
(H)  EH U16 C6
L

L  

1-3
Cameron Cooke
Daniel Phillips
Mar 05 vs Crostyx
Mar
05
Crostyx
  H  
  [EH U16 C6]  
(H)  EH U16 C6
W

W  

4-1
Harry Paterson,Ben Chapman,Ben Chapman,Ben Withers
Ben Chapman
Feb 26 vs Bowdon U18B
Feb
26
Bowdon U18B
  A  
  [EH U18 C5]  
(A)  EH U18 C5
L

L  

0-4
Harry Ingham
Feb 19 vs Ipswich U16B
Feb
19
Ipswich U16B
  A  
  [EH U16 C5]  
(A)  EH U16 C5
W

W  

10-1
Ben Withers,Ben Chapman,Harry Paterson,Harry Paterson,Ben Withers,Cameron Cooke,Alex Merron,Ben Withers,Cameron Cooke,Daniel Phillips
Alex Merron
Feb 05 vs Harleston Magpies U14B
Feb
05
Harleston Magpies U14B
  H  
  [EH U14 C4]  
(H)  EH U14 C4
L

L  

3-4
Saverio Iaccarino,Elliot Fox,Louis Hart
Elliot Fox
Feb 05 vs Lindum U18B
Feb
05
Lindum U18B
  A  
  [EH U18 C4]  
(A)  EH U18 C4
W

W  

3-1
Alfie Cooper,William Kidner,Alfie Cooper
Alfie Cooper
Nov 20 vs Sudbury U14B
Nov
20
Sudbury U14B
  A  
  [EH U14 C3]  
(A)  EH U14 C3
W

W  

3-0
Alex Tomkinson,Monty Platt,Louis Hart
Monty Platt
Nov 20 vs Braintree U16B
Nov
20
Braintree U16B
  A  
  [EH U16 C3]  
(A)  EH U16 C3
L

L  

3-6
Ben Withers,Ben Withers,George Harrad
Ben Withers
Nov 20 vs Bury St Edmunds U18B
Nov
20
Bury St Edmunds U18B
  A  
  [EH U18 C3]  
(A)  EH U18 C3
W

W  

7-0
Ross Pitcher,Ross Pitcher,George Brine,George Brine,Josh Bailey,William Kidner,William Kidner
Alfie Cooper
Nov 06 vs City of Peterborough U18B
Nov
06
City of Peterborough U18B
  H  
  [EH U18 C2]  
(H)  EH U18 C2
L

L  

1-3
George Brine
Fred Anthony
Nov 06 vs Bishops Stortford U16B
Nov
06
Bishops Stortford U16B
  H  
  [EH U16 C2]  
(H)  EH U16 C2
W

W  

8-1
Cameron Cooke,Cameron Cooke,Cameron Cooke,Ben Withers,Cameron Cooke,Cameron Cooke,Ben Withers,Ben Chapman
Cameron Cooke
Oct 16 vs Ipswich and East Suffolk U14B
Oct
16
Ipswich and East Suffolk U14B
  H  
  [EH U14 C1]  
(H)  EH U14 C1
C

C  

C-C
Oct 16 vs Pelicans U16B
Oct
16
Pelicans U16B
  A  
  [EH U16 C1]  
(A)  EH U16 C1
W

W  

13-1
Cameron Cooke,Cameron Cooke,Daniel Phillips,Ben Chapman,Harry Paterson,Cameron Cooke,George Harrad,Ben Chapman,Cameron Cooke,Harry Basset,Harry Basset,Cameron Cooke,Harry Basset
Doug Tomlinson
 

W (10-1)  

   19/02/2017 - MC
   vs Ipswich U16B (A / EH U16 C5)


TEN OUT OF TEN FOR CITY U16 BOYS
U16 BOYS - 19/02/2017 VS IPSWICH U16B (A)

TEAM: U16 Boys
DATE: 19/02/2017
FIXTURE: U16 Boys VS 19/02/2017
HEADLINE: Ten out of Ten for City U16 Boys
LEAGUE: EH U16 Boys Cup
VENUE: Ipswich School
RESULT: Won 10-1

REPORT:
The u16 Boys travelled to Ipswich East Suffolk knowing they were nearly through to the Regional Finals, but determined to put in a really good performance. City attacked from the outset and, after the initial skirmishes, began to hit their straps. IES could not hold out for long and, after some nice interpassing between Harry Paterson and Alex Merron, Harry slid the ball through to Ben Withers to open the scoring. IES came back, but City hit them on the break with fast passing out of defence ending with Ben Withers setting up Ben Chapman to slot the ball home.

Harry Paterson scored the next two goals, the first with a dribble into the D before nutmegging the keeper, the second poaching a rebound after Cameron Cook had hit the post. Ben Withers finished off the half with a smart reverse stick shot after a lovely run from Dan Phillips. City were 5-0 up at half-time and that probably didn't fully reflect the extent of their dominance.

The plan for the second half was to try to keep our shape and pass the ball around the pitch, but it became more difficult as Ipswich understandably began to play deeper. Nevertheless Cameron Cooke took City's sixth smartly after good work from Harry Bassett, before IES nicked one back with a short corner goal somewhat against the run of play. Alex Merron popped up from left midfield to bundle the ball home on the left hand post after a goal mouth scramble for City's seventh, before Ben Withers completed his hat-trick with a lovely bit of 3D skill on the run before hammering the ball home. Cooke got the ninth with a lovely manoeuvre round the keeper and, finally, Dan Phillips made it 10-1 slapping home a cross from the right.

Amongst all this there was excellent play from the rest of the team: Ben Millett in goal, Tom Bailey and Jack Watling marshalling the defence, Fitz Hornor and Jack Watling on the flanks, and midfield generals Doug Tomlinson and Sam Bingham.

There were so many strong performances that the Man of the Match award could have gone to almost any one of the players, but the players decided to award it to Alex Merron for his runs up the left wing.

This result means City U16s end up comfortably in second place in the league behind Braintree (who narrowly beat us in a tense thriller) – these two teams dominated the competition. City finished up with three wins out of four with a massive goal difference of +25 and now qualify for the regional finals on 5 March. Congratulations to all the boys!



 

L (3-4)  

   05/02/2017 - MC
   vs Harleston Magpies U14B (H / EH U14 C4)


SLICK PENALTY CORNERS NEARLY SALVAGE A DRAW
COLTS XI - 05/02/2017 VS HARLESTON MAGPIES U14B (H)

TEAM: Colts XI
DATE: 05/02/2017
FIXTURE: Colts XI VS 05/02/2017
HEADLINE: Slick penalty corners nearly salvage a draw
LEAGUE: EHA U14 Boys cup
VENUE: Taverham
RESULT: NCHC 3-4 Magpies

REPORT: City chose to play a 1-2-3-3-2 formation to pack the midfield and nullify a Magpies team that had scored 21 goals in their previous 3 games. Whilst this meant the two forwards (in particular Freddie Paterson and Richie Mann) did a lot of sometimes unrewarded running it did mean City were able to compete and for large periods of the game dominate possession.

After a positive start by the home team with Max Merron and Louis Hart looking dangerous in midfield it was a little against the run of play when Magpies took the lead through a penalty corner after about 10 minutes. Five minutes later a neat move saw the visitors' lead extended at which point the home team rather than crumble really stood up to the plate and took the game to Magpies. A tactical switch, moving Rio Iaccarino from defence to midfield added solidity and dynamism as the Hart, Merron, Iaccarino and Elliot Fox combination started to dominate the centre of the pitch. Whilst Iaccarino, Merron and Hart in particular combined endeavour with delightful stick work it was man of the match Fox whose reading of the game and simple passing really got the home side ticking.

City reduced the arrears just before half time thanks to a pre planned penalty corner move that allowed Rio Iaccarino to score.

The second half saw both teams play some excellent attacking and defending hockey. Cameron Husband and Reuben Cooke were awesome in defence with Ethan Rushton making some crucial saves it was again a bit frustrating that Magpies should restore their two goal cushion with 20 minutes remaining. However, just as in the first half, this seemed to galvanise the home team with some flowing moves down both flanks driven by Iaccarino, Hart and Fox. City's second penalty corner was again clinical, a slip to Fox and a calm finish into the bottom corner. 3-2 and game on. With City pushing for the equaliser, a swift Magpies counterattack saw the goal of the game - Jude charged down the inside right channel and nailed his shot into the roof of the net. City responded immediately and having forced a penalty corner made it three out of three thanks to a Hart dummy and fierce strike. 4-3.

As City pressed for the equaliser they eventually ran out of time. All the City players worked tirelessly, often out of their preferred positions, and can justly be proud of their performances. A great game, a dramatic finale and a fine advertisement for youth hockey.

The City heroes were:

Ethan Rushton (GK), Rio Iaccarino, Cameron Husband, Reuben Cooke, Joseph Roy, Elliot Fox, Monty Platt, Max Merron, Louis Hart, Jonty Black, Freddie Paterson, Richie Mann, Robert McCall and Rocco Iaccarino.






 

W (3-1)  

   05/02/2017 - MC
   vs Lindum U18B (A / EH U18 C4)


CITY U18 BOYS INTO QUARTER FINALS OF EH U18 BOYS NATIONAL PLATE COMPETITION BEATING LINDUM 3-1 AWAY IN LINCOLN
COLTS XI - 05/02/2017 VS LINDUM U18B (A)

TEAM: Colts XI
DATE: 05/02/2017
FIXTURE: Colts XI VS 05/02/2017
HEADLINE: City U18 Boys into Quarter Finals of EH U18 Boys National Plate Competition beating Lindum 3-1 away in Lincoln
COMPETITION: EH U18 Boys National Plate
VENUE: Lindum HC, Lincoln
RESULT: City 3, Lindum 1

REPORT:

On the 5th of February, Norwich City U18's travelled to Lindum in the last 16 of the plate competition where both teams were competitive throughout, Lindum with the edge in the first 10 minutes, however Norwich had some good opportunities on the break, Ross Pitcher with a lovely chip which just cleared the bar. As the play opened up Norwich were capitalising on some wide weaknesses from Lindum with some good balls into the D, Norwich finally got the breakthrough as we came to half time with the finish from Alfie on the p-spot. As the second half commenced Norwich doubled their lead with a great deflection from Will Kidner. As we approached the last 20 minutes Lindum got one goal back from a lovely deflection past Jake's left shoulder, however, Norwich got a third from a pin point slap into the D from Fred Anthony which left Alfie with a tap in. Norwich had good structure throughout the game and kept it until the final whistle overall a good team performance, also we wish Ali recovers soon from his blow to the face.
Final Score 3-1
We all wish Ali Husband a speedy recovery after taking the ball in the mouth during the game and having to whizz off to A&E in Lincoln.
Finally, thanks to Pies and Frosty and all the parents for driving.

Report provided by POTM, Alfie Cooper.


 

W (3-0)  

   20/11/2016 - MC
   vs Sudbury U14B (A / EH U14 C3)


QUICK OUT OF THE BLOCKS CITY EASE TO COMFORTABLE VICTORY
COLTS XI - 20/11/2016 VS SUDBURY U14B (A)

TEAM: Colts XI
DATE: 20/11/2016
FIXTURE: Colts XI VS 20/11/2016
HEADLINE: Quick out of the blocks City ease to comfortable victory
LEAGUE: EHA U14 Boys Cup
VENUE: Sudbury
RESULT: Sudbury 0-3 Norwich City

REPORT:
City started quickly and were immediately on top thanks to Louis Hart's aggressive dribbling and the attacking movement created by Alex Tomkinson, Freddie Paterson and Rafe Lochore. Whilst it was no surprise that City should open the scoring, the fact that the first goal game inside 4 minutes from City's fourth attack was. An excellent run and pass from Hart found Tomkinson one on one with the keeper. His initial shot was saved but he calmly slotted the rebound.

With Elliot Fox, Monty Platt and Max Merron controlling the midfield City were able to pen the hosts in their own half. After a couple of "sighting" penalty corners City doubled their lead when a 12th minute corner was inially saved for Platt to calmly rifle in a shot from the top of the D. Hart made it 3-0 in the 16th minute with a trademark jinxing run and shot.

As is often the case when one side is dominant City tried to dribble the ball too much and it was somewhat of a delight to see Reuben Cooke, Rio Iaccarino, Monty Platt and Elliot Fox move the ball with pace and fluency "back and around" to excellent effect to set up a number of attacks down both flanks.

The second half saw the hitherto quiet Jonty Black stamp his authority on the game with some slick one-twos combined with his trademark Duracell-like work rate. Rocco Iaccarino was tireless up and down the right flank supporting attacks and showing real discipline when tracking back in defence. A moment of magic from Rafe Lochore nearly extended City's lead when heswivelled and span through the Sudbury defence then smashed his shot just the wrong side and of the post. And then right at the end an awesome run from Paterson saw him latch on to a through ball beat the keeper then elect to pass rather than shoot which the defence managed to smother.

Whilst this was a dominant performance City were indebted to Ethan Rushton who made a number of critical saves to ensure the score line remained comfortable.

Naming a man of the match in such a dominant performance is always hard with Louis Hart's dazzling skills and Rio Iaccarino's mature reading of the game at the back and his desire to switch play from side to side were both worthy candidates but in the end the manager's man of the match was Monty Platt for quite simply the best performance in terms of decision making and personal responsibility I have seen from him!

And finally.....when you pass the ball like you did today your hockey is A....Maz...Ing!





 

L (3-6)  

   20/11/2016 - MC
   vs Braintree U16B (A / EH U16 C3)


CITY U16 BOYS BEATEN BUT UNBOWED
U16 BOYS - 20/11/2016 VS BRAINTREE U16B (A)

TEAM: U16 Boys
DATE: 20/11/2016
FIXTURE: U16 Boys VS 20/11/2016
HEADLINE: City U16 Boys Beaten but Unbowed
LEAGUE: EH U16 Boys Cup
VENUE: Braintree HC
RESULT: Lost 3-6

REPORT:

Unbeaten in their two U16 Cup outings so far, City's Boys knew that the away trip to Braintree would probably determine who finishes top of the Regional Group. City started the better and within the first five minutes Ben Withers won a short corner with a strong run into the D, drawing a Braintree stick tackle. Harry Paterson struck a well-hit shot which the Braintree keeper could only parry to Withers who scrambled the ball home. Braintree came back strongly and looked like they had a good counter attack, when Tom Bailey made a superb tackle just outside the City D. The ball was shipped quickly to George Harrad on the left flank who crossed to Withers just outside the Braintree D. Withers sped into the D and unleashed a howitzer into the top right corner. 2-0.

Braintree bounced back again, attacking in numbers. With City's defence struggling to man-mark the runners, Braintree started to play some excellent 3D hockey. Braintree scored two quick goals to equalise. City not knowing what had hit them, began to rush the play and gave the ball away too cheaply. Heads dropped. Braintree scored three more times before a halftime whistle which was desperately needed from City's perspective.

The coach's message at half time was that we needed to use our heads, keep the ball and concentrate on quick passes to our team mates. At the same time, we needed to communicate better in defence and win the 50:50 battles across the field. City started the second half in a completely different manner. Dan Phillips, Harry Paterson and skipper Sam Bingham in midfield tackled and passed like their lives depended on it and Cameron Cook joined Tom Bailey in defence to form a formidable centre pairing. And up front, Harry Basset, Ben Chapman and George Harrad made run after run, stretching the Braintree defence.

The second half was a fantastic gladiatorial combat of end to end hockey from two very good teams. Braintree scored first with a well worked short corner routine. City bounced back, with a great breakaway goal, Withers smashing a diagonal ball from the right which Harrad at full stretch deflected into the goal. City had several more chances, with one short corner being miraculously saved on the line and another in the net but too high.

The match ended a 6-3 loss to City. However, it was a great game of hockey and, apart from a 20 minute spell in the first half where we lost our heads somewhat, we were very competitive against a strong Braintree side. The Boys will learn a lot more from this match than they have from the easy wins they have had so far in the competition. Our final match is not until February, when we take on IES when a good result should take us through into the Regional Finals.

There was strong competition for man of the match, with candidates including the versatile Cameron Cook and the midfield dynamo Dan Phillips. However, the award goes to Ben Withers who not only scored two goals and assisted the third, but also sprinted back to assist the defence on a number of occasions.



 

L (1-3)  

   06/11/2016 - MC
   vs City of Peterborough U18B (H / EH U18 C2)


CLOSE ENCOUNTER IN FIRST ROUND OF EH U18 BOYS CUP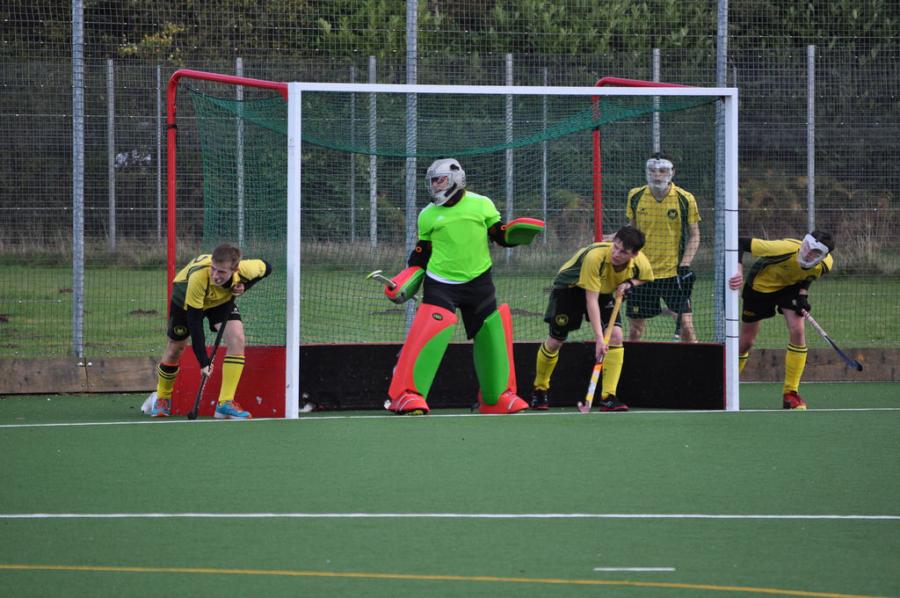 COLTS XI - 06/11/2016 VS CITY OF PETERBOROUGH U18B (H)

TEAM: Colts XI
DATE: 06/11/2016
FIXTURE: Colts XI VS 06/11/2016
HEADLINE: Close encounter in first round of EH U18 boys Cup
LEAGUE: EH U18B CUP
VENUE: TAVERHAM
RESULT: NORWICH CITY

REPORT: NORWICH CITY U18B 1, CITY OF PETERBOROUGH U18B 3

Last year saw the two City sides compete in the first round of the EH U18 boys cup, this season it was to be the same opening game of the competition and with City of Peterborough having gone all the way to the semi-finals last season it was clear that they were considering themselves as the favourites, especially with the result being very much one sided last season.

This season the game was very unlike the previous encounter, both teams competing well and the game seeing chances for both teams throughout the game. It was however the visitors, City of Peteborough, who took the lead following a very long spell of deadlock hockey and some great midfield battles taking place, but the equaliser that followed from Norwich City was a remarkable team move, starting with their left half feeding the ball down the left, the ball moving around the top of the 23 and then finding George Brine moving in from the right to slot the ball past the advancing goalkeeper. With two late goals and the visitors running down the clock with even a two goal advantage it was clear that this was a tight game.

Norwich City will take many positives out of a game against what was a very good travelling City of Peterborough team. The next stage is the EH Plate, hoping that performances like this will give the U18 boys a chance of a good run in the Plate competition instead.

POTM: Fred Anthony

 

W (8-1)  

   06/11/2016 - MC
   vs Bishops Stortford U16B (H / EH U16 C2)


CITY U16 BOYS BEAT BISHOP'S STORTFORD TO TOP THE LEAGUE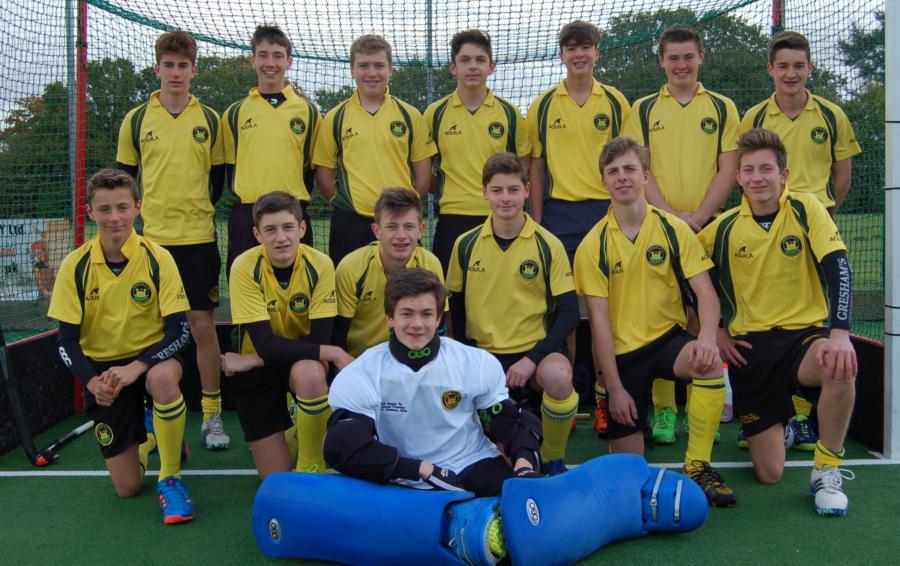 U16 BOYS XI - 06/11/2016 VS BISHOPS STORTFORD U16B (H)

TEAM: U16 Boys XI
DATE: 06/11/2016
FIXTURE: U16 Boys XI VS 06/11/2016
HEADLINE: City U16 Boys Beat Bishop's Stortford to Top the League
LEAGUE: EH U16 Boys Cup
VENUE: Taverham
RESULT: WON 8-1
REPORT:

Having beaten Pelicans convincingly three weeks ago to become the unofficial Norfolk Champions, City's U16 Boys faced Bishop's Stortford in a battle for one of the top spots in the League element of the EH Cup. Bishop's Stortford reached the National Finals at u14 level last season and were bound to be tough opposition. On a cold, rain swept pitch, Stortford came out hard and, after five minutes where City repeatedly gave the ball away, snatched the lead with a well taken deflection off a short corner.

City started going up through the gears and began to take control of the game, with some excellent harrying through George Harrad and Alex Merron. With Tom Bailey and Jack Watling snuffing out any Stortford attacks, City began to win the 50:50 balls and attacked quickly, feeding speedy wingers Harry Bassett and Ben Chapman. The equaliser didn't take long to come with Cameron Cooke dribbling through into the D and smashing a well placed strike into the corner of the goal.

City's strong midfield of Sam Bingham, Dan Phillips, Harry Paterson and Dan Phillips now hit their straps and were to dominate for the remainder of the game, winning the battles in the centre of the pitch and feeding our speedy forward line. Three more goals were to come in the first half, all to Cooke, who was in irrepressible form. One of them involved a beautiful piece of 3D ball-juggling as Cooke charged into the D before smashing the ball into the back of the net, and another was rifled off the post into the goal from a narrow angle!

4-1 up at half time, but the boys recognised that they needed to keep the width and pass more. The second half continued with the same intensity and, with Stortford heads beginning to drop, City carried on the torment. Ben Withers was added to the scoresheet after some mazy dribbling by Cooke gave him a simple tap in. Cooke scored another and then Ben Chapman was to tap in from a short distance for the seventh after good work by Harrad. Finally it was Withers who finished off the scoring for City: after a venomous Cooke shot, the goalkeeper parried the ball invitingly towards Withers who dispatched the ball with gusto into the roof of the net.

The game finished an 8-1 win to City and could have been more. Credit is due to all the players in what was an exciting and convincing performance, but Man of the Match could only really go to one player, Cameron Cooke, who was unstoppable yesterday and has now scored ten goals in two cup games.

The win leaves City well placed in top spot in the League. Our next match is in a fortnight away to Braintree HC (previously Phoenix) in what will be a challenging and well matched game. We are looking forward to it!


 

W (13-1)  

   16/10/2016 - MC
   vs Pelicans U16B (A / EH U16 C1)


CITY U16 BOYS WIN IN STYLE AT PELICANS
U16 BOYS - 16/10/2016 VS PELICANS U16B (A)

TEAM: U16 Boys
DATE: 16/10/2016
FIXTURE: U16 Boys VS 16/10/2016
HEADLINE: City U16 Boys Win in Style at Pelicans
LEAGUE: EH Boys U16 Cup
VENUE: Pelicans HC
RESULT: Pelicans 1 - Norwich City 13

REPORT:

The City U16 Boys left Norwich early on Sunday Morning for the first match of this season's campaign, away to Pelicans in rain soaked King's Lynn. From the first forays of the match it became clear that City were significantly stronger than their opposition and it wasn't long before all the City players, bar goalie Ben Millett, were stationed well inside the Pelicans half.

In the first half of the match, City tried to bludgeon the Pelicans into submission by going straight through the middle in all out attack. Some great goalkeeping from Pelicans and some profligate finishing by City meant that a 5-0 half time score was somewhat disappointing!

Instructions at half time were to keep our structure, spread play wide and move the ball quickly. By and large it worked, although not before City had conceded a sloppy goal from one of Pelicans' rare attacks. City then started to attack at pace, scoring eight times in the half, for a final 13-1 scoreline. Although the first half was a little pedestrian at times, the second half was a thing of beauty, keeping the City supporters in good spirits.

There were some very classy goals in the 13 scored. Goal of the match winner was awarded to one which started in defence: Harry Paterson tussled hard to win the ball just inside the City half and, after beating a player, passed a good ball into George Harrad in space on the left. George got his feet round and smashed the ball diagonally across the Pelicans D where Ben Chapman at full stretch deflected the ball high into the back of the net. Fantastic Hockey!

In terms of scorers, Cameron Cooke got his standard 5 goals, one of which was an absolute scorcher into the net. Harry Bassett also scored a hat-trick, coming in off the left wing to slot the ball home on three separate occasions. Chapman scored two, with one apiece for Paterson, Harrad and the effervescent Daniel Phillips.

However, it wasn't all about the scorers and there were strong performances across the pitch. Of note, Tom Bailey was majestic at the back, supported by Alex Merron and Jack Watling, Sam Bingham played the captain's role with aplomb and Fitz Hornor played a confident game at right midfield. Man of the Match could have gone to almost any of the players, but it was awarded to Doug Tomlinson for a very mature performance where he played deep and laid the ball off sensibly throughout the game.

The remaining fixtures in a tough Group are likely to be much harder, but we are looking forward to the challenge, with the next match being at home to Bishop's Stortford on 4 November.