2023-2024
Results
Womens 3rd XI
East Division 2 North East
Fixture
Result
Score
Scorers
POTM
Dec 02 vs Ipswich 3
Dec
02
Ipswich 3
  H  
  [L]  
(H)  L
P

P  

P-P
Nov 25 vs Harleston Magpies 3
Nov
25
Harleston Magpies 3
  A  
  [L]  
(A)  L
L

L  

1-3
Helen Brockington
Emma Bambridge
Nov 18 vs Broadland 1
Nov
18
Broadland 1
  H  
  [L]  
(H)  L
L

L  

1-3
Emily Holloway
Niamh Rushton
Nov 11 vs Norwich Dragons 3
Nov
11
Norwich Dragons 3
  A  
  [L]  
(A)  L
W

W  

3-2
Molly Crabtree,Emma Ford,Evie Brockington
Jennifer Czerwinski
Nov 04 vs Loddon 1
Nov
04
Loddon 1
  H  
  [L]  
(H)  L
L

L  

0-1
Chloe Holmes
Oct 22 vs Market Harborough 1
Oct
22
Market Harborough 1
  H  
  [EH Cup T3]  
(H)  EH Cup T3
C

C  

C-C
Oct 21 vs Watton 1
Oct
21
Watton 1
  A  
  [L]  
(A)  L
L

L  

1-8
Helen Brockington
Amelie Horsley
Oct 14 vs East Coast 1
Oct
14
East Coast 1
  A  
  [L]  
(A)  L
L

L  

1-3
Emily Winter
Jessica Westbury
Oct 07 vs Dereham 2
Oct
07
Dereham 2
  H  
  [L]  
(H)  L
W

W  

3-0
Maddie Anthony,Helen Brockington,Emma Hewitt
Evie Brockington
Sep 30 vs UEA 1
Sep
30
UEA 1
  A  
  [L]  
(A)  L
W

W  

1-0
Emily Holloway
Chloe Holmes
Sep 23 vs Norwich Dragons 2
Sep
23
Norwich Dragons 2
  H  
  [L]  
(H)  L
W

W  

2-0
Maddie Anthony,Anna Horsley
Karren Dagless
Sep 16 vs North Norfolk 1
Sep
16
North Norfolk 1
  A  
  [L]  
(A)  L
W

W  

4-3
Helen Brockington,Helen Brockington,Chloe Holmes,Emily Winter
Emily Winter
Sep 09 vs Loddon 1
Sep
09
Loddon 1
  H  
  [F]  
(H)  F
W

W  

2-0
Helen Brockington,Helen Brockington
Jennifer Czerwinski
Sep 02 vs Dereham 2
Sep
02
Dereham 2
  H  
  [F]  
(H)  F
D

D  

2-2
Lucy McNarry,Evie Brockington
Frankie Birkenhead
Aug 30 vs Gresham's 1
Aug
30
Gresham's 1
  H  
  [F]  
(H)  F
L

L  

0-4
Joanne Di-Corpo
 

L (1-3)  

   25/11/2023 - W3
   vs Harleston Magpies 3 (A / L)


A COLD AND LATE GAME!
WOMENS 3RD XI - 25/11/2023 VS HARLESTON MAGPIES 3 (A)

TEAM: Womens 3rd XI
DATE: 25/11/2023
FIXTURE: Womens 3rd XI VS 25/11/2023
HEADLINE: A cold and late game!
LEAGUE: EAST DIVISION 2 NORTH EAST
VENUE: Magpies
RESULT: Lost 1-3

REPORT:
A feisty womens 3s lined up with all guns blazing against Magpies 3s this week. With a bit of a jumpy start one goal slipped through early in the game and forced city to gain some composure. Sally and Emma F kept up with the speedy opposition and were able to stop getting another goal. Work rates were up throughout the whole team with screens Kim and Jenn moving into space to receive passes and move the ball up the pitch. Midfielders Winnie, Sofia, Kate F and Amelie did not stop running in what felt like a defensive heavy game.

Half time saw us 1-0 down with everything still to play for. City were pumped, and Helen and Sarah had one thing in mind- a goal and that's exactly what they got a well saved shot from Sarah rolled the ball to Helen who fired the ball to the back of the goal. Despite best efforts from the entire team, especially Molly who ran relentlessly throughout the whole game, there must've been something shiny in the back of our goal that Magpies were attracted to. GK Jess saved incredible shots from left, right and centre, but the Magpies slick and clinical game play was too much for anyone to defend and another 2 slipped past. An amazing effort and performance from everyone on the pitch, with a scoreline that does not reflect the team we were on the day.

POTM- goes to our superheroes defender Bambi!

 

L (1-3)  

   18/11/2023 - W3
   vs Broadland 1 (H / L)


A LOCAL DERBY!
WOMENS 3RD XI - 18/11/2023 VS BROADLAND 1 (H)

TEAM: Womens 3rd XI
DATE: 18/11/2023
FIXTURE: Womens 3rd XI VS 18/11/2023
HEADLINE: A local derby!
LEAGUE: EAST DIVISION 2 NORTH EAST
VENUE: TRF
RESULT: LOST 3-1

REPORT:
The womens 3's had a very unlucky game on Saturday losing 3-1 against Broadland 1's. City started strong on the offensive and had a few chances on target. A few great saves from Jess kept the score level. The midfield players worked well together to create a few attacking opportunities that lead to city winning a short corner and Emily Holloway slipping it past the keeper and bringing city to 1-0 up. Another few attacking short corners that narrowly missed kept the possession with city and held off Broadland. However a quick counterattack from the Broadland forwards took city by surprise and the score was level again, city finished 1-1 at half time.

The second half started in favour of city and they had the majority of the possession, creating a few scoring opportunities and keeping the ball in the attacking half. However two more quick breakthroughs which led to 2 more goals took the score to 3-1. City kept on fighting and continued to make opportunities but none were converted. A spontaneous decision at the end to swap out our goalie for another player saw city coming close to a goal in the final short corner however they could not find the back of the net and the score remained at 3-1, the score did not reflect how well the womens played today.

 

W (3-2)  

   11/11/2023 - W3
   vs Norwich Dragons 3 (A / L)


NOTHING LIKE A GOOD DRAGON SLAYING TO GET BACK ON TRACK
WOMENS 3RD XI - 11/11/2023 VS NORWICH DRAGONS 3 (A)

TEAM: Womens 3rd XI
DATE: 11/11/2023
FIXTURE: Womens 3rd XI VS 11/11/2023
HEADLINE: Nothing like a good Dragon slaying to get back on track
LEAGUE: EAST DIVISION 2 NORTH EAST
VENUE: DRAGONS DEN
RESULT: DRAGON 3 2 NORWICH CITY 3 3

REPORT:

City 3s were determined to get back to winning ways playing away at Dragons 3s, and the promise of the post match pizza spurred us on.

City started confidently and applied early pressure, but due to a bit of defensive confusion, Dragons managed to slip the ball past city keeper Anna Linsmith at her far post. Rather than letting this get to us, the team dug deep and were able to equalise by way of a super goal from Molly Crabtree just before the half time whistle.

The second half saw more hard work and determination from city, with several short corners won and one of these resulted in a 2nd goal for city slotted in at the near post by injector, Emma Ford.

Team top scorer, Helen Brockington was working tirelessly to achieve her promise of a hat-trick and after a few near misses, she secured a penalty flick for daughter Evie Brockington to step up and convert. 1-3 City!

With 10 minutes left City were keen to protect their lead and worked hard defensively to keep out any Dragons attacks. Unfortunately Dragons pounced on a stray pass inside the D and closed the gap to 3-2. Thankfully city were able to hold out until the final whistle and secure the much longed for 3 points.

An impressive performance from the whole team, with special thanks to Anna Linsmith, Jenny Brine, Emma & Kate Ford, Susan Matthews, Vicky Myhill & Molly Crabtree for stepping up to help us out this week. And to caretaker captains Kim & Longy for organising the team in Claires absence, and of course to Ali for his usual invaluable coaching input from the bench.

POTM went to Jen Czerwinski.

 

L (1-8)  

   21/10/2023 - W3
   vs Watton 1 (A / L)


A TOUGH DAY AT THE OFFICE
WOMENS 3RD XI - 21/10/2023 VS WATTON 1 (A)

TEAM: Womens 3rd XI
DATE: 21/10/2023
FIXTURE: Womens 3rd XI VS 21/10/2023
HEADLINE: A tough day at the office
LEAGUE: EAST DIVISION 2 NORTH EAST
VENUE: Watton
RESULT: Lost 8-1

REPORT:

The team arrived a soggy Watton full of positivity, hoping to get back to winning ways after last week's disappointment. The team started well with early short corners showing promise, but our final touches couldn't find the corners and meant no goals early on from City. Watton seemed to grow into the game quickly with a series of strong counter attacks leading to them scoring the opening goal. Some rapid dribbling from Emily Winter down the right wing provided chances for City but a strong Watton defence denied any shots on goal. Watton continued to look dangerous on the attack and having won a short corner, scored their second with a powerful and clinical strike from the top. City managed to hold on towards the end of the first half with brave defending from Niamh, Danni and Emma stopping Watton from scoring another goal.
At half time wise words from coaching dream team of Ali and Chris Wardale and captain, Claire the team returned to the pitch with renewed resolve. City started the second half hoping to find the goals to mirror their first half performance, but a Watton side filled with momentum soon build on their lead with a rapid run through the midfield followed by a strong finish. In a challenging period of the game Watton showed their experience and quality with more goals going past the city defences and it seemed that we had no answers for the pace and strength of their attacking runs despite the heroic efforts of goalkeeper Jess. However, City never gave up and determined runs from Amelie, Helen and Evie meant that further chances were created and eventually Helen was able to slot a follow up shot over the keeper for a consolation goal. The score line did not reflect what was on the whole a competitive and hard-fought game by both teams. With a slip date next Saturday there is time to rebuild confidence and come back fighting in two weeks' time.
POTM: Amelie Horsley

 

L (1-3)  

   14/10/2023 - W3
   vs East Coast 1 (A / L)


AN EARLY AWAY DAY
WOMENS 3RD XI - 14/10/2023 VS EAST COAST 1 (A)

TEAM: Womens 3rd XI
DATE: 14/10/2023
FIXTURE: Womens 3rd XI VS 14/10/2023
HEADLINE: An early away day
LEAGUE: EAST DIVISION 2 NORTH EAST
VENUE: east coast
RESULT: lost 3-1

REPORT:
Norwich turned up eager to continue their unbeaten streak. Despite early pressure from Norwich and a short corner won by Emily Winter East Coast were the first to score. City had to soak up a lot of pressure from and attacking East Coast and despite the best efforts from Niamh Rushton and Emma Bambridge we left the first half 2-0 down. Ali Wardail and Claire Snellings excellent team talk at half time meant that city entered the second half with their heads up, although unfortunately there were many short corners for East Coast following the starting whistle. A questionable tackle from Emily Winter meant that she spent two minutes on the bench, however city were still able to keep the ball out of the goal from excellent saves from our keeper Jess Westbury. East Coast manage to score their third goal of a straight strike from the top. Following some more pressure from East Coast, Longy joined Emily Winter in taking a green card and visited the sin bin. City carried on playing with Helen Brockington filling in defence for Longy, we managed to attack for the last minutes of the half and a superb ball into the D from Emily Winter meant that Esme Abbott could slip it behind the keeper into the backboard. East coast felt left out and were keen to join city on the bench earning a green then shortly after a yellow. We were disappointed with our first loss of the season but are keen to carry on next week and take home another win! Thank you to all the players that stepped up to help us out today - Anna Horsley, Jess Westbury, Sofia Hancy, Esme Abbott.
Our player of the match went to Jess Westbury.

 

W (3-0)  

   07/10/2023 - W3
   vs Dereham 2 (H / L)


ANOTHER WIN!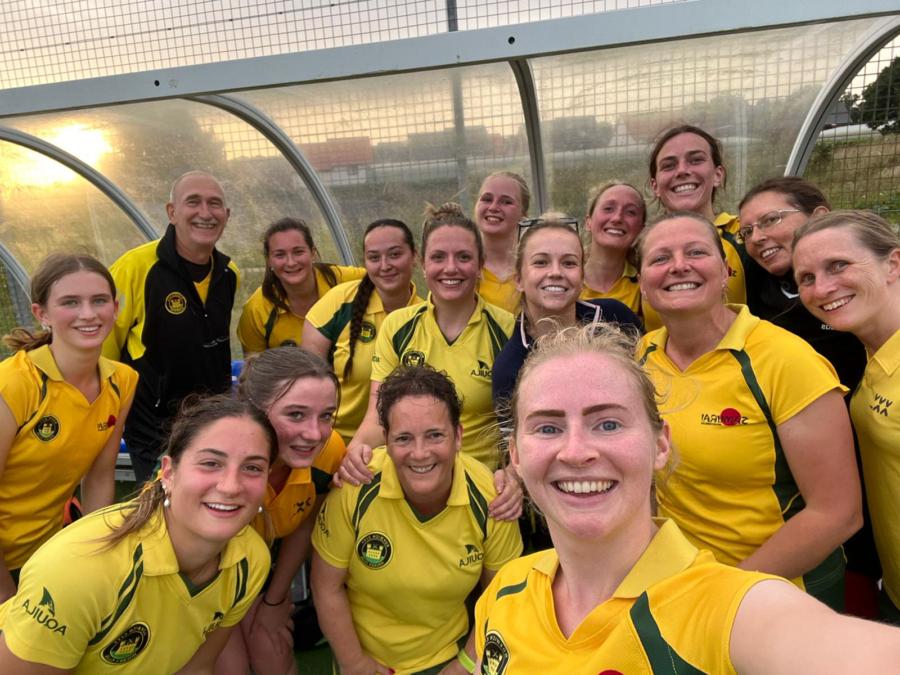 WOMENS 3RD XI - 07/10/2023 VS DEREHAM 2 (H)

TEAM: Womens 3rd XI
DATE: 07/10/2023
FIXTURE: Womens 3rd XI VS 07/10/2023
HEADLINE: Another win!
LEAGUE: EAST DIVISION 2 NORTH EAST
VENUE: TRF
RESULT: WON 3-0

REPORT:
Another win!
Emily Holloway made NCHC 3's intentions clear from the first touch of the game by powering skilfully through the whole Dereham team to earn a penalty corner. Four corners later, we were disappointed not to have scored. Dereham also attacked well but our defence kept out any danger. Most notably, our on-pitch captain, Longy, was inspirational in shutting down the runs of one of their talented forwards. Following a period of intense pressure by NCHC, Helen Brockington was able to fire home a loose ball in the D. Half-time involved a tactical talk from Ali and encouragement from our Captain Claire. The second half saw an incredible run by Emily Winter, taking the ball along the back line and then slipping to Emma Hewitt who confidently scored to give us a 2-0 lead. Dereham did not give up but again our defenders held firm and our screens Liv Broadway, Danni Sizer and Maddie Anthony dominated the middle of the pitch. The icing on the cake came near the end of the game where a well worked short corner resulted in a powerful shot from Maddie Anthony giving us a 3-0 lead and to our delight (and surprise!) our 4th consecutive league win (out of 4) and still top of the league!
Player of the Match went to Evie Brockington.

 

W (1-0)  

   30/09/2023 - W3
   vs UEA 1 (A / L)


A DAY AT UNIVERSITY!
WOMENS 3RD XI - 30/09/2023 VS UEA 1 (A)

TEAM: Womens 3rd XI
DATE: 30/09/2023
FIXTURE: Womens 3rd XI VS 30/09/2023
HEADLINE: A day at university!
LEAGUE: EAST DIVISION 2 NORTH EAST
VENUE: UEA
RESULT: WON 1-0

REPORT:
the Womens 3s had a tough battle against UEA 1s on saturday. Lovely sunny weather had put us in good spirits for the match ahead. Both teams started off strong with UEA showing threatening runs putting our defence under pressure. We worked back and with great high and wide runs from Helen we put their defence under the same pressure. Kim and Evie did a great job as screens, helping the defence out. At half time it was still 0-0 and very evenly matched match. Our energy levels were kept high and Longy was a great rock in our defence keeping the score line down. As we had our last push, Emily won a great couple of short corner within the last 10 minutes of the game. An amazingly strong strike came from Emily which put us up 1-0. We knew we had to just keep possession and play safe to win the match. As the full time whistle went, it stood as 1-0. Well played to all involved with high energy levels throughout.

POTM goes to our super forward Chloe!

 

W (2-0)  

   23/09/2023 - W3
   vs Norwich Dragons 2 (H / L)


HOW TO SLAY THE DRAGON!
WOMENS 3RD XI - 23/09/2023 VS NORWICH DRAGONS 2 (H)

TEAM: Womens 3rd XI
DATE: 23/09/2023
FIXTURE: Womens 3rd XI VS 23/09/2023
HEADLINE: How to slay the dragon!
LEAGUE: EAST DIVISION 2 NORTH EAST
VENUE: TRF
RESULT: WIN 2-0

REPORT:
Buoyant from a great start to the season an early morning fixture beckoned against our local rivals Norwich Dragons.

With some changes to the squad being made due to unavailability, the squad was greatly strengthened by appearances of the Anthony sisters, Maddie and Emily, daughter and mother combo Anna and Amelie, Emma and Niamh.

We started confidently and had much of the play throughout all areas of the pitch by exploiting the spaces with excellent flowing hockey. The defence were never really troubled by the attacking force of the opposition which gave them the opportunity to push high up the pitch with some attacking moves of their own (and possible nose bleeds!) which resulted in linking up well with the screen players.

Our forwards, wide and screen players were on form today which saw them constantly driving into opposition's defence from all angles! One such attack saw a short corner being awarded which resulted in Maddie Anthony thumping the ball into the back of the net with a straight strike - 1-0! Another goal shortly followed when the defence's opposition were scrambling to clear the ball which saw Anna pounce on their confusion and slotted the ball into the back of the net - 2-0.

We went into the break at 2-0 up knowing that the opposition would come back hard at us in the second half but we needn't have worried! With the new formation bedding in well for our squad and all areas working and communicating well together we squandered chances to improve on the score. Final score 2-0.

Thanks to our umpires Ali and Fongy. Oh and not forgetting our captain Claire for encouraging and supporting all players during the match

Great work womens - let's continue the good work and continue to work together as a squad which will make us a very hard team to beat!

POTM goes to Longy!

 

W (4-3)  

   16/09/2023 - W3
   vs North Norfolk 1 (A / L)


A HOT TRIP TO THE SEASIDE
WOMENS 3RD XI - 16/09/2023 VS NORTH NORFOLK 1 (A)

TEAM: Womens 3rd XI
DATE: 16/09/2023
FIXTURE: Womens 3rd XI VS 16/09/2023
HEADLINE: A hot trip to the seaside
LEAGUE: EAST DIVISION 2 NORTH EAST
VENUE: North Norfolk
RESULT: WON 4-3

REPORT:
Another hot day for city 3s as they take on the first game in the league against North Norfolk. The pitch felt like we were on the Sherringham coast, but we started applying pressure early. First goal came from a short corner that Evie did a left slip to mother Helen, who tactically left the ball leaving Emily (POTM) to slip it past the goalie. However, North Norfolk fought back and equalised just 2 minutes later in a short corner. Helen hungry for a goal got one in, followed by Chloe. North Norfolk kept defence busy with bambino (Emma) showing impressive composure to clear into space and away from threats. Just before half time North Norfolk got awarded a penalty stroke which got past goalie Joe leaving it at 3-2.

2nd half started with the ball going up and down the pitch and both teams working well to make the ball do the work. Half way through Emily drove to base line, two hands on stick, and fed an unintentional aerial to Helen who secured her second goal and ice cream. In such enthusiasm for the icecream, or goal it's unclear, she leaped for joy and had to sub herself off due to a self inflicted injury. Again defence were under pressure with some dangerous drives from North Norfolk. Holly showed true grit tackling players to keep them away from goal. One tackle was slightly off and she was given a green card and got a few moments rest on the side. One player down we kept them away and midfield worked hard to keep the ball traveling up the pitch in the heat. North Norfolk got one more goal in 5 mins before the end and closed the game as a win to city at 4-3. As like last week, the energy and determination wouldn't have been as high without captain Claire, mascot Bella , and loyal supporter Gemma

 

W (2-0)  

   09/09/2023 - W3
   vs Loddon 1 (H / F)


TOO HOT FOR HOCKEY!
WOMENS 3RD XI - 09/09/2023 VS LODDON 1 (H)

TEAM: Womens 3rd XI
DATE: 09/09/2023
FIXTURE: Womens 3rd XI VS 09/09/2023
HEADLINE: Too hot for hockey!
LEAGUE: EAST DIVISION 2 NORTH EAST
VENUE: TRF
RESULT: WON 2-0

REPORT:
On the most horrendously hot day the womens 3s hid out in the cool of the changing room for as long as possible before reluctantly warming up in the only patch of shade available. Keen to get more practice at our new formation, but not overly confident about facing our 'Bogey' team, Loddon 1s.

City started reasonably strong, trying to let the ball do the work to minimise running around in the heat. Unfortunately the ball didn't particularly want to do the work either and both teams struggled to move it around cleanly, with city unable to get the ball out of the D on the first two short corners. Luckily City eventually found the backboard, with Helen Brockington scoring first from a rebound off the keeper.

City were dominating the game, despite the heat, but Loddon fought their way towards citys goal, causing keeper, Jess, to make a frankly amazing save having gone to ground only to spring back to her feet and dive to the other side of the goal with impressive speed!

Both teams were grateful to be playing quarters and City benefited from bench mascots Gemma and Serena icing us down with cold compresses in the breaks, and captain Claire providing sugary treats as well as the team talks.

City continued to attack Loddon, with a superb second goal from Helen; a rocket of a hit which almost took the goalies hand off! Helen was then unfortunately denied her hat-trick with a third goal disallowed. Daughter Evie almost made the scoresheet with a confidently executed reverse stick shot which only narrowly missed the goal. Final score 2-0.

Overall city were pleased with their performance, starting to feel more comfortable with the new formation and looking forward to the first league game at the seaside, in hopefully more favourable temperatures.

POTM goes to Jenn C

 

D (2-2)  

   02/09/2023 - W3
   vs Dereham 2 (H / F)


DREW 2-2
WOMENS 3RD XI - 02/09/2023 VS DEREHAM 2 (H)

TEAM: Womens 3rd XI
DATE: 02/09/2023
FIXTURE: Womens 3rd XI VS 02/09/2023
HEADLINE: Drew 2-2
LEAGUE: EAST DIVISION 2 NORTH EAST
VENUE:
RESULT:

REPORT: