Youth Hockey
2015-2016

U14

U14B - Sudbury U14B (EH U14 C3) - W 3-0 - Quick out of the blocks City ease to comfortable victory
COLTS XI - 20/11/2016 VS SUDBURY U14B (A)

TEAM: Colts XI
DATE: 20/11/2016
FIXTURE: Colts XI VS 20/11/2016
HEADLINE: Quick out of the blocks City ease to comfortable victory
LEAGUE: EHA U14 Boys Cup
VENUE: Sudbury
RESULT: Sudbury 0-3 Norwich City

REPORT:
City started quickly and were immediately on top thanks to Louis Hart's aggressive dribbling and the attacking movement created by Alex Tomkinson, Freddie Paterson and Rafe Lochore. Whilst it was no surprise that City should open the scoring, the fact that the first goal game inside 4 minutes from City's fourth attack was. An excellent run and pass from Hart found Tomkinson one on one with the keeper. His initial shot was saved but he calmly slotted the rebound.

With Elliot Fox, Monty Platt and Max Merron controlling the midfield City were able to pen the hosts in their own half. After a couple of "sighting" penalty corners City doubled their lead when a 12th minute corner was inially saved for Platt to calmly rifle in a shot from the top of the D. Hart made it 3-0 in the 16th minute with a trademark jinxing run and shot.

As is often the case when one side is dominant City tried to dribble the ball too much and it was somewhat of a delight to see Reuben Cooke, Rio Iaccarino, Monty Platt and Elliot Fox move the ball with pace and fluency "back and around" to excellent effect to set up a number of attacks down both flanks.

The second half saw the hitherto quiet Jonty Black stamp his authority on the game with some slick one-twos combined with his trademark Duracell-like work rate. Rocco Iaccarino was tireless up and down the right flank supporting attacks and showing real discipline when tracking back in defence. A moment of magic from Rafe Lochore nearly extended City's lead when heswivelled and span through the Sudbury defence then smashed his shot just the wrong side and of the post. And then right at the end an awesome run from Paterson saw him latch on to a through ball beat the keeper then elect to pass rather than shoot which the defence managed to smother.

Whilst this was a dominant performance City were indebted to Ethan Rushton who made a number of critical saves to ensure the score line remained comfortable.

Naming a man of the match in such a dominant performance is always hard with Louis Hart's dazzling skills and Rio Iaccarino's mature reading of the game at the back and his desire to switch play from side to side were both worthy candidates but in the end the manager's man of the match was Monty Platt for quite simply the best performance in terms of decision making and personal responsibility I have seen from him!

And finally.....when you pass the ball like you did today your hockey is A....Maz...Ing!

RESULT: W 3-0
SCORERS: Alex Tomkinson,Monty Platt,Louis Hart
POTM: Monty Platt
---
U14G - Pelicans U14G (EH U14 C2) - D 1-1
FILLIES XI - 06/11/2016 VS PELICANS U14G (A)

TEAM: Fillies XI
DATE: 06/11/2016
FIXTURE: Fillies XI VS 06/11/2016
HEADLINE:
EH U14 CHAMPIONSHIP
VENUE: LYNNSPORT
RESULT: PELICANS U14 1 NORWICH CITY U14 1

REPORT:
Battling against the cold, with plenty of heavy rain and even hail thrown into the weather mix, a shivering Norwich overcame ice-cold fingers and goose-bumped legs to win the best of the play and stave off a series of dangerous attacks from Pelicans left flank.   
 
Norwich were on the team sheet early when they converted their first short corner of the game. Claudie injected the ball to Amelia who slipped it left to Amy to take a shot on goal. The keeper saved it but Abbie dived to pick up the rebound - was tackled but found enough space to neatly flick in a second shot which thankfully found the back of the net.  
 
By half time the sky was so dark and the rain so heavy, that the break was extended while Pelicans struggled to find out where to switch on the floodlights. Meanwhile, a soaked and blue-lipped Norwich team shivered in the dug-out and had to do a series of shuttle runs to keep warm. 
 
Once play restarted Norwich were on the attack again throughout the rest of the match, but a skilful Pelicans threatened to score at any time and Norwich had to remain on high alert. Any less-than-carefully passed Norwich-to-Norwich ball was picked up by a hungry Pelicans attack and taken straight into Norwich's D.
 
However, Norwich managed to keep them at bay blocking several heart-stopping attacks in front of the goal and managing to clear them safely and mostly out wide.
 
Player of the match Alice Moore, together with the D-team of Rosie Osborne and Lottie Smith, mopped up any dangerous balls coming through from a voracious Pelicans attack. The ball was duly dispatched straight back to the Norwich forward line, picked up frequently Claudia, Amelia and Amy who defeated Pelicans defence to repeatedly threaten the home team's goalie. Unfortunately, Pelicans held firm or pushed attackers out wide in the D and Norwich were unable to capitalise on wave after wave of attacking play. 
 
The cold made it hard to grip and players on both sides repeatedly locked sticks or had them pulled out of their freezing hands. The wet surface also meant lots of slipping over. Norwich had to dig deep to keep their spirits high and unfortunately with just minutes left to play Pelicans converted a short corner making the final score one all. 
 
The squad was: Abi Flatt; Alice Moore; Amelia Barclay; Amy Barker; Claudia van Poortvliet; Ellie Hobden; France Byrne; Kate Houldey; Kitty Taylor; Lottie Smith; Lucy Jenkinson; Millie Hyatt and Rosie Osborne
 
Player of the match: Alice Moore

RESULT: D 1-1
SCORERS: Abigail Flatt
POTM: Alice Moore
---
U14B - Dragons U14 (EH U14 R5) - W 5-0 - City Colts put Dragons to the Sword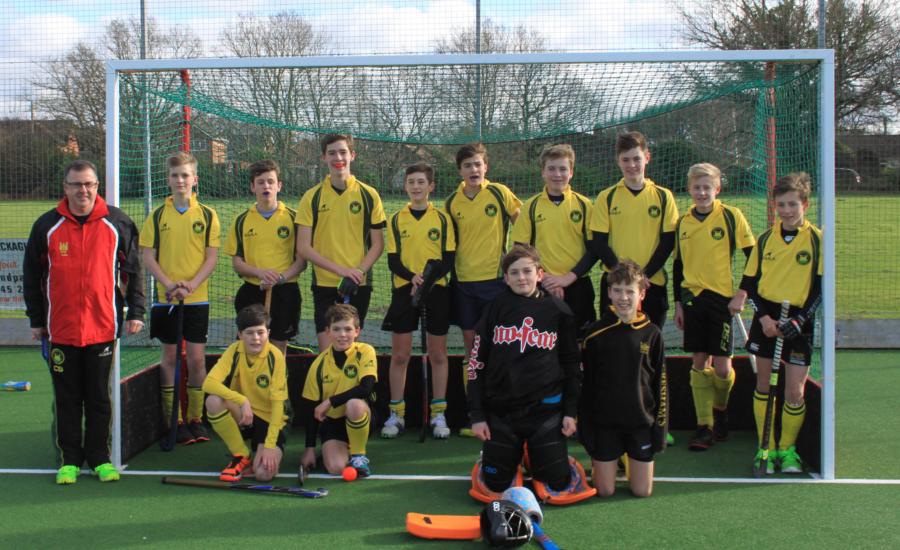 U14 COLTS XI - 07/02/2016 VS DRAGONS U14 (H)

TEAM: U14 Colts XI
DATE: 07/02/2016
FIXTURE: U14 Colts XI VS 07/02/2016
HEADLINE: City Colts put Dragons to the Sword
LEAGUE: U14 Championship
VENUE: Taverham
RESULT: 5:0 win

REPORT:
The Under-14 colts secured qualification to the regional finals of the U14 Championships with a commanding performance in their final group match against Norwich Dragons.

The derby match, played at Taverham on Sunday, saw City establish an early advantage through a Ben chapman goal, when he seized upon a long pass from the half way line, controlling the ball to round the keeper and finish into an open goal.

City continued to dominate possession, with few Dragons attacks being sustained far into the City half, as the midfield team of Cooke, Harrad and Basset held firm. In attack, City's ability to move the ball under control saw them put pressure on the Dragons' defence and they were rewarded when a strong defensive press at a Dragons free hit saw Cooke win the ball, weave his way through the defence and finish by flicking the ball into the centre of the net before the keeper could react.

Dragons rallied and the game was briefly a more even affair, but the strength of central defenders Cameron Husband alongside City captain Tom Bailey meant that goalkeeper Darley was rarely called into action.

Before half time, City claimed a third goal from a penalty corner, Cooke's direct shot from the top of the D proving unstoppable.

In the second half, City again began well, creating multiple chances down the right side, with Milne-Brown and Keeley linking well with Granville in midfield. Before long, Chapman scored City's fourth, his initial shot rebounding off the keeper's pads straight back to his stick, the striker delightfully lifting the ball over the keeper's head into the goal.

Moments later, City had another penalty corner and Harrad was unlucky not to score from a powerful drag-flick that went millimetres wide. Dragons then mounted their strongest attack of the match, for once breaching the City defence and forcing 3 successive saves from the ever alert Darley.

City's attacking focus switched to the left and saw half back Byrne combine brilliantly with Conway on the left wing to create a number of chances. Late on, left-wing substitute Keeley, took the ball into the D and passed superbly to Merron who stroked the ball past the stricken keeper to seal the 5:0 win.

City will now go forward to the regional finals on 10th April – a fantastic achievement having had to concede one of their four matches. The main achievement, though, was the excellent team play in this match: one of the most entertaining games of hockey all season.

RESULT: W 5-0
SCORERS: Ben Chapman,Cameron Cooke,Cameron Cooke,Ben Chapman,Max Merron
POTM: Cameron Cooke
---
U14B - Harleston Magpies U14 (EH U14 R3) - W 5-0 - Dominant City U14s Go Top
U14 COLTS XI - 08/11/2015 VS HARLESTON MAGPIES U14 (A)

TEAM: U14 Colts XI
DATE: 08/11/2015
FIXTURE: U14 Colts XI VS 08/11/2015
HEADLINE: Dominant City U14s Go Top
LEAGUE: U14 championship
VENUE: Shotford Heath
RESULT: 5:0 win

REPORT:
The U14 Colts team rose from their beds early on Sunday morning for a championship match at Harleston. The water based pitch had been adequately dampened by the weather, allowing both teams plenty of prep time.

Magpies began the game strongly, dominating possession but yielding no good opportunities from their early pressure, due to the robust defensive skills of Bailey, Husband, Milne-Brown and Byrne.

As the half wore on, Norwich City grew into the contest and took the lead through a Cameron Cooke goal. Magpies continued to press and would have equalised but for a great reaction save from Woodhead. From the resulting clearance, Keeley forced his way out of the Norwich half, breaking multiple tackles before Harrad received the ball on halfway and threaded a superb through ball to Cooke, who beat the keeper for his second goal.

A third goal was added by Harrad off the keepers pads. Harleston continued to have a good share of possession, but their attacks were mostly dealt with by the outfield defence and any shots they did manage were comfortably dealt with by Woodhead's solid goalkeeping.

In the second half the pattern of play continued and Norwich added a fourth goal free Keeley had worked the ball into the D from the right wing to lay the ball off to Cooke, who finished confidently for his hat trick.

The match was finished off after an unfortunate incident in which Magpies conceded a penalty corner off a foot in the D just as one of their defenders came in from the wrong side and took a nasty blow to the head from Cooke's attempted shot. Un-phased by the incident, it was Cooke who put away the corner to complete the 5:0 victory, which leaves City 3 points clear at the top of the group table.

RESULT: W 5-0
SCORERS: Cameron Cooke,Cameron Cooke,George Harrad,Cameron Cooke,Cameron Cooke
POTM: George Harrad
---
U14B - Ipswich & ES U14 (EH U14 R1) - W 4-1 - Norwich 4 Ipswich 1
COLTS XI - 04/10/2015 VS IPSWICH & ES U14 (H)

TEAM: Colts XI
DATE: 04/10/2015
FIXTURE: Colts XI VS 04/10/2015
HEADLINE: Norwich 4 Ipswich 1
LEAGUE: EH U14 R1
VENUE: Taverham
RESULT: 4:1 win

REPORT: City colts U14 team opened this season's cup competition with a good win at home against Ipswich & East Suffolk. With the older and more experienced boys available for this match, Norwich opened the scoring through Cameron Cooke, who went on to add the second from a narrow angle.

I&ES managed to pull a goal back, despite the best efforts of Tom, Luke and Cameron Husband, who gave strong defensive performances. Cooke got his habitual hat-trick before a goal-bound shot from Ben Pestell was deflected in by Louis Hart.

RESULT: W 4-1
SCORERS: Cameron Cooke,Cameron Cooke,Cameron Cooke,Louis Hart
POTM: Cameron Cooke
---
U14G - Saffron Walden U14G (EH U14G RF) - W 2-0 - City Fillies Reach National Finals!
FILLIES XI - 19/04/2015 VS SAFFRON WALDEN U14G (H)

TEAM: Fillies XI
DATE: 19/04/2015
FIXTURE: Fillies XI VS 19/04/2015
HEADLINE: City Fillies Reach National Finals!
LEAGUE: U14 Girls EHC Regional Finals
VENUE:NCHC
RESULT:First

REPORT: After topping their group in the early round the U14 Girls played in a group of four in the Midlands regional Round with the winner going through as one of only eight teams to the National Finals. City were drawn against Oxford Hawks, Stourport and Saffron Walden.

Our first game was against fellow group winners Oxford Hawks. They were a well drilled team with a particularly strong midfield combination. City started well and had a couple of short corners which were close. Oxford hit back and scored first with a very well taken reverse hit. City continued to press and were rewarded with their own goal when Abbie Ingham fielded a wide pass and brilliantly lobbed two defenders and the keeper to level the game on the stroke of half time. City sacrificed a forward player to bolster our midfield and throughout the second half continued to press. Emily Rash joined by Tilly Mann in the second half did a great job in stopping their two best players in midfield. We again had two short corners and a couple of chances. Importantly the defence of Becky Gaffney, Elllie Pitcher, Molly Crabtree and Maddie Anthony were rock solid, not allowing Oxford a single shot on goal. Right at the end we thought we had won when Emily dribbled past two defenders and scored only for an obstruction to be seen! However, after a draw City remained in the competition.

The second match saw us play a powerfull looking Stourport side who were playing with confidence after defeating Saffron Walden. City made a sluggish start and defended for most of the first half with Stourport missing a great chance to take the lead. With seconds to go in the half Eliza Barclay broke down the right with tremendous speed and slipped it to Abbie who beat her marker to score and take the lead. City started the second half strongly and soon had a second from another clinical shot by Abbie after some good work by midfielders Emma Richardson and Abigail Bourne. Again Stourport had a chance to score but somehow missed. They took their keeper off and played with an extra outfielder. This resulted in some exciting end to end hockey but without another clear cut chance and the game ended with City securing a crucial 2-0 win.

With City playing in the final game of the day against Saffron Walden we were able to see the other games played out. Another defeat for Saffron Walden by Oxford was then followed by Stourport playing City's closest rivals Oxford. Stourport won 2-0 and this left City with the knowledge that a victory in the final game would be enough.

The game was completely dominated by the City attack and after a couple of missed chances we took the lead from a well worked move from the left involving Grace Kidner and Abi releasing Abbie who passed to Eliza to blast it in for City to take a 1-0 lead into half time. Saffron Walden did not give up but with Maddie Anthony remaining steadfast in the centre they could not get the ball out of their half. The pressure told and the midfield broke through once again for the attack to create a chance which Grace Kidner slotted home to see us safe with a 2-0 lead. The final whistle blew with City on top and into the National Finals to be played at the Lee Valley Olympic Stadium on May 10.

The girls deserved to win as they played the best team hockey when it mattered most and showed the determination needed to continually win the ball back and create the chances which they ruthlessly took.

The team

Sophie Turner (GK)
Ellie Pitcher
Becky Gaffney
Molly Crabtree
Maddie Anthony (C)
Abi Bourne
Emily Rash
Emma Richardson
Grace Kidner
Abbie Ingham
Eliza Barclay
Rachael Phillips
Tilly Mann
Ellyn Roberts
Jess Beeson

We had lots of support on the day and the Club did a great job as hosts. Managers Ian and John really benefitted from have Ali on the touchline and Pies offering advice between games.

RESULT: W 2-0
SCORERS: Eliza Barclay,Grace Kidner
POTM: Maddie Anthony
---
U14B - Bury U14 Boys (EH U14 Cup) - W 3-1 - U14 Boys win Local League
COLTS XI - 01/03/2015 VS BURY U14 BOYS (A)

TEAM: Colts XI
DATE: 01/03/2015
FIXTURE: Colts XI VS 01/03/2015
HEADLINE: U14 Boys win Local League
CUP: EH Under 14 Cup
VENUE: Culford School
RESULT: Bury St Edmunds 1 Norwich City 3

REPORT:
City visited Culford School to play their re-arranged Under 14 Cup fixture which was previously rained off. City were already top of the league, but were aware a heavy defeat could see them lose top spot. However, City were confident having conceded no goals thus far in the competition.
Bury proved to be no pushovers and started brightly initially penning City in their own half. As a result the City defence of Sam Bingham, Jack Watling, Fitz Hornor, George Harrad and Dan Phillips had to look sharp to keep Bury at bay and repel the opening short corners. However, City then started to gain a foothold and with an early counter attack took the lead. A break down the left culminated in Ben Chapman playing a a ball to Cameron Cooke behind the Bury defence who took the ball into circle and crashed the ball home.
This goal lifted City and they started to assert their authority on the game adding a second soon after. A lovely 1-2 in midfield between Ben Withers and Harry Paterson opened up the Bury defence allowing Ben to release Cameron Cooke. Though his initial shot was blocked Cameron was on hand to convert the rebound. A third soon followed which was a great team goal. Starting from a 16 City put together a number of passes moving the ball from the back to front. The ball again fell to Cameron Cooke whose shot was saved by the keeper. Cameron reacted quickest to retrieve the ball from the edge of the circle and his cross was turned in by Ben Chapman. Dan Byrne entered the fray as City rotated their squad.

With a 3-0 lead at the break City were asked to make more use of width and to improve their marking. After the restart City immediately moved the ball wide to Alex Merron and his cross almost resulted in a further goal. Bury responded forcing a short corner and from a variation smashed the ball home to reduce the arrears. The match then became very even with both sides creating chances. City were indebted to Player of the Match Sam Bingham for some timely interceptions and tackles and Ben Millett in the City goal made some vital saves to deny Bury further goals.

A hard fought win that sees City top their group with a 100% record. They now await the draw for the Regional Finals.


RESULT: W 3-1
SCORERS: Cameron Cooke,Cameron Cooke,Ben Chapman
POTM: Sam Bingham
---
U14G - Dereham U14 (EH U14 Cup) - W 9-0 - U14 Girls Finish Top of the Midlands Cup Qualifying Group
FILLIES XI - 15/02/2015 VS DEREHAM U14 (H)

TEAM: Fillies XI
DATE: 15/02/2015
FIXTURE: Fillies XI VS 15/02/2015
HEADLINE: U14 Girls Finish Top of the Midlands Cup Qualifying Group
U14 Cup - City Finish First

City knew a win today would see them top their group. With five member of the regular squad missing a number of younger players made their debuts. The team were not going to settle for second best and this showed from the very beginning with Dereham pressed back from the push back and unable to get the ball away from their D. City scored their opener after Abbie stole the ball from a defender and beat the keeper to score. Just now minute later after an interception by Maddie the ball was played through to Tilly on the edge of the D and she placed it in the corner to put City two up. More good work from the tireless Becky saw a flowing move which allowed Grace to calmly slot home on the far post. Captain Maddie scored the fourth with a powerful hit from a shot corner. The defence well marshalled by Ellyn, saw strong tackles by Molly and Hannah keeping Dereham to just one shot. Half time saw City lead 4-0.

The second half followed the same pattern with more pressure from the midfield of Emma, Tilly, Maddie and Becky resulting in most of the game being played around the Dereham goal. Abbie scored two more, Maddie blasted in a short corner, Rachael followed in a shot to score and Abbie unselfishly played in Verity who scored on her debut. City changed the positions around a little and Dereham had chances to score but Rosie in goal was determined to keep a clean sheet and made a fantastic diving save towards the end of the game. The final score was 9-0.

City finished on top of Midlands League 4 scoring 27 goals and conceding 4 in just four games. They will go forward to the Regionals on April 19 with the opportunity to qualify for the Nationals.

RESULT: W 9-0
SCORERS: Abbie Ingham,Grace Kidner,Maddie Anthony,Rachael Phillips,Abbie Ingham,Maddie Anthony,Abbie Ingham,Verity Wills,Rachael Phillips
POTM: Abbie Ingham
---
U14B - Norwich Dragons U14 (EH U14 Cup) - W 2-0 - City U14 Boys Win Local League and Qualify for Regional Finals!
COLTS XI - 08/02/2015 VS NORWICH DRAGONS U14 (H)

TEAM: Colts XI
DATE: 08/02/2015
FIXTURE: Colts XI VS 08/02/2015
HEADLINE: City U14 Boys Win Local League and Qualify for Regional Finals!
LEAGUE: EH U14 Cup
VENUE: TRF
RESULT: WON 2-0

REPORT:

On a cold and crisp afternoon, Norwich City U14 Boys beat local rivals Dragons 2-0 to win the league and qualify for the Regional Finals of the England Hockey U14 Cup, despite still having a game to play.

Buoyed by easy wins earlier in the competition, and despite some words of warning from their coach, City opened in a relaxed fashion against Dragons. It quickly became clear that this was going to be a tougher game, with the first fifteen minutes being very evenly matched and both teams having their share of play. However, with Sam Bingham and Tom Bailey marshalling the defence and the ever-alert Ben Millett in goal, Dragons had few chances. Meanwhile, our strong midfield spine of Harry Paterson, Ben Withers and Dan Phillips began to win the crucial battles, getting the ball forward to Alex Merron and Ben Chapman on the wings. Time and again City entered the Dragons D, only to come away with nothing, having managed to pepper the Dragons goalie with shots and narrowly miss the goal on either side.

Still 0-0 at half time, this was a game for the taking but one we could also easily lose. We talked about keeping our shape and winning short corners. As the second half began, City's dominance continued, with all our players camped in the Dragons half and just the occasional breakaway to contend with. With the Dragons goalie supreme and City not being clinical enough, the game was in deadlock. But then, with City's sixth short corner of the game, Ben Withers fired a torpedo of a shot which Dragons could not keep out.

With the game at 1-0, City began to play more confidently and, within minutes, Ben Withers scored again from the right hand side of the D with another absolute exocet of a shot which smashed into the backboard.

City continued to attack but could not quite get the third and the game finished a 2-0 win. It was a good, if nerve-wracking, game of hockey against strong opposition and we will have learnt a lot from it – on another day we could have won this by a lot more. Equally, it was a game that we could have lost and all the boys put in huge amounts of effort to keep City on top.

Most importantly this win sees us through to the u14 Regional Finals on top of the Group – despite having a game to play. Our record so far: played 3, won 3, goals for 15, goals against 0.

Man of the Match went to Ben Withers who played a great game as inside forward, scoring two and causing real problems for Dragons. Special mention also goes to our unsung heroes, Sam Bingham and Tom Bailey, who played a disciplined and faultless game as our two central defenders and gave us the platform for our attacking game.

RESULT: W 2-0
SCORERS: Ben Withers,Ben Withers
POTM: Ben Withers
---
Login
---
youth@norwichcityhc.co.uk
[2022-2023]
[2021-2022]
[2020-2021]
[2019-2020]
[2018-2019]
[2017-2018]
[2016-2017]
[2015-2016]
[2014-2015]
[2013-2014]
[*]