Youth Hockey
2014-2015

u12

U12 Girls A team Dragons Tournament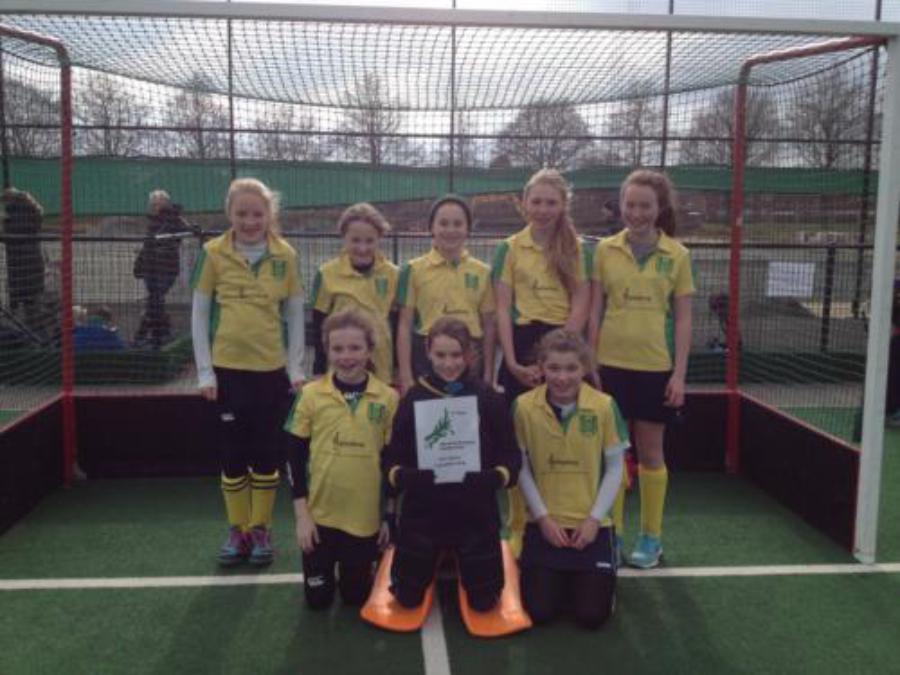 Game 1: Norwich v Dragons A
0 - 0
Norwich had the best of the play but a strong Dragons defensive unit meant they couldn't net the ball. Norwich marked the opposition impressively, with striker Ellie Hobden tracking back to make sure Dragons didn't have a single passing option. It paid off but a rogue fast break from Dragons looked dangerous and led to a one on one with goalie Daisy Ford. She made an incredible, heart-stopping save to prevent what had seemed like a certain goal. The match ended in a draw.


Game 2: Norwich City A v Pelicans A
2 - 2
This was a nail-biting game with a strong Pelicans team scoring two early goals from powerful top of the D strikes that were impossible to save. In the early stages it looked a certain win for Pelicans. Their intercepting and passing skills tested Norwich but the yellow team held their nerve, tightened their passing, and towards the closing stages of the game increasingly pressed the play into Pelicans defensive circle. Finally two goals from Norwich equalised - a strike from Tallulah Guerney and a second from Poppy Wharton who defeated the goalie close to the net.


Game 3: Norwich A v Magpies A
0-0
Another tense game against a strong, well-drilled team. Play was end to end and strong defending on both sides resulted in a draw.


Game 4: Norwich A v Dereham A
3 -0 (Norwich win)
Norwich dominated the play and never looked in danger. Their neat passing and team work made Dereham seem disorganised and eventually Claudie van Poortvliet scored after some neat triangle passing to take the ball up the pitch. Next Amy Barker scored two impressive goals after neat stickwork defeated Dereham's defenders and eventually found the back of the net.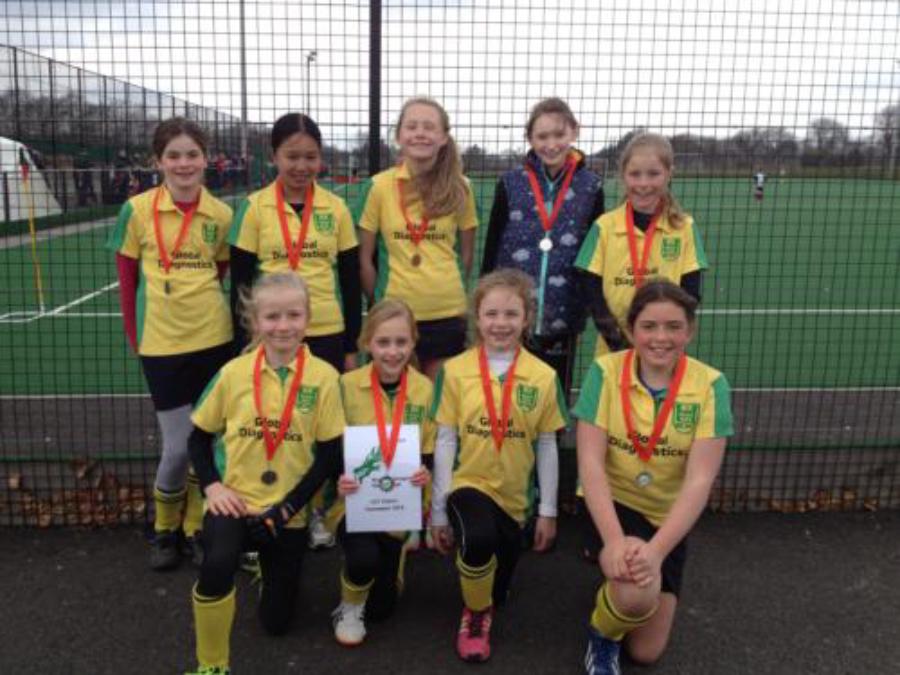 ---
U12B Boys won gold in the 'B' team tournament
First up we played Magpies and won 4-0. We looked sharp all over the pitch with the midfield of Harry, Monty and Rocco linking very well with Louis's attacking flare. All the goals were excellent examples of balls down the wing, taken along the by-line and then simple lay-offs for players to score. First Louis set Harry up, then Harry returned the favour for Louis, the Rocco tapped. Louis shot in which probably was going in anyway (good following up from Rocco though), then I think Harry completed the scoring.

Next up was Dragons C which finished 0-0 despite some excellent play and some astonishing reverse stick shots we just couldn't put the ball in the back of the net. The game was a lot more even than the first game with some good defensive work by Ethan and Kieran.

Our third game was against Dereham Barbarians who had 4 of our players (Kienan, Kurtis, Henry and Jacob) helping them out. I would just like to thank those gentlemen for allowing the small group of Dereham players the opportunity of actually playing in the tournament, and secondly to say how well they played. City B started in blistering fashion with Louis's pile driver of a shot rebounding off the right-hand post for Rocco (I think) to tap in. Then Louis scored following some beguiling stick work and then Monty completed the scoring for City B however, just to remind the team that it is important to concentrate on team structure and defending even when you are 3-0 up Kienan stole the ball in midfield slipped past the City defence and slotted the ball calmly into the goal...well done to Kienan and very well done to the Barbarians for their continued perseverance.

As ever, our final match and tournament decider was against Dragons B. Whilst the game was reasonably even City always looked the better team with the midfield (Monty, Rocco and Harry) working tirelessly and Louis simply gliding all over the pitch as if the ball was glued to his stick. City scored two goals in quick succession thanks to Louis and Rocco (I think) but were then indebted to some very good defensive tackling by Samuel and Ethan. When Kieran came on in attack, with Louis dropping to midfield, he was unlucky to see his shot slip just wide to extend the lead further. And finally, in the dying seconds William in goal showed how important concentrating throughout the whole match is when he thwarted a one on one by racing to the top of his D making a save and then clearing the ball with his stick whilst lying full stretch...an excellent way to seal a splendid team performance.

I was so excited about the way the whole squad played that I forgot to take notes so whilst I hope scores and scorers are correct please forgive me if my excitement affected my memory!!

U12 Boys B squad: William Woodhead, Ethan Rushton, Kieran Limb, Rocco Iaccarino, Monty Platt, Harry Mackenzie, Louis Hart and Samuel Doncaster
Coach: Simon Black

Played 4, won 3 and drew 1. Goals for 9, goals against 1. City player of the tournament: Louis Hart
Well done gentlemen, you played in the right spirit, supported each other throughout and played some very good hockey.
---
Super City U12 Boys A Team Miss Out by A Whisker
The City U12 A Team played some great hockey at the Dragons Tournament, won two of their three matches and missed out on being overall Champions on the basis of numbers of goals scored. This was a really strong performance from a young team and bodes well for next week's County Championship.


On a bitterly cold Sunday afternoon, our first match was against a strong Dereham team. The game started off fairly evenly but gradually City came into the ascendancy with Jonty Black driving well up the right hand side and Elliot Fox unlucky not to score a couple of times. But then with five minutes to go, came the decisive moment. Ben Granville took the ball up the right wing and unleashed a hard cross which Freddie Paterson swept majestically into the corner of the goal for a 1-0 lead. After that, City shut up shop, with Rio Iaccarino and Cameron Husband in defence keeping Dereham at Bay and City close to scoring again at the other end. Player of the Match: Jonty Black

Our next opponents were Magpies, who were noticeably older (and bigger) than most of our boys. City had the early chances, with a great short corner strike from Ben somehow being cleared off the line by the Magpies defender. However, against the run of play it was Magpies who scored when a bit of dozy defending from City allowed the opposition to scramble the ball home. City's heads dropped momentarily but then they got back into their stride. Again it was a Granville-Paterson combination that unlocked Magpies, with another great cross from Ben being swept in by Freddie. City continued to attack, with great workrate from Elliot and Joseph Roy, but the game ended a 1-1 draw. Player of the Match: Freddie Paterson

Our final opponents in this strong A team tournament were Dragons. With Jack Beckett playing well all afternoon in goal, Dragons didn't look like they would get through our defence, and the question was whether we could score. City had several attacks, winning several shortcorners and having two or three shots somehow scrambled away from the goal line. As fate would have it, the goal came from exactly the same route as the previous two, with an exocet cross from Ben on the right being banged home by Freddie for a 1-0 win. Player of the Match: Ben Granville

With seven points out of nine, City were on top of the table and needed Magpies to drop a point in the last game. As it turned out, Magpies won 1-0, so the tournament ended with both teams on seven points with the same goal difference and having drawn with each other. So the tournament was decided on goals scored, with Magpies having scored four, to our three.

More importantly than the result though, City played great hockey today and every single player in the squad worked their socks off, played really well and showed flashes of brilliance, making us all very proud. All in all it was a great afternoon's work and sets us up well for the flurry of tournaments in the last few weeks of the season.

Finally, a special mention is due to the four City players (Henry Ingram, Kurtis Reynolds, Keinan Barber and Jacob Brown) who played for the Barbarians, a side put together from City, Dereham and Watton. The City coaches were impressed with the boys' maturity when asked to play for the Barbarians and especially delighted with their loyalty by insisting on wearing the City strip underneath the Barbarian shirts. Having not played together before, it was always going to be a tough tournament for the Barbarians, but the coach was glowing in his praise for our four boys, with Kurtis winning the player of the tournament accolade for the BarBars.

---
Watton HC Mini Tournament 25th January u12 Boys B
Thanks to the energy and enthusiasm of the U12 age group we were able to have a squad of 10 for the B's to take part in the silver competition. Having 10 keen and eager players was fantastic but made balancing pitch time for all entertaining given there were only four 9 minute games spread over two cold hours. Many thanks to the players (and parents) for being so understanding in terms of substitutions and positions.

For the record the squad was:
Keinan Barber (GK), Jacob Brown, Samuel Doncaster, Oliver Gaudoin, Cameron Husband, Rocco Iaccarino, Henry Ingram, Kurtis Reynolds, Ethan Rushton and Alex Tomkinson, with Kurtis, Kienan and Jacob making their debuts.

In the first match against Magpies the team played well and worked very hard with Cameron and Ethan looking solid at the back and Rocco and Alex linking nicely in midfield. Kienan, making his debut in goal having only tried goalkeeping out the week before in training made a couple of very good saves whilst a goal line clearance from an Alex deflection denied City. The final score of 0-0 was a fair reflection and a promising start. Whilst all the players did well man of the match was Rocco.

We then had nearly hour's break before our next game against Dereham. This was another close affair which City edged in terms of possession and chances but couldn't quite get the ball over the line. Cameron played particularly well at the back linking steadfast defending with some excellent distribution to both wide midfield players whilst Kurtis and Jacob made promising contributions. Ethan, having switched to centre forward, made a couple of good chances and came very close to scoring with a well worked penalty corner strike. Final score 0-0. Man of the match was closely run with Ethan and Alex doing well but not quite enough to take the award from Cameron.

The third game was a farce for central timing and confusion! Despite central timing we somehow managed to run 10 minutes behind schedule which meant that Peli's U10 started our game against Dragons U12 C's! (Because on the time sheet Peli's were meant to be playing at that time)!! Once we got the right teams on the right pitch (City Vs Dragons C) there was only about 6 minutes left. Sadly a managerial error (yes they do happen!) meant I was busy substituting our defenders at or about the same time City lost the the ball and Dragons broke with a 4 Vs 1 to score. Everybody worked really hard to press for the equaliser but we simply ran out of time. Final result 0-1. Man of the match went to Alex for his tireless effort.

Our final game was against the strongest team in the silver section, Dragons B. This turned out to be the best game with chances at both ends. Initially Henry and Cameron did well in defence with Oliver, Rocco and Alex converting defensive cover into attacking options for our striker Ethan. Ethan then switched to defence and Henry moved up front. City fell behind to a good goal but then almost equalised when Alex's deflected shot via a cross from the left edged just past the post. Kurtis, having made his debut as a defender finished as centre forward and Jacob as left midfield. But with City pressing for an equaliser Dragons broke and looked certain to score until Kienan made three saves one after the other to keep us in the game. Final score 0-1. Man of the match Kienan.

Whilst we ended up drawing 2 and losing 2 I was very impressed with the attitude and work rate of the whole squad - lots of positives to celebrate and the odd one or two things to think about in training.

Thank you all. Simon Black, coach
---
Watton HC Mini Tournament 25th January u12 Boys A
The Watton Tournament's format was such that the City U12 A team had four nine minute games against other A teams spread over a long cold afternoon. With a wealth of players available, we had the luxury of two substitutes and thanks are due to all the players for being mature about the need for time on the bench.

In our first match against Pelicans we looked a little rusty and the game could have gone either way. Although Norwich probably had the best of the play, with Joseph Roy tackling well in midfield, we were a little relaxed at the back, letting the Pelicans centre forward ghost away from us on a number of occasions. Fortunately we had William Woodhead in goal who was alert and imperious, keeping Pelicans out and ensuring a clean sheet for a 0-0 scoreline. Player of the Match: William Woodhead.

After an hour's break, we were back in action, against Dereham and from the beginning we showed we meant business. With Rio Iaccarino playing as the sole defender and mopping up all the Dereham attacks, City had a great attacking formation. This strategy seemed to be paying off as City attacked relentlessly and appeared to have scored when an Elliot Fox cross/shot was deflected off the goalkeeper's pads into the goal. However, the umpire had seen something amiss,
and decided to award a hit to Dereham instead of a goal to City, much to the mystification of all present. City continued to attack but in the short time remaining just could not get the ball across the line. Man of the Match: Rio Iaccarino.

We now came across Magpies A, another strong team who were expecting to win. However, City had other ideas and, with Jonty Black taking them on down the right flank, were on the ascendancy. The closest to a goal was Freddie Paterson who hit a rocket of a shot at the top right hand corner only for it to miss by a matter of inches. Meanwhile at the other end, we also had plenty of defending to do, and excellent hassling was needed from Harry McKenzie and Monty Platt to keep Magpies at bay. And so: another 0-0 draw and Man of the Match: Jonty Black.

Finally, a match against Dragons pitted many of the team against their school friends with the playground bragging rights at stake. The match was an excellent one, with end-to-end play. City's
defence of William, Elliot and Rio was immoveable, but at the other end we just couldn't find a way through the resolute Dragons, despite some good hassling from Kieran Limb and Freddie. So, inevitably the final match of four was also 0-0! Man of the Match: Elliot Fox.

The final analysis was: Played four, drew four. Goals Scored 0; Goals Conceded 0! We learnt that it is actually quite difficult to win a game which only lasts nine minutes. We also learnt that the tournaments come down to fine margins: had our goal against Dereham been allowed, and Freddie's shot against Magpies been a couple of inches lower, we would have had two wins, and that would have made us Champions. However, overall, I was very pleased with the team's performance, which got better each game. Thanks to all the parents who patiently supported for what seemed like a long time in very cold conditions.

Squad: William Woodhead (GK), Jonty Black, Harry Mackenzie, Monty Platt, Freddie Paterson, Rio Iaccarino, Elliot Fox, Joseph Roy, Keiran Limb

Al Paterson, coach
---
Pelicans HC Mini Tournament 8th February U12 Girls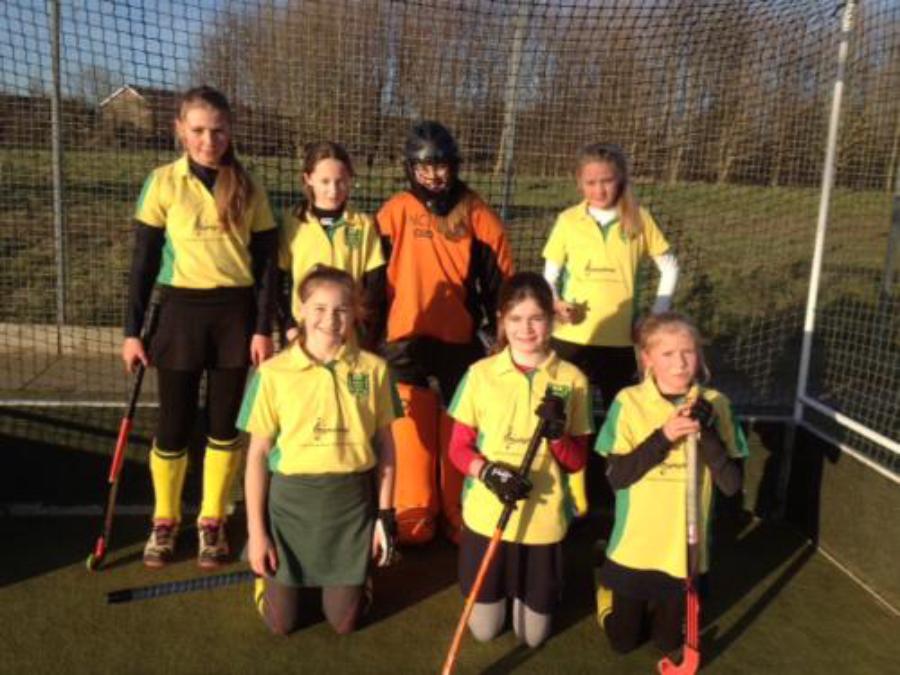 Following on from the Watton HC morning tournament which was called off due to a frozen pitch, we were blessed with good weather in Kings Lynn. This was great but caused problems for our goalie as the sun was so bright. It was the first time that these girls had played together all season but they soon gelled very quickly.

We had 3 games to play in our pool Dragons 2, Magpies 1 & Dereham. The girls played good solid hockey passing it nicely between each other looking for space, which then created the opportunities for us to score. We won quite comfortably against Dereham & Dragons but unfortunately it was not to be against Magpies who eventually went on to win the tournament. 3rd & 4th play offs saw us face Pelicans & then Dragons 1 where we lost to both, giving us 4th place.

Praise goes to Tilly who played in goal for us for the first time, she was extremely nervous but soon calmed her nerves, showing great promise. Player of the tournament has to go Ellie as she had some great runs down the line and then hit it across for either Amy or Claudia to score.

Thanks to Liz Hollis on the sideline, giving lots of support and encouragement to the girls, it woke them up. Well done!!
Karen Hobden - coach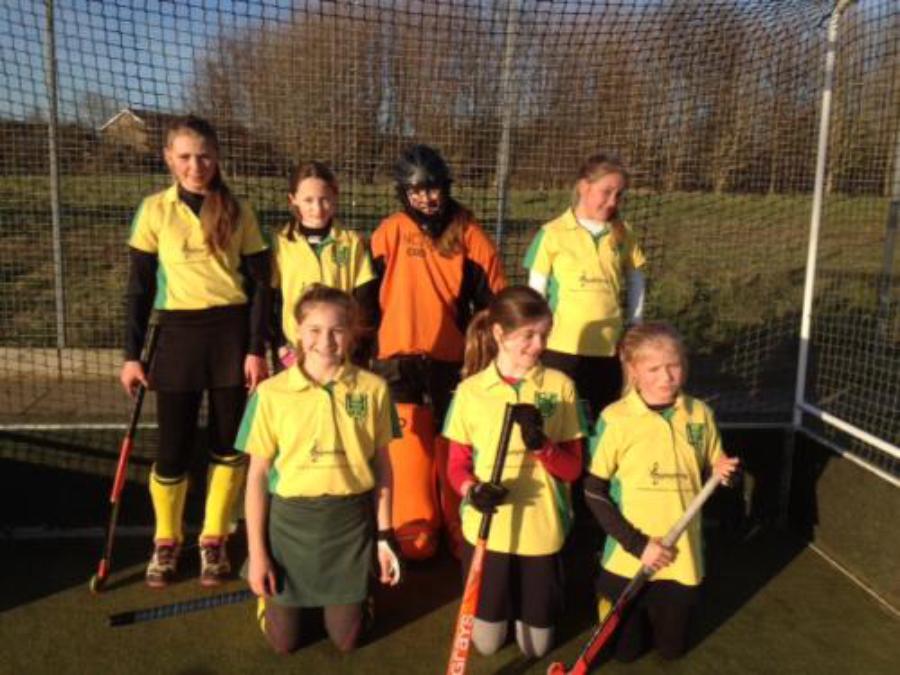 ---
Pelicans HC Mini Tournamen 8th February U12 Boys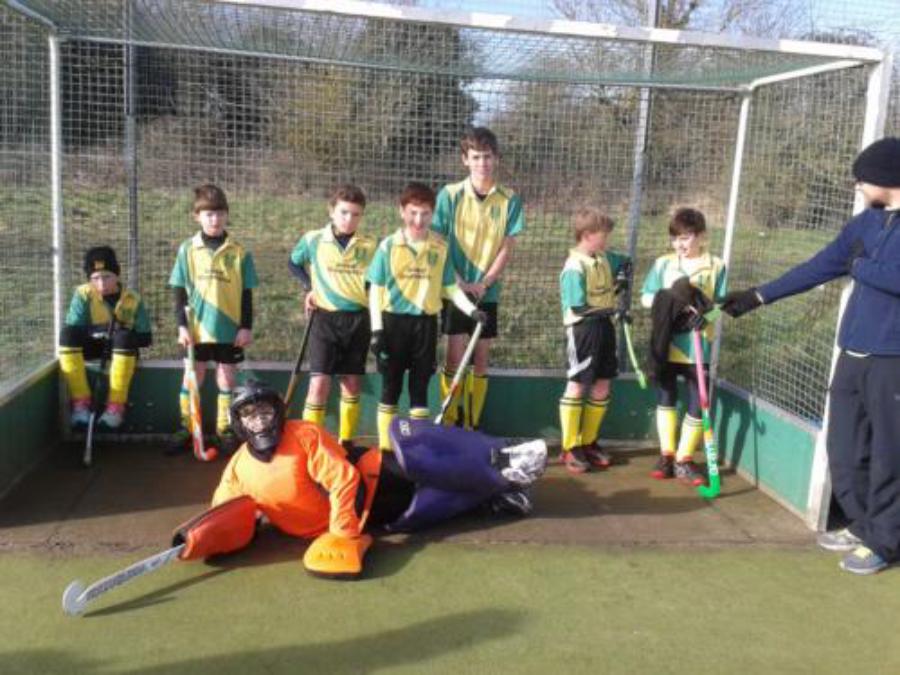 The warmest February day I've ever experienced in Kings Lynn - still cold then, greeted our earlier than usual start and heralded bright hopes for the U12 boys many of whom were part of the team that won 1st place last year as under 10s at the same tournament which I had the pleasure of coaching in 2014. In one year these boys have developed in stature, skill and presence of mind and as long as they keep working hard at the game they will progress well.

Against Magpies 2. Sub Elliot/Rio. Result: Drew 0-0
Despite more attacks and quality strikes from Joseph, Ethan, Rocco and Freddie, we came away rightly disappointed that the result was a 0-0 draw. The team got over this in a matter of minutes which was good as we can't dwell on past results or decisions such as the short corner that could have been given etc... but must move on ready for the next game, which was quite a while.
Man of Match: Joseph passing quickly and tackling cleanly in the centre mid role. We discussed quicker passing rather than being caught in possession trying to dribble around more than 1 player: where we get past one player and draw another player we make an overlap - freeing up our next pass.

Against Dragons 1. Sub Cameron. Result: Lost 1-0
The team came roaring out for their second game and after a goal from Dragons, we showed our mettle and determination, our shots on goal being turned away we were unable to draw back in the 8 minutes. We discussed choosing a pass to our incoming man rather than a direct shot at goal as an option in this situation.
Man of the match was Rio for making only sensible passes from the middle of the pitch which always found our players and to Ethan for some super tackles, getting strong and low and picking out ball cleanly even on the reverse side.

Against Pelicans. Sub Joseph. Lost 3-0
Pelicans were well drilled and despite some great saves by Jack they converted 3 goals. A quick pass from Elliot set up our best attack in the closing minutes and we found our confidence in each other moving the ball well and when working together we really looked the better team.
Man of the match: Cameron for really getting stuck in, a very composed and resilient performance under pressure.

Against Dereham. Sub Rocco. Won 1-0
Finally we got that short corner and was it good to see - deftly passed from Freddie to Elliot for a resounding crack off the backboard. We didn't get the chance to take the one given in the final minute of play but it wasn't needed. What with Rio's reverse stick shot, Freddie and Elliot playing 1-2s well together up front and Joseph's airborne slapshot we might well have had more. Yes it felt good.
Man of the match: for Elliot who passed the ball after beating his man and before being closed down time and again.

Against Dragons 2. Sub Ethan. Drew 1-1
Again a pass from Freddie to Elliot made a great goal, looking like a nice habit is forming. Despite a quality save from Jack and saves off the line by Cameron they equalised 1-1 which didn't reflect the game.
Man of the match: Freddie for his excellent passing asking questions of their defence and to Jack for athletic saves.

Against Magpies 1. Sub Freddie. Lost 1-0
A couple of promising attacks from Rio in the midfield passing the ball around well and tireless chasing from Rocco gave Magpies a lot to think about and little space, unfortunately a looping ricochet cleared both Cameron and Jack, so again good hockey.
Man of the match: Rocco working ceaselessly to find space up front.

Putting into place the routines we train with each Sunday is paying dividends and when we work together and work hard we can beat any team. Well done to all.

Squad: Jack Beckett (GK), Cameron Husband, Ethan Rushton, Rio Iaccorino (Capt), Joseph Roy, Rocco Iaccorino, Elliot Fox, Freddie Paterson.
Lead Coach: Paul Roy with assistant Sean Beckett
---
Under 12 Girls retain County Championship!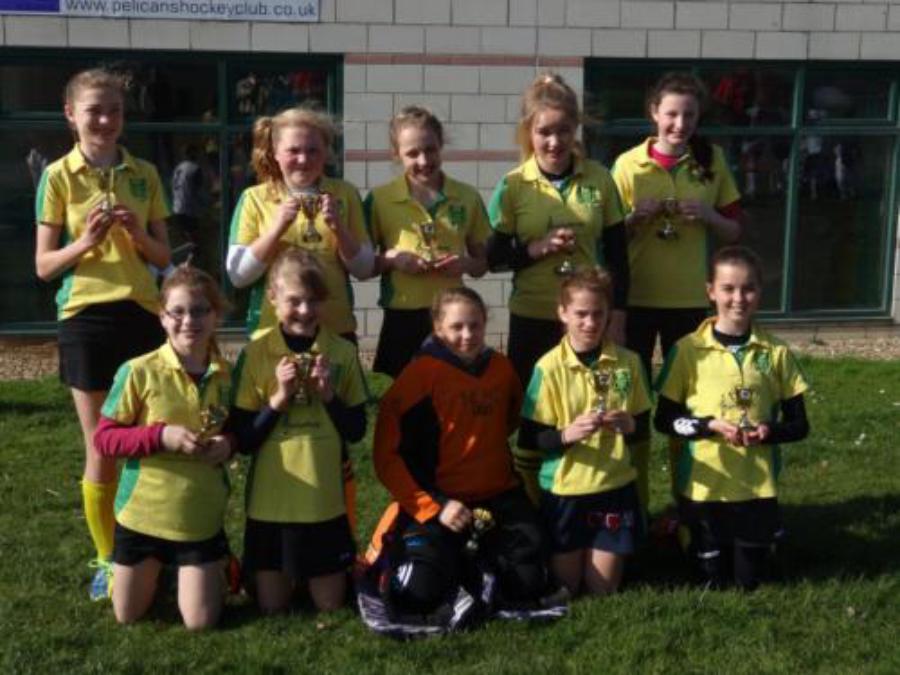 Norwich City Under12 girls defended the County title at Pelicans on Sunday. By winning three and drawing their other game the girls maintained their unbeaten record this season and ensured the County Championship returned to Norwich City for the fourth consecutive year.

In a series of closely contested games City beat Magpies in their first game 2-0, came back from a goal down to beat Dereham 2-1, drew 1-1 with Pelicans and in the final game won 1-0 against Dragons. The girls now go to the Regional Championships in April hoping to progress to the National Finals in May

The City squad was Sophie Turner (GK), Tilly Mann, Ellyn Roberts, Abby Ulph, Anna Brook, Rosie Osborne, Rachael Phillips, Jess Beeson, Amelia Barclay, Charlotte Gundry.

---
U12 Boys Gold tournament
The under 12 boys A team got off to their now traditional slow start against a robust Pelicans team with play confined to the city half for the first five minutes. When the team got into their stride, Cooke opened the scoring, Bailey bagged the second from a strong short corner routine, before Iaccarino slotted home Cooke's selfless pass across the D. The strong defence offered by the Norwich team held strong until one too many sloppy 16-yard hits was picked off by Pelicans and they pulled a goal back. 3-1 win

The second match against Magpies presented a stronger midfield battle, with Harrad, Byrne and Osborne tackling hard and making progress into the Harleston half. Cooke again opened the scoring and Osborne got the second goal. The defensive unit of Millet in goal, Milne-Brown and Bailey held strong to keep a clean sheet. 2-0 win.
Next up was a very strong and skilful Norwich Dragons team. An end to end competition ensued with Osborne making strong attacks down the right and getting good passes into Cooke who opened the scoring for City. Dragons pulled level before an excellent save from Millet kept the match open. Two more excellent goals from Cooke secured his hat-trick and the City victory. 3-1 win.
The second meeting with Pelis saw a much stronger performance from the whole team. City dominated all over the pitch and Cooke produced another hat-trick to win the game for Norwich. 3-0 win.
A tiring team came up against Magpies once more and Bailey, Iaccarino and Milne-Brown had to defend strongly to keep the opposition at bay. Harrad, Osborne and Byrne combined well in midfield and Cooke once again came up with the goal to win the match. 1-0 win.
The final game against Dragons was another hard fought game in which Dragons took the lead.
Millet pulled off a great save to keep City in it and Cooke earned the draw with a goal at the death. 1-1 draw.

Overall, a great tournament in which the team's matchplay showed clear improvements and the goal machine continued to impress.

Norwich City U12 boys won the Gold Tournament with 17 points, scoring 13 goals and conceding 3
v Pelicans won 3-1 and then 3-0
v Magpies won 2-0 and then 1-0
v Dragons won 3-1 and then drew 1-1

Team: Ben Millett (GK), Tom Bailey, Dan Byrne, Cameron Cooke, George Harrad, Rio Iaccarino, Michael Milne-Brown, Joe Osborne
---
U12 Girls Silver Tournament
NC Falcons, points 15, goals for 18, goals against 2 – winners
4 teams in tournament, played each other twice

beat Ospreys 2-0 and then 2-0 again
lost to Magpies 0-1 and won 2-1
beat Dragons 6-0 and then 6-0 again

The weather was good and the girls were raring to go. It was the first time since last season that these girls had played together as a team so it was going to be interesting to see how they would play. Their first game was against a mixture of Norwich and Dereham girls which proved to be a good warm up for them. Spirits were high as they won 2-0 but they knew the next was against Magpies. The match was very even but were piped to the post 1-0. NC Falcons then played Dragons which was the lift the girls needed beating them 6-0. The ball stayed in our half for most of the game giving our goalie a rest as she had played not only for us but 3 other teams. Everyone had to play each other twice so a win was needed against Magpies if the Falcons were to be placed first. They rose to the occasion playing with width and strength winning 2-1. Their final game was played knowing that they were placed joint first, just needing to score a goal. They succeeded with a 6-0 win.
During the tournament the girls were mixed around and playing 6 mins and then swapped. They all played extremely well and put into practice what had been taught in training. They should be very proud of themselves as I am.
Thanks Karen
---
Login
---
youth@norwichcityhc.co.uk
[2021-2022]
[2020-2021]
[2019-2020]
[2018-2019]
[2017-2018]
[2016-2017]
[2015-2016]
[2014-2015]
[2013-2014]
[2012-2013]
[*]