Youth Hockey
2012-2013

u12

City U12 boys at Pelicans Mini's Tournament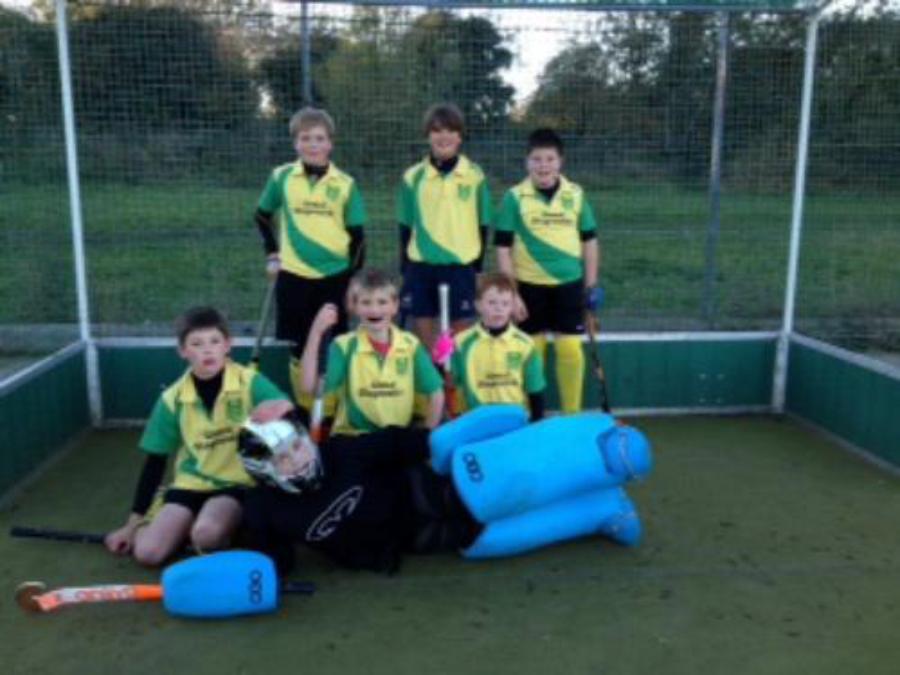 Pelicans Tournament was, for a change, on a bright, autumnal (if a little bit chilly) November afternoon. On arrival the U12 boys were all ready to go......

The opposition for the day was Pelicans, Harleston A, Harleston B, Norwich Dragons and Dereham. The afternoon progressed brilliantly with the results for the first 4 matches being:

Pelicans 0 - 1 NCHC
NCHC 3 - 0 Harleston B
Norwich Dragons 0 - 5 NCHC
NCHC 5 - 0 Dereham

The victories were secured by goals coming from Cameron Cooke, George Harrad and Tom Gourlay. There were a number of periods of exquisite passing and awareness between Joe Osborne, Cameron and George. During these moments the defence of Kieran Limb and Daniel Byrne remained alert, clearing the lines with strong passes up field when called on. In goal Kieran Myatt kicked the ball away with confidence, on some occasions getting the ball to the 1/2 way line.

The final match against Harleston A, who had won 3 matches and drawn 1, meant that we needed to win or draw to secure overall victory. The boys went on to the pitch confident, it was a fast start with play going from end to end. After 1 minute Cameron received a pass from George, took a shot but hit the post. Play went straight down to our goal area, free hit awarded to Magpies out side the D. The ball was taken straight into the D, no whistle, the ball was struck, Kieran went down but it squeezed under him, Kieran Limb was stood right behind but couldn't get to it before it sneaked across the line, 1-0 to Magpies! All the boys stayed strong, time was getting short, another good run and pass combination from Tom and Joe up field got the ball to George, he took a shot, hit the other post......it was not to be for NCHC this time.

All the boys made an outstanding contribution in all the matches, my thanks go to them and their parents.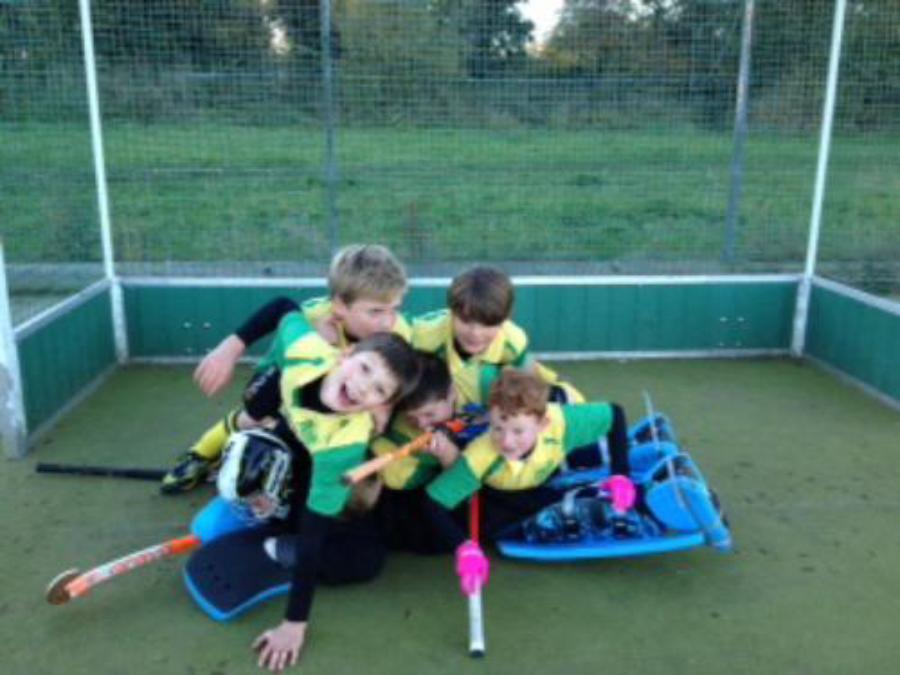 ---
Great Win for City U12 Boys at Magpies Tournament!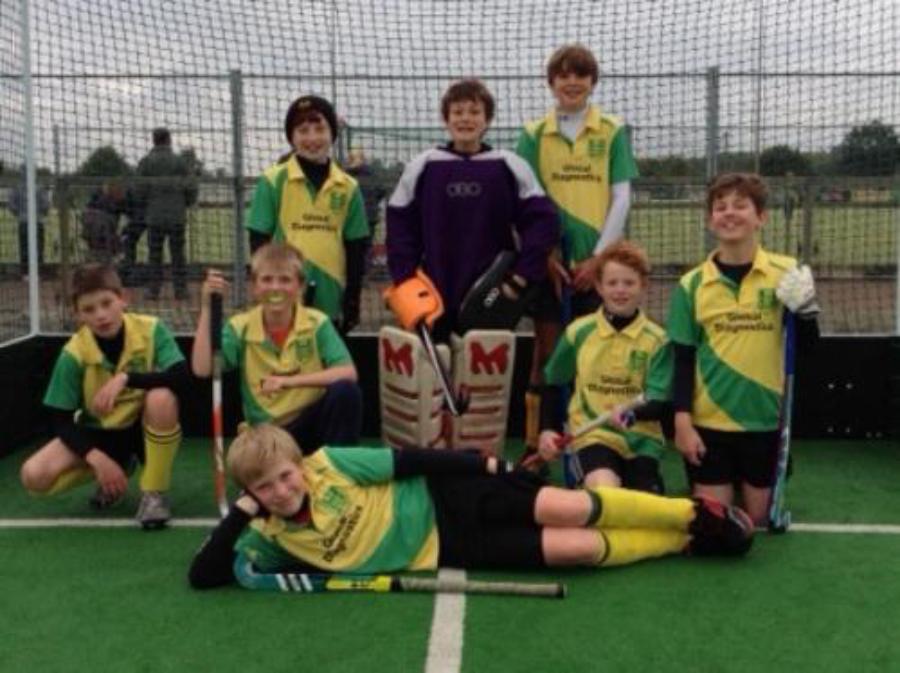 The opening tournament of the season took place on a damp Sunday afternoon at Harleston with two teams entered from the U12 boys squad.

The tournament was won by the Norwich City A Team with a clean sweep of victories.

The opening match against Watton required the support of other squad members due to some late travel issues and thanks go to Freddie and Kieran for their help. The boys in past seasons have started tournaments slowly and often paid the price. On this occasion a switched on defence held firm against their opponents' forays into the City half and Dan Byrne, Kieran Limb, Michael Milne-Brown and Rio Iaccarino worked strongly together to cut out all opposition attacks. Substitute striker Cameron Cook claimed his first goal of the day to secure the victory.

Next up were Dragons and City needed to work harder to penetrate the opposition D and maintain their own defence. The midfielders Joe Osborne, George Harrad and Tom Gourlay combined well to set up several chances, with Cooke scoring City's opener. Dragons pulled a goal back in a swift attacking move which saw Norwich keeper Ben Millett beaten for the only time in the tournament by a strong finish. City maintained their composure and style and Cooke claimed the winner in the closing minutes.

Norwich City's B team provided the next opposition and a formation change gave Dan Byrne a rare chance to make it into the opposition D, claiming 2 goals in the 4:0 victory. Cooke and Osborne scored the other goals in a well contested match.

A 1:0 win over Magpies A team put City in a strong position to go on and win the tournament provided they could overcome a competitive Pelicans team. More skilful and confident hockey from the whole team saw them dominate the key match in the tournament, with outstanding controlled performances from Gourlay on the left wing, Harrad in the centre working tirelessly to support every attack and play his part in defence, as well as Iaccarino and Milne-Brown both making critical defensive interceptions. Most strikingly, the teamwork was excellent, with defensive cover being automatic when Byrne surged through from defence to net his third goal of the tournament, the cool, clinical finishing making a strong case for him to continue to be used in a more attacking role. Cooke inevitably added his name to the scoresheet and City secured a 3:0 win.

With the tournament effectively won, the closing match against Harleston Bs was somewhat disrupted by various delays, most notably for a nasty injury to Rio Iaccarino and City managed to make it to maximum points with the only goal coming, predictably, from a clean strike by Cooke.

A great performance form all the boys. Thanks as always for the great support of all the parents and my fellow U12 coaches.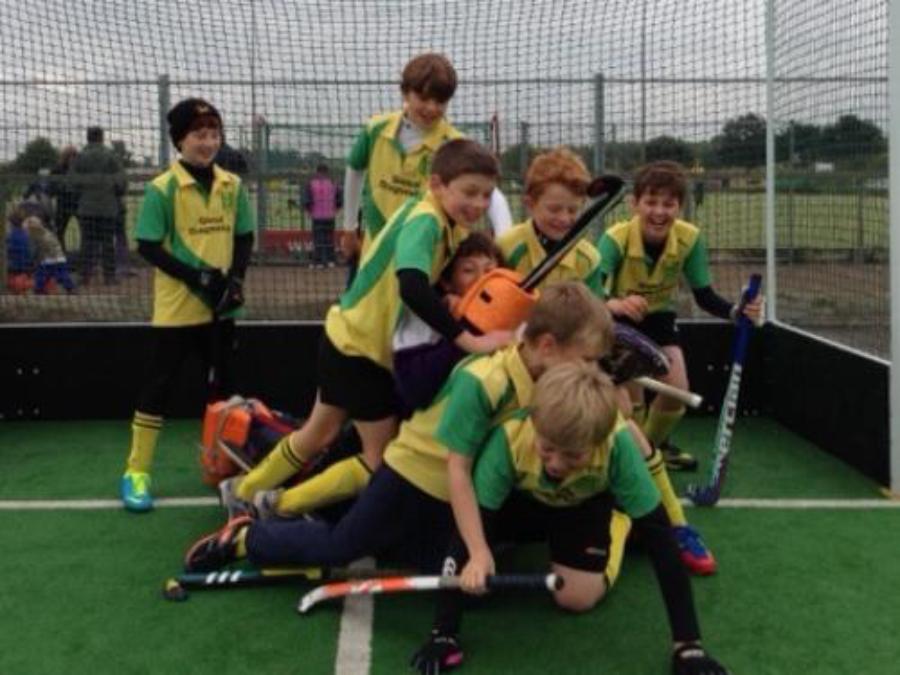 ---
U12 Boys Win Alex Hill Memorial Trophy in Style!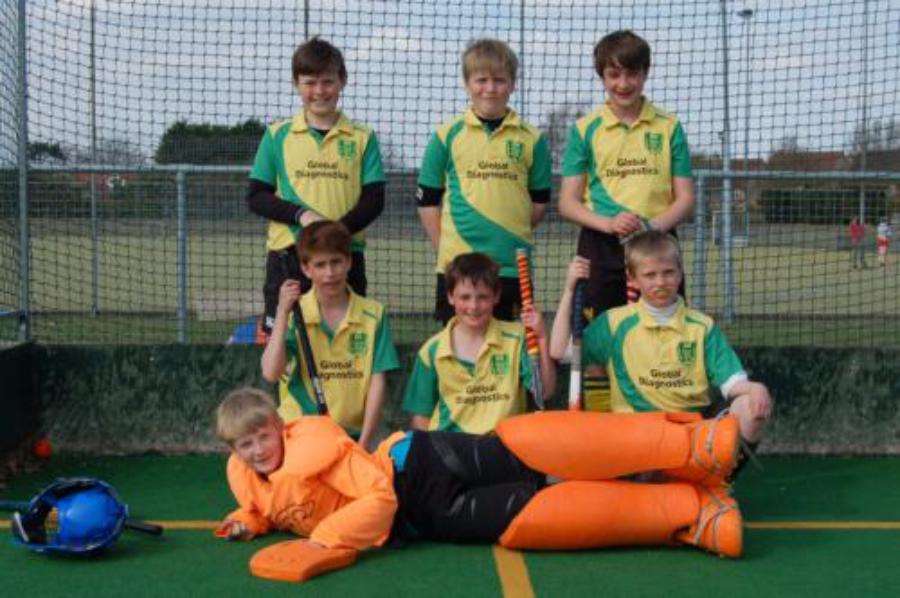 The U12 Boys turned up at Dereham HC, determined to show how well they could play hockey after a slightly disappointing day at the Regionals. In addition, this would be the last time that Harry Paterson, Sam Bingham and Dan Phillips would turn out for City at Mini level, so they were keen to finish off this part of their hockey career with some quality hockey.

First up were the hosts Dereham, and it was clear that City were the stronger. Cleverly making the ball do the work, and first to every ball, City soon began knocking the goals in. When the hooter went 15 minutes later, City were 9-0 winners, with Cameron Cook having scored seven and Harry Paterson and Daniel Phillips one apiece. On occasion, Dereham did attack but Ed Briggs in goal and Tom Bailey in defence held their concentration and foiled each attack.

Next up were Watton, and City continued in the same vein. Once again, the final scoreline was 9-0, this time with four goals each for Sam Bingham and Cameron and one to Harry Paterson. Then came Pelicans, a stronger opposition with a couple of County players in their midst. City were on fire by now, and won 5-0, three to Cook and two to Bingham.

And finally, City faced Dragons with Coach Al warning the boys that they needed to keep their shape and pass the ball or substitutions would take place. City were majestic, winning with the familiar 9-0 scoreline: four to Cook, three to Bingham, one each to Paterson and Phillips. The goalscorers were helped in their efforts by Daniel Byrne at left back who several times dribbled the ball up the pitch to set up goalscoring opportunities.

And so the boys signed off in style, winning the Alex Hill Memorial Trophy, with the following statistics: Played 4, won 4. Goals for 32, goals against 0 – all in 60 minutes of play! It was impossible to select a Man of the Match in such a majestic performance, but I would like to pay tribute to the boys who, whilst still only 11 and 12 have now represented City for five years and been County Champions at U10 and U12 level.

Al Paterson

---
Norwich City U12 Boys Finish 5th at Regionals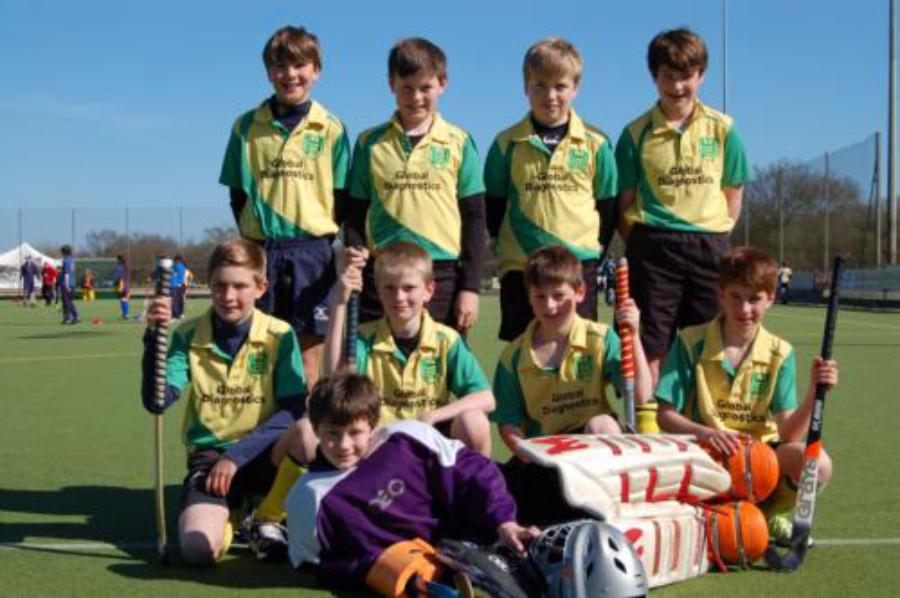 The Norwich City U12 Boys team arrived at the Regionals full of hope after comfortably winning the Norfolk County Championships. Our first pool match was against Ipswich and Norwich City started well but without any urgency. A few chances were missed by our boys and then, against the run of play, a defensive slip-up allowed Ipswich to score. The game went on in similar vein, with Norwich City having most of the play but somehow losing 3-0 to the eventual Regional Champions.

With only two from the Pool going through to the semi-finals, we knew we had to beat Old Loughtonians to keep our dreams of qualifying alive. Throughout the first half Norwich were well on top with Harry Paterson at centre mid controlling the game. However City just couldn't get the ball in the net. Then in the second half, the game was suddenly changed. Old Loughts had a rare attack and their shot was brilliantly saved (or so we thought) by Jack van Poortvliet on the line. However, after a deliberation, the umpire ruled it a goal. Norwich fought desperately to make amends, but it just wasn't our day, with a penalty flick appeal denied and shots just missing the target.

And so, having lost the first two games, qualification had already gone, and the team was playing for pride. First of all, we came up against Saffron Walden and fortunately, the boys seemed to have woken up fully! With Daniel Phillips causing havoc up the right wing and Sam Bingham on the left, City were on the attack all the time. The first goal came from a Daniel Phillips cross, which Cameron Cook converted. Harry Paterson hit a fabulous reverse stick shot which the goal keep gloved down onto the line and Cameron Cook poked home. Ben Millet in the Norwich goal made a fantastic diving save off a short corner to keep our lead intact, before Sam Bingham made it 3-0.

Our final pool match was against Hertford. Against the run of play, Herts scored first but then it was the City show, with Cook scoring two more, one to Bingham and one to Dan Phillips for a 4-1 win.

And so, with six points, we finished third in our group, one point behind old Loughts. This left us to play Dragons for 5th place in the Tournament. By now, City were back to normal. George Harrad was crossing some fantastic balls from the right wing, and Daniel Byrne and Tom Bailey were playing well in defence. The first goal came when a rocket of a cross from Sam Bingham was cruelly deflected into the Dragons goal and the second when Daniel Phillips crossed the ball to Harry Paterson at the top of the D who smashed an unstoppable shot into the goal.

The boys and parents were disappointed not to get a shot at the title. However, it is important to look at the positives: we are Norfolk Champions and the way we played at the end of the tournament, we would have beaten anyone. And it is not so bad to be the 5th best in the whole of East Anglia on one of your bad days. We just need to work out how to wake up for the first game!

Player of the Tournament was the combative Harry Paterson who controlled midfield in every game, winning the ball countless times and distributing it around the pitch.

---
Great Experience for Norwich City U12s at Pelicans
With many of our seasoned veterans away at JAC, a young Norwich city U12 boys team managed a creditable 3rd place in the Pelicans tournament at Lynnsport.

The opening game against Watton ended 2:1 with George Harrad scoring the first after good build up on the right side with Tom Gourlay and Dan Byrne combining well. After a surprising set-piece equaliser by Watton, Norwich finished strongly with an amazing goal from Dougie Tomlinson.

The second game against Pelicans showed the effects a long gap since the last training session with some errors creeping into the play. Despite this, the city team fought hard throughout, with The midfield covering lots of ground, George claiming a consolation goal in the 3:1 defeat.

The team was asked to put in a strong performance in the final game against a skilled Dragons team and didn't disappoint. An early lead came courtesy of another goal from George after good attacking play from Michael Milne-Brown. Continuous pressure from Dragons was resisted well by keeper Ben Millett and some outstanding defence from Joe Osborne in a real team performance. Sadly, the Dragons pressure saw them net from a short corner and then score a well worked winner in the dying minutes.

Thanks to all the players for their efforts and their parents for their support. Special mention as well for Sam Myatt helping me out on the coaching side.
---
Norwich City U12 Girls As Crowned County Champions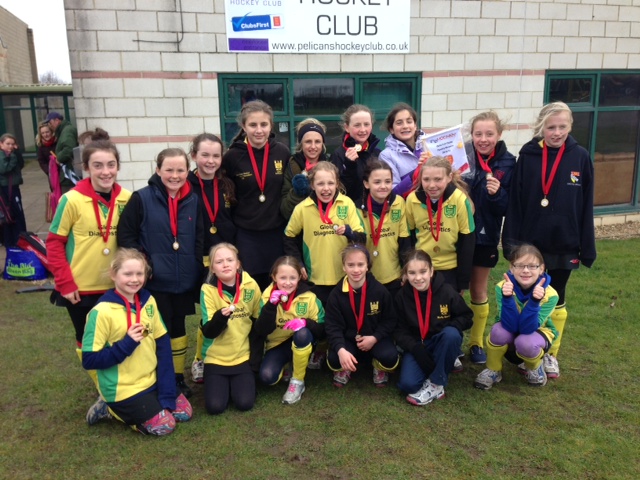 Norwich A's were crowned county champions after an amazing performance in terrible weather conditions.

There first game was against Dereham, they started off slowly but after a few minutes the goals started to pour in. Great team work saw goal from Eliza x 3, Emily x 1 and Abbie x 1. Won 5-0

Pelicans were next, and Norwich were unstoppable, with flowing moves from left to right and back again we were able to put 6 goals passed them that had even the opposition applauding. Goal scorers: Abbie x 5, Grace x 1. Won 6-0

Magpies were next and both teams were unbeaten so far. Both teams had periods of possession with Norwich slightly on top but not finding the clear cut chance. Maddie in goal dominated the 'D', and Rebecca Gaffney did an amazing job of marking their best player out of the game. Draw 0-0

Our forth game was Watton, where the girls returned to their flowing hockey and ran out 5 -0 winners. More excellent team goals were scored. We dominated the whole match. Goal scorers: Abbie x 2, Grace x 1 & Rachael x 2

Dragons were next, we lost a little bit our flowing hockey, as the started to get cold. Despite this Dragons still did not get into our half. Won 2-0 Goal scorers: Abbie x 1, Emily x 1

The final game saw Norwich having to beat the B team 4-0 to become the County Champions. The girls were given a bit of a freight by a feisty team but kept their heads to score the goals they needed. Won 4-0
Goal scorers: Abbie x 2, Eliza x 1 & Grace x 1

In awful weather conditions the girls played the best team hockey of the day scoring 22 goals and conceding 0!

The A Squad
Maddie Anthony (GK): always dependable when required
Ellie Pitcher: solid tackling, let no one through
Becky Gaffney: dominated her opponents with ease
Rachael Phillips: made timely interceptions and took her chances well
Emily Rash: key midfield tackling, and scored some well taken goals
Eliza Barclay: tireless running, setting up a number of goals
Emma Richardson: excellent crossing and created a number of chances for others.
Abbie Ingham: powerful attacking runs and deadly in front of goal
Grace Kidner: accurate finishing and kept her cool to score the crucial final goal


Photos (from top):

U10 and U12 Girls with their County Championship Medals
U12 A and B Team
U12 A Team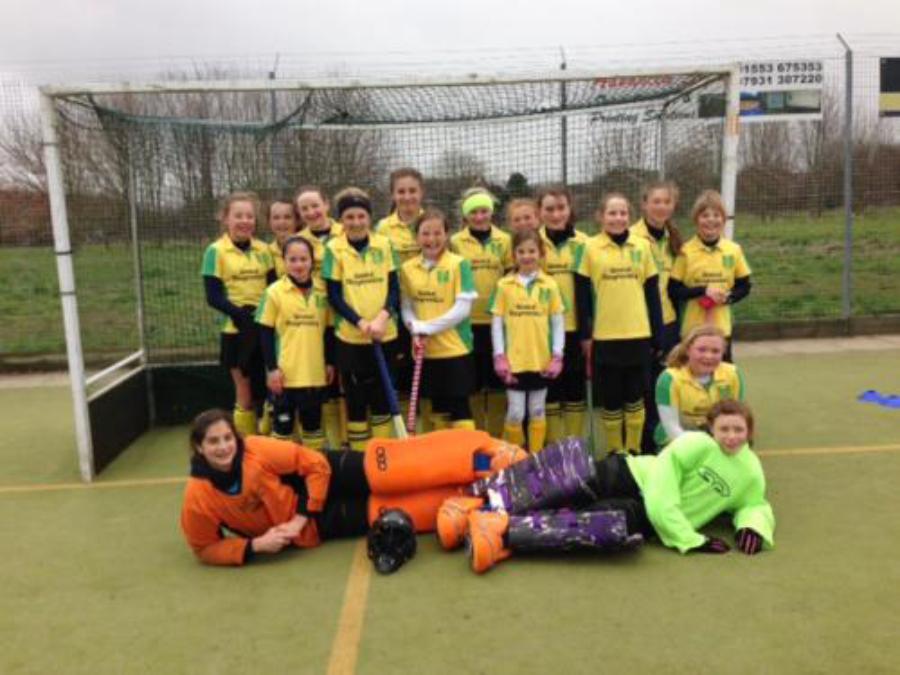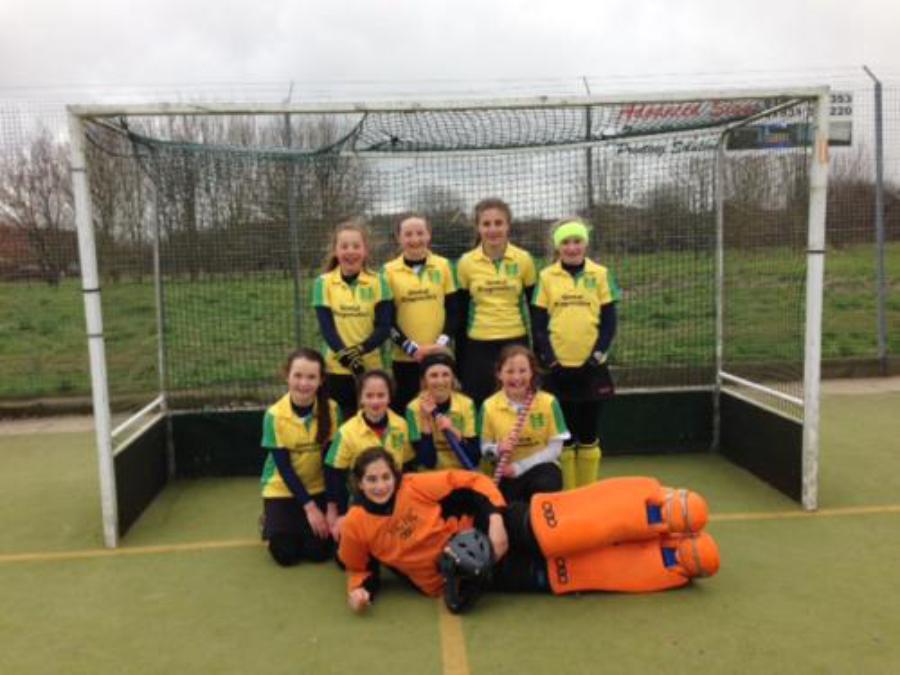 ---
U12 Girls B Team Excels at County Championships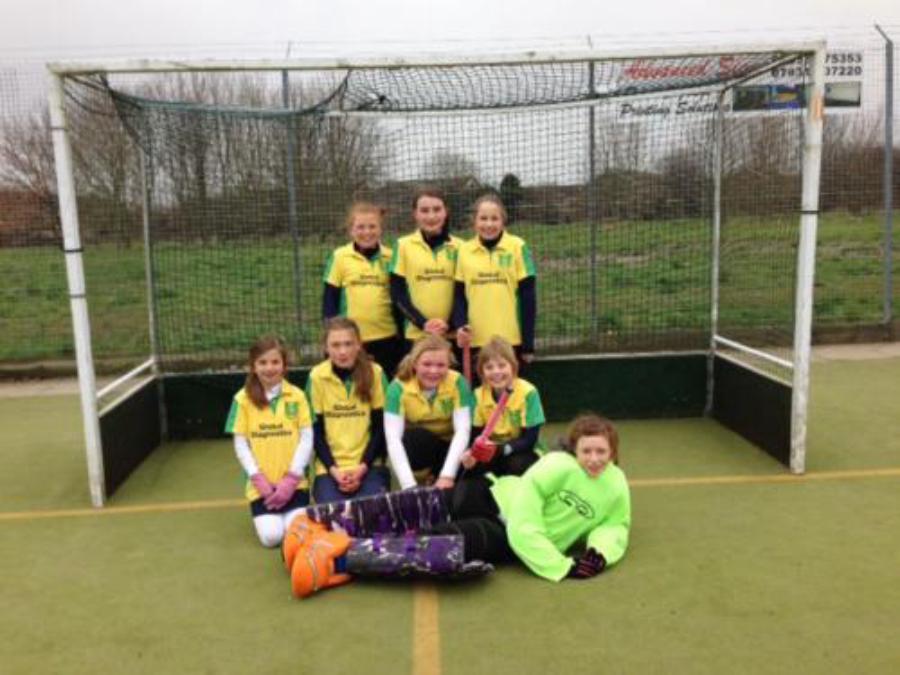 The B team were looking to repeat their success at the recent Norwich Tournament where they came third.

First Match was against Pelicans where we completely dominated the game but just could not get the ball in the net. Pelicans only attack of the match they scored. We lost 1-0 (player of the game Ellyn Roberts)

Our next match was against Watton, once again we dominated. Watton did not get the ball into our half, the best player on the pitch was the Watton goalkeeper and we just could not convert our chances. Draw 0-0 (player of the game Molly Crabtree)

Third match was against Dragons and a familiar pattern emerged again with Norwich having all the ball but just not being able to get any goals in. Dragons broke towards the end and Maya made a spectacular save. Draw 0-0 (player of the game Tilly Mann)

Forth match was against Dereham with Norwich determined to get a goal. The girls once again dominated completely and this time we were rewarded with a well taken goal from Molly. Win 1-0 (player of the match Molly Crabtree)

Fifth game was against the unbeaten Magpies, we started very slowly and conceded some early goals, for the whole game we defended but after being 4-0 down after 3 minutes, we recomposed ourselves to come back into the match and not concede further. Lost 0-4 (player of the match Maya Conway)

Our last match was against our own A team. The girls tried some new positions and played some of their best hockey. They made Norwich A fight for every goal. Lost 0-4 (player of the match Tilly Mann)

We finished 4th out of 6 but as the only B team there gave an excellent account of ourselves.

The Squad
Anna Brook: tireless attacking runs
Ellyn Roberts: calm assured defending under pressure
Evie Andrews: created a number of attacking chances for the team
Lucy Horner: some skilful running on the right
Maddie Clements: determined midfield attack and defence
Molly Crabtree: dominated much of the play through most of the games
Maya Conway (GK): brave keeping and made some crucial saves
Tilly Mann: powerful defending and created a number of chances for the attackers.

---
U12 Boys Crowned County Champions!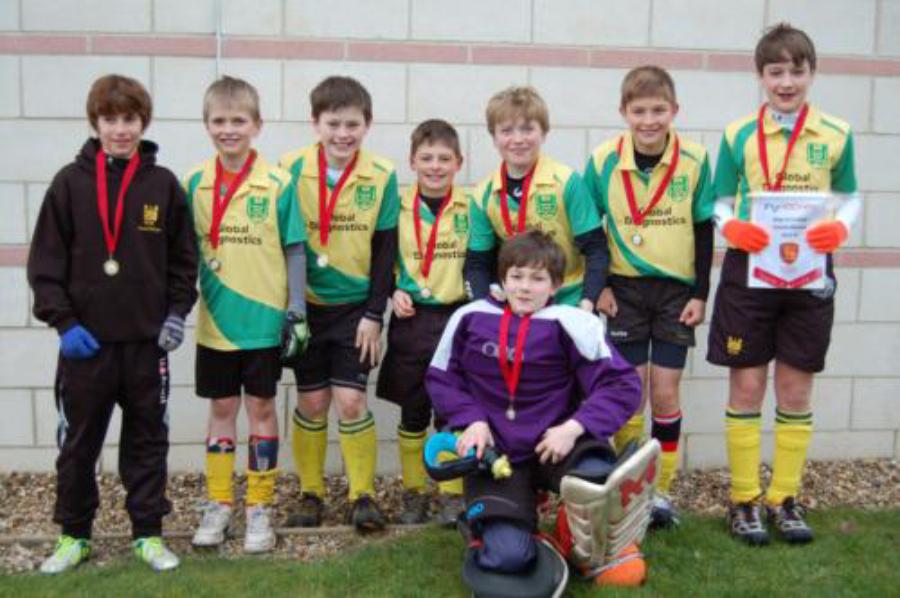 Following the Norwich City HC Girls' double Championship success in the morning, the pressure was on the U12 Boys as they arrived at Pelicans on a freezing cold Mothers' Day. The boys are made of strong stuff though and started well from the start.

Our first game was against a big Pelicans team. Despite nearly getting caught on the break at the beginning, Norwich City were on the attack immediately with only a great display from the Pelicans keeper keeping out a barrage of shots from our boys. Finally, Harry Paterson broke the deadlock scoring from a short corner just inside the Pelican's right hand post for a 1-0 win.

Next up were Dragons, who managed to hold out the boys for a few minutes before the flood gates were open. With Jack van Poortvliet surging forward from defence and Dan Phillips tormenting Dragons up the right flank, Cameron Cook got his eye in, scoring four goals in five minutes, with Sam Bingham rounding it off with a well-taken goal for a 5-0 victory over the eventual second-placed team.

After such a strong performance, the boys suffered an inevitable lull in the next game but with Daniel Byrne, Tom Bailey and goalkeeper Ben Millet majestic in defence, we were never under threat. After hitting one ball out of bounds off the crossbar and breaking another one on the post, it was third ball lucky for Cameron with two goals for a 2-0 win.

And finally we faced Dereham with the boys desperate to complete a full set of wins. Again we were on the attack from the first minute, with Sam Bingham converting the first and Cook the second. Finally skipper Bingham made it 3-0 running from one end of the pitch to the other to tap the ball over the goal-line after good work from Cook and Paterson.

In summary, our U12 Boys won their County Championships in superb style. The boys won all four games, scoring 11, conceding 0 and playing exceptionally skilful hockey based on swift movement, strong passing and sniper-like accuracy on goal. With every player performing exceptionally well, it would be wrong to pick out a player of the Tournament. Massive congratulations to the team of Sam Bingham, Cameron Cook, Harry Paterson, Daniel Phillips, Jack van Poortvliet, Tom Bailey, Daniel Byrne and Ben Millet. Roll on the Regionals!!!

Al Paterson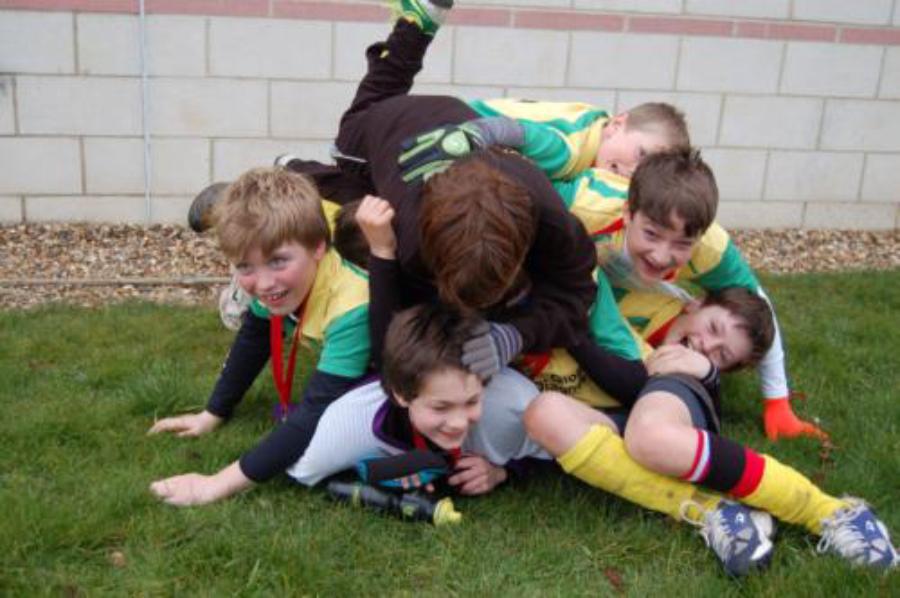 ---
U12 Girls Success at Dragons Den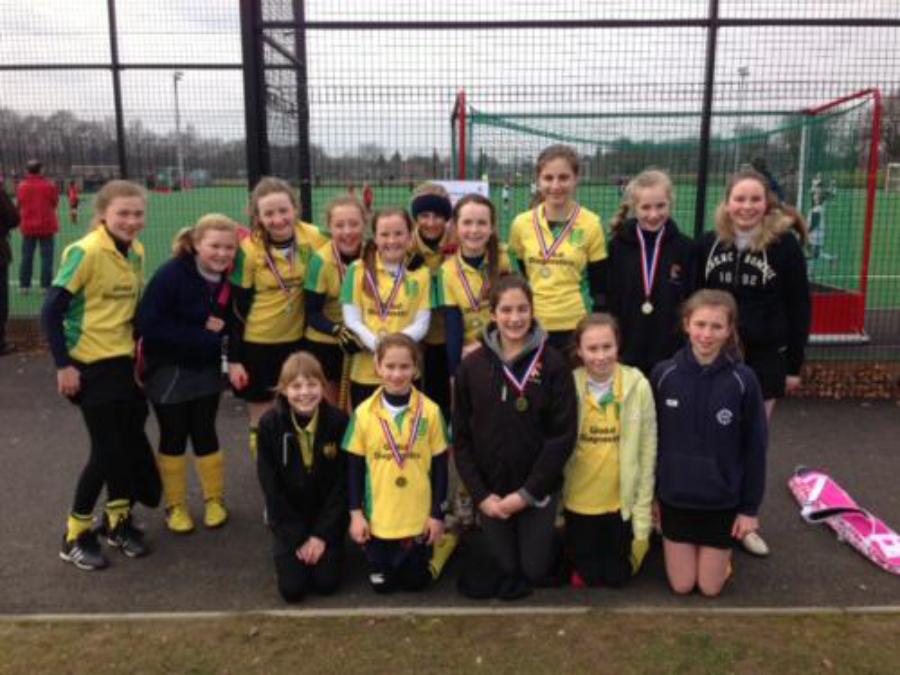 Both the U12 Lions and Tigers girls teams finished their respective tournaments undefeated and without conceding a goal - unfortunately Magpies also had the same record and with goals scored also being identical Dragons decided that as there was no time for penalty flicks and the coaches didn't fancy a sprint race (yes that was the other option put forward by Dragons!!) it was agreed that the first place would be shared.

Lions faced Magpies in their first game. Excellent defensive performances from Ellie Pitcher, Becky Gaffney and Emily Rash and a great last minute stick save from keeper Maddie Anthony gave us a 0 - 0 scoreline.

Pelicans were next and goals from Grace Kidner, Rachael Phillips and Abbie Ingham resulted in a comfortable 3 - 0 win.

Dereham were our third opponents and in a one sided game goals from Eliza Barclay (3), Grace Kidner (2) and Rachael Phillips produced a 6 - 0 scoreline.

We went into our last game against Dragons knowing that we needed to win by 5 goals to better Magpies and win the tournament outright. We quickly went 3 - 0 up with goals from Eliza Barclay and Abbie Ingham (2) but with Dragons having all their players in their "D" we were finding it hard to create clear chances. Abbie got the fourth and her third with a couple of minutes left but despite a series of penalty corners the fifth goal would not come and we were left to share the tournament title with Magpies.

During the tournament we played some exciting and expansive hockey with the ball being switched around between the players and the whole width of the pitch being utilised resulting in the scoring of a number of open play, team goals.

Tigers played Dragons in their first game and despite being camped in Dragons half for all of the game it wasn't until the final couple of minutes that a deflected penalty corner shot from Molly Crabtree finally beat the keeper for a one-sided 1 - 0 win.

Pelicans were next up and again goals were hard to come by. Eventually they came from Anna Brook and Anya Wimmer for a 2 - 0 victory.

The final game was against Magpies with victory ensuring a tournament win. Once again the goals didn't materialise although the girls were convinced they had scored but it was not given by the umpire. A 0 -0 scoreline and a share of the title.

---
U12 Boys A Team Wins Dragons Tournament!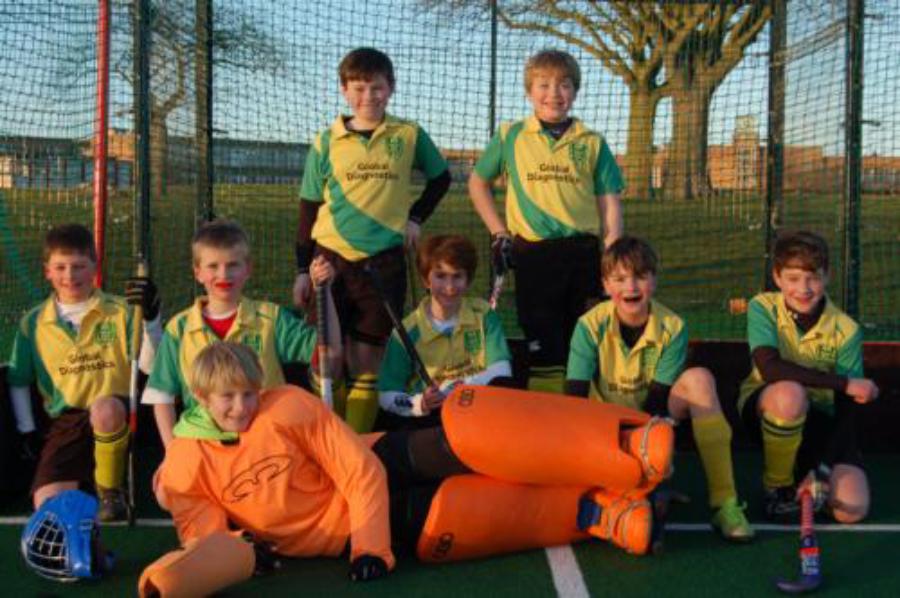 The Norwich City U12 As came here with a point to prove after coming second at our home tournament. On a bright afternoon we started strongly against Dragons and it wasn't long before Dan Phillips took the ball to the byeline and dragged it back for Cameron Cook to sweep it home. Norwich continued to improve, and Cameron scored twice more to make it a hat-trick in ten minutes and a 3-0 win for City.

Next up were Magpies, and City continued in the same vein. Harry Paterson at centre mid dominated play, setting up Cameron for two goals, before skipper Sam Bingham pushed a half-saved shot over the line for City's third. Cameron rounded off a convincing 4-0 win after a lovely 1-2 with Dan for his second hat-trick.

Pelicans were also doing well in the tournament and we knew this match could be the decider. City had most of the play but kept finding the keeper's pads until Cameron scored the only goal of the match. City continued to dominate and when Pelicans did break through a couple of times their attacks quickly foundered on the rock-like defence of Daniel Byrne and Tom Bailey.

And finally, Norwich played Dereham, whose keeper must have wondered what was going on as he stood up to a barrage of shots. George Harrad and Sam Bingham both came within inches of scoring before Cameron (two goals) and Harry sealed a magnificent day with a 3-0 win.

So overall, we played four, won four; goals for eleven, against nil. And what was most impressive is that the boys played a lovely passing game. We should also spare a thought for poor Ed Briggs in goal who stayed alert throughout but had little to do. The whole team were outstanding but Player of the Match goes to Cameron Cook, for some excellent goals, but more importantly the willingness with which he tracked back to tackle.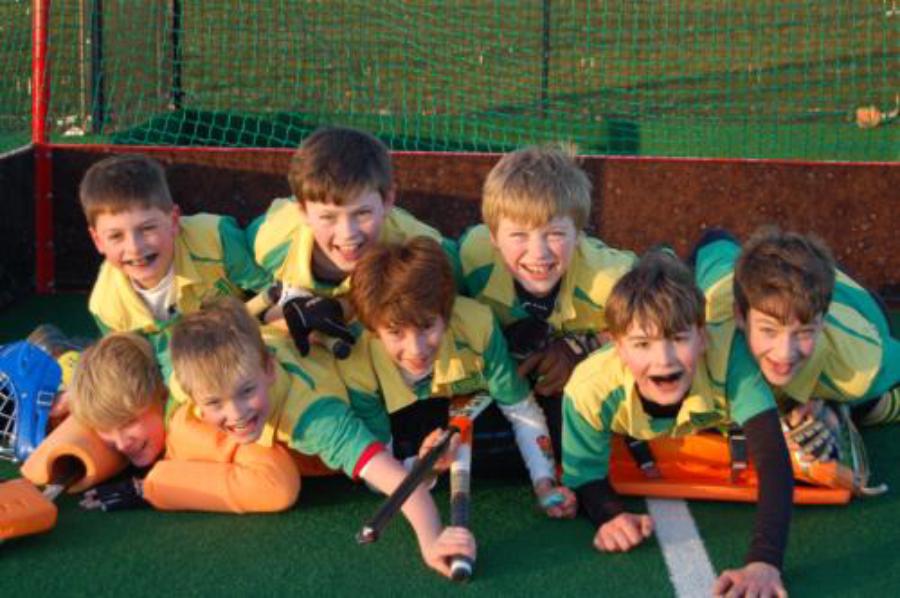 ---
U12s Boys Second in Home Tournament
Having won the Harleston tournament convincingly, Norwich City started off slowly in their own tournament today. Perhaps we were a bit complacent or maybe we were just a bit sleepy after lunch, but whatever it was, the Norwich boys did not really get going in their first match against Dragons. City opened the scoring with a trademark goal, Dan Phillips taking the ball to the byeline and crossing to Cameron Cook to slot home. However, Dragons hit back and scored three times, going straight through the middle and leaving keeper Ben Millett with little chance.

After this, City began to get back to their normal form. First of all we beat Watton 3-0, with two goals from Cameron Cook and one from Skipper Harry Paterson. Next came Dereham. Good work on the flanks from Tom Gourlay and Jack Watling gave us the platform from which to attack and we ran out 4-0 winners, the goals shared between Harry and Cameron.

Our fourth match was against Pelicans, who scored early. However, Norwich pressed hard and after much pressure equalised, with Dan Phillips crossing from the right, leading to a reverse stick shot from Harry which was deflected in by Cameron. Meanwhile City were also doing some good defensive duties, with Daniel Byrne and Tom Bailey in control at the back and Ben Millett making a couple of excellent saves. As the clock ticked down, Cameron scored the winner with an absolute thunderbolt of a shot leaving the Pelicans' excellent keeper stranded.

By now, it was clear that Dragons had already won the tournament and the result of our match against Harleston was academic. Although we had several good shots on target, we could not quite score and the match ended goalless.
Overall Norwich finished second having won 3, drawn 1 and lost 1, which is really a pretty good day's work. However the boys were still disappointed, which shows the very high standards they have set themselves!

Player of the Tournament goes to Daniel Byrne who, in his first tournament for the U12 A team, stepped up to the plate and made some vital interceptions and good tackles.

Finally thank you to all the parents for their support in freezing conditions and to all the volunteers who made this tournament the success it was.
---
U12 Boys Successful at Harleston Tournament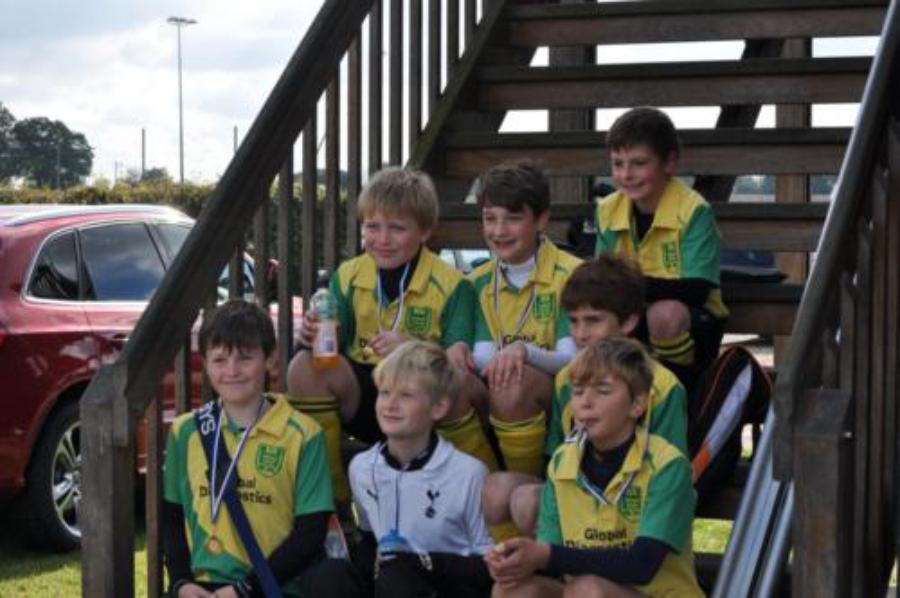 Norwich City entered two U12 Boys teams into the first tournament of the season at Harleston Magpies. The A team was a reassembly of the strong U10 team who were Norfolk Champions two years ago and were aiming to win the tournament, whilst the B team was made up of some of our less experienced players with the aim being to gain valuable match experience. Both teams achieved their goals and did us proud.

The tournament presented the young B team with a challenging start, pitching them straight into a tough match against the more experienced and very strong Norwich City A team. The whole team rallied to the defensive task and debutant keeper Ben Millet pulled off some great saves to keep the first five minutes goalless. Eventually, the pressure was too much and the A-team found a way through, running out 4:0 winners.

Moments later the B team were up against the Harleston A team. Once again, strong defence was the order of the day, with the defensive pair of Daniel Byrne &Alex Turner, assisted by midfielders Tom Gourlay, Michael Milne-Brown and Ben Chapman managing to keep the score down to a 1:0 defeat. Next up were Dereham and the Norwich striker, Angus Cringle was able to see more of the ball. Good support from Dougie Tomlinson and the rest of midfield resulted in some attacking moves, but none could be converted into goals and the match ended in stalemate.

Watton provided the next challenge and another even contest was fought. Watton took the lead when a save from Millett fell to an onrushing attacker. The game looked to have slipped away from Norwich, when Michael Milne-Brown pushed a loose ball between the keeper's kickers to score his first ever competitive goal. Encouraged by the comeback, the Norwich boys dominated the next game and the goals seemed to fly in. Cringle, Milne-Brown, Chapman and Gourlay each got their names on the scoresheet with some strong hockey skills against the Harleston B squad to secure the win. With young legs tiring, the last two games were losses against a strong Pelicans team and an impressive Dragons attack. Ending seventh out of the eight teams, the Norwich B team can be very happy with a great days' hockey which saw each player try their hardest and put in a team performance which improved greatly as the day went on. Player of the Tournament was awarded to Ben Millet for outstanding goalkeeping all day!

The A team played majestically through the tournament winning six out of the seven games and drawing one, comfortably winning the overall tournament. In the 84 minutes of playing time, the As scored 43 goals and only conceded one. The goals were shared out with front man Cameron Cook scoring 21 goals, supported by the midfield trio of Harry Paterson with fourteen and Sam Bingham and Dan Phillips with four goals each.

What was particularly pleasing was that the boys played superb hockey and looked like a real team. Ed Briggs, Tom Bailey and George Harrad were excellent at the back, snuffing out chances quickly. Harry Paterson worked like a demon in midfield, twinning any 50:50 balls then distributing the ball to Sam Bingham and Dan Phillips on the flanks. Sam and Dan consistently beat players along the byeline before delivering inch-perfect passes for Cameron Cook on the penalty spot to sweep the ball home. All in all, it was an excellent performance and it would be wrong to single out any one player as the player of the tournament. The challenge for the coaches and players will be to keep improving from such a good start!

Finally, thanks to all the parents and helpers for all your support, and congratulations to all the players for being such a credit to Norwich City Hockey Club.

Al Paterson & Colin Milne-Brown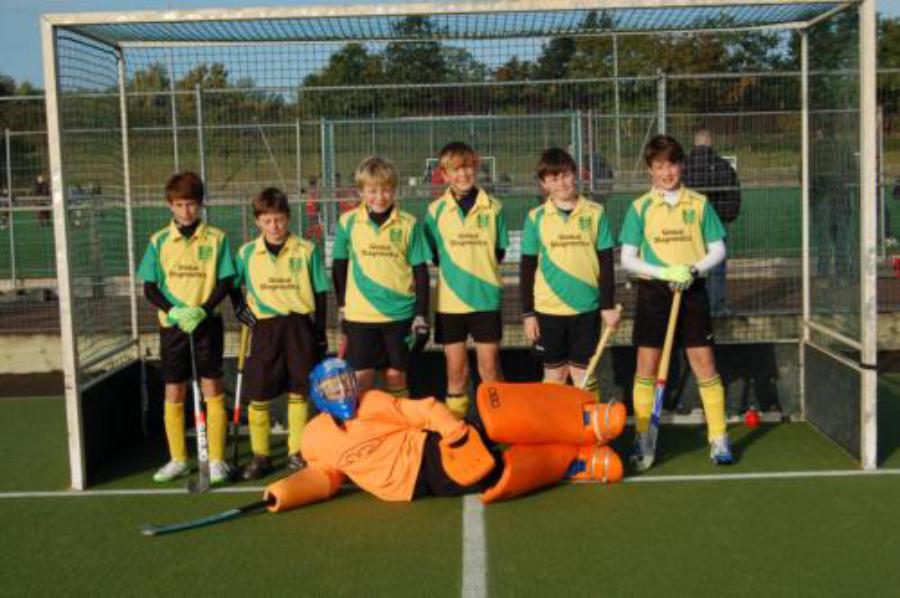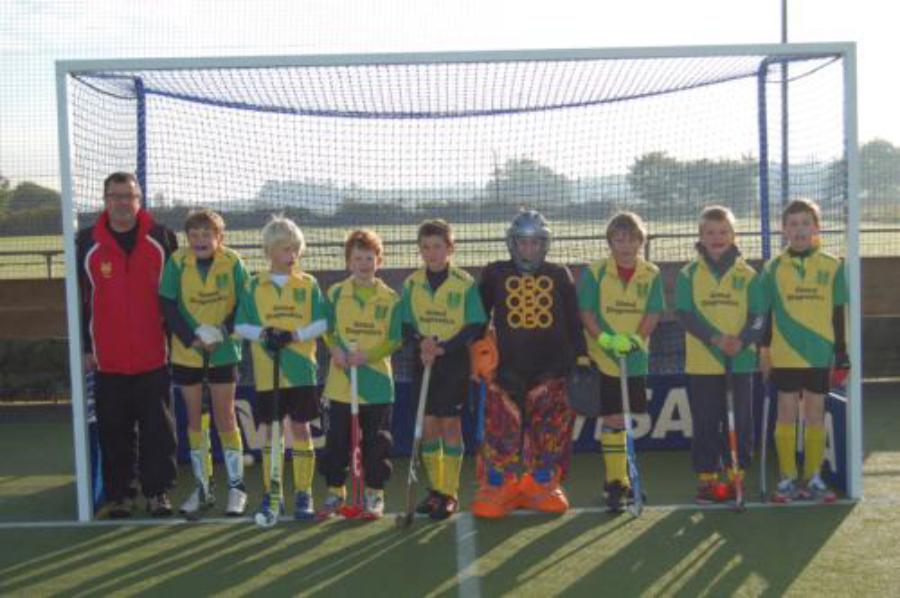 ---
U12 Boys Triumph at Watton Tournament - 29 April
John 'Frosty' Ingham took a strong squad of eight boys to Watton on a wet April Sunday afternoon for the final tournament of the season. With Pelicans and Harleston absent, Norwich's first game was against hosts Watton. It didn't take long for City's finest to shine, with Josh Bailey opening the scoring early on with a precise close range finish. Harry Paterson doubled the lead, giving the Watton keeper no chance with a fine top of the 'D' short corner strike. With City's defence holding firm with Harry Ingham and Sam Bingham, Josh Bailey then went on a scoring frenzy, grabbing 3 more goals in quick succession. James Hewitt capped a fine display, deservedly scoring City's sixth to finish 6-0 winners.

City's second game was against Dereham and they soon got into their stride. Excellent work from the midfield trio of Harry Paterson, Jack Watling and James Hewitt allowed Josh Bailey to open a comfortable lead with two neatly taken goals. Harry Paterson was then rewarded for his tireless efforts with his second of the day. With Dereham struggling to test Jack Cazier in City's goal, Norwich dominated possession and James Hewitt was soon able to bag City's fourth. With plenty of time still on the clock, Sam Bingham burst out of defence to slot home past a diving Dereham keeper and make the score 5-0. Sadly, the Dereham keeper's effort left him with a badly twisted knee and was unable to continue, calling an early end to the game.

City's final game of the day was against Norwich Dragons and avoiding defeat would mean a tournament win. With James Hewitt deciding to miss out due to a hand injury, City continued their excellent form and Theo Hinton joined in the fun, only to be thwarted by a spirited Dragons Keeper. The result was never in doubt though and after Sam Bingham opened City's account, Harry Paterson quickly bagged two more to finish the game with a 3-0 City win.

After finishing second in several tournaments this season, it was great for the U12 Boys to finish off with such an emphatic tournament win. The boys looked suitably proud as Josh Bailey led them up at the presentation ceremony to collect the Winner's certificate and medals.

Final statistics were: Played 3, won 3, goals for 14, goals against 0!

Scorers:
Josh Bailey 6
Harry Paterson 4
James Hewitt 2
Sam Bingham 2

Player of the tournament: Josh Bailey


---
U12 Boys at the Regional Finals 14 April 2012
The U12 Boys arrived at the Regional Championships at Harleston with high hopes, having performed so well in the Norfolk County Championships a month earlier. Our first two matches backed this up. We dominated Blueharts, the Hertfordshire Champions, from the off. The early pressure paid off when Josh Bailey won the ball on the right, slipped the ball to Jake Cushion whose pass to the far post was majestically knocked in by Sam Bingham. Shortly after, Norwich won a short corner. Jake slipped the ball to James Hewitt who calmly took his time to lift the ball over the diving keeper for a 2-0 lead at half time. With Harry Ingham and Tom Spencer keeping us solid at the back, Norwich continued to press in the second half and were unlucky not to win by more.

Norwich continued in the second match against Cambridge (Cambridgeshire Champions) in the same vein. Our first goal came from another short corner. Harry Paterson passed left to James who clinically beat the keeper. The second goal was a solo effort from James who dribbled the ball up the right hand side of the pitch and, when everyone (including the keeper) was expecting the ball to be pulled back, he coolly slid the ball inside the near post. It finished 2-0 to Norwich and could have been more.

Having played two, won two, we had a good chance of qualifying for the finals, but sadly it just wasn't to be. Norwich moved onto the water-based astro and struggled to adapt to the change in bounce. In a thrilling game Bury scored twice through bouncing mis-hit shortcorners which our defenders just couldn't stop, as well as one awesome strike. The boys fought back bravely, with one fantastic short-corner goal from Jake Cushion and another from a well-taken Josh Bailey strike. But sadly it was not enough and we lost 3-2.

Our final group game was against Blue Hornets. Against the run of play, BH scored first, with a bouncing short-corner ricocheting off our defender and past Jack Cazier in goal. After that Norwich attacked relentlessly, with Rob Duffy and Tom Spencer firing balls up from the back and Dan Phillips on the right searing past the BH midfield. In a tense game we just couldn't convert and, with everyone thrown forward, we succumbed to a BH breakway goal for a 2-0 loss.

Sadly, results did not go our way on the day and narrowly coming third in our Group meant we did not go through to the semi-finals. The Championship was ultimately won by Harleston Magpies, who will be representing the East at the National Finals in Cannock HC and we wish them all the best. We should take heart from Harleston's win, as it shows the strength of Norfolk hockey and we know from the County Championships we are not far behind them.

So, whilst results, and a little bit of luck, did not go our way, the squad has performed extremely well and the boys should be really pleased with what they have acheived. We finished equal 5th in the whole of the East Region, the boys played really well both individually and as a team and they have been a pleasure to coach.

Player of the Tournament: Dan Phillips for continually tormenting the opposition down the right hand flank.

---
U12 Girls - East Region Finals, Sunday 15th April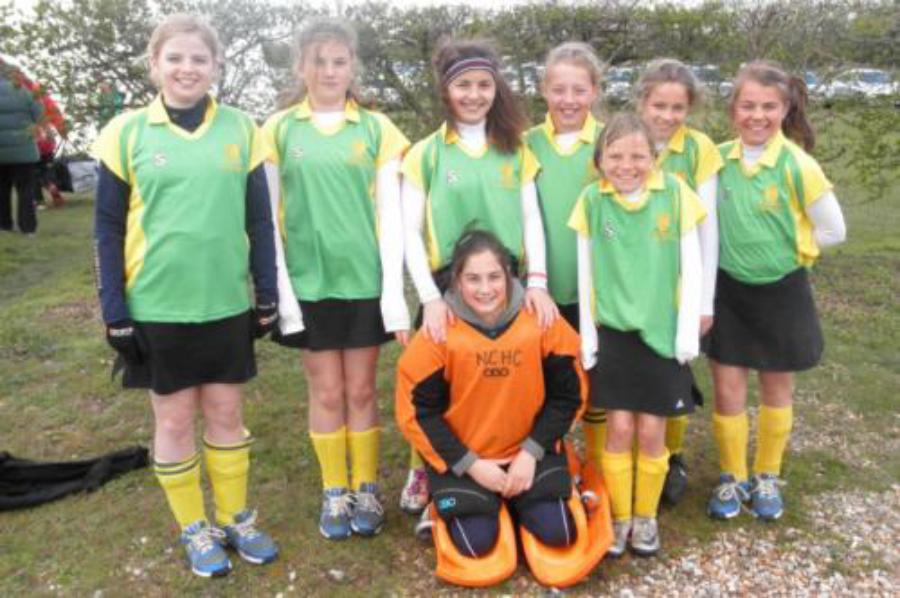 As county champions the girls had high hopes of doing well in this tournament. In new tops and socks they began with a great 1-0 win against Sudbury from Suffolk. In our second game despite having most of the shots at goal we could not find the winning goal and conceded late on to Cambridge 1-0.
We then faced Blueharts from Herts, again we had most of the possession but Blueharts scored from their only one shot at goal we not needed to win both our final two games and other results to go in our favour to progress.
The team took on the challenge fantastically and played superb hockey to beat Chelmsford, Essex 8-0, they then defeated top of the table Canterbury, Kent 2-0 with a performance of the day.
Despite scoring the most and conceding the least it just was not enough.
This was our final game for the U12 A team having won 4 tournaments in a row without conceding a goal the bit of luck they needed did not arrive.

The magnificent team:
Maddie Anthony (GK), great saves and strong clearances.
Evie Wills (defence), consistently strong and powerful clearances.
Louisa Crabtree (defence), excellent tackling and accurate clearances.
Abbie Ingham (mid), excellent link up play and great cover tackling.
Lauren Rowe (forward & captain), powerful attacking and amazing finishing.
Victoria Findlay (forward), tireless attacking play and great vision with skill.
Eve Barnes (forward), skilful and deadly in front of the goal.
Anna Tighe (forward), excellent setting up and great driving skills.
Well played girls see you in the ladies development team!
Mandy & John Ingham
U12 Girls Coaches.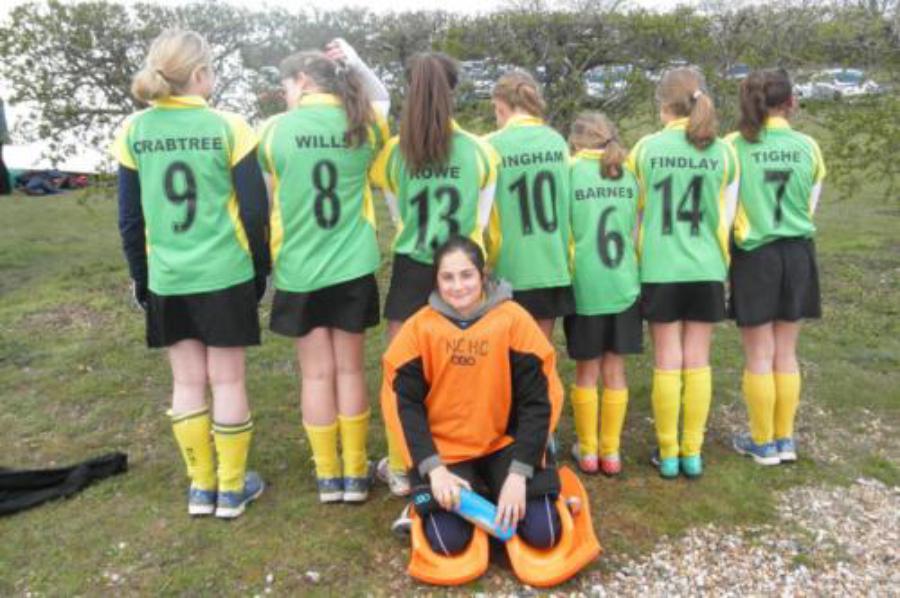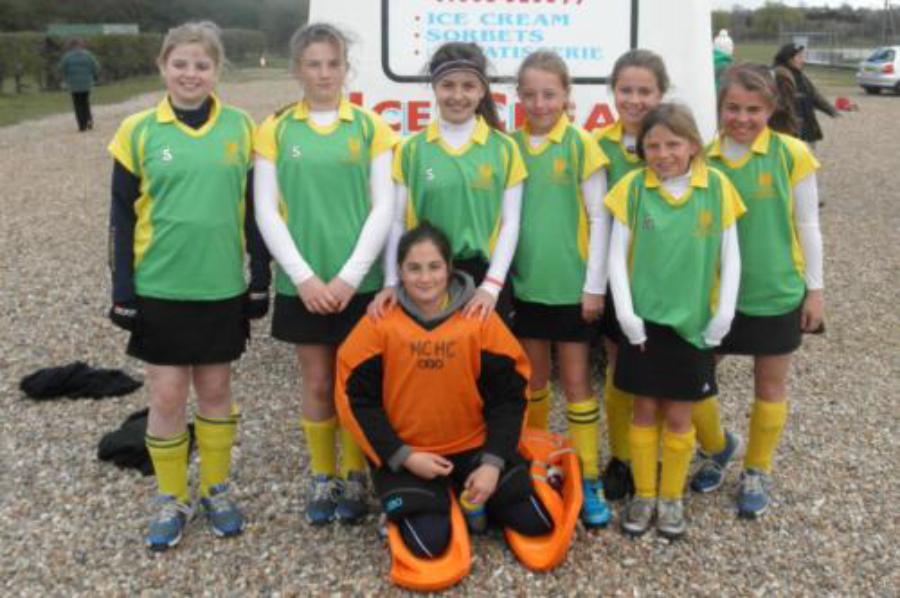 ---
NORWICH U12 GIRLS ARE COUNTY CHAMPIONS!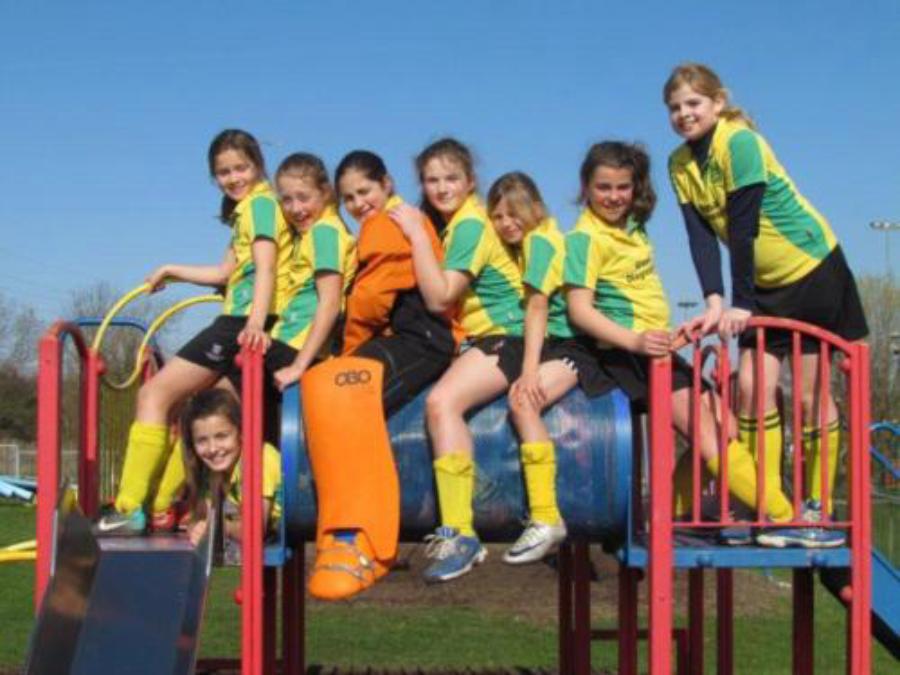 The Norwich U12 girls were in awesome form at the county tournament held at Pelicans. The team won all 6 games scoring 23 goals and conceding 0. After winning at the Dragons tournament last week the coaches decided to play a more attacking formation, and it paid off.

They began against Dereham A, and completely dominated possession with chance after chance to score not taken but finally with seconds left Lauren Rowe hit a high ball into the top corner of the net to get us off to a deserved win 1-0.

The second game was going to be the toughest challenge against Pelican A. The girls again started well with early shots. Pelicans also had chances to score but keeper Maddie Anthony made three amazing saves. In the end our possession paid off with a flowing move that resulted in Eve Barnes scoring for another 1-0 win.

The team went into the third game against Magpies A with confidence, once again they had most of the possession and scored early through Anna Tighe. The defence of Louisa Crabtree and Evie Wills did not give Magpies a single chance and we recorded our third 1-0 victory.

Next match was Dereham B, where the Norwich City team were in complete control winning 10-0 with hat tricks for Lauren Rowe and Eve Barnes.

Our fifth game was against Norwich Dragons. The girls again completely outplayed the opposition with Abbie Ingham setting up some excellent flowing moves and Victoria Findlay showed her deadly finishing ability to record a hat trick in a 5-0 win.

The final game was against Pelican Bs, Norwich City knew they had secured the top spot but wanted to go out with a perfect record. They saved their best play until last and with an awesome team display they scored five superb goals record their sixth straight win.

Overall the team played the best hockey of the day and thoroughly deserved the title of County Champions.

Lauren Rowe (Captain) LF (9 goals)
Maddie Anthony GK
Evie Wills LB
Louisa Crabtree RB
Abbie Ingham CM
Anna Tighe RF (2 goals)
Eve Barnes RF (5 goals)
Victoria Findlay CF (7 goals)

Mandy Ingham

---
First Place for U12 Girls at Dragons Tournament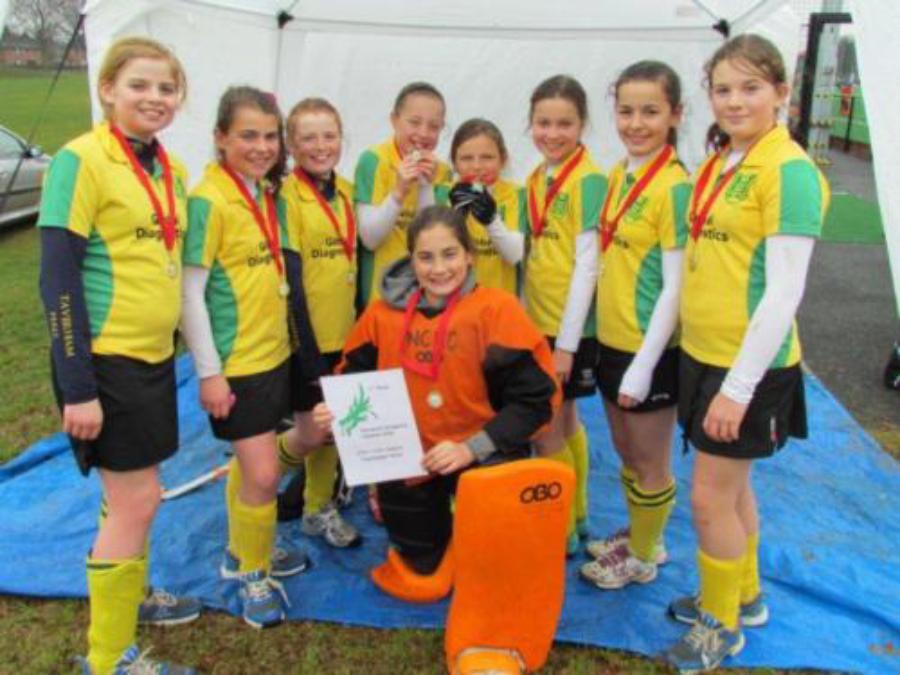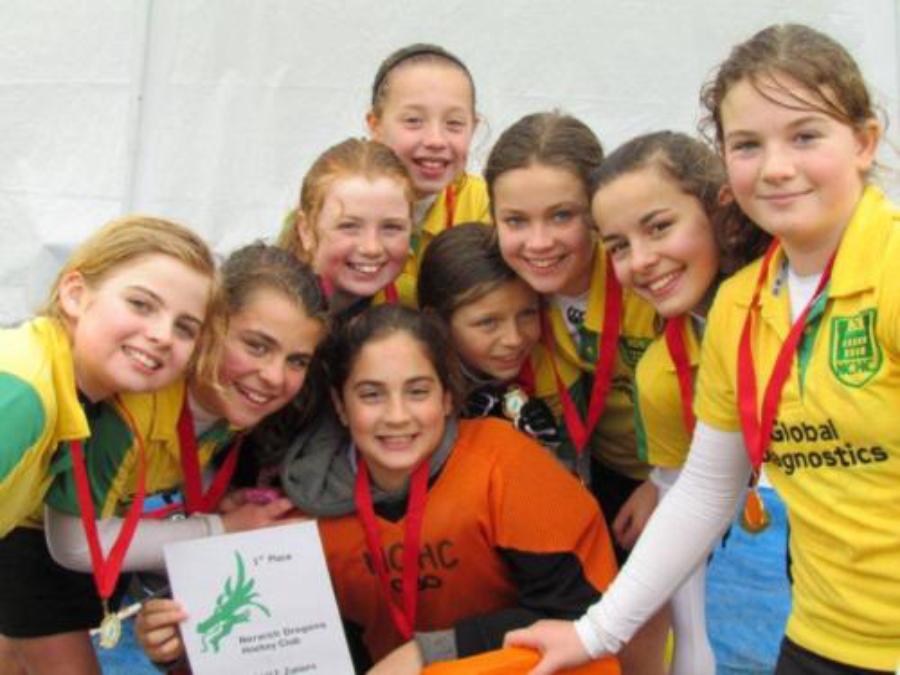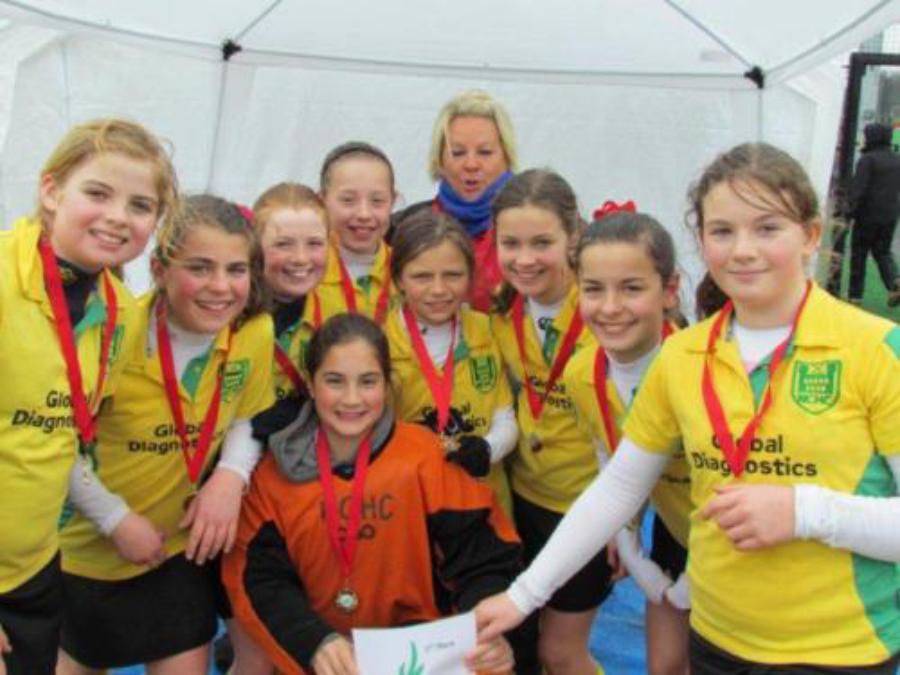 ---
U12s Qualify for Regional Finals!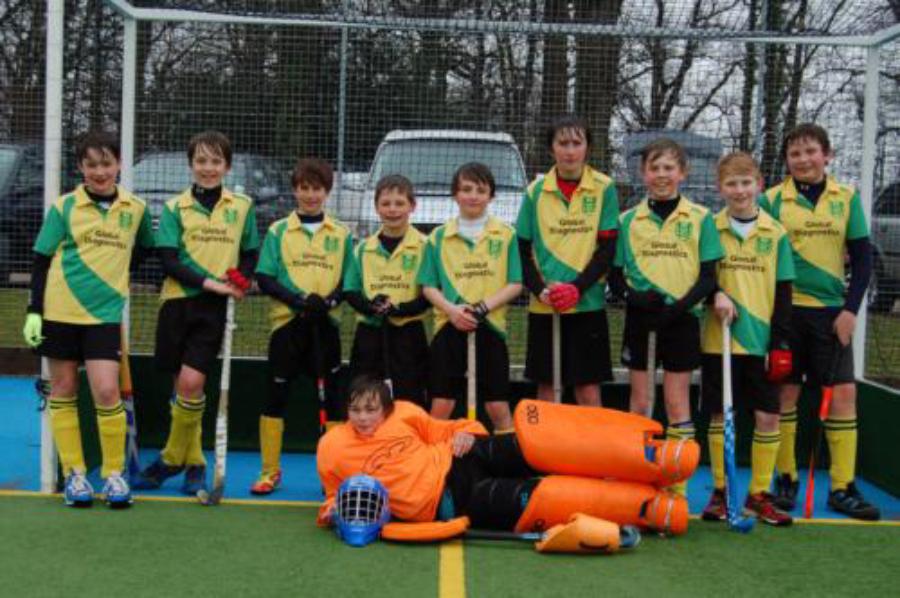 It was a rainy, cold, early Sunday Morning for the County Championships at Greshams – some things never change! With only four teams in the competition, we knew we had to come out strongly to stand a chance of finishing in the top 2 and qualifying for the Regional Finals in April.

Pelicans was the first, difficult hurdle. Norwich started very brightly and quickly went ahead via a well taken Jake Cushion goal. We continued to press before half-time but couldn't quite convert our chances. 1-0 up at the break, the coaches urged Norwich to play their hearts out to make sure that we kept the lead. Sure enough the boys delivered, with Rob Duffy and Harry Ingham tackling strongly at the back and keeper Jack Cazier keeping Pelicans at bay. As Norwich continued to surge forward, Sam Bingham passed the ball to Harry Paterson who released a thunderbolt of a shot towards the top of the goal. Somehow the Pelicans keeper got a hand to the ball to keep it out. The ball dropped loose and there was Dan Phillips pouncing to make it 2-0 to Norwich. After that Norwich controlled the game, and the parents watching were delighted with a 2-0 win against strong opposition.

As the spectators and other teams huddled in the gazebos to avoid the heavy rain, our exuberant squad continued to practice until it was time for our second foe, Harleston Magpies. We knew that if we won this match, the Championship would be ours. Magpies started quicker, but after an early attack broke down, the ball was cleared out to Jake Cushion, just inside the Magpies half. Jake dribbled the ball at pace before slipping the ball past the Magpies keeper. 1-0 and the boisterous (but always fair) Norwich City supporters went wild! The game continued, with Norwich looking strong. Shortly after, the ball was pinging around the D, hit a Magpies foot and James Hewitt slotted the ball home. Sadly the whistle had already been blow and the goal didn't count. Magpies surged forward and won a short corner just as the half time whistle blew. The corner was played and Magpies well struck shot made it 1-1 at half time.

The second half continued at the same frenetic pace, with both teams having chances, and Norwich on top largely due the efforts of our players who were putting everything into the game: Jake Cushion, James Hewitt, Sam Bingham, Dan Phillips and Josh Bailey were all over the pitch and Tom Spencer was a rock in defence. However, against the run of play, Magpies won a second short corner, and with the same routine made it 2-1. Norwich kept fighting, but sadly the whistle went, leaving us very unlucky on the wrong end of a 2-1 scoreline.

Finally, Norwich came up against Dragons. Within a minute Norwich were 1-0 up, with a Josh Bailey cross from right wing being swept in by Harry Paterson. Norwich continued to attack with James Hewitt scoring the second, and a host of opportunities going begging. In the second half, Harry Paterson scored his second, before Josh Bailey scored with a thunderous shot. The team was looking tired by now and some slightly chaotic defending allowed Dragons to get a goal, with the game ending 4-1 to Norwich.

And so Norwich finished second in the tournament, with only that narrowest of defeats against Harleston preventing us being crowned Norfolk Champions. However, we had played extremely well, worked hard and have achieved our aim of reaching the Regional Finals. The coaching team were extremely proud as Jake Cushion led up the brave bedraggled team to receive their pennant and medals from Norman Hart, Umpire Coach.

Player of the Tournament: Despite strong competition from absolutely everybody, player of the tournament goes to Jake Cushion for leading from the front and putting everything into the game.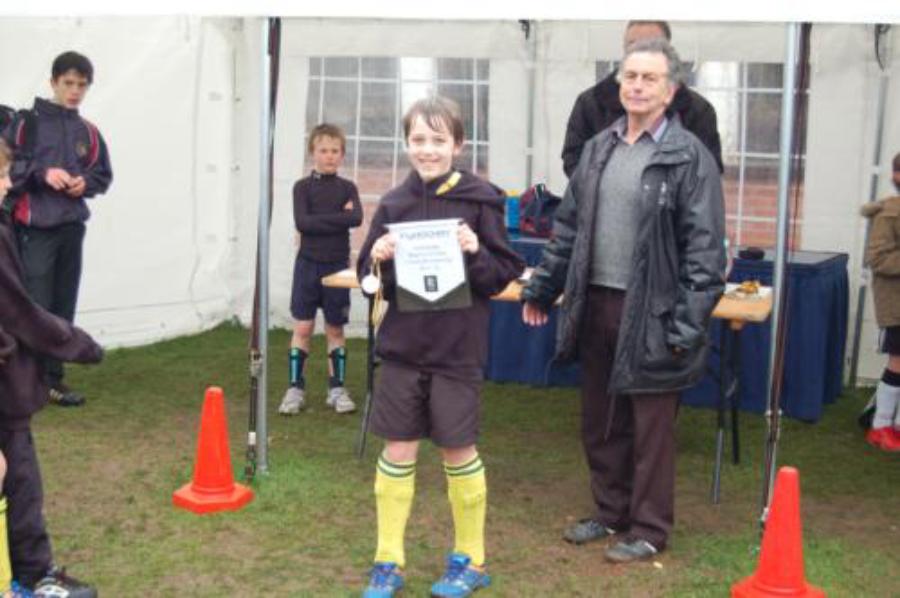 ---
U12 Boys Getting Closer!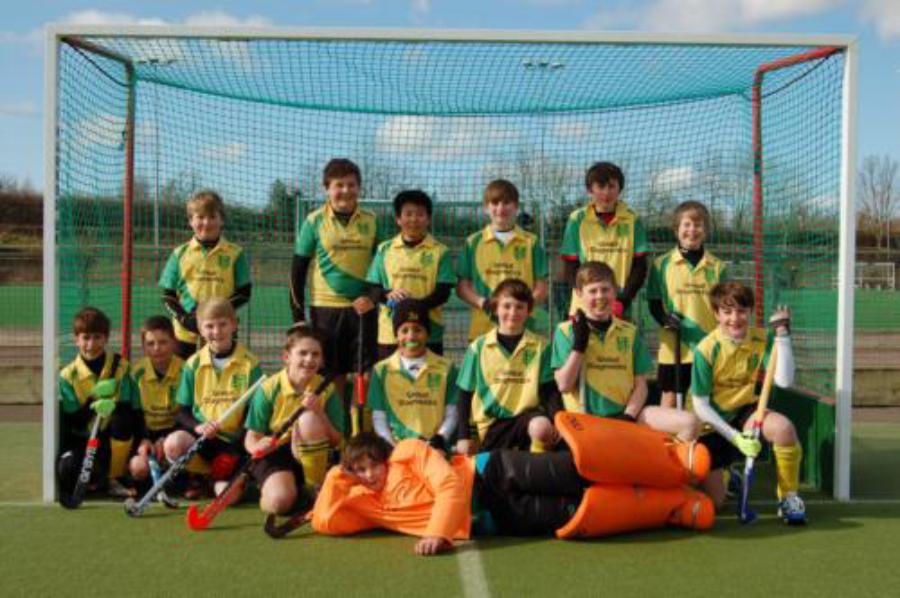 Norwich took a strong U12 Boys Squad to the Harleston Magpies Tournament, with the toughest decision being how to choose an A and a B team. In the end, we went largely on age, with the A team being the more experienced boys and the Bs being mostly those new up from U10s this season.

The 9.30 start on a bitterly cold morning in half-term proved too early for some, with players careering in from all corners of East Anglia as some parents woke up late/got lost [delete as appropriate!] and did their best to make the start time. Our first game was the A v B derby, with manager Kerri having her work cut out to find two goalkeepers to allow us to start. An exciting game was end-to-end but finished scoreless, largely due to three super saves by U10 goalkeeper Kieran Myatt on behalf of the B team.

The A team moved on to play Magpies B. We started well but, in playing attacking hockey, we were left exposed at the back and against the run of play, Magpies broke through and easily beat our borrowed keeper No 3. With only ten minutes in each game, Norwich needed to score quickly and surged forward time and again, before James Hewitt drove through the middle and got his shot home. Norwich continued to press with defenders Theo Hinton, Tom Spencer and Rob Duffy pushing forward, but were unable to turn the draw into a win.

Buoyed by the arrival of goalkeeper Jack Cazier, the As continued to improve. We beat Dragons 2-0, through two Joe Flatt goals, the second stemming from a superb driving run by Josh Bailey. Next up was Ipswich. It wasn't long before Sam Bingham put us 1-0 up with the "Goal of the Day" – a well struck lifted shot into the right-hand cornerof the goal. James Hewitt made it 2-0 to City, before some lax defending allowing Ipswich to score. With the coaches bellowing for more focus on defence and less on attack, the final whistle went for a 2-1 victory.

Norwich As next played Magpies A team, firm favourites for the tournament. For the first five minutes we held them and looked good. However, strong pressure from Magpies eventually paid off, and Norwich were a little guilty of ball-watching as Magpies eventually won 3-0.

Finally we played Thetford, and had all the play. James Hewitt made some good running before putting Josh through for our first. Shortly later, James's short-corner strike was stopped on the line and the alert Sam Bingham pushed it home from almost 15 cm (they all count!) before Joe Flatt made it 3-0 with another poacher's goal.

Norwich B's second game was against Thetford, and a real team performance led to a 4-0 win, with goals from Harry Paterson, Jack Watling, Cameron Cook and Dan Phillips. Next up against Magpies B the team overcame a shaky start thanks to some good defensive work from Yu-Hin Chan, before goals from Cameron and Joe Wales gave us a good 2-0 win.

The B team's next opponents were Dragons. Cameron kicked off the scoring with two goals, the second coming after a super dribble along the bye-line from Dan Phillips. Harry scored the third with a short corner strike and Joe Wales smartly pushed home the fourth. Finally Jack Watling received the ball in front of goal and cleverly lifted the ball over the sprawling goalkeeper. 5-0 in a ten minute game is pretty impressive.

Finally our young team came up against Magpies A, knowing that if they won, they would win the tournament. Sadly it was a bridge too far and despite holding out for half the game, eventually the dam burst and we lost 4-0. Wise beyond his years, skipper Harry Ingham was philosophical, feeling that the team had performed well across the day.

In the end, out of seven teams, Norwich City B were second and Norwich City A came third. In total, the two Norwich teams won seven, drew three and lost two, and it appears that the gap to Magpies is narrowing. The boys performed really well, earnt their drink at the bar (see photo!) and have given the coaches some tough but welcome selection problems to think about!

Players of the Tournament:
A team: Josh Bailey for showing real drive and determination and setting a great example for the rest of the team
B team: Dan Phillips for great running and dribbling down the right wing: "harder to catch than smoke"
Manager of the Tournament: Kerri for all her hard work in finding goalkeepers for nearly every game and making lots of new friends in the process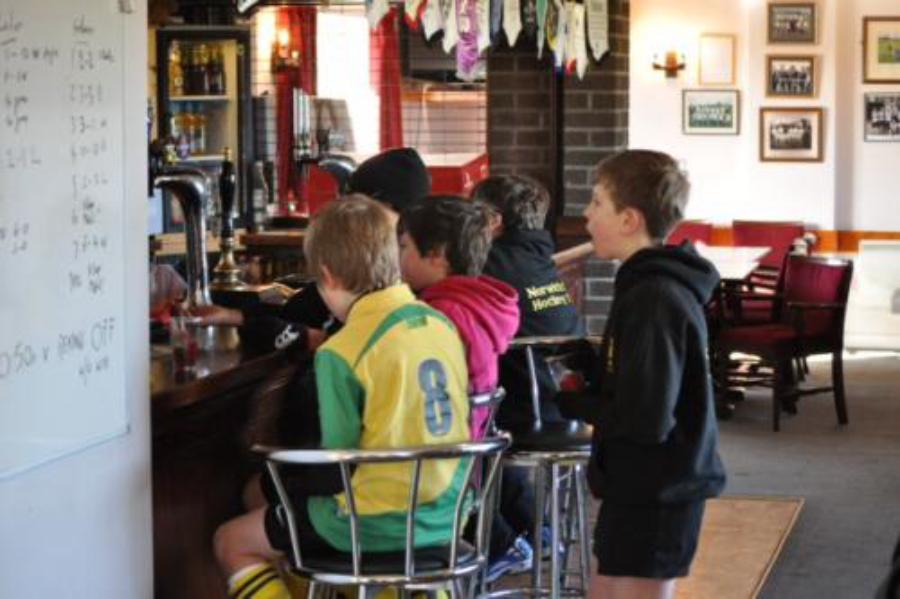 ---
Login
---
youth@norwichcityhc.co.uk
[2021-2022]
[2020-2021]
[2019-2020]
[2018-2019]
[2017-2018]
[2016-2017]
[2015-2016]
[2014-2015]
[2013-2014]
[2012-2013]
[*]