Youth Hockey
2013-2014

u10

A Good Day for the U10 Boys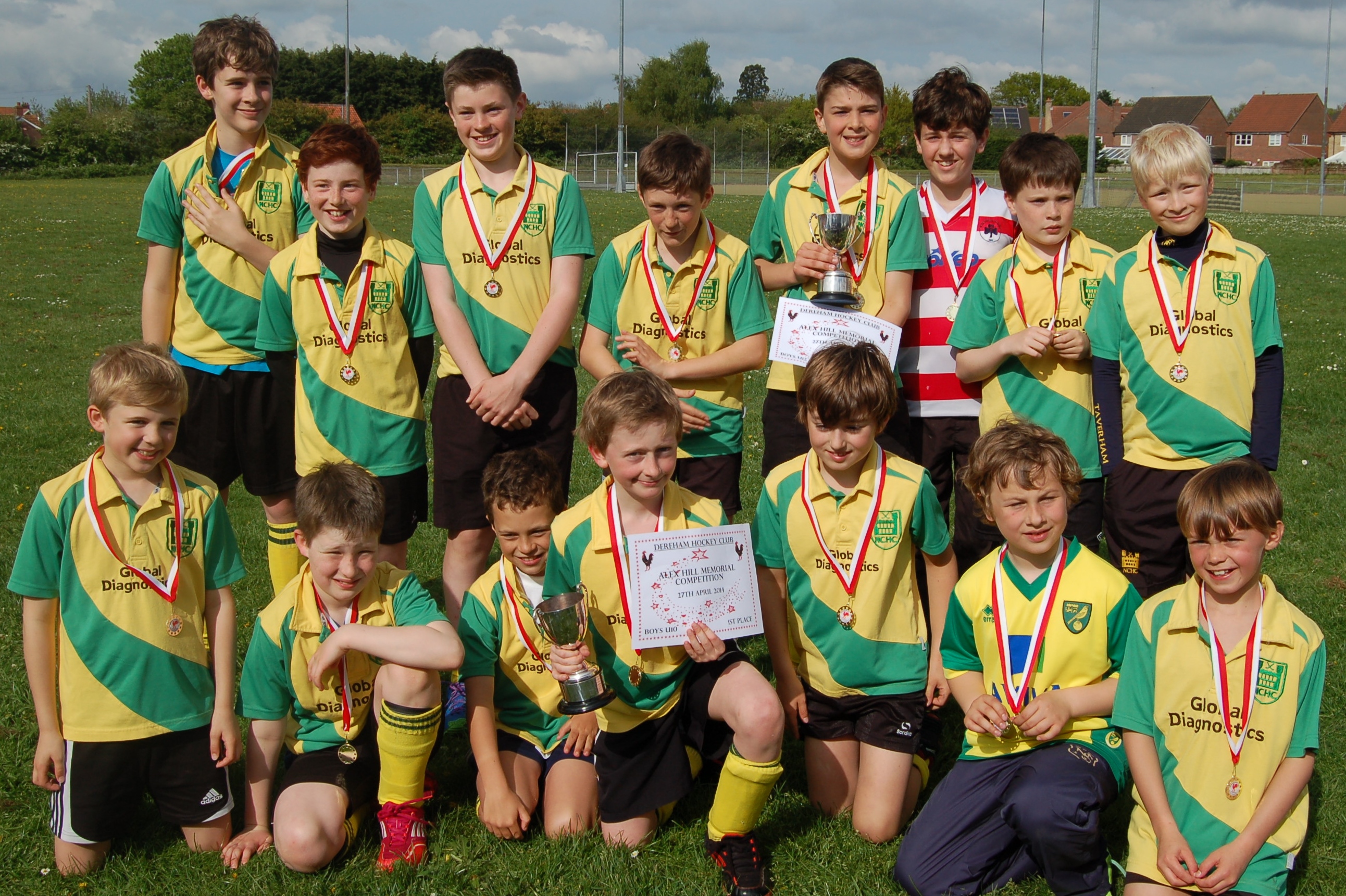 On a beautiful late April afternoon, the City U10s congregated at Dereham Hockey Club for the annual Alexander Hill Memorial Tournament. City's numbers were depleted by the call of cricket and parents going off the grid, and it was only the addition of two U8 debutants, Corey Rushton and Mattie Roy, which enabled City to get two teams into the competition.

A Team Tournament Winners

With Joseph ill and Jonty on cricketing duty, Skipper Freddie Paterson was moved back into Centre midfield and Rocco Iaccarino given Centre Forward's duties. Having not played for some weeks, City started off slowly, taking a while to find their feet. Nevertheless, once Freddie opened the scoring, the flood gates opened. Rocco smartly prodded home the second and Harry MacKenzie swept in a third off a good cross from Rocco before scoring a brilliant solo goal for City's fourth. And finally, defender Matthew Burton put the icing on the cake with a well taken goal for a 5-0 win. Men of the Match were Samuel Doncaster and Harry for industrious work on the flanks.

Next up were Dragons and, with our emergency sub not having arrived, the City A team elected to play one short with only six players. Added to this, the Dragons team flooded the space in front of their goal, making it difficult for City to get those important shots away. It was Freddie again who broke the deadlock, rolling out of a tight space to give just enough room to squeeze a shot inside the right post. Freddie scored again to make it a good 2-0 win to six man City, and keeper Will Farrow had still not been troubled in defence. Men of the Match were Rocco Iaccarino and Matthew Burton.

With a long gap before the next game, the Coach suggested to the Boys that they rest their legs and take on plenty of fluids before the next game. Clearly the Boys knew better, and decided an impromptu game of football was a much better idea. Therefore, Coach Al, with his PhD in "I told you so" was not surprised when City started the third match against Pelicans looking tired and lacklustre and without the energy to chase back. Fortunately City have a strong defence, and this was their moment. Ethan Rushton and Matthew Burton tackled well, and anything that got through them was dealt with imperiously by Keeper Will. After a few minutes the rest of the team got their breath back, with Freddie scoring twice in a 3-0 scoreline. Men of the Match were Will Farrow and Ethan Rushton for coming to the fore when needed.

So with three wins out of three, only the City B team could prevent the As from a clean sweep. Fortunately Coach Al has been around the block a few times, and so was able to see through the mind games of B team Coach Paul, and put out his best (and only) team. The A team attacked relentlessly, with only keeper Oliver Leary and his miraculous acrobatics keeping the score down. Freddie scored the first two, the second being a short corner where he received the ball, dribbled past three defenders and slotted it past the despairing Oliver. Harry scored a third before Matthew Burton skilfully swept a bouncing cross from the effervescent Samuel Doncaster into the net for a 4-0 scoreline. Man of the Match was Freddie Paterson.

So with four wins out of four, City A's retained the title they had won 12 months earlier. In a good day for City, the U12 Boys did the same, and it was with pride that the victorious teams collected the trophies and medals.

B Team Finish a Very Credible Fourth

City's "Elite Bs" went in cold against a Pelicans side that had already faced Dragons. However both teams gave no quarter as we repulsed wave after wave of attack and countered with well controlled dribbles down the right wing by Joshua Kim and shots on target from Henry Baker. Unfortunately, and despite the team having made the effort of getting back for a long corner, a lack of communication led to an easy Goal for Pelicans. It can be difficult having gone one down and City just could not fight back: 1-0 the final result. Man of the match was James Byrne for showing a cool head under pressure and a clear eye for the ball.

Against Dragons, Corey Rushton made his debut for the U10s and showed grit, getting stuck into the tackling as a valuable line of defence. Despite our best efforts and some good running into space from Edmund and taking good yards down the right by Joshua we couldn't get many strikes on goal away and one quick counter attack led to their goal. 1-0. Man of the match as debutant Corey Rushton for some great tackles in defence.

For us, the Watton game was going to be key, and, refreshed with water, we began to play as a team with some nice passing up front and in the midfield plus some super dribbles to the by-line from Mattie Roy and Joshua Kim who share man of the match. Result 0-0.

The final match against the city 'A's was always going to be our toughest challenge but we were up to it and limited them to only a small handful of goals. Of particular note was Oliver Leary who came good, let me correct that, came really good as our goalkeeper, finding his inner Rottweiler and laying down some incredible saves that both entertained the crowd and drew applause from the opponents. Man of the match goes to Oliver for showing mettle, continuing on into the storm.

The team finished fourth, and with all but goalie Oliver still in this age group next year, this was a great performance and a sign of things to come.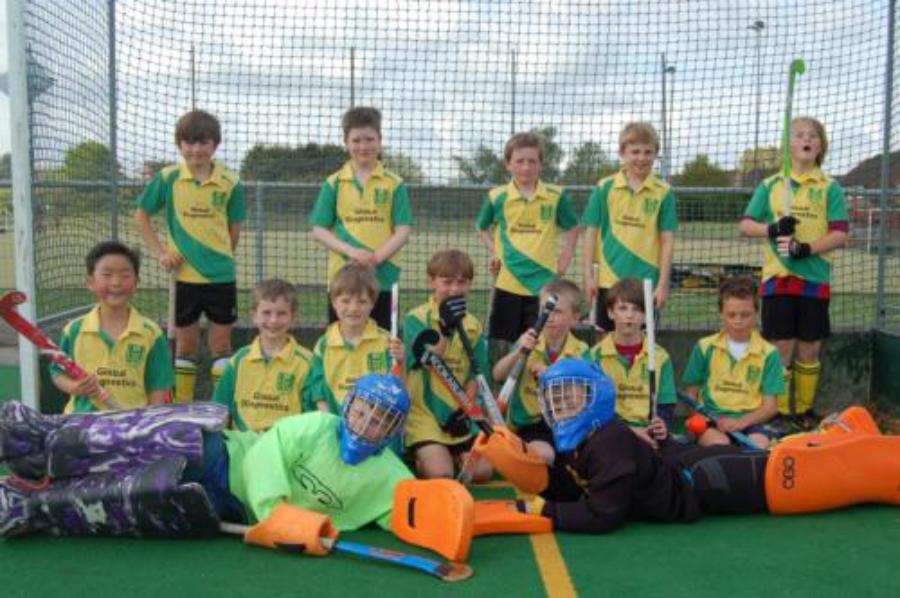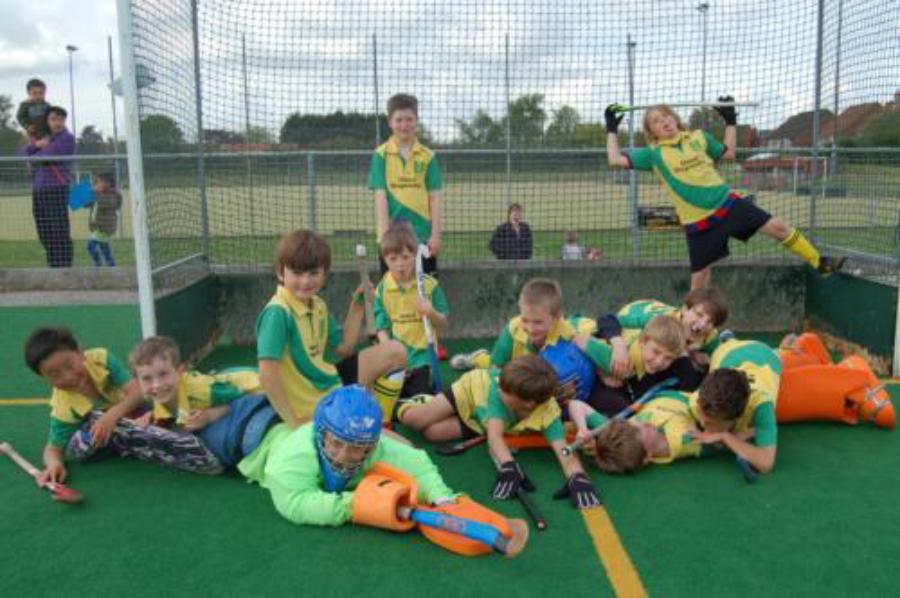 ---
City U10 Boys A's Stamp Their Authority at Dragons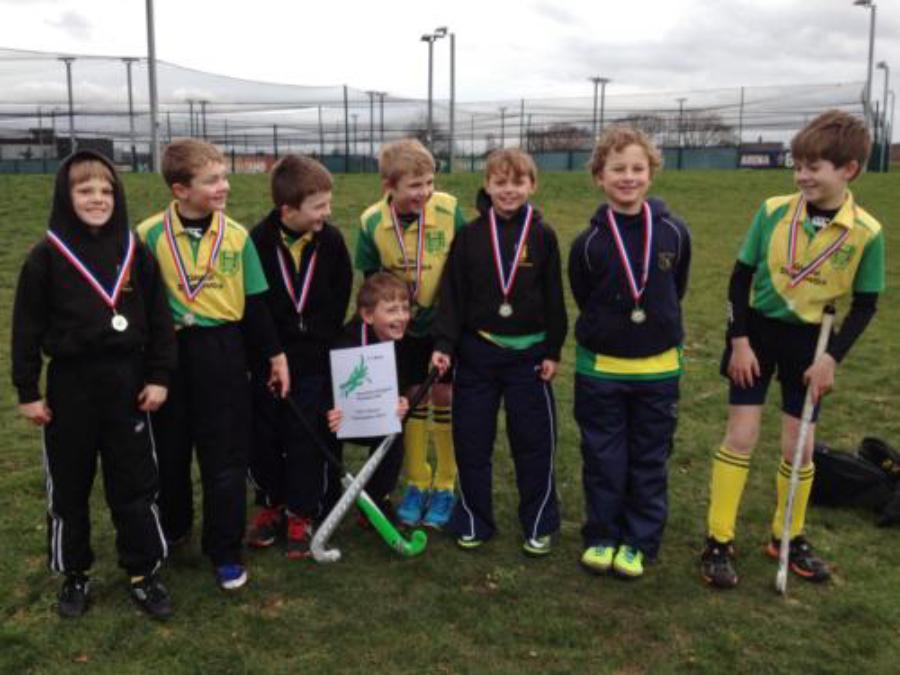 In this short but high class 'gold' tournament City played some excellent hockey that improved with each game to emerge as champions.

Played 3, won 2, drew 1. Goals for 9, goals against 0.

Squad: Freddie Paterson, Will Farrow, Samuel Doncaster, Joshua Means, Joseph Roy, Jonty Black, Toby Pallister and Harry MacKenzie.

Our first game, against a Magpies team that has improved as the season has progressed, was to prove the closest. City controlled large parts of the 10 minute game but could not quite get the ball across the line despite Freddie, Jonty, Harry and Joseph all coming close. In fact Samuel and Joshua were called upon to make a couple of extremely timely interventions to limit Magpies to only a couple of chances. Move of the match was a smash from the Jonty on the halfway line all the way back to Joshua at left defender! Then hard and square to Samuel at right defender and then up the line on the right - I don't care what level you play at....that was out of the top drawer. Man of the match Samuel Doncaster. Result 0-0.

The second match, following straight on from the first, was against Pelicans who had proved fairly strong opposition at City's own tournament a month ago. However, what a difference a month can make.....City were imperious from the off with Joseph controlling the middle of the park with guile and élan, ably supported by dynamic running from Jonty, Joshua, and Harry when he came on halfway through the game.

Freddie scored from a well worked short corner which just eluded Joseph and the Peli's keeper. Jonty then doubled the score with a fantastic tackle over on the right then a mazy dribble with his now customary flick before a reverse stick dink past the oncoming keeper. Harry then came on for Jonty and immediately helped set up Freddie for his second, a lovely strike from the middle of the D. By now, the City midfield were dominant, with Samuel and Toby supporting from the back to ensure city used the full width of the pitch. Freddie's third came in a blur with a fantastic solo effort round three Peli's defenders, before Harry added a fifth and Joseph the sixth. Man of the match was a close run affair between Joseph's almost General like qualities in midfield and hat trick hero Freddie, Freddie just getting the manager's vote. Result 6-0.

The last game of the tournament was the customary City/Dragons confrontation with both surprisingly having won one and drawn one, there was everything to play for. If you thought the team played well against Peli's, well this was even better against a very strong Dragons team. Most thought a fantastic strike by Freddie following a good move down the right had opened the scoring but the ball crashed off the inside of the post and back into play. Undeterred the midfield moved the ball from left to right and back again to create a tiny amount of space for Freddie to calmly take on the last defender and slot the ball past the keeper. Dragons fought back and the defensive qualities of Toby and Sam really came to the fore as they tackled and harried to make sure what little opportunity Dragons did create was soon swatted with aplomb. The second goal came following a good run by Harry (having by far his best game of the three matches) down the left, squared to Joseph who played a lovely one-two with himself (fooling everybody) before a ball back to the top slipped to Freddie...2-0. Goalie Will, who had been a spectator for most of the tournament, snuffed out the one half chance Dragons had. Joshua came on for Joseph in the middle and did an excellent holding job of stopping Dragons' play maker having any room at all. To put the icing on the cake Jonty scored a quite astonishing goal playing right midfield he picked the ball up at the top of our D, ran the length of the pitch to the far right touch line/ base line and then undercut the ball into the top corner - not too sure how this happened or indeed if this could be repeated but a very fitting way to finish the tournament. Man of the match (for sheer audacity) Jonty. Result 3-0.

Excellent defending, excellent, passing, excellent tackling and some really rather fine goal scoring.....just need to repeat this at next week's County Championships.

---
Great Performance by City U10 Boys Bs!
After a tough first tournament a month ago, our U10 B team arrived at the Dragons Tournament keen to show how they could do against other B teams (and the Dereham A team which had been included in the B team tournament). With coach Caroline Illing and manager Rachel Millet in charge, we were all set for a good day.

In our first game against the Dragons "Brown" Team, good play from the City Boys delivered a 1-0 win. Next up, was the Dereham A team, which was sure to be a tough game. Dereham won 2-0, the second being a really good goal. However, it wasn't all one way traffic with City having a couple of chances and being unlucky not to be awarded a couple of penalty corners.

Finally we came up against the Dragons "White" team which City dominated to win 3-1 with all the goals coming from open play. Our first two goals came from series of strikes in the circle with Alex Illing and Oliver Millett working determinedly for Rocco Iaccarino to score the goals. Meanwhile, Henry Baker was fantastic in defence, at one point foiling a four on one overlap with a perfectly timed tackle, before driving forward and winning a free hit which led to the 3rd goal.

Throughout all the games, all the City players did well: Oliver Leary in goal dominated the D and enjoyed being in control for defensive short corners. Ethan Rushton was patient in defence delivering well-timed tackles and sensible free hits. Alongside him, Matthew "MatMat" Burton, on his City debut, had an outstanding day with direct play and good skills. In midfield, Henry Ingram moved the ball on well, showing good maturity. Oliver Millett was keen and strong, which is what was needed to win these short games, whilst Alex Illing was determined from the off, winning any number of tackles and free hits, as well as setting up one of Rocco's goals. Henry Baker was another outstanding player showing real strength to win the ball. And finally, up front, Rocco was a classic striker with his determination to deliver the goals for the team.

All in all it was a fun afternoon. Although we came second to the Dereham A Team, we were the first of the B teams, which is a great result for a group of boys who have improved throughout the season. They were really pleased! Player of the Tournament was awarded to MatMat Burton who "played a blinder" and a good day was finished with Haribos all round. Well done Boys!

---
Norwich City Tigers NCHC U10's Tournament
Norwich City Tigers started with a victory against Dereham by two goals. Their next match was to be their most pleasing as they defeated eventual tournament winners Norwich City Lions by a single goal. From a coaches perspective it was a pleasure to see how all the players from both sides put into practise in a match what they had been learning in training.

The team had won their first two matches with great goalkeeping, solid defending, a determined midfield and fluent attacking, however the team was disrupted by having a break of two games and did not get into their third game against Dragons until too late. They ended up losing by three goals, the last of which was scored by a Lion, who will remain nameless, as City were great sports and provided Dragons with a player for each game.

The fourth match saw one of the team's best all round performances. Initially the team had to defend as Pelicans pushed hard for a goal but as the game wore on City gained the upper hand and could have snatched victory late on.

There was a long wait for the final match but the Tigers knew that a 5-0 victory would be required to win the tournament but seemed more interested in the Pet Day offered if they won by that margin. The coach was most concerned about a pony on the pitch, especially when the girls raced into score an opening goal within a minute. The Lions on the sidelines suddenly did not know whether to cheer for their friends or worry that they might be overtaken as only the Tigers could beat them to the title. Unfortunately and despite some fantastic play from Tigers, Harleston managed to equalise and then following a clearance off their own line go and score the winner.

The pleasing aspect was that Tigers could have won the tournament but ended up with 7 points having scored 4 goals and conceding 5 finishing in 5th place fifth.

Daisy Ford was brilliant in goal and had star performances against Dragons and Pelicans. Alice Farrow and Ivy Fisher were a very solid defensive unit, tackling strongly and distributing the ball well out of defence. They also added a further dimension to the team when they pushed up with play. The midfield unit of Charlotte Richardson-Howell, Mia Edmond and Sabina Baker were full of energy and running, coupled with strong tackling and accurate passing. Up front Lucy Hutchinson and Niamh Campbell were lightning fast and caused the oppositions defences lots of problems combining well with and helping out the midfield.

From a coaches perspective the most pleasing aspects from all matches watched involving the Lions, Tigers, Leopards and Jaguars was seeing the techniques coached being put into action. The movement into space and looking up to see who they were passing to was a joy to watch. They should all be proud of their performances, which have continued to improve for each tournament.

Ian Hardcastle
Coach

---
U10 Girls Silver Tournament
In the good spirit of the NCHC tournament, three Norwich City Under-10 girls, Tilly Gray, Emily Leeming and Sophie Rowlands teamed up with four girls from Dereham to make the combined Derewich Jaguars team. This was to ensure that everybody who attended the event had plenty of pitch time rather than each team taking lots of subs. It was a great idea and worked fantastically well with everybody having plenty of match time and plenty of fun as well.

As the team came together and learned to play as a unit, the game improved match by match. The first game was a little faltering and saw the play move mainly down the middle of the pitch, but through the tournament the girls began to use the width of the pitch more and up their game with some excellent passing and moving. It was impressive to watch the improvement through the morning. By the end of the tournament they had come together as a team and were thoroughly enjoying themselves. Tilly, Emily and Sophie were even talking serious tactics in the break between play. Throughout the tournament the team's defensive play was strong – with each player taking a turn at the back, and everybody doing their best to fend off some threatening attacks, especially from fellow Norwich City Leopards opposition. The Derewich Jaguar's only goal in the tournament was an excellent strike by Norwich City's Sophie Rowlands.
---
City U10 Boys A Team So Close in Home Tournament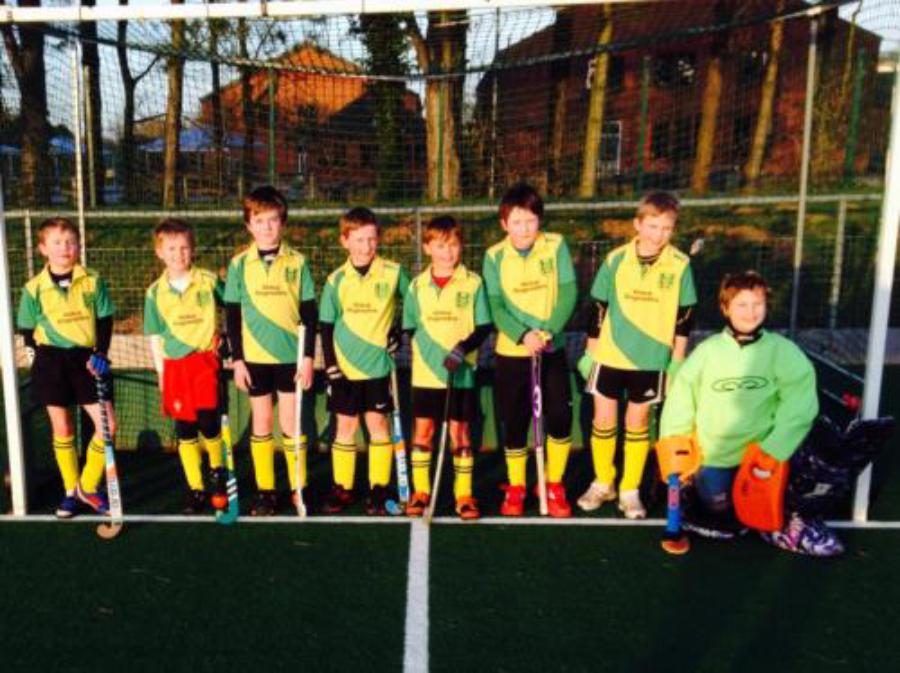 Played 6, won 4, drew 2, lost 0
Goals scored 14, goals conceded 2
Position: Equal first on points, second on goals conceded!

Team: Jonty Black (captain, birthday boy, 2 goals, 1 man of match); Samuel Doncaster (1 man of match); Josh Means (1 goal); Ethan Rushton, Harry MacKenzie (2 goals, 1 man of match); Freddie Paterson (6 goals, 1 man of match); Toby Pallister (1 goal, 1 man of match) and Will Farrow (4 clean sheets, 1 man of match ).


City U10 Boys A team, AKA the Norwich City Musketeers, came into our home tournament full of confidence, following their win in the previous tournament at Pelicans. The first three games went to plan and Will, Samuel and Ethan had little to do as the Musketeers had convincing wins over the Red Dragons (4-0), Pelicans (4-0) and the Norwich Knights (3-0). Jonty Black's magical 3D skills and Freddie and Harry's clinical finishing were supported by the dominant midfield of Josh and Toby.

The fourth game was a tough midfield battle against Magpies. The Musketeers were on top and created such chances as there were, but could not convert - a result that would come back to haunt them at the end.

Back-to-back matches followed: Firstly a tight 2-1 win against Dereham, with Will producing a couple of match winning saves - he even got a good block on Dereham's goal only to see it crawl over the line.

Then straight into their final game against the Green Dragons. Norwich Musketeers' superior passing and skill levels took them into the lead. Toby ran down the right, a pass into Freddie; a shot and a diving Jonty to knock it past the helpless keeper. The City legs now started to tire and Dragons came back into the game. Sam and Ethan came into their own making numerous tackles, but with only minutes to go a short corner was drilled into the corner of the goal by the Dragons striker to make it a draw.

Equal on points and goals scored with Dragons, it came down to goal difference. With one more goal conceded, City were pushed into second place. However, the Boys played some fantastic hockey in the process and ran themselves into the ground for the cause, so we are all extremely proud of a very good performance.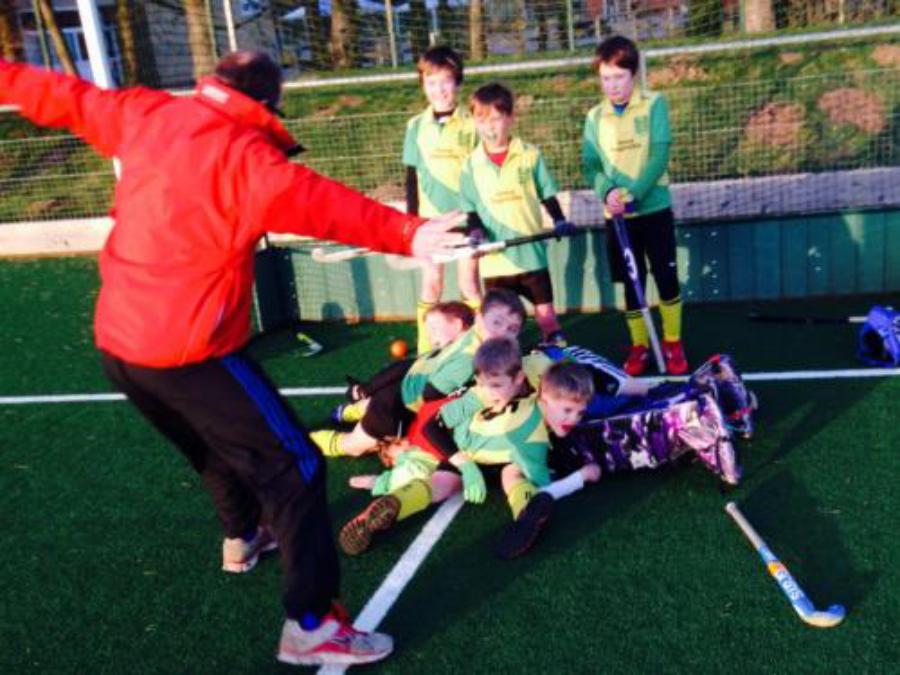 ---
Great Experience for Norwich City U10 Boys B Team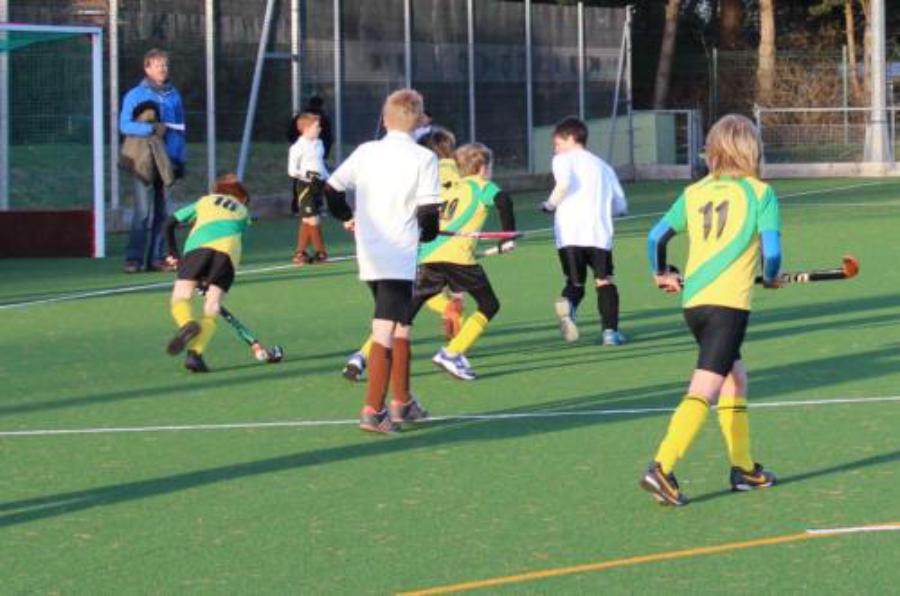 Norwich City were pleased to be able to enter two teams into the U10 Boys age Group at our home tournament on Sunday. The B team, AKA the Norwich City Knights, was made up of more inexperienced players, half of whom were a year young for the age group and were playing in their first tournament! Unfortunately only City and Dragons had enough numbers to enter a B team, so the plan of having a B team tournament was scuppered, and our Brave Knights had to play in the A team tournament, which was always going to be challenging.

Our aims for the Tournament were to have fun, to play our best, to get tournament experience and to learn from the day – we were not worried about results. With this in mind, the day was a real success, despite the scorelines not going our way, and we should all be proud of the way the Knights played. They were a credit to the Club, they never gave up and they will have learnt so much.

The first couple of games saw the boys start slowly, with our inexperience showing through against Magpies and Dereham A teams, who took advantage to win comfortably. We got better against City A and Dragons A, and came into our own against Dragons B and Pelicans where we narrowly lost out in two tight games. It was obvious to all watching that, even in the space of an afternoon, the Boys had improved significantly.

Our most experienced player and captain, Rocco Iaccarino, operated in the heart of the team and led by example, showing good technique and never stopping running. Rocco passed well to Henry Ingram on the left who showed good stick skills taking the ball up the flank and always looking for the pass. Oliver Millet played in midfield and attack, ran well and tackled hard for the team. Farrin showed some great positional play and tackling up front and Alex Illing improved as the day went on, making some good runs and getting really stuck in.

In defence our boys were under pressure throughout, and Oliver Leary was extremely brave and committed in goal, making some sublime saves. Henry Baker, who is relatively new to hockey, was a revelation, fighting for every ball, tackling hard and at the end having the energy to surge up the right flank to unleash a couple of thunderbolt shots that narrowly missed the goal. Alongside Henry, our young defenders Ben Brind and James Byrne both tackled commendably, worked hard and got better and better as the day wore on.

So overall it was a worthwhile day and I am very proud of the effort and commitment the boys put in. They never gave up, despite the results going against them, and will all have learnt an awful lot today.

The Knights' Player of the Tournament was Henry Baker, with special mention to Oliver Leary being a close second.

Al Paterson (Boys U10 Coach)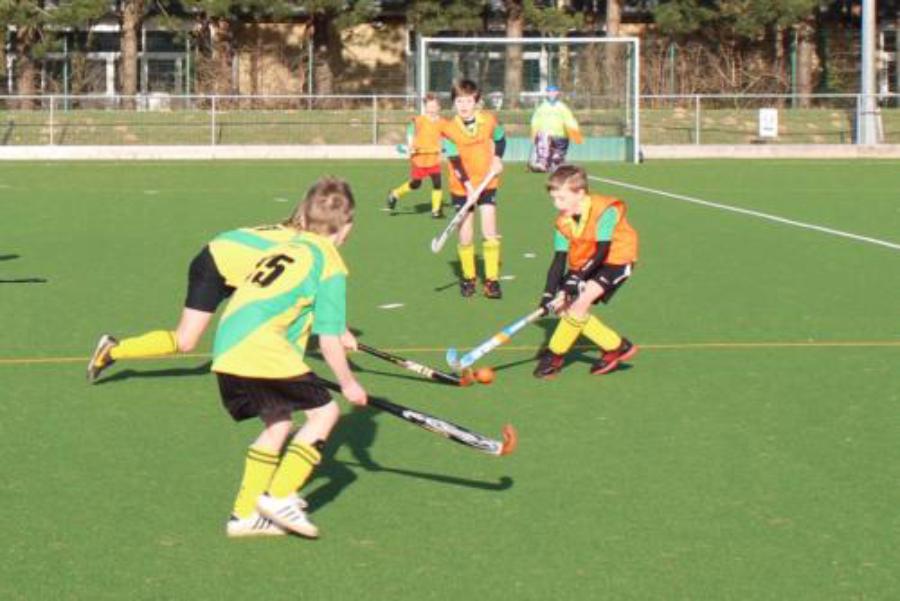 ---
CITY U10 BOYS ARE CHAMPIONS!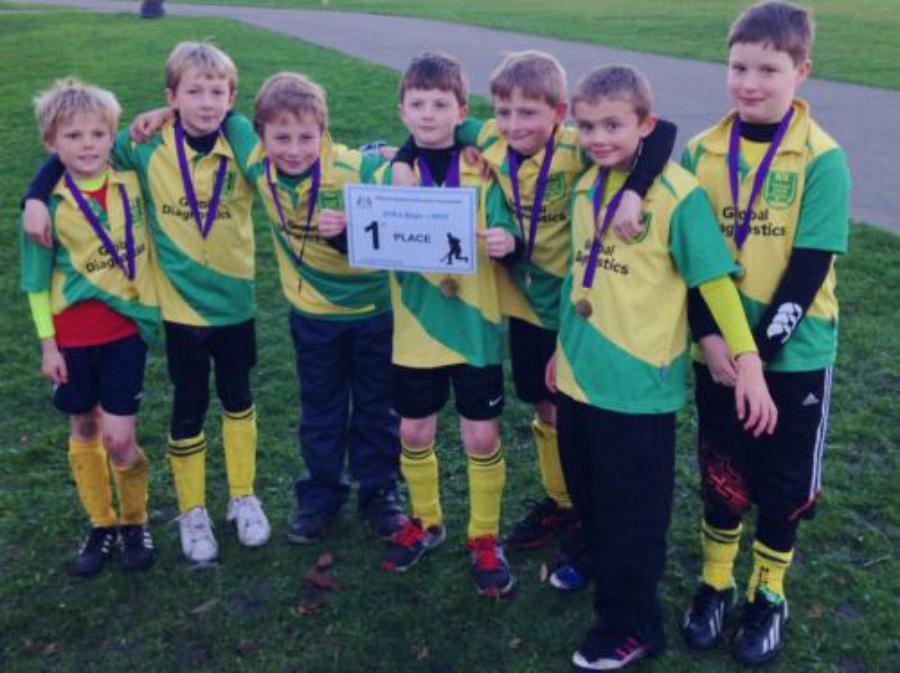 City overcame all comers to convincingly win the Pelicans U10 Boys tournament scoring 10 goals and conceding none in their five games. An achievement that was all the more pleasing as, for a number of reasons, we didn't have a substitute and so all seven boys worked their socks off in each and every game.

On a cool but significantly warmer day than last year (those that were there last year will remember Eskimos and snowmen wouldn't have looked out of place) the sun shone and the wind abated.....is this a first for Kings Lynn? Competition was provided by two Dragons teams, Magpies, Pelicans and Dereham with matches lasting 8-9 minutes.

Game 1 - Dragons B (won 3-0)

The first match was against Dragon's second team who adopted an unusual tactic to keep the score down.....turn up on the pitch after 5 minutes which when you're centrally timing makes rules and regulations interesting. Anyway, as the conspiracy theories ran wild, City's boys won 3-0 in the remaining 3-4 minutes of the game. We dominated from start to finish with our defence untroubled, the midfield of Joseph Roy, Jonty Black and Oliver Millett passed and moved with total assurance and Freddie Paterson was irrepressible up front. The first goal came from a magnificent move by Joseph who slipped the ball to Freddie for a simple tap-in (a fine example of good and unselfish hockey). The second was an excellent example of how to read the game. Dragons tried to clear the ball across the defence, Joseph, ever alert pounced with the predatory skills of a soaring Eagle, to rob the keeper and calmly slot the ball home. The third culminated in a period of continued pressure that eventually resulted in Freddie popping the ball in. City still had time to give Ethan Marchant and Toby Pallister some time on the ball as they stepped into midfield for the final minute whilst Jonty and Joseph took up defensive (observational) duties. Man of the match was Freddie.

Game 2 - Magpies (won 2-0)

Both teams were ready and on the pitch in time to share a full and closer contest. Whilst this was a tougher game, City were always in control, their fast passing, dribbling and ball retention a joy to behold. When they play like this it really makes management easy! The opening goal came from an excellent defensive interception from Toby who drove the ball down the right before passing to Oliver who then just weaved his stick as if it was Harry Potter's wand past the hapless defenders and bashed the ball into the far corner....WOW! Not content with scoring an excellent goal Oliver then weaved his creative magic battling for the ball down the right before a neat cross to Freddie who simply did what he does best....bashed it in the goal. Yet again Joseph, Jonty and Oliver were superb. Man of the match was Oliver.

Game 3 - Pelicans (won 3-0)

Another very good game where City's defence were actually put under some pressure.....just to show that in addition to a multi-dimensional marauding attacking force we have a heart of steel. Goal one, followed some excellent pressure by Jonty that forced a penalty corner.....step up Freddie....BASH, BANG and the the ball is rebounding off the back board before the Pelican's have barely moved - take that! A lovely pass from Joseph, beautiful in its simplicity, to Jonty on the left allowed Jonty to drive into the D and smash his shot against the post....never fear, Jospeh was there to snap up the rebound! There are some moments in any game that will live with you, some for their genius, some for their simplicity and some for their down right audacity......step forward Ethan.....Pelicans hit the ball down the left flank....Ethan with plenty of time to step around the ball! take it on his open stick and decide which one of his dynamic team mates to pass to (per the coaching manuals!!!) decides NAHHHH ....reverse stick smack straight to Joseph through the Peli's defence...deserved a goal for audacity....sadly not this time. Goal three ...... Joseph to Freddie who drove into the D, made space for the shot, good save by the keeper only for Jonty to slot the rebound. Late on Ethan nearly got on the score sheet....so close! So, three games down and our Goalie Will, hasn't had a touch!

Man of the match Jonty.

Game 4 - Dereham (won 1-0)

This was a bit of an unknown quantity in that Dereham hadn't played in the previous tournament at Magpies but they had already drawn with Dragons first team so needed to be treated with respect. The team did not play very well having passed and moved so brilliantly in the previous games they all decided to try and dribble....Hmmmmmmm! Our goal game from good defensive work by Ethan who (back with the coaching manual) passed with pin point precision to Joseph. Joseph and Freddie then raced down the pitch using a series of one-twos for that man Freddie to score again. Ethan and Toby both worked well in goal but it was Will's first touch of the tournament....a splendid kick that made sure we remained with a clean sheet and a 100% record.

I (Simon Black) take most of the responsibility for this performance not being up to the standard of the previous three....I forgot to hand the jelly babies out before this game....normal service was resumed for the final match....sorry team....I'll try and do better next time.

Man of the match Will.

Game 5 - Dragons A (won 1-0)

This was always going to be tough (we'd just lost out at the Magpies tournament to them and they had a couple of subs and we didn't) but a sheer will to win meant the result was never in any doubt. Joseph's reading of the game, when to attack, when to defend, when to dribble, when to pass was majestic. Oliver, Freddie and Joseph all came close to scoring but it was Jonty who got the crucial goal with a reverse stick hit following yet another good Freddie penalty corner strike. When Dragons did attack Toby and Ethan, ably supported by the midfield snuffed out any and all threats. Again, Will showed his powers of concentration with another excellent kick to thwart the Dragons who huffed and puffed but clearly ran out of fire [sorry ed., couldn't resist].

Man of the match Joseph.

Whilst we were pretty dominant in all the games special thanks to the defence for retaining their concentration and so that we maintained FIVE clean sheets. Also very well done to Oliver and Toby in their first tournament of the year and a get well soon to Harry McKenzie who fell ill on Saturday and will be gutted to have missed out on the medals.

Well done to you all and I hope to see you all at training on Sunday.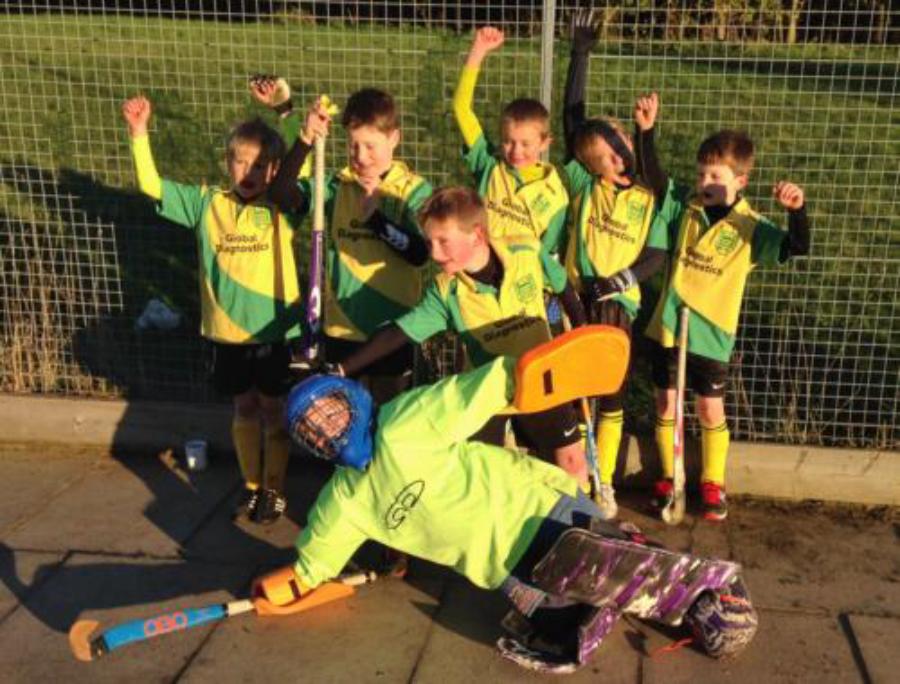 ---
U10 Boys come so close in Magpies Tournament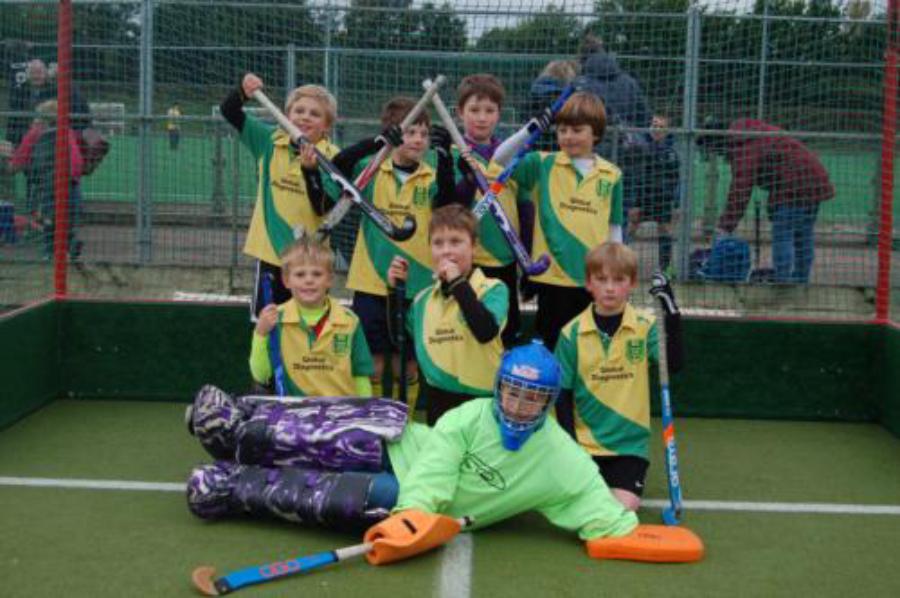 A four match tournament at Magpies promised to give the City U10 team something to get their teeth into. With some players having had experience last year of this tournament, which comes so early in the year, we had some conviction that we might get a few goals. Making their debuts into the fiery cauldron stepped Ethan Rushton, Henry Ingram and Will Farrow - well done to them all in what was a step up in standard and skill levels since last these guys played competitive Hockey.

Vs Pelicans
Result 3-0 win

In a comfortable victory, the goals came from Freddie Paterson with an assist by Joseph Roy, Harry McKenzie again with an assist by Joseph and then a lovely three man play involving Rocco Iaccarino to Freddie to Harry. Several more short-corners then ensued with no reward, despite good pressure and plenty of ambition. Also of note were crucial intercepts by the indomitable Jonty Black turning their counter attack into our counter attack and some nice dribbles down the right wing to the corner using the whole width of the field by Harry.

Vs Dragons
Result 0-1 loss
In this well-matched game, with superior possession and territory by City, we committed the cardinal sin of not switching on from the start which meant a good Dragons finish put us behind in the first minute. This early goal then dictated the game tempo: too many rushed passes went to opposition sticks and we lost possession too often at crucial moments which, coupled with taking on too many players through undoubtedly immense frustration, left us inevitably without space to play the passes necessary to score. Even with 6 Dragons in a row we tried to do the impossible and dribble through them all when the easy pass could have bypassed the lot... Food for thought, and sadly despite having most of the play we went away empty handed. The highlights were some nicely weighted passes by Rocco and a couple of great clearances by Will.

Vs Watton
Result 9-0 win
A clean sheet and 9 goals in 12 minutes illustrated the quality and passion in our side when we play hockey as a team. We passed the ball to stick and made space by running off the ball. It looked like a transformation with some nice half and forward interplay, even though the backs would have liked more to do! Freddie scored a hat-trick plus 1, Harry a hat-trick too, Rocco scored the fifth goal in the series and Jonty wasn't going to miss out on the great goal fest and slotted the ball 'twixt keeper and post. Freddie may have scared a couple of defenders with his "Charging Rhino" shot, so named as it could have downed a 2 tonne adult male Rhino in full canter (approx 35mph).

Vs Harleston
Result 2-0 win
A really exciting finale despite the result being somewhat a foregone conclusion again illustrates the deep wells of tenacity and resilience from this team that seemed to mature before the spectator into a precision drilled unit, never giving an inch and always looking to work for each other. Will, Ethan and Jonty had plenty to do and were ably assisted by the hard working halves. Harry scored from a really well worked short corner routine with the interplay from Joseph and Jonty creating the space and time for a solid strike that crashed through the defense's sticks. Joseph scored from another interplay with Jonty and Harry in open play. Henry played a vital role up front, stretching the Harleston defence so they couldn't apply the pressure on our goal that they would have liked to and Ethan repulsed wave after wave of the black and white Harleston Magpies. Will made some great saves covering his posts and keeping his head and showed a really good start for a promising season.

Overall the team came narrowly second in the tournament, having won three of the four games with a goal difference of +13, which gives us an indication of what the team can achieve this year. The boys played well and were justifiably pleased to collect their medals for a good performance. Well done to all the team and thanks to Manager Rachel Millett, the coaches and parents for making it all happen.




---
U10 Boys Win Watton Tournament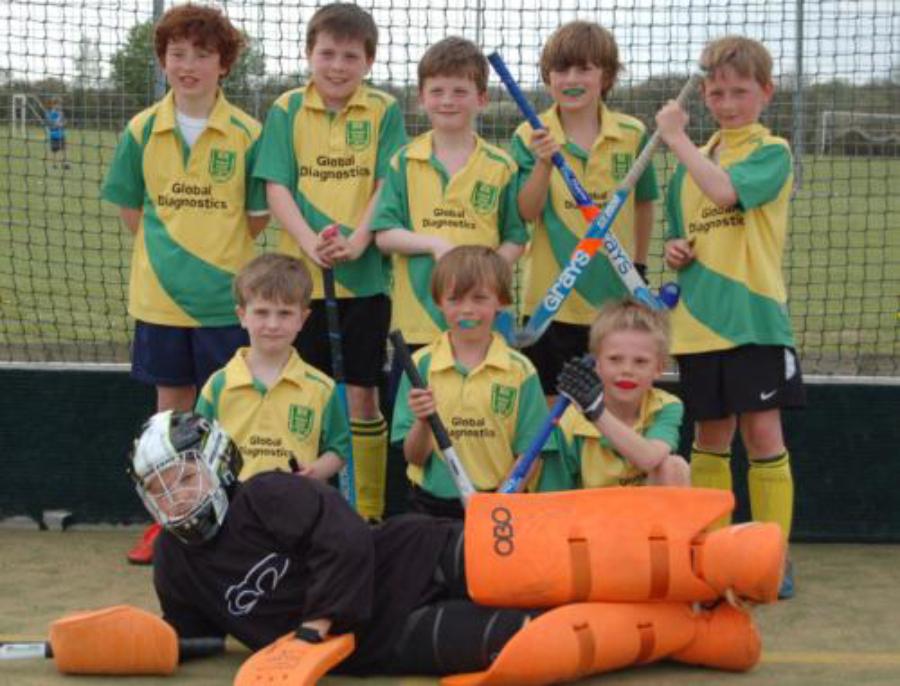 The glorious sunshine brought out the best in the players and the spectators and produced some excellent hockey. Whilst all the squad played very well I'd particularly like to thank Rio Iaccarino for playing the first match for the U10s and then performing very well for the U12s for the remainder of the tournament.

In fact most of the U10s had the unusual warm up of getting pitch time in the U12s first game against eventual winners Dragons. We are really not too sure why the U12s were one short but all the U10s enjoyed the experience. Rather than try to juggle players rotating on and off for both the U10s and U12s, Rio became the hero of the hour.

Now back to the exploits of the U10s....

The first game against Dragons always looked to be our toughest test on paper and this proved to be the case, although City's flowing movement controlled the game with an opening victory never looking in doubt. City took the lead inside the first 5 minutes (games were 15 mins one way....tough in the sun!!) from their second short corner. A good strike from Freddie Paterson led to a goal mouth scramble which eventually saw Joseph Roy slipping the ball past a despairing keeper.

Whilst City always looked the most likely to score, the defence of Jack Beckett and Rio made some fantastic tackles followed by assured passes down the flanks. Jack was playing a dynamic defensive role that led to several mazey runs and a number of good shots. At times it was difficult to tell who was playing in midfield and who was in defence as the whole team seemed to capture the essence of fluid 'total hockey' that left the coaches (yep opposition ones too!) purring. The second goal game from a Jack Beckett tackle in his own D, then a dribble the length of the pitch before a calmly weighted pass to Freddie who popped it in the back of the net.

As is often the case, Kieran Myatt in goal made a couple of excellent saves (a nice one with the stick standing out) on the odd occasion he was called on. Final result 2-0. Man of the match: Jack Beckett.

Next up was Watton. After an early scare when one of the Watton players tried scoring from the push back (thanks Jack for the tackle) this became a dominant display with the almost telepathic understanding between Joseph Roy and Jonty Black coming to the fore. Joseph provides positional awareness and a calmness beyond his years whilst Jonty is simply a bouncy ball on speed.

Freddie opened the scoring with a trade mark Exocet into the bottom left hand corner from City's second penalty corner. The second followed shortly afterwards...Jonty made a driving run down the right then slipped the ball to Freddie who slipped it to Jack (yep our defender!) to slot home.

Now the cogs were oiled, the wheels turning and the team were...C-R-U-I-S-I-N-G!!!

Goal number three was reward for sheer determination. Jonty went off on one of his mazey dribbles (well more like fast and direct runs) down the right, drove the ball into the D where the cross was blocked. Jonty tackled and the next cross was blocked. Jonty tackled again...three defenders and a goalie versus Jonty....ball pops across the gaol for that man Jack to score again! Not to be outdone, Freddie completed the scoring calmly converting yet another Jonty cross. Just before the end Rocco took a nasty blow to the ankle and was replaced by six year old Matty Roy who made a couple of excellent tackles and even got in on an attack....the cherry on the icing on the cake for the Roy household. Final result 4-0. Man of the match Jonty Black.

Our final game was against Dereham. This proved to be a scrappy affair where the heat of the day looked to have taken its toll. Much of City's attacking came from the midfield trio of Samuel Doncaster, Joseph Roy and Jonty Black but this was largely negated by some resolute, often last ditched defending. Freddie created a number of half chances that were thwarted at the last minute. After 10 minutes a nice move down the left between Joseph and Samuel came to Freddie who looked to have taken the ball too far right but what do I know as he calmly belted the ball passed the outstretched form of the goal keeper into the opposite corner. Just when you thought City were going to take control, Dereham broke away and Kieran Myatt stormed off his line to kick the ball to safety. Not to be outdone Jack Beckett made the game safe with a couple of minutes to go with a drilled shot from the top of the D. Dereham were unlucky in the dying seconds not to get a consolation goal when a breakaway saw a shot hit the post (Kieran assures me he had it covered). Final result 2-0. Man of the match Joseph Roy.

A good day out and a lovely way to end the season for the U10s. Good luck to those boys who now move up an age group and I look forward to seeing you all at training next year. None of the team's success would be possible without the fantastic support of the parents...warm sunny days at Watton are "easy" but freezing Sundays at coaching (even with Sarah's boundless enthusiasm) can be tough - a big thank you to you all.

Good luck to the U14s in the national finals.....maybe just maybe some of this year's U10s might get to that level with a bit of luck one day.

Thank you and see you all next season (or the official opening of the new pitch...27 May)!

Al, Sam, Paul and Simon.

---
U10 Boys Win Alex Hill Memorial Trophy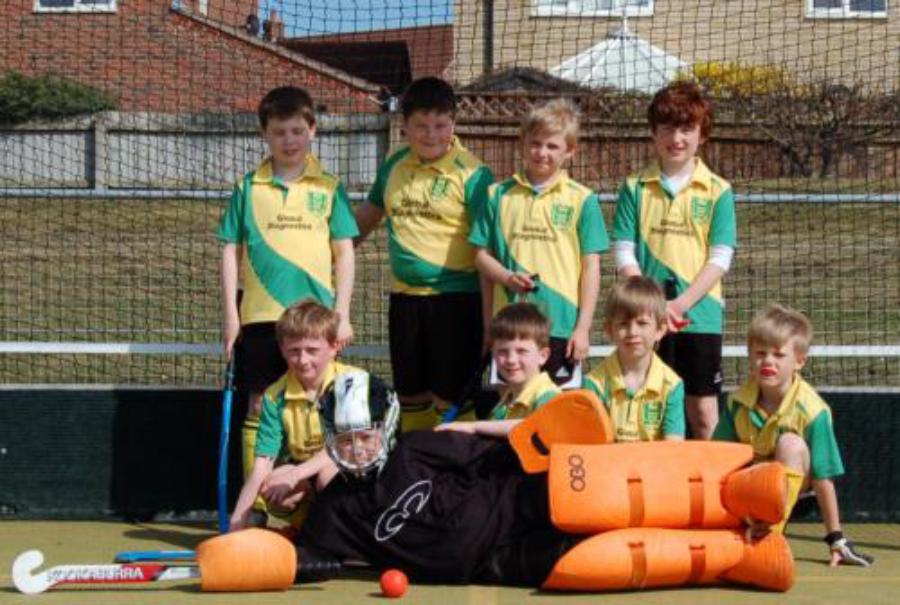 A bright and sunny day welcomed the Norwich City Team to Dereham's Alex Hill Memorial Tournament. Not only was the team shocked by the warm weather but also by the sight of Coach Paul arriving on time. It had to be a good omen!

We took time to prepare for the games and settle into the environment, which with the warmer weather helped us to get off to a quick start and seemed to sustain our energy levels through the series of 15 minute games. Our first game was against Dragon 'B's. Monty created an early short corner through a foot infringement in the opposition D. Struck by Kieran Limb onto the pads this was finished off by Freddie. It was nice to be off to an early lead but Dragons came back fast and only an important tackle by Jack kept us in front. A couple of further short corners kept the pressure on Dragons and then a classic move down the right wing started off by Jack's tackle and swift pass led to a good strike by Harry scoring our second.
Result 2-0 WIN
POTM Jack Beckett

Our second game was against Dereham. Jonty, Joseph and Harry made the midfield their own in the opening set of plays with some nice one-twos leaving defenders in their wake. We had a great strike from Freddie from a short corner with Jonty and Harry following up. 3 more short corners followed the last forced by Freddie and eventually, inevitably we drew a goal with a one on one finish against the goalie by Harry. Again the score nearly drew level as a quick take by Dereham caught us with a gap in defence and only the quick response of Kieran Myatt (off his line like a rocket propelled bulldozer) saved our bacon. A neat reversal of this occurred with an interception by Rio who passed the ball up to Monty who knocked it to Harry to score. Really good Hockey; making the ball do the work.
Result 2-0 WIN
POTM Harry McKenzie

Our final game against Dragons 'A' was played with a tournament win already guaranteed. Nonetheless the boys had a taste and so it would seem, a knack for it now. Freddie was closest with a shot that struck the pads and made spectators on the U12 sideline turn their heads in wonder. Monty made an important clearance from the D when the pressure was beginning to tell. It was a close game, with end to end play at the end of a hot day, so when in the dying seconds of the game Harry forced a short corner and Freddie connected it was great to hear the thud of the backboard and know that victory was ours.
Result 1-0 WIN
POTM Freddie Paterson

Squad: Kieran Myatt, Kieran Myatt (GK), Kieran Limb, Monty Platt, Rio Iaccarino, Joseph Roy, Freddie Paterson, Harry McKenzie, Jack Beckett, Jonty Black

Well done, a terrific day! Congratulations to the team and thank you to the parents!

Paul and Simon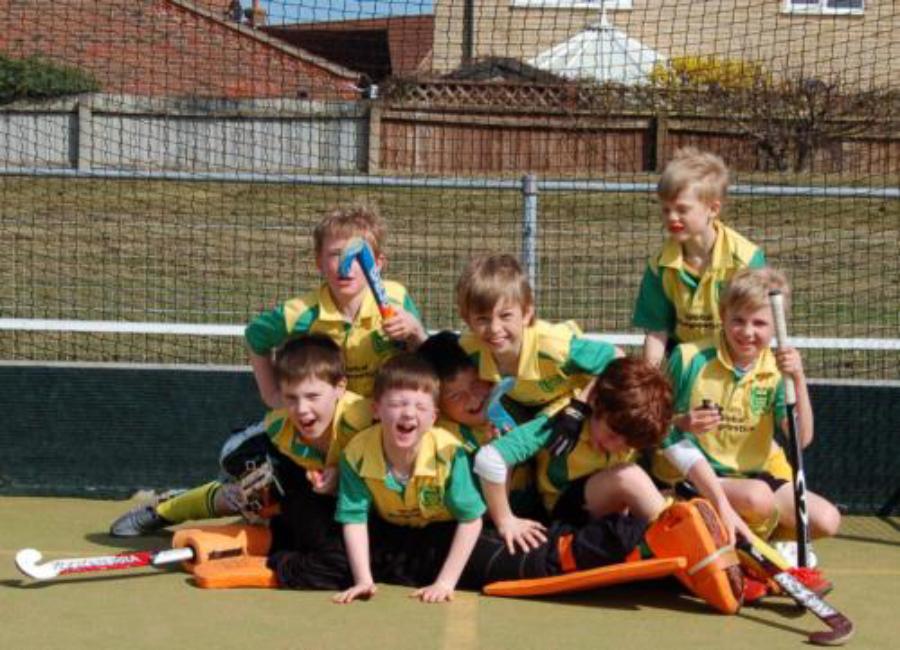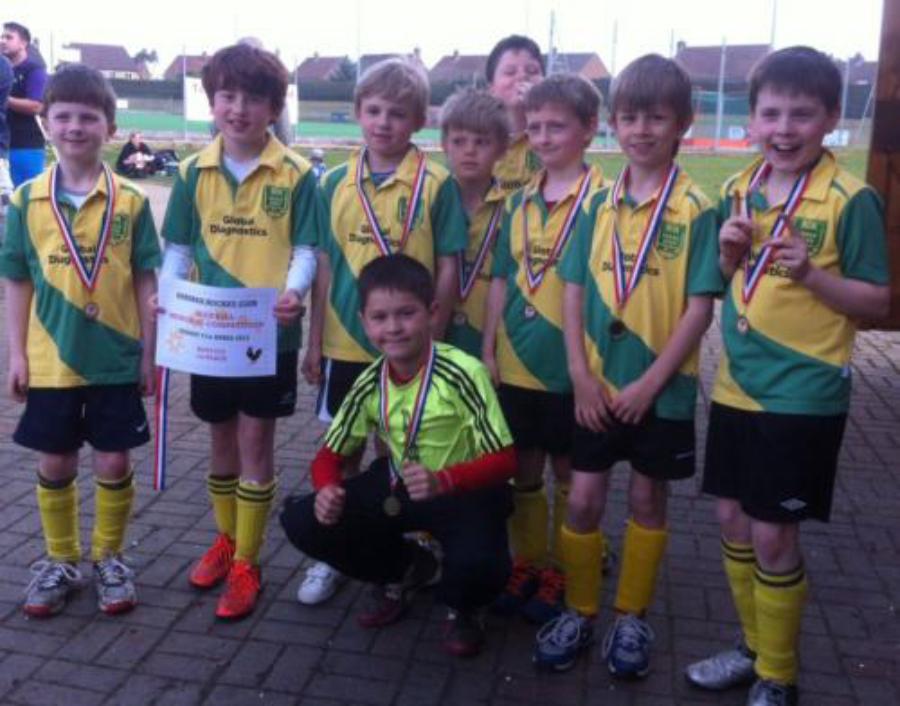 ---
City U10 Boys in the Medals at Pelicans Tournament

Having recovered from the shock of a warm day at Kings Lynn, we were entertained by some very enjoyable hockey.

There were only three teams in the U9 section, Pelicans, Dragons and ourselves. Teams played each other once (10 minutes each way) with City coming 2nd and collecting runners up medals which was a nice surprise. The City squad was Kieran Myatt, Kieran Limb, Cameron Husband, Samuel Doncaster, Jonty Black, Joseph Roy, Monty Platt and Ethan Rushton.

The first game was against Pelicans, who were just that little bit stronger than us and probably deserved to win, although 2-0 was a little flattering to them. Having said that, man of the match Kieran Myatt pulled off a string of excellent saves to keep the score level until midway through the second half. Cameron and Kieran Limb combined well in defence and the midfield (Joseph, Jonty and Monty) worked tirelessly. Samuel worked hard up front but did not get much chance in a largely defensive City display. Ethan came on as an attacker for the second half but his defensive tendencies supported the wider team effort.

The second game against Dragons was a very even affair that ended 0-0. Both teams played a mixture of flowing hockey and resolute defending. Ethan and Cameron performed well in defence and Kieran Limb demonstrated his versatility by playing up front. Jonty, Joseph and Samuel combined well in midfield in the first half, with Monty doing well in the second half. Man of the match was Jonty for his tackling and determination in defence, midfield and attack.

For the record, Pelicans finished first winning both their games with City coming second on goal difference. It was another good performance from our young U10 team, who are gaining experience with every tournament.

Simon Black, Paul Roy and Sam Myatt
---
Norwich City Girls U10s Are County Champions!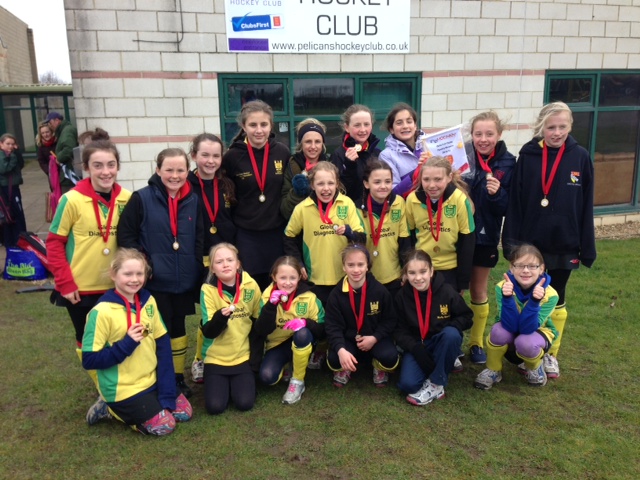 The NCHC u10girls arrived at Pelicans on Sunday morning ready to play their first match of the tournament against Magpies. Magpies had beaten NC the previous Sunday at the Dragons tournament, therefore a 0 – 0 final score proved a very positive start for City. Claudia van Poortvliet and Sarah Andrews defended very well against a determined Magpies attack and in the second stage of the game City managed to have most of the game in their half with many unsuccessful attempts at goal.

The second match against Dragons started tentatively with much of the play in the Dragons half testing City's defence and challenging Molly Barker, City's keeper. After some excellent work in the midfield, notably by Ellie Hobden on the right wing a goal by Victoria Garson at the half way mark settled City into an attacking game. The subsequent play was then concentrated in City's half with Amelia Barclay scoring a second goal.

NC had not met the Pelicans this season so they were an unknown opponent going into the third game. City started confidently with Amy Barker scoring quickly to start. After some confusion over a short corner decision Victoria Garson listened to the referee, kept the play going and scored a second goal.

Going into the final match City were leading their group on goal difference and the girls knew that they would need to score as many goals as possible against Dereham win. Alice Moore's first goal seconds after the opening whistle lifted City's confidence and City played an exciting and fast moving final game with Amelia Barclay scoring again.

NCHC U10 girls won the county championships and all the girls should be congratulated for their contribution to a determined team performance played with great spirit and commitment.

Scores:
NC v Magpies 0 – 0
NC v Norwich Dragons 2 – 0 (Victoria Garson, Amelia Barclay)
NC v Pelicans 2 – 0 Amy Barker, Victoria Garson)
NC v Dereham 2 – 0 (Alice Moore, Amelia Barclay)


Picture shows Norwich City U10 Girls and U12 A Girls, both of whom are County Champions for their age group.


---
U10 Boys' Valiant Efforts Bode Well for the Future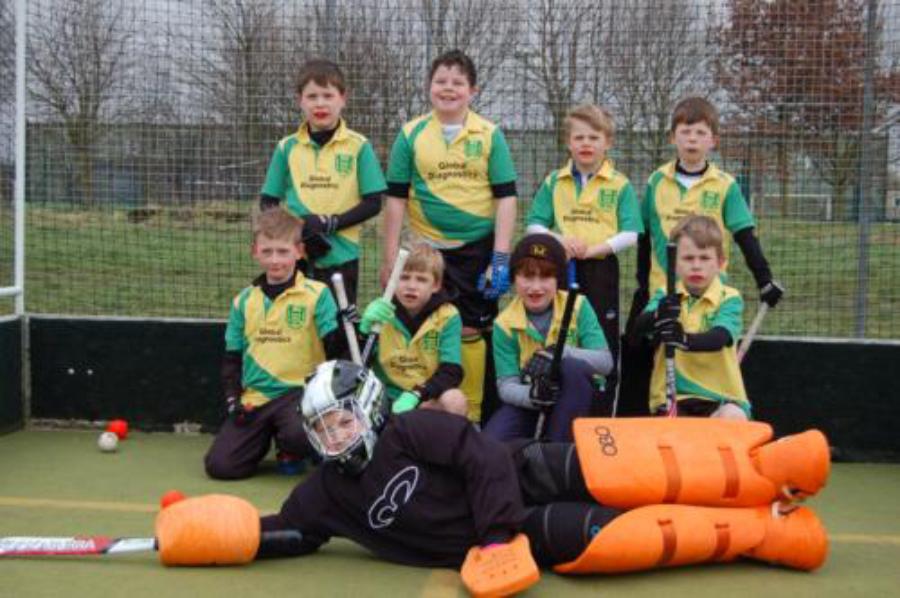 Our young team competed well over the four games in the County Championship, getting better each game which bodes well for the future.

Played 4, won 1, drew 1, lost 2.

The first match was against Pelicans who were clearly geed up as the home team. They started very quickly and took an early lead. An unfortunate injury to Joseph Roy upset our shape and despite the sterling efforts of Monty Platt and Harry Mckenzie our desire to equalise meant we got caught on the break near the end to lose 2-0. Player of the match Monty.

Next up was Dragons. A much better performance where the defence and midfield worked very well in an even contest of few genuine goal scoring opportunities. Jack Beckett did particularly well on the left and deserved the player of the match award in this 0-0 draw.

Dereham were next in a game that City dominated. Excellent movement and passing from the defence of Rio Iaccarino and Kieran Limb through the midfield to attack meant we created many chances. Jack's movement up front generated plenty of scoring opportunities that were saved or slipped just wide of the post. With Joseph dominating the game at both ends it was fitting that having started a delightful interchange down the left he should pass across the goal for Jonty Black to score with the last hit of the game. City won 1-0 and Joseph was player of the match.

By far our best hockey was saved for the last game against Magpies. From Freddie Paterson's stick work creating chances and concern in the Magpies defence to the midfield tackling and passing of Monty, Harry and Joseph and the defending of Kieran, Rio and keeper Kieran Myatt it looked liked we really had a chance to topple the tournament leaders. We lost 1-0 to a shot that agonisingly trickled into the corner but I really thought Freddie's last second penalty corner strike was going to give us the draw we deserved. In a very good team performance Joseph Roy again earned player of the match for a delightful move that started with him saving a ball on the line and ended with a good save by the Magpies' keeper. Kieran M made some very good saves to keep us in the game.

With most of our team a year younger than the opposition, overall this was a good performance. Thank you to all the players for giving it their all, to the parents...your support is invaluable (and it was bitterly cold!) and to Al, Anna, Sam and Paul (and Sarah of course!).

Simon Black
---
U10 'B' Girls Score Maiden Tournament Victory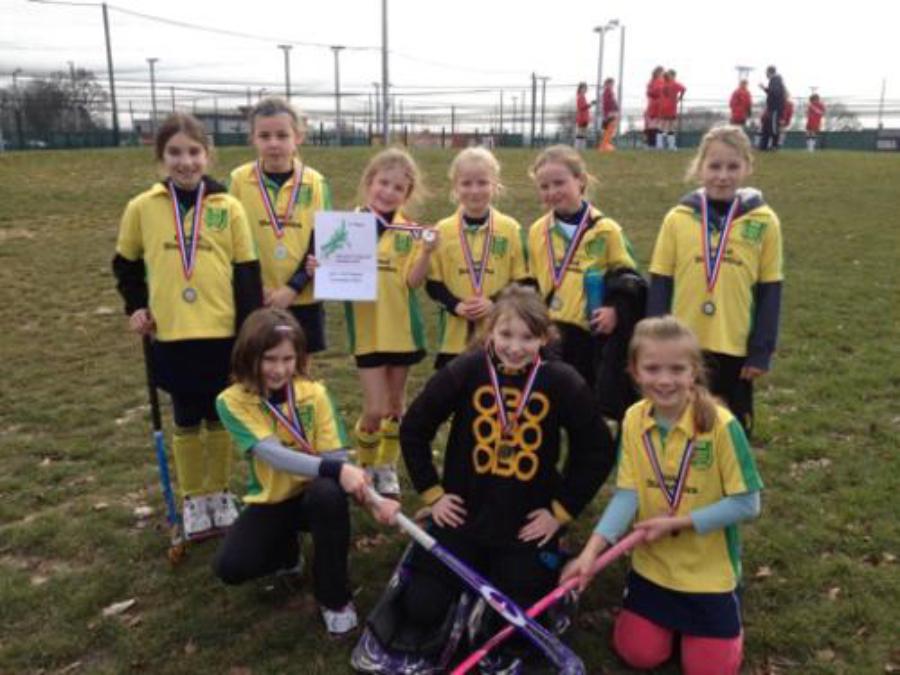 Norwich City Girls U10B's arrived at the Dragon's Den with the aim of hopefully breaking their duck and managing to score a goal as well as gain their first ever victory!

On a very pleasant bright morning we started very well against Dragon's B. We bossed the game from the very first minute and made our possession count. When after good play from Kate Houlday, Abi Flatt got in front of the defender to squeeze the ball past the Dragon's goalie to secure their first victory 1-0.

The second match was against Magpies B which we anticipated would be tough. Norwich again enjoyed the majority of play. With again most of the play being spent in the oppositions half. Unfortunately we could not break Magpies down and the game finished in a 0-0 draw.

In our third game we faced Dragon's B for the second time. The girls were straight out of the blocks with Kate scoring a quick fire double in the first few minutes to take the game out of Dragon's reach with minutes still to be played. With the defensive rock pair of Lottie Smith & Amelia Anema in top form we gained our second victory 2-0.

As we went into the final game, after three matches the girls had won two & drawn one. We knew all we had to do was not lose against Magpies B and a first tournament success was there for the girls taking. We needn't have worried, as with confidence sky high we opened the scoring through Abi Flatt after good work from Abi Hill. The victory was sealed with the best move of the tournament with Lila Hallam slotting the ball into the back of the net after excellent work from Lottie, Abi Flatt & Kate, to seal a magnificent day with a 2-0 win.

So over all, we played four, won three and drew one. With five goals scored and nil conceded. It was extremely pleasing to see the girls continue to flourish game by game and see such a big improvement from our last tournament.

A quick mention to Grace Thrower in goal who was always alert but was never troubled.

The whole team was outstanding and it is very difficult to name a player of the tournament with good performances and determination throughout. But Kate Houlday deserves it with her non stop running and great smile!

Finally a big thank you for all the great support.
Alex Flatt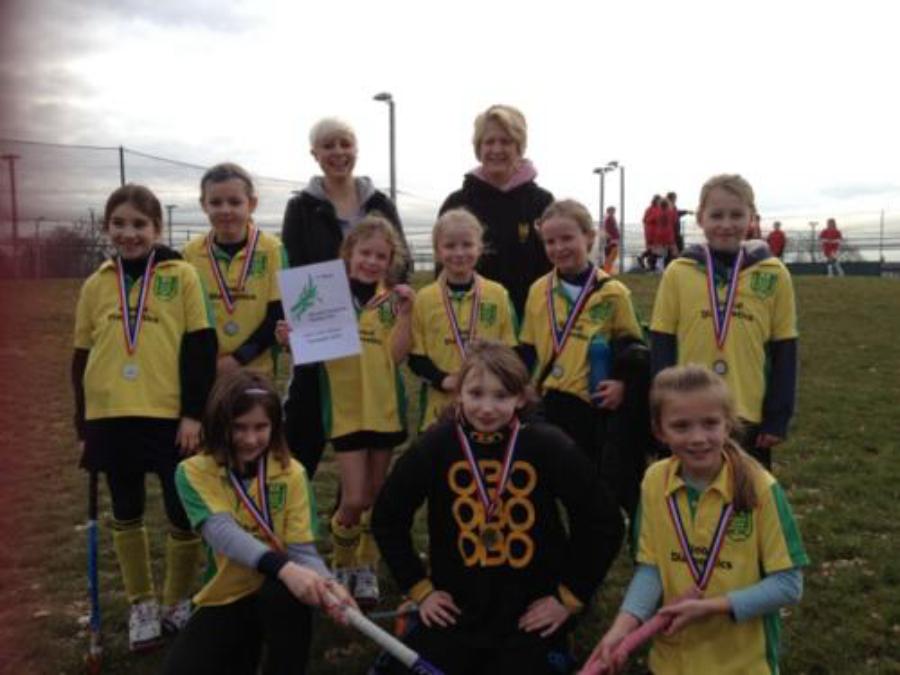 ---
Great Performance from Norwich U10 Boys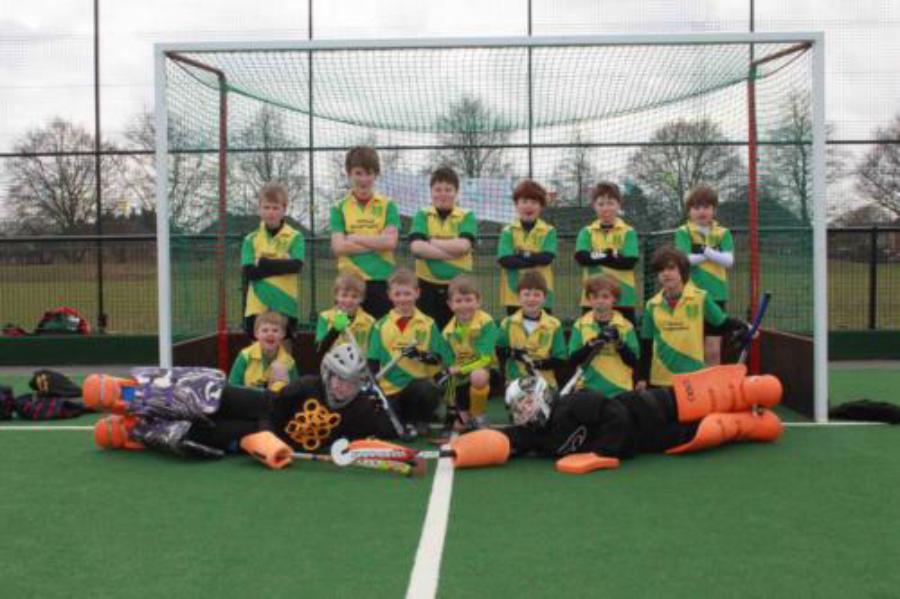 Norwich City U10s are a very young group, with most of the players in the U9 age group. With that in mind, our aim from the tournament was simply to play good hockey. However, the boys played out of their skins and easily exceed the coaches' aspirations!

A Team Tournament - Finished Second

Having played friendlies against Dragons last week we knew we had to dig deep to win our first game. The goal build up came from sterling work in defence clearing through the line to reach our striker Freddie Paterson who calmly dribbled through a defender, drew the keeper and slotted it home. POTM goes to Kieron Limb for rebuffing attack after attack which helped City hold on for a1-0 win, a result that drove a stake through the Dragons' heart.

Next up were Harleston. Highlights were the strong clearances and positive goalkeeping from Kieron Myatt (who wins Player of the Match) and a short corner forced by Freddie at the other end but alas it wasn't to be and we were pipped by the eventual tournament winners in a tight game.

A short break rekindled our spirits and hard work brought a convincing and deserved victory against Pelicans. Joseph, Harry and Monty controlling the midfield and stringing passes together building the pressure that resulted in a coolly taken run from Freddie that resulted in the goal and earns him Player of the Match in the 1-0 City win.

And finally, we came up against Dereham. Again putting the work in led to the creation of chances that brought nicely finished goals from Freddie and Harry McKenzie. The first a reverse stick sweep, the second a cracking shot from a narrow angle. Meanwhile Rio Iaccarino was the rock at the back, tackling well and earning Player of the Match.

Overall the A team came narrowly second, behind Harleston, which was a pleasing result and better than we hoped for! The good things we put into practice : clearing our lines, playing as a team, a better work rate including tracking back. Off the pitch we learnt that keeping warm and focussed helped us win these short tournament games.

B Team Tournament - FInished Second

There is only one word to describe the performance of the B Team at Dragons and that is AWESOME!

The silver tournament only had 3 teams, Norwich City , Dragons and Harleston. 4 games were played in total, 2 against each team.

The first and third game were against Dragons, a side we had played friendly matches with the previous weekend at which they faired slightly better than we did. The boys did not let this get them down, on the contrary, they performed out of their socks. During the first game the defence of Rocco Iaccarino and Cameron Husband held the Dragons off with some crunching tackles and strong passes up front. The midfield combination of Jonty Black and Samuel Doncaster worked well with many balls being passed into the goal area to Oliver Leary who tried his best to get them in the back of the net. Both matches ended goalless but it was not for the want of trying. Players of the match were Jonty Black and Oliver Kimber respectively.

Our matches against Harleston were both immediately after playing the Dragons, but the boys dug deep and performed well. During the first match Alex Dagless worked relentlessly at right midfield, a position he had never tried before but suited him, covering all of the pitch. Against the run of play Harleston scored even though our goalkeeper, Oliver Kimber, had managed to keep out every other effort that any of the teams had against him. The final match against Harleston was tough, it was Ethan Rushton's first tournament for Norwich, he showed lots of skill and listened to all instructions making sure the ball didn't get past him. Within the last minute of the game Cameron took a nasty knock to the ankle which meant a change at the back but we continued to hold them off for a draw. Players of the match for these last two games were Rocco Iaccarino and Samuel Doncaster respectively.

Overall a great performance by a group that is still in the very early days of its competitive career.


Well done to all the boys and thank you to the organisers especially the cake bakers!


---
Login
---
youth@norwichcityhc.co.uk
[2021-2022]
[2020-2021]
[2019-2020]
[2018-2019]
[2017-2018]
[2016-2017]
[2015-2016]
[2014-2015]
[2013-2014]
[2012-2013]
[*]