2016-2017
ARCHIVE
Results
Recent Results
25 Mar 2017 / 31 Mar 2017
Fixture
Result
Score
Scorers
POTM
W2
Mar 25 vs Norwich Dragons 4
Mar
25
Norwich Dragons 4
  A  
  [L]  
(A)  [L]
W

W  

2-0
Hannah Jarvis,Hannah Jarvis
Hannah Jarvis
W3
Mar 25 vs Harleston Magpies 4
Mar
25
Harleston Magpies 4
  H  
  [L]  
(H)  [L]
L

L  

0-2
Phoebe York
W4
Mar 25 vs Norwich Dragons 3
Mar
25
Norwich Dragons 3
  H  
  [L]  
(H)  [L]
W

W  

2-0
Maddie Anthony,Amelia Barclay
Amelia Barclay
W5
Mar 25 vs Pelicans 3
Mar
25
Pelicans 3
  H  
  [L]  
(H)  [L]
C

C  

C-C
W6
Mar 25 vs Harleston Magpies 6
Mar
25
Harleston Magpies 6
  A  
  [L]  
(A)  [L]
W

W  

6-1
Lucy McNarry,Katy Walker,Frances Cooke,Sharon Phillips,Liz Hollis,Julia Marchant
Katy Walker
WD
Mar 25 vs Watton
Mar
25
Watton
  H  
  [L]  
(H)  [L]
W

W  

3-0
Frances Byrne,Frances Byrne,Evie-Mae Thorpe
Freya Myhill
M1
Mar 25 vs Spalding
Mar
25
Spalding
  H  
  [L]  
(H)  [L]
D

D  

2-2
Tom Cox,Louis Preston
Tom Cox
M2
Mar 25 vs East London
Mar
25
East London
  A  
  [L]  
(A)  [L]
W

W  

3-2
Tom Hindle,Richard Silvester,Stuart Wardle
Ben Millett
M3
Mar 25 vs Pelicans
Mar
25
Pelicans
  H  
  [L]  
(H)  [L]
L

L  

3-9
Chris Perry,Matthew Brine,Nick Hooper
Jake Cushion
M4
Mar 25 vs North Norfolk
Mar
25
North Norfolk
  H  
  [L]  
(H)  [L]
W

W  

8-1
Mark Bailey,Mark Bailey,Mark Bailey,Rees Leonard,Rees Leonard,Josh Bailey,Joe Cowan,Tim Armstrong
Alfie Cooper
M5
Mar 25 vs UEA 2
Mar
25
UEA 2
  A  
  [L]  
(A)  [L]
L

L  

1-3
George Harrad
Shaun Ferris
M6
Mar 25 vs Norwich Dragons 5
Mar
25
Norwich Dragons 5
  A  
  [L]  
(A)  [L]
L

L  

0-6
Derek Dack
M7
Mar 25 vs Sudbury 4
Mar
25
Sudbury 4
  H  
  [L]  
(H)  [L]
W

W  

4-3
John Grange,Paul Gallop,Paul Gallop,Ben Pestell
Paul Gallop
MD
Mar 25 vs Harleston Magpies
Mar
25
Harleston Magpies
  H  
  [L]  
(H)  [L]
P

P  

P-P
 

W (2-0)  

   25/03/2017 - L2
   vs Norwich Dragons 4 (A / L)


LEAGUE CHAMPIONS!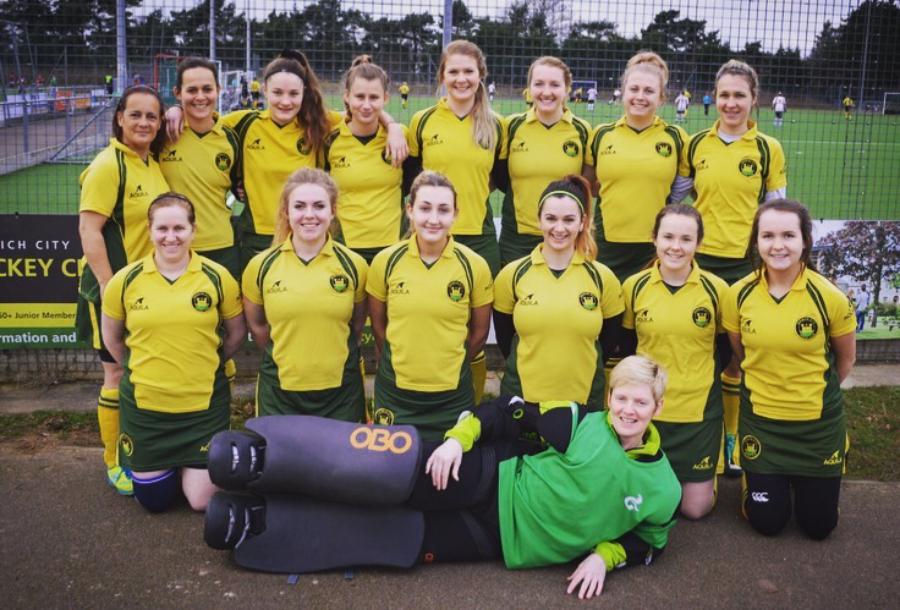 LADIES 2ND XI - 25/03/2017 VS NORWICH DRAGONS 4 (A)

TEAM: Womens 2nd XI
DATE: 25/03/2017
FIXTURE: Womens 2nd XI VS 25/03/2017
HEADLINE: League Champions!
LEAGUE: NORFOLK PREMIER DIVISION
LEAGUE SPONSORS: EMPRESA LIMITED
VENUE: Dragon's Den
RESULT: Won 2-0

REPORT: Norwich City womens 2's secured championship glory with a polished performance away at Norwich Dragons 4s, winning 2 – 0. Two first half goals came from player of the match Hannah Jarvis which were enough to win the match ultimately, securing promotion. Norwich knew that to complete the season at the top they had to do better than second place rivals Broadland who away at Loddon. Both teams were equal on points with only three goals separating them. Broadland's game started slightly before City's which could have easily distracted them however, the team ensured they were focused on their own task ahead.

City started the match exactly as they intended to, taking control of the ball and applying lots of pressure in and around Dragon's 'D'. City struck with their first meaningful attack. Captain Rosie Humphrey lead from the front and despite taking one to the knee, drove into the left side of the 'D' and on her reverse stick won a short corner. Rosie dragged the ball to Ange Hindle at the top who stopped it for Ellie Brine who struck it with confidence and power. It was saved well by the keeper although, Hannah Jarvis was waiting patiently for the rebound who calmly slotted the ball into the back of the net. 1 – 0 to City.

Soon after, the scoreline increased to 2 – 0 with almost a carbon copy of the first goal. Except this time, it was excellent work down the right flank from link up play between Becky Gaffney and Milly Brown who managed to win another short corner. Same routine as before, however there were a few more deflections before the ball found its way to Hannah and finally into the goal. Up to this point City were in complete control.

The umpire threw a metaphorical spanner in city's plans of league domination by showing Danni Garwood a green card. Danni, who had made some vital blocks and tackles up to this point, entered full on beast mode and was deemed to have deliberately pushed a Dragons player off the ball and was sent to the stands for 2 mins of self reflection. This allowed Dragons a little window back into the game. City reshuffled the pack and went about soaking up some serious Dragon's pressure. During this period Serena Scott, City's goalie, made her only save of the game, but an important save it was given the circumstances. The half ended 2 – 0 to City, who could be pleased with the job they had done so far.

Second half began, City continued to dominate the game and by keeping all their players on the pitch never let Dragons have a chance to ruin the party. City began to turn the screw and with great link up play; working in triangles between the midfield and second top goal scorer Emily Francis meant that Dragons couldn't get close. Ellie Brine made her usual effective leading runs opening up space for Kate Hartland to pounce on goal but couldn't quite convert. Some credit has to go to the Dragon's defence as some last-ditch tackles and blocks prevented city from scoring, particularly from the Dragon's keeper who was voted their player of the match.

The same can also be said for City's defence. Every time a City attack broke down Dragons looked to break on the counter-attack. But thanks largely to Megan Conway, Becky Gaffney, Ellie Pitcher, Danni Garwood, Karren Dagless and of course keeper Serena Scott, City won the ball back straight away and kept it inside Dragon's half for almost the entire second period. As City's hunt for more goals intensified, they began to throw everything forward, including Leigh-Ann Worrall who has played all season in defence but is one of the most clinical players under pressure. Unfortunately, there were no more goals for the rest of the game. City had won many short corners in the second half but the closest they came to converting was when Leigh-Ann Worrall fired the ball in from the left towards the right-hand post where Rosie and Milly sprinted to divert the ball home but they only managed to throw themselves both into the goal without taking the ball with them.

The final whistle went and Norwich had secured the 3 points but the question on everyone's mind, had they done enough? Nervously they huddle together until the news filters through… Broadland had lost, City are champions! Out comes the champagne with celebratory screams and tears of joy. It is the end of an era as 'Captain fantastic' Rosie Humphrey is stepping down next year and she could not have finished on a higher note. Well done to the entire squad and everyone who took part of this championship winning season!


 

L (0-2)  

   25/03/2017 - L3
   vs Harleston Magpies 4 (H / L)

LADIES 3RD XI - 25/03/2017 VS HARLESTON MAGPIES 4 (H)

TEAM: Womens 3rd XI
DATE: 25/03/2017
FIXTURE: Womens 3rd XI VS 25/03/2017
HEADLINE:
LEAGUE: NORFOLK PREMIER DIVISION
LEAGUE SPONSORS: EMPRESA LIMITED
VENUE:
RESULT:

REPORT:
It was the final game of the season for the Norwich City Womens 3rd team who hosted Harleston Womens 4ths on what felt like possibly the warmest day of spring on record! Norwich City had beaten the Harleston team away earlier in the season with a convincing 3-0 win, but Harleston this time put up a decent challenge leaving the score at half time goalless. City 3rds welcomed back Milly Hyatt for her 2nd appearance for us in goal this season and a debut for Ellyn Roberts in midfield, both slotting in seamlessly within the team.

Harleston put Norwich under pressure in the second half and as City struggled to get their usual quick and precise passing game together they were unable to contain the pressure with City eventually conceding two goals. However, the result of this concluding match of the season had no bearing on the final league position for City 3rds who now finish 4th in the Empresa Norfolk Premier League with 35 points, 10 wins, 5 draws and 7 losses.


 

W (2-0)  

   25/03/2017 - L4
   vs Norwich Dragons 3 (H / L)


A FITTING END .......
LADIES 4TH XI - 25/03/2017 VS NORWICH DRAGONS 3 (H)

TEAM: Womens 4th XI
DATE: 25/03/2017
FIXTURE: Womens 4th XI VS 25/03/2017
HEADLINE: A Fitting End .......
LEAGUE: NORFOLK PREMIER DIVISION
LEAGUE SPONSORS: EMPRESA LIMITED
VENUE:TRF
RESULT:2-0 Win

REPORT:
The Womens 4's season has gone from strength to strength and they were very determined to get a result in this final league game against a well drilled, strong Dragon's 3's side. With high intensity from the off the Womens 4's took the game to Dragon's, out pacing and out playing this experienced side.

It is true to say that everybody upped their game and played some of their best hockey. Maddie Anthony opened the scoring for the 4's from a well struck short corner strike and the score line remained at 1-0 leading into the break.

The second half saw more of the same and the movement from defence through midfield to the forward line was slick, well worked and put the Dragon's defence under extreme pressure. Their Goal Keeper on one such occasion collided with Amelia Barclay, preventing her from scoring but to Amelia's credit and showing great maturity, got up dusted herself down and when the next opportunity arose with an easily intercepted back pass from the Dragon's defender, Amelia with a one on one slotted the ball home to increase the 4's score line.

A fitting end to our first season in the Norfolk Premiership, finishing 5th. It is also fitting to mention that we are the highest 4th Womens Club team in Norfolk – WOW.

Many thanks for all the side line support too.




 

W (6-1)  

   25/03/2017 - L6
   vs Harleston Magpies 6 (A / L)


CLASH OF THE 6S RESULTS IN COMFORTABLE CITY WIN
LADIES 6TH XI - 25/03/2017 VS HARLESTON MAGPIES 6 (A)

TEAM: Womens 6th XI
DATE: 25/03/2017
FIXTURE: Womens 6th XI VS 25/03/2017
HEADLINE: Clash of the 6s results in comfortable City win
LEAGUE: NORFOLK LEAGUE DIVISION 2
LEAGUE SPONSORS: EMPRESA LIMITED
VENUE: Harleston
RESULT: 6-1

REPORT:City secured a convincing win against a youthful Harleston Magpies 6s team. With young opposition players poised to intercept at every second, City had to keep their wits about them, work in pairs or triangles and ensure they worked hard to get to the ball first. Several runs up the right eventually paid off when winger Lucy McNarry worked round the goalie blocking her path with a tomahawk shot. Shortly after, team newcomer and player of the match Katy Walker made an impressive debut when she netted a deflection goal from a cross in by Fran Cooked. City continued to press hard and eventually a foul in the D earned them a penalty – admirably netted with one of Fran Cooke's signature powerful lifted flicks. City went into the half-time break three nil up, but were reminded to stay vigilant and make sure they were first to the ball every time. After the break, both teams stepped up the pace and pressure but another fine cross from Fran Cooke was expertly netted by Sharon Phillips who took her time to slot the ball neatly in the left corner. Just minutes later there was another carbon-copy goal, but with different players – this time it was a pass in by Josine Van Den Berg that was slotted into the left of the net by Liz Hollis. Unfortunately, Magpies managed to win a goal back in the second half, but City added another in the final 10 minutes to assure a safe win when Julia Marchant deflected a cross from Lucy McNarry.


 

W (3-0)  

   25/03/2017 - LD
   vs Watton (H / L)


CITY BACK IN WITH A CHANCE OF LEAGUE VICTORY !
LADIES DEVELOPMENT XI - 25/03/2017 VS WATTON (H)

TEAM: Womens Development XI
DATE: 25/03/2017
FIXTURE: Womens Development XI VS 25/03/2017
HEADLINE: City back in with a chance of league victory !
LEAGUE: NORFOLK DEVELOPMENT LEAGUE
LEAGUE SPONSORS: EMPRESA LIMITED
VENUE:TRF
RESULT:3:0

REPORT:
Buoyed on by the news that Dragons had beaten Magpies in the morning, City girls knew they had to beat Watton this afternoon to still be in with a shout of winning the league.

No umbrellas this week but glorious sunshine & so the mood was good but they still had 60 minutes of hockey to play against Watton to be in with a chance

With none of the coaches available this week to run the team, captain Kate Houldey stepped up to be both captain & team organiser & did a great job of moving the girls around & making sure everyone had equal game play & tried new positions.

The first quarter City started strong & were quickly rewarded with a goal blasted in by Franny Byrne . They continued to pile on the pressure. Most of the play was up the left hand side of the pitch with POTM Grace Adams & POTM Freya Myhill passing swiflty between each other & getting the ball into the D but no more goals came. 1:0 but still a long way to go.

The second quarter & City again started strongly & there was some fabulous play in the centre from Kate & newcomer Maggie Bean & eventually Franny managed to hit the back of the net again from a very wide angle on the left of the goal. 2:0. The play moved a little more to the right with Sophie Duez & Frances Underhill passing some great balls up to Millie Wimhurst but no more goals.
2:0 at half time !

Another shift around in the 3rd quarter & Simran Rai who had been fantastic in defence moved to play further forward & got plenty of balls back from Watton & pushed them up front. Evie Thorpe who had been battling in the D to no avail eventually got what she deserved with the 3rd goal for City. The defence of Maggie Mayo & GK Charlotte Read held strong & Watton barely had a chance & as the sun went down , Charlotte got colder.

In the 4th quarter City remained strong with several chances created by the midfield of Grace, Maddie Smith,Frances & Sophie up into the D & tantalising close misses followed. Freya nearly scored at least 3 times but sadly the Watton defence stood firm. Evie & Millie also had shots on goal but they were saved. Unfortunately Charlotte ,city GK at the other end from the action got even colder !!

FINAL WHISTLE & a well-deserved victory for City.

One more game stands between the girls & the title-bring on Dereham next week !!!

Well done to all who played, it was a joy to watch


 

W (3-2)  

   25/03/2017 - M2
   vs East London (A / L)


MENS 2S FINISH OFF SEASON WITH 3-2 WIN AT LEE VALLEY
MENS 2ND XI - 25/03/2017 VS EAST LONDON (A)

TEAM: Mens 2nd XI
DATE: 25/03/2017
FIXTURE: Mens 2nd XI VS 25/03/2017
HEADLINE: Mens 2s finish off season with 3-2 win at Lee Valley
LEAGUE: EAST DIVISION 1
VENUE: Lee Valley Hockey and Tennis centre
RESULT:Won 3-2

REPORT:The 2s rounded off their season with a win as they beat East London 3-2 at Lee Valley. The game started well with Hindle rounding the Keeper early to score and celebrated to the 0 fans in the stand behind the goal. A couple of minutes later it was 2-0 when George gave Silvy a tap in. East London came out strong second half, forcing Millett into a number of good saves, however this wasn't enough as a low shot from London make it 2-1, Stu's deflection midway into the 2nd half sealed the win, London then scored a deflection late on and missed a flick to make the final score 3-2.




 

L (3-9)  

   25/03/2017 - M3
   vs Pelicans (H / L)


NOT THE FINISH CITY HOPED FOR...
MENS 3RD XI - 25/03/2017 VS PELICANS (H)

TEAM: Mens 3rd XI
DATE: 25/03/2017
FIXTURE: Mens 3rd XI VS 25/03/2017
HEADLINE: Not the Finish City Hoped For...
LEAGUE: EAST DIVISION 2 NORTH
VENUE: Taverham High School
RESULT: Norwich City 3s: 3 - 9 : Pellicans

REPORT:
Norwich City Mens 3s finished the season against Pelicans in a game with nothing to play for with City already relegated and Pelicans midtable.
The game started positively with City taking the lead early on through a penalty corner drag flick by Perry. The game took a turn for the worse after this with Pelicans scoring 3 goals in quick secession. City attempted to change formation to try and halt the onslaught that Pelicans were throwing at City. Pelicans went on to score one more before half time.
2nd half proved to be better for City however Pelicans were also up for the challenge. More City goals came from Matt Brine from a penalty flick won from Joe Konieczny, and Nick Hooper whose initial flick on goal took a big deflection from a Pelicans defender which helped it to beat the keeper, the ball slowly crossed the line but it did (just...). The whole City squad put in a good shift with great defensive work from Jake Cushion and Tom Ling, whilst Dan Phillips, Harry Patterson, Jon Painter, Doug Tomlinson, Paul Roy and Nick Hooper worked tirelessly in the midfield. Citys forwards also worked hard throughout the game often having to help in midfield as well but for the few chances that fell to City the goal just couldn't be found Adi Land coming close with pressure shot on goal after rounding the keeper and Joe Knoieczny nearly finding Matt Brine who would have had an open goal if not for the keeper picking of f the pass well. Some good shots from all 3 forwards were made but good keeping skills kept the city score at 3. Pelicans on the hand seemed to have the Midas touch with everything they did seemed to come off for them. They went on to score another 5 goals in the 2nd half leaving the score line at 9-3 to the visitors. Not the day at the office that City were hoping for to end the season with, but a big thank you to squad on the day and also to everyone who has played for the 3rd team this year.


 

W (8-1)  

   25/03/2017 - M4
   vs North Norfolk (H / L)


CITY FINISH ON A HIGH
MENS 4TH XI - 25/03/2017 VS NORTH NORFOLK (H)

TEAM: Mens 4th XI
DATE: 25/03/2017
FIXTURE: Mens 4th XI VS 25/03/2017
HEADLINE: City Finish on a High
LEAGUE: EAST DIVISION 3 NORTH EAST
VENUE: Taverham
RESULT: Won 8-1

REPORT:
City finished on a high on the last day of the season by handing out a thumping 8-1 loss, together with a relegation to local rivals North Norfolk

A hat-trick for debutant Mark Bailey, playing alongside sons Josh & Tom was not enough to win the MOTM award as Alfie Cooper was the worthy winner for his fine work in the midfield

City's other goals were scored by the 4th XI's top scorer Rees Leonard (2), Josh Bailey, Joe Cowan and Tim Armstrong leading to a very enjoyable team curry at The Nazma (The best Indian restauraunt called 'The Nazma' in Norwich!!!)

Roll on next season :)


<
>
Club Statistics