Youth Hockey
2009-2010

U8

More U9 Success at Watton - 9 May 2010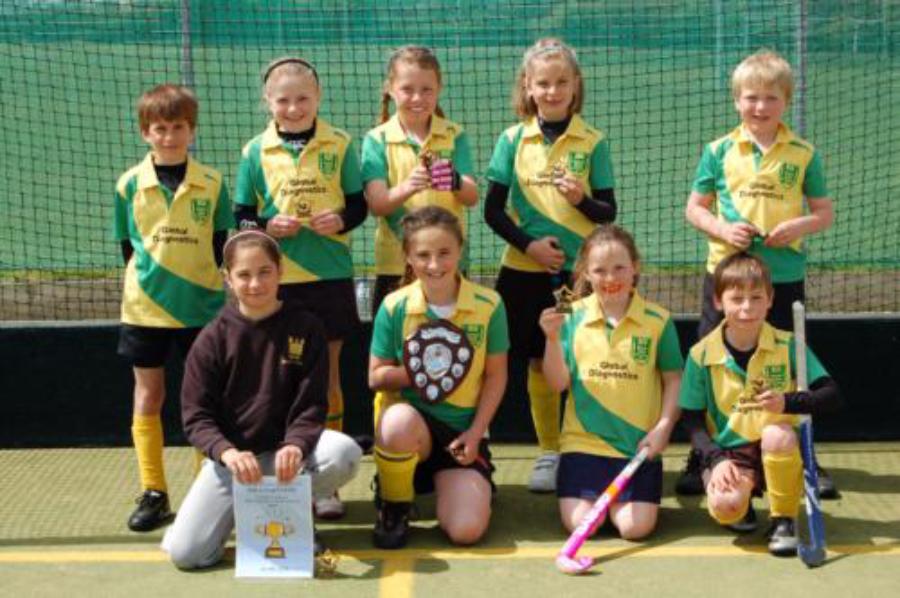 The U9 bandwagon rolled into Watton on a beautiful Sunday morning! This time, Sam Bingham and Luke Byrne from the A team kindly agreed to support the B team.

The A team started with an easy 3-0 win against Watton 2, goals courtesy of Emma Richardson and Harry Paterson (2). Next were Magpies, the team to beat. Magpies started strongly and, despite one awesome save from Maddie Anthony in goal, took the lead to the dismay of the Norwich supporters. However, our As are not to be beaten and fought back strongly, with two superb Cameron Cook goals turning the match on its head: an exciting 2-1 win to Norwich!

After that, the team continued to play well - Grace Kidner and Sophie Briggs tackled strongly at the back, Daniel Phillips and Emma Richardson were superb up the flanks and Harry Paterson and Cameron Cook formed the spine of the team. Ellie Pitcher and Abby Ingham were the utility players -both ferocious tacklers, equally at home up front or in defence! The team quickly dispensed of Pelicans 1s 3-0 (Cameron 3), Dereham 4-0 (Cameron 2, Ellie 2), Pelicans 2s 3-0 (Emma 2, Abbie 1) and Watton 1 2-0 (Harry, Cameron). And finally we came up against the Norwich B team - a hard fought game with some great hockey, which the As team ultimately won 2-1 (Cameron 2).

The B team also started well. Luke Byrne, relishing his B team role, scored two goals from defence in a 2-0 win aganst Watton 1, before a hard fought 0-0 draw with Dereham, in which Millie Spink, Brooke Simmons and Anja Wimmer all played well. The team got into its stride against Dereham, winning 1-0 thanks to Daniel Byrne's first goal for the Club and some good work from Rachael Phillips in midfield. The Bs then played out a tough 1-1 draw against Pelis 1s, thanks to a fantastic solo goal from Sam Bingham who ran most of the length of the pitch to score. We comfortably beat Watton 3-0 (Sam 2, Yu-Hin Chan) before narrowly losing to Magpies 2-0 in a tough encounter. Finally, we had the narrow 2-1 loss to Norwich As, in which Luke Byrne scored for the B team and Matthew Fish made a couple of great saves.

So where did that leave us? The A team were tournament champions, having won all their matches, and the B team also came in the medals, placed third out of 8 teams. Another great day!

This brings to an end a run of four U9 tournaments in a month, and Norwich has had a great campaign:
- 24 players have represented Norwich at U9 level.
- The A team has won all four tournaments, in the course of which they have played 24, won 23, drawn 1 and lost none.
- The As have scored 81 goals and conceded only four. Ten players have contributed to the goal tally.
- The B team has finished in the top 3 twice, which is fantastic for a second team.

Well done to all the players who have done so well this year and thank you to the parents who have given up their weekends to transport the children round the county!

Al Paterson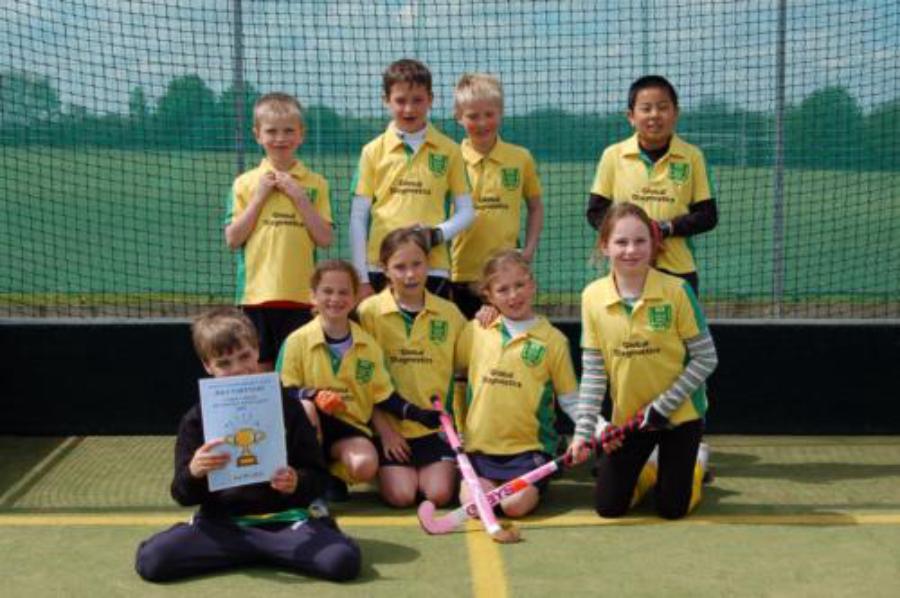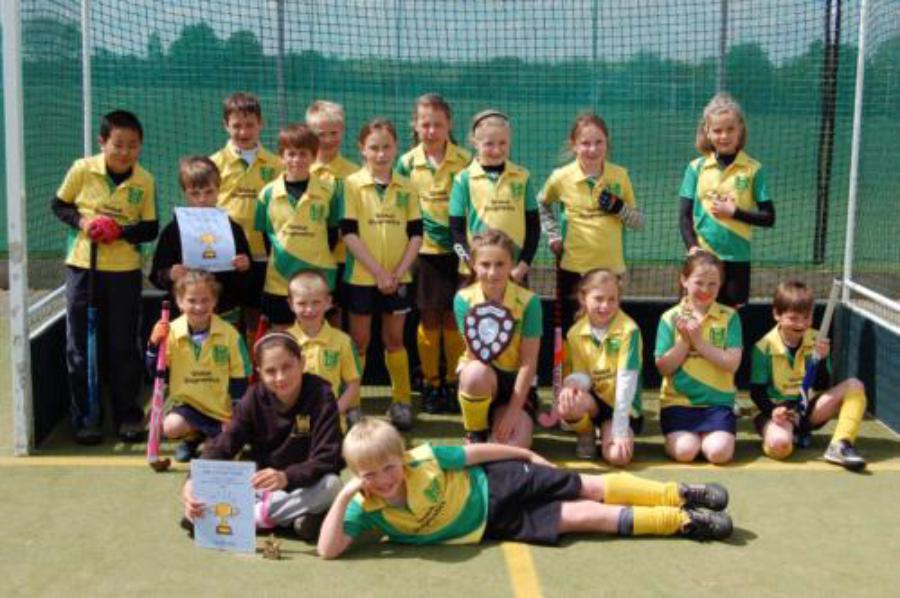 ---
U9 Success at Norwich Tournament – 8 May 2010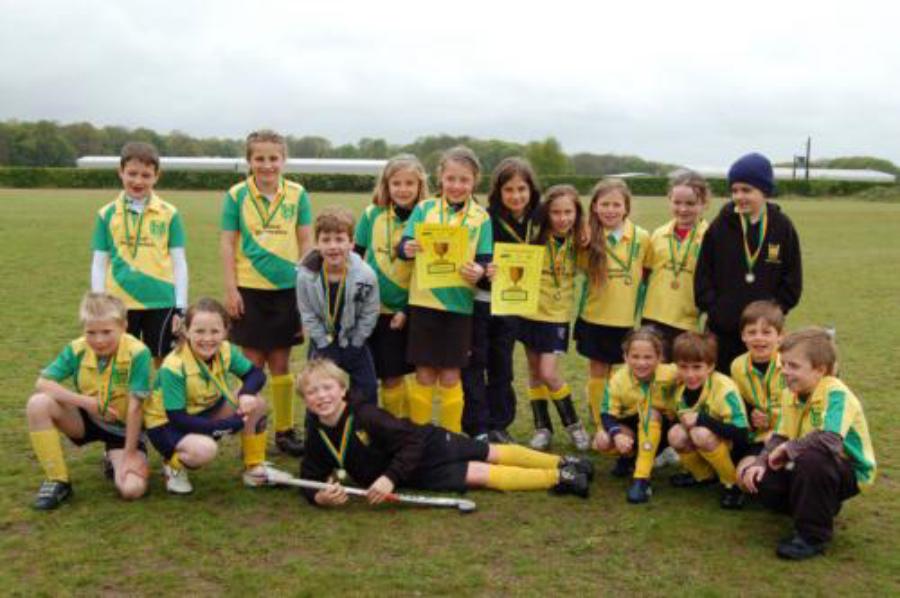 The U9s continued their successful 2010 campaign at Norwich City Hockey Club on a dreary wet Saturday morning. With the A team having won the last two tournaments very comfortably we decided to balance the teams more and three of our strong A team players Harry Paterson, Maddie Anthony and Daniel Phillips agreed to lend some weight to the B team.

The A team started slowly against Magpies and were unhappy to go behind to a goal which clearly wasn't! However, our team fought back and, despite struggling to convert, managed to salvage a one all draw, courtesy of Abbie Ingham. In the second match, order was restored with a 5-1 win over Dereham with goals from Abbie, Emma Richardson and a hat-trick from Cameron Cook. Next up were Pelicans Squabs and another Cameron hat-trick, this time from midfield. A strong defensive partnership between Luke Byrne and Sophie Briggs, with a good save from Michael Milne-Brown in goal saw Norwich notch up their first shut-out of the tournament, winning the game 3-0.

In the next match, we were up against the other Norwich City team and were stunned to fall behind to a good finish from Jack Watling, who flicked the ball over the prone Michael in goal. Despite some great B team defending, the fighting spirit of the As saw them eventually win through to take the game 2-1 with goals from Emma and Ellie Pitcher. Against Watton, the Cygnets took another 3-0 win, this time the goals coming from Abbie and Cameron (2). The final match was against Pelicans Fledglings, who troubled the defence a few times, but Michael, Abbie and Luke held firm with great midfield support from Sam Bingham, Emma and Ellie, before the team completed a great tournament with a 3-0 win, the goals again coming from Abbie and Cameron (2).

So first place in another tournament, more great play, good short-corners, fantastic teamwork. Ten more goals for Cameron Cook and four great goals from Abbie Ingham. Even more encouraging is that this very young team are really starting to know their preferred positions and are very aware of their role in the team.

The Bs started with a frustrating 0-0 draw against Pelican Fledglings. Norwich mounted wave after wave of attack but Pelis crammed their D with all seven players and we couldn't find a way through. Next, against Peli Squabs we conceded an early goal whilst still half asleep, but fought back well with Jack Watling equalising, although we couldn't quite get the win we deserved.

The Bs then took off against Watton. Rachael and Daniel Phillips combined well a number of times, before Daniel scored the first goal. Harry Paterson joined in, lifting the ball with a reverse stick over the goalkeepers' despairing save. Another 2-0 victory followed against Dereham Chicks with goals from Harry and Jack and some good work in the centre from Brooke Simmons. Then came the narrow 2-1 defeat against our A team, in which Rebecca Gaffney, Millie Spinks, Fitz Horner and Maddie Anthony all defended heroically.

Finally we came up against Magpies, knowing we had to do well to have a chance of a medal and to help our A team to a tournament victory. In a hard fought game, Norwich had most of the play, bravely shrugging off some physical tackles. Whilst we couldn't score, we held Magpies to a crucial 0-0 draw and were probably the better team.

Overall, out of seven teams, the Norwich City A team came first with the B team also in the medals in third place, demonstrating the strength in depth of our squad this year! It was a great day at our home tournament, and it was a proud moment for parents, coaches and players alike when the U9 players went up to receive their medals from the Club Chairman.

Al Paterson & Colin Brown

---
U9 Champions at Pelicans Tournament - 24 April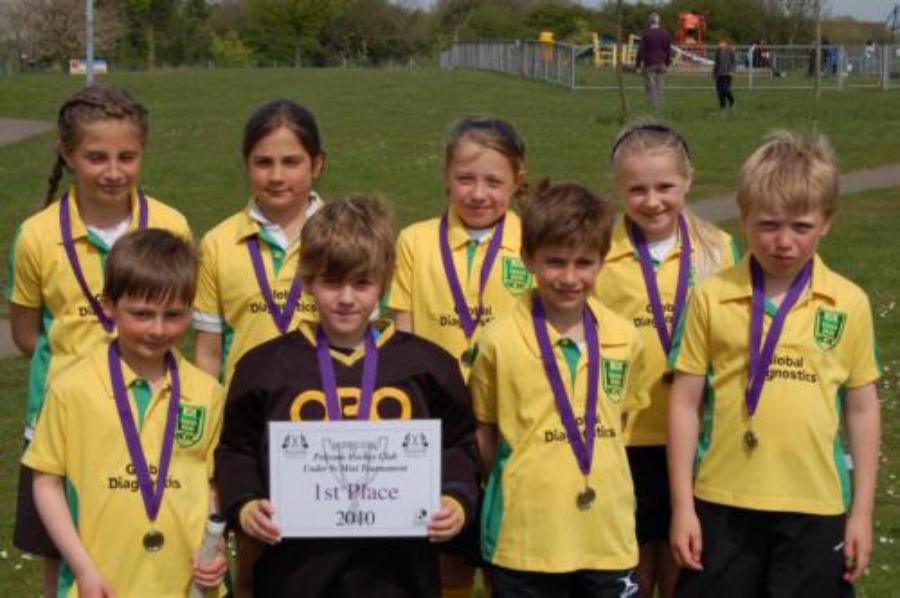 Fresh from their success at Dereham, the U9s arrived in confident spirits at Pelicans. The A team (AKA The Owlets) started off against Magpies. Strong defence from Grace Kidner & Harry Paterson and great link play from Maddie Anthony and Abbie Ingham set up a 2-0 win, with goals from Cameron Cook & Maddie. Goalkeeper Michael Milne-Brown came close to touching the ball in a rare Harleston attack. Next up was Dereham. Two goals came from Cameron and one from Harry, assisted by strong approach play from Daniel Phillips and Maddie. Abbie & Emma Richardson tackled well, meaning that the Dereham team never challenged the Norwich goal. With progress beyond the group stage assured, the team tried a different formation and this time Daniel Phillips' & Maddie's tackling skills ensured another shut out. Emma & Abbie's forward play led midfielder Cameron to score the only goal of the match and ensure the Owlet's 100% record in the group stage.

And so to the Semi Final: Group 1 Runners-up Watton could not get beyond the superb defending from Harry and Abbie with support from Grace and Emma. A hat-trick from Cameron was completed inside the first 5 minutes, before Daniel added a fourth, with the team's self-conceived and well-executed short corners enabling Harry to complete the six-goal victory. The final saw a rematch with the Squabs team. A very strong performance from the whole team allowed another clean-sheet victory with Cameron scoring a second hat-trick, the most memorable of the three being a coolly-taken push wide of the keeper, after Daniel Phillips' dazzling stick skills saw him take the ball down the right wing before beating several Squabs defenders and making the pass to his strike partner. Daniel rounded off his performance with the fourth goal and the Owlets were champions! A fantastic tournament victory for the Owlets, great teamwork, strong skills and lots of hard work. Five wins from five games, sixteen goals scored and none conceded, can't ask for more than that!

The B team (AKA The Cygnets) also played really well and are gaining invaluable experience. The team's strength lay in its tenacious defending: Matthew Fish kept goal heroically, with Rachael Phillips, Sophie Briggs, Ellie Pitcher, Yu-Hin Chan and Millie Spinks tackling strongly at the back. Rebecca Gaffney played the role of midfield dynamo, and Rachel Bruce and Brooke Simmons took the ball well down the wings. The team started with a good 0-0 draw with Pelican Chicks, having much of the play, followed by narrow losses to Pelican Fledglings, Watton and Magpies. Our downfall was the lack of a natural goalscorer, but the team should take heart from a good fighting display and the experience they are gaining. It is great to see how much this group of players have improved this season.

Al Paterson and Colin Brown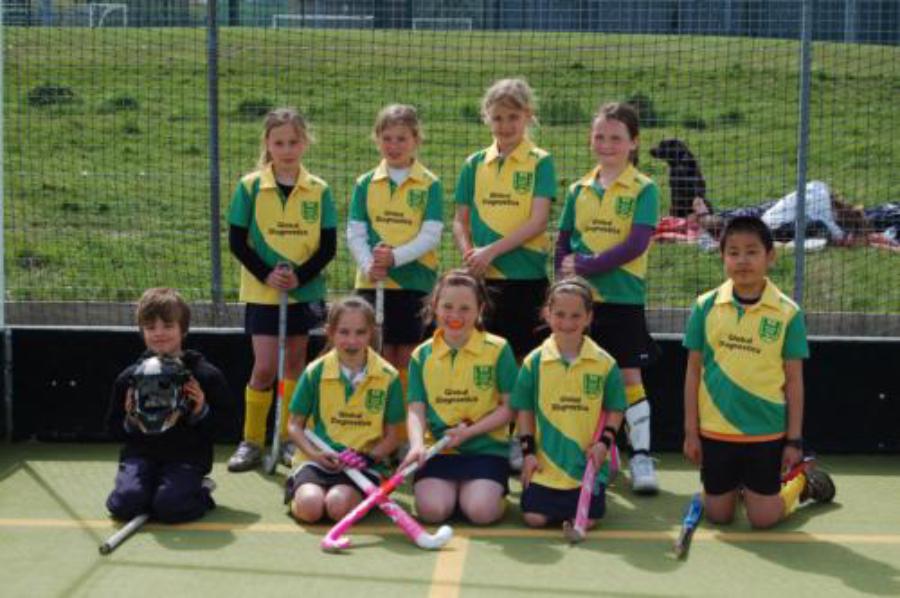 ---
U9s - Winners at Alex Hill Memorial Cup, Dereham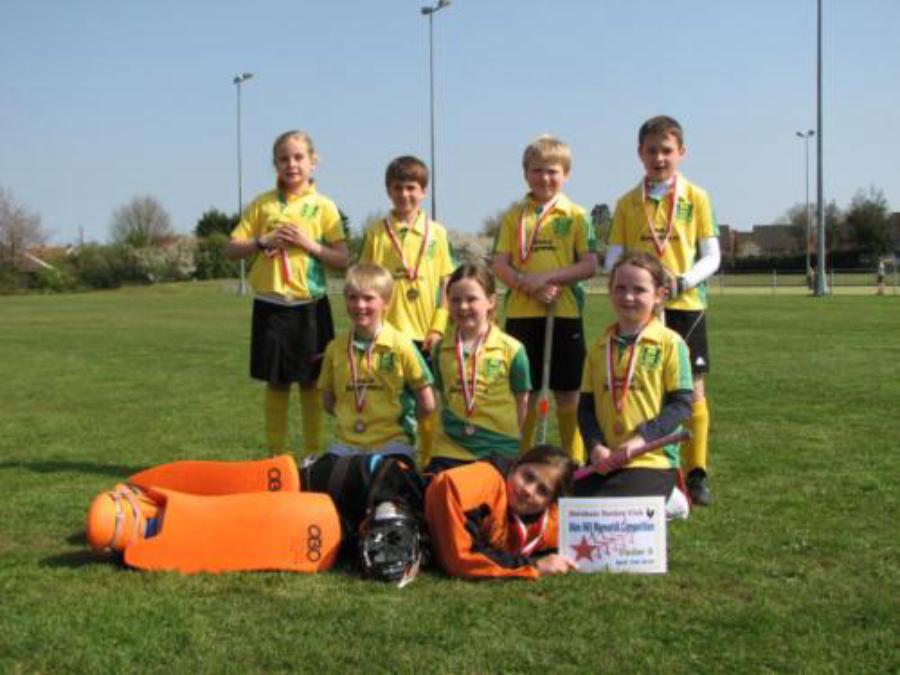 On a beautiful sunny day in Dereham, our U9s finally had their first tournament of the season.

The A team was buzzing with confidence, many of the players having done well in the U10 tournaments and school matches. The team gelled quickly and played some beautiful hockey. Luke Byrne was a rock in defence stopping the opposition in its tracks. In the centre, Rebecca Gaffney, Ellie Pitcher and Sophie Briggs tackled ferociously and distributed the ball well. Dan Phillips and Sam Bingham played beautifully on the flanks, consistently dribbling past players to the by-line, then crossing for Cameron Cook, the goal machine, to whack the ball as hard as he could into the net. And that leaves poor Maddie Anthony in goal who didn't touch the ball all tournament but maintained her focus and support of the team throughout. The end result was that Norwich won every game, played beautiful hockey and were clear tournament winners. The statistics speak for themselves: Played 6, won 6; Goals for 29, Against 0. Goal scorers: Cameron 15, Daniel 5, Sam 5, Ellie 1, Luke 2, Sophie 1.

The B team was made up of less experienced players with half of the team being U8 rather than U9. Nevertheless they did extremely well, winning two games and narrowly missing out on a couple more. Daniel Byrne and Rachael Phillips, two of our younger players, tackled ferociously at the back. Jack Watling showed some lovely stick skills up front and Michael Milne-Brown in goal pulled off some spectacular saves. Added to this, Verity Wills, Yu-Hin Chan, Brooke Simmons and Millie Spinks all showed good passing and tackling skills during the tournament and the team got better as the day went on. A great sign for the future and they all did themselves proud.

Overall, it was a great day for the U9s, adding to an extremely successful weekend for Norwich City Hockey Club!

Al Paterson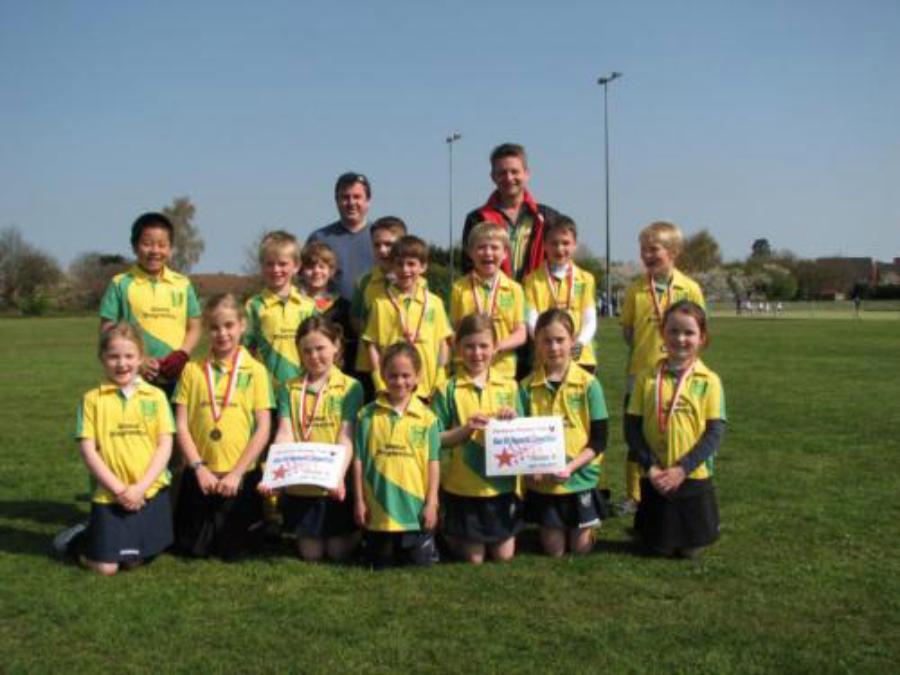 ---
19 April 2009 - U9s @ Dereham Tournament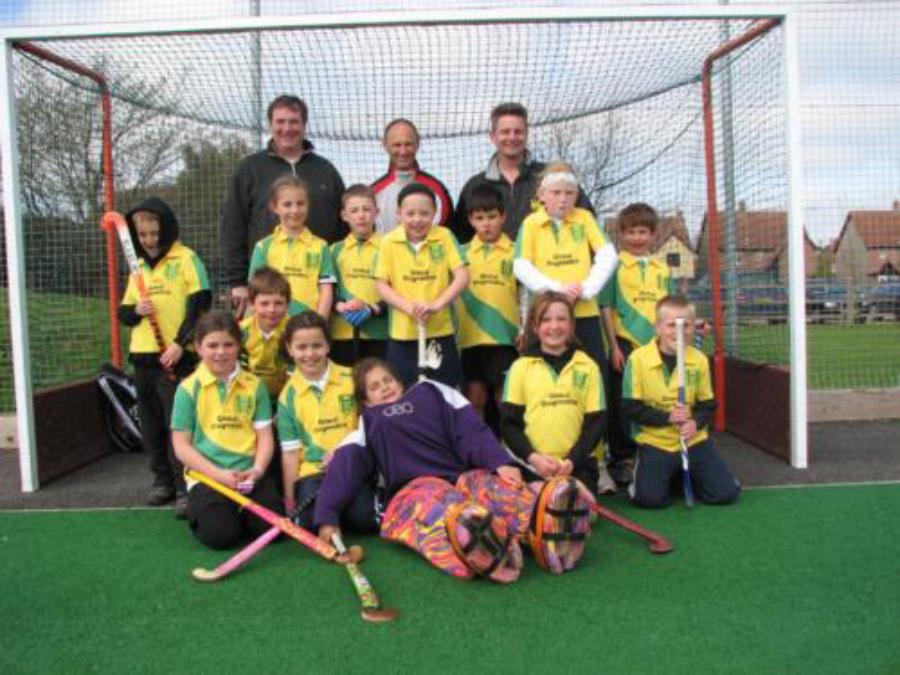 City A team started well against Pelicans Bs, winning courtesy of goals from Joseph Wales and Cameron Woodcock. It wasn't as easy as it sounds and great tackling from Anna Tighe and Harry Paterson kept Pelicans out several times when Pelicans broke. Against Dereham A, we were unlucky to draw 2-2. Good play by Daniel Phillips and two Joseph Wales goals were cancelled out by some slightly lucky Dereham goals! Finally in our Group we took on Watton – Emma Richardson and Lauren Rowe ran the midfield, Maddie Anthony played well in goal and another goal from Joseph meant we won the game 1-0. Being unbeaten, we topped the league easily and came up against Magpies in the final. Sadly it was a repeat of the Watton Tournament – City As held their own in the game with some great tackling and passing, but fell victim to some excellent shooting from Magpies and we lost 2-0. Nevertheless our tournament position of second out of eight teams was a really good end to the season.

City Bs had a tough start as they played eventual winners Magpies and lost 4-0. The next game was against Dereham B and City won the game 1-0 with a deserved goal being scored by Luke Byrne from a well struck short corner. In the final group game against Pelicans City started well and took the lead when Lydia Ellis-Baumber followed up Abbie Ingham's initial shot to score. However, Pelicans A equalised from a swift counter-attack when goalkeeper Amelia Ellis-Baumber found herself facing 3 attackers with her defenders nowhere in sight! City finished 3rd in their group and played Pelicans B in the playoff match, which despite lots of possession for City, ended 0-0. A good all round performance with good contributions from the other members of the team – James Anderson-Brown, Ella Peters & Jemima Fennell.

Whilst all the players did themselves proud, the following were chosen by the coaches as the players of the game for each match:

A team
Pelicans B - Anna Tighe
Dereham A - Joseph Wales
Watton - Cameron Woodcock
Magpies - Lauren Rowe

B team
Magpies – Abbie Ingham
Dereham B – Luke Byrne
Pelicans A – Lydia Ellis-Baumber
Pelicans B – Ella Peters

Over the course of three tournaments in the last month, 22 different players have represented Norwich City at Under Nine Level and have done the Club proud with both the standard of hockey but also good manners and sportsmanship. Well done to all of them!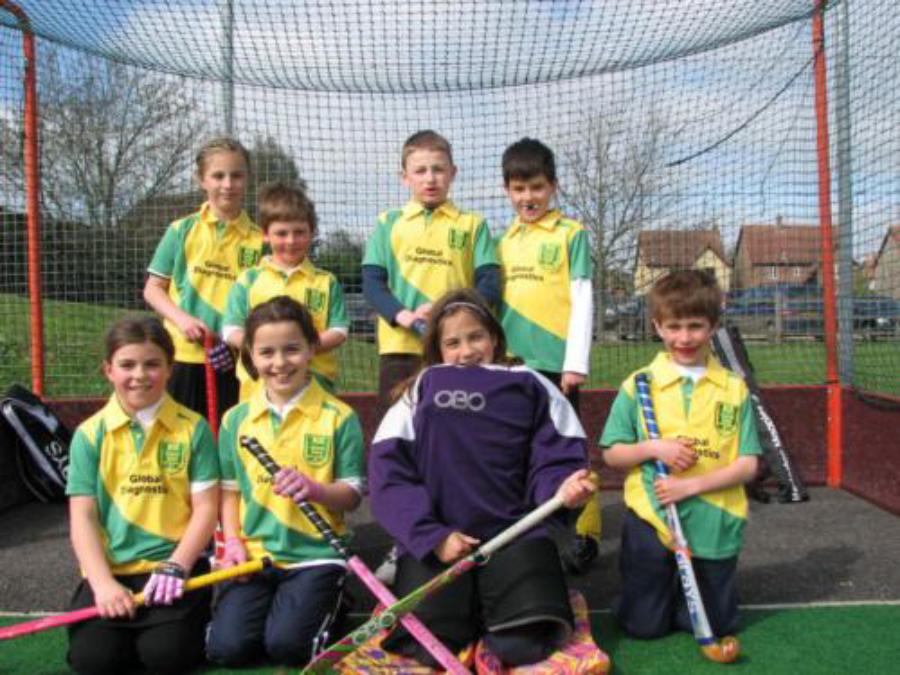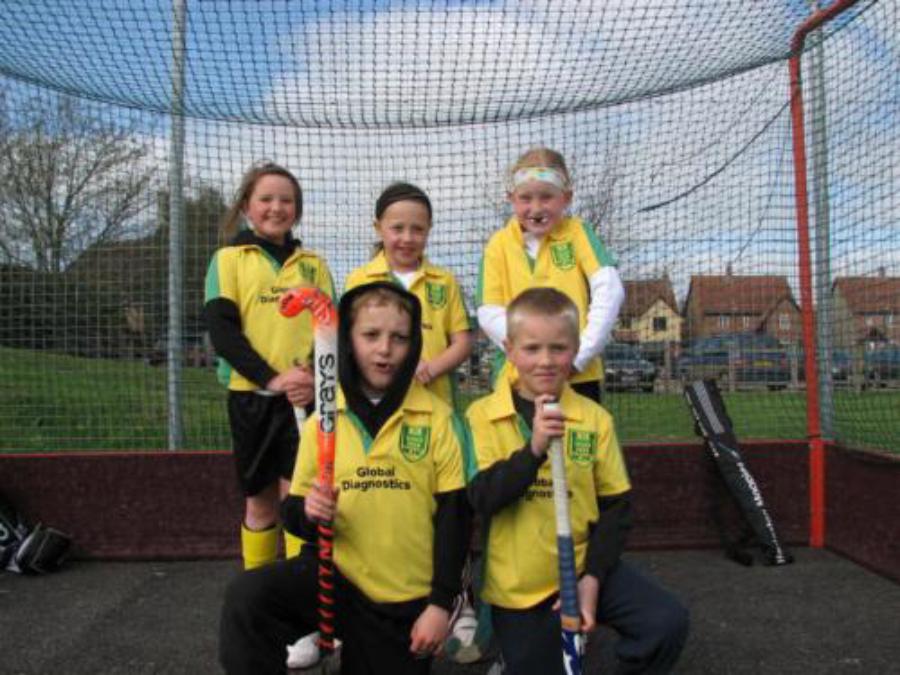 ---
29 March 2009 - U9s Watton Tournament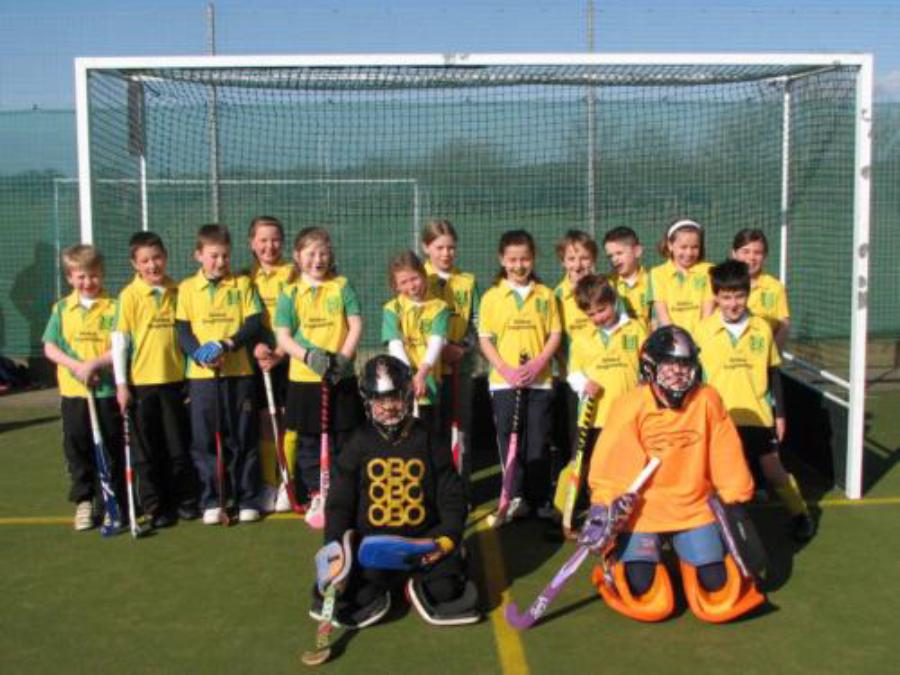 The clocks going forward meant the 10am start at Watton was not the lie-in we had all been led to believe, but all 16 Norwich U9s were ready and raring to go for the A and B team tournaments. The two teams eagerly donned their brand new Norwich City Hockey Club strips for the first time, kindly sponsored by Global Diagnostics.

A Team Tournament

City were unlucky to come up against Magpies before the team had really got going! Despite some desperate tackling at the back from Harry Paterson and Anna Tighe and a couple of excellent saves from Maddie Anthony in goal, Magpies striking was too strong for us and we lost 2-0.

From then on, Norwich City went from strength to strength. Our strong midfield of Victoria Findlay and Sam Bingham dominated Pelicans and, with goals courtesy of Harry Paterson and Joseph Wales, Norwich City swept to an easy 2-0 win.

This was followed by a 1-0 win against Watton. City ran the game, with Lauren Rowe and Cameron Woodcock linking well up the left, before Joseph Wales scored another excellent goal for the win.

City finished the tournament against Dereham. Despite having most of the possession we struggled to score and the City parents (a rowdy bunch!) were getting increasingly concerned. However, with only minutes to go, Cameron Woodcock received the ball in the D, dribbled towards the goalie and calmly slotted the ball home for a 1-0 win.

Overall, we finished second in the tournament out of five teams – a really good result, but with the team planning revenge against Magpies for next time we meet!


B Team Tournament

City started brightly against Dereham, having most of the possession and being camped in Dereham's D. Ella Peters nearly scored with the goalkeeper somehow preventing the ball crossing the lane, before James Anderson Brown, our defender, popped up from nowhere to sweep the ball in for a 1-0 victory.

Next came Pelicans where, in a game mostly fought out in midfield with Brook Simmons and Maddie Ahier getting stuck into the play, neither side could break the deadlock.

Against Magpies the team started well and had much of the possession, with short-corners being won by Jack Watling and Lydia Ellis-Baumer. However, Magpies hit us on the counter attack three times and, despite the best efforts of Amelia Ellis-Baumer in goal, managed to achieve a 3-0 win which did not reflect the balance of play.

Finally, we came up against Watton and the team exploded into life. Cameron Cook scored a great hat-trick within five minutes of the start, with Isobel Hodges topping off the day for a fantastic 4-0 win.

The team was delighted to come second in the B team tournament. When you consider that this was the first tournament for most of the team members and only the second time Amelia has put goalkeepers pads on, it really puts into perspective how good a performance this was!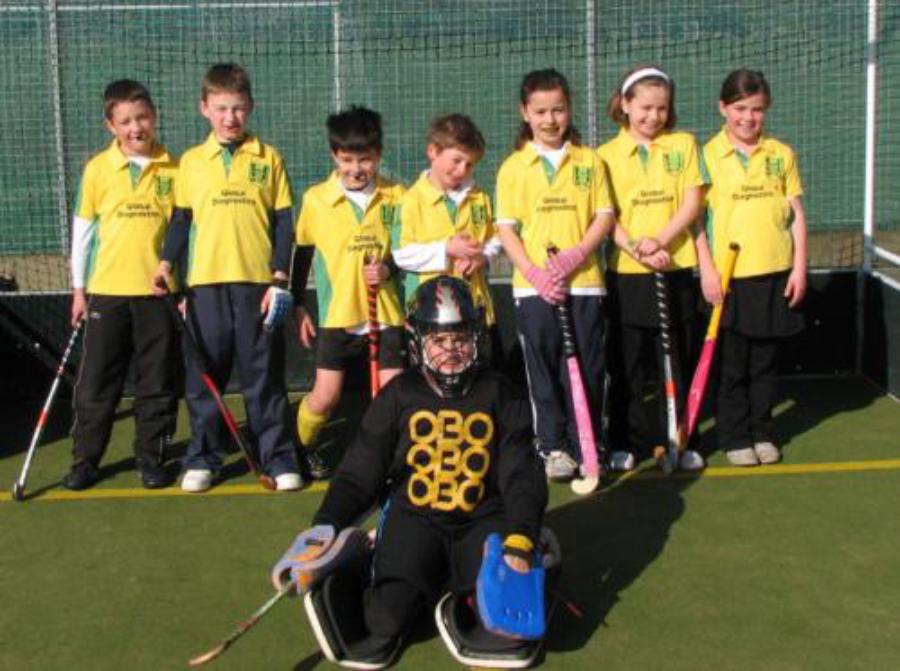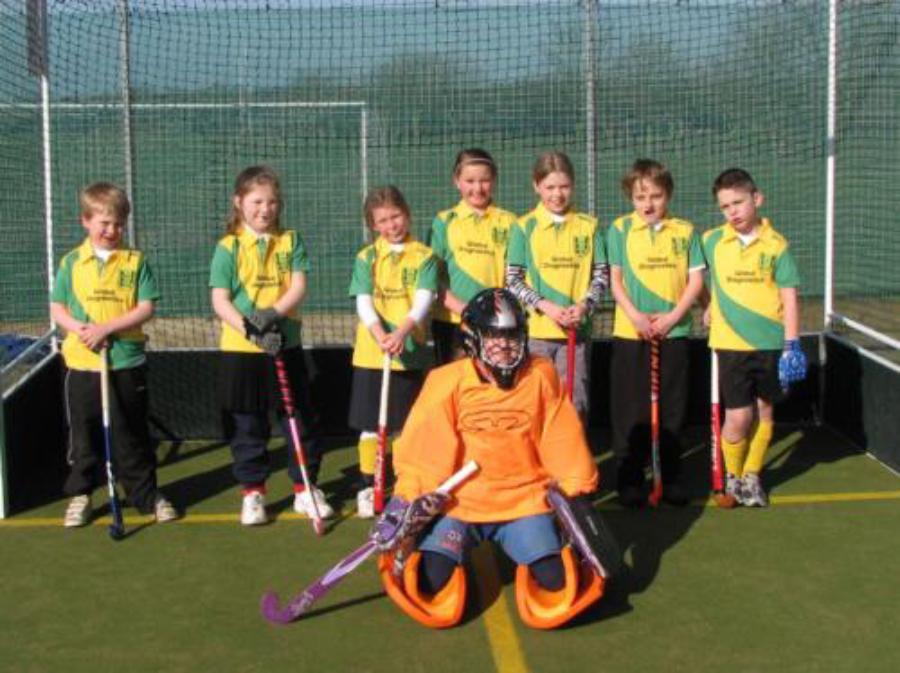 ---
---
youth@norwichcityhc.co.uk
[2017-2018]
[2016-2017]
[2015-2016]
[2014-2015]
[2013-2014]
[2012-2013]
[2011-2012]
[2010-2011]
[2009-2010]
[2008-2009]
[*]