Youth Hockey
2011-2012

U10

U10 Boys do everyone proud at NCHC Tournament!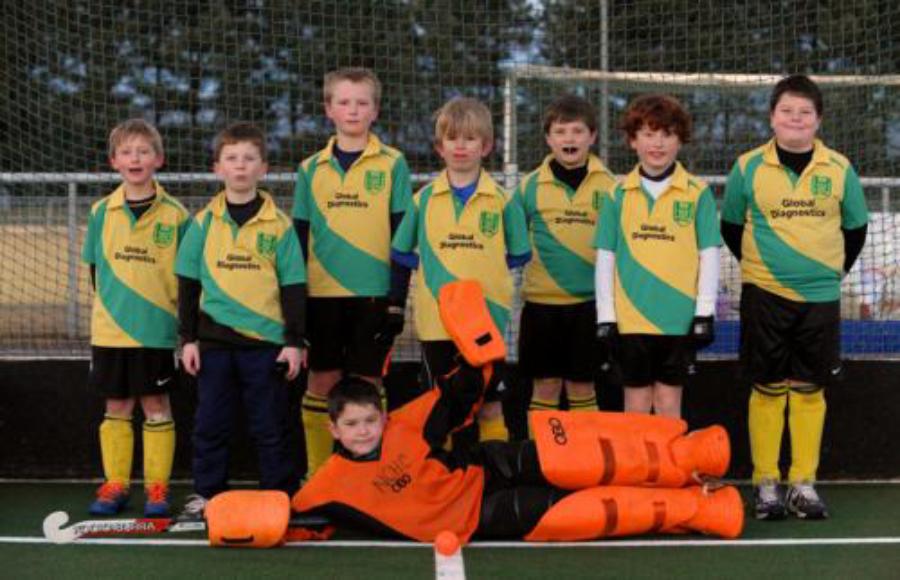 On a bitterly cold day, the Norwich City Knights and the Norwich City Wizards lined up in the NCHC tournament. This was always going to be a tough tournament. We have a very young squad – only five of our outfield players are in Year 5, and of the nine Year 4 boys, almost all are born at the end of the school year. It was clear in the matches that we were giving away several inches and many kilos to our opposition. Add to that the fact that the Wizards was the only "B" team in the "A" team tournament, and you can see the mountain we had to climb!

Norwich City Knights Team

We started off with the NCHC derby, a good energetic game enjoyed by all. The Knights scored their first goal with a Monty Platt strike from a short corner, then Kieron Limb got a second came from a long corner which he picked up and flicked over the head of the goalie. Jack Beckett made his presence felt as right back linking well into this team, ensuring a 2-0 win to the Knights.

The Knights faced Dragons next and had the lion's share of territory, passing and moving well in midfield. Rio Iaccarino sent some nice wide passes direct to stick giving Freddie Paterson a chance to work his magic down the right hand side. A couple of moves faltered metres from a goal line and then, against the run of play, we lost to the eventual tournament winners at the final whistle - the dragons scoring from a break and getting the benefit of an unstoppable deflection. No one's fault but it felt a bit like England vs South Africa in the recent Rugby union tests: close but no Rosette.

Next the Pelicans offered a sterner test with several shortcorners and, as Cameron Husband and Joseph Roy were rotated at the back, this allowed Pelican pressure to eventually tell again right on the whistle. The luck clearly had to turn and the boys were determined to keep their heads up. In the final match,the Knights faced the Magpies. A new formation helped to repel attack after attack and, when the Magpies did get through, Kieran Myatt came into his own in goal with good clearances and saves. Midfield still maintained distribution to the forwards and we had some good runs. Goals were possible from either side but we matched the winners of the previous tournament on the field securing a good draw in what was probably the most dynamic and complete game we had played.

All the boys played well, but player of the year goes to Kieran Myatt for excellent goalkeeping and wholehearted determination.

Norwich City Wizards

The boys of the Norwich Wizards were raring to go on this cold Sunday afternoon, but were also a bit nervous that they were to play in the Gold tournament. However, they soon settled when they found out that the first game was against Norwich Knights. The boys were told to enjoy themselves and run around lots so they didn't get cold. Throughout all 4 matches Oliver Kimber's performance in goal was inspiring, He blocked many shots and made some good clearances. Rocco Iaccarino, Oliver Leary and Harry Mackenzie were rotated through the striker and midfield positions. They all worked well together, supporting each other and getting the ball forward when they could. Because of this hard work Harry was rewarded with a goal against Pelicans.

In defence Cameron Husband and Samuel Doncaster put in lots of really good tackles against some very strong attacking teams. During all 4 games the Wizards midfield, in particular, Jonty Black and James Bussey held the ball up well, getting it out wide in a stalwart attempt to get the ball up front for that elusive goal.

Jonty Black was named as Player of the Tournament for his focus, determination and very high work rate.

Overall this was a good performance from both Norwich City teams. Whilst finishing 5th, The Wizards learnt a lot about hockey in the tournament, played well and never let their heads drop. The Knights finished fourth, but all their games were extremely close and a couple of different bounces and we would have been very close to the top. The boys should be proud of their performance and we are very grateful for the continued support of the parents.
---
Norwich U10 Boys Impress at Harleston Tournament
At this early stage of the season our aim was to give the U10 boys a good run out, field two teams of fairly equal experience and, particularly, to make sure the boys enjoyed what was, for several, their first ever tournament!

The first match was the City A v B derby, which was an excellent opener with all players getting involved. The B team defended strongly, particularly with Ben Millet in goal, Nat Buxton tackling everyone that crossed his path and Daniel Griffiths fighting gallantly at the back. However once Kieran Limb opened the scoring , the As got into their stride and ran out eventual 4-0 winners. Kieran scored a second and Freddie Paterson scored two more, dribbling down the right and always looking to get involved.

A Team:

The A team followed the City derby with Harleston A, which was always going to be a tough match. Our midfield and backs, particularly Joseph Roy, repelled attack after attack with some good saves and kicking clearances from Kieran Myatt and a timely clearance from Cameron Husband virtually off the line. However, Harleston ran out eventual 3-0 winners.

Revenge did not take long to come, with the boys rallying strongly against the Harleston B team with a convincing 5-0 victory. A hat-trick was scored by Kieran Limb and goals by Freddie and Harry McKenzie completed our best win on the day. Particular mention must go to Harry's marvellous dribble, nimbly flicking the ball over one stick and around two more players down the left side. Some nice one-twos were seen in the forwards and the flowing hockey was great to see.

Next up were Dragons. Particular praise is due to Cameron Tasker for the anticipation shown in coming forward for the 50:50 ball and for bossing the back half of the pitch denying many a fleeting attack. Harry McKenzie again showed great dribbling down the left half of the pitch with offloads to Keiran and Monty both picking the ball up well. However both teams failed to break out of the crowded midfield and the game ended 0-0.

In the final game of the tournament, Norwich needed to beat Pelicans. Good work throughout the team led to a couple of City chances going begging. But, in a sudden break-away reversal it was nearly lost at the other end and only a heroic diving save from Keiran Myatt, the likes of which the Men's teams would have been proud of, kept the score to nil-nil.

Everyone played exceedingly well, but A Team Player of the Tournament goes to Monty Platt for passing consistently well, dribbling when necessary and tirelessly making the effort to get back and defend.

B Team:

With the team boosted with an athletic snack (chocolate biscuits) we went into the second match against Magpies B. Rio and Rocco Iaccarino worked well together throughout the game with accurate and strong passes which lead to Rio getting the first goal for the team. After the game restarted Rio made a slick pass to Rocco who turned his defender and took the ball in a solo effort from midfield to score.

The boys were buzzing when they took to the pitch to face the Dragons. Most of the play was in midfield, with the ball held up well by both Oliver Leary and Alex Dagless on the right. Jack Beckett, B Team Captain for the tournament, ensured that any ball that got through the midfield did not make it any further and the match ended in a well earned draw.

We knew the last 2 matches would be the most difficult, Pelicans and Magpies A and whilst these resulted in losses, the team showed real character. Samuel Doncaster showed great skill and speed in all matches and during these final 2 matches his work rate was outstanding. Oliver Kimber, in goal, made some significant saves during both matches. Given he had only had 40 minutes goalie time prior to this tournament he was fantastic throughout!

All the boys played well and contributed to the success of the team, which has made the choice of Player of The Tournament even more difficult, which is why on this occasion there will be two. First Rio Iaccarino for his all around skill and drive and, secondly, Samuel Doncaster for showing great commitment, enthusiasm and work rate during every match.

Overall:

All the boys put lots of effort into the tournament and were a credit to Norwich City. The A team finished a credible third, winning two, drawing two and losing only one; what is particularly impressive is that they only conceded three goals, with only Magpies A's breaching City's defence. The B team finished fifth, but given this was the first tournament for several players, their performance was impressive. And this is only the start - we are sure that both the teams and the players individually will continue to improve through the season.

Finally the coaches would like to thank the many people who helped on the day including Graham Limb, Anna Platt, Janice Beckett and Karen Paterson, as well as the boys who were enthusiastic and a pleasure to coach.

Paul Roy, Sam Myatt and Al Paterson
---
U10 Boys End Season with Gold at Watton
A strong Norwich City Under 10 Boys squad ended the season on a high note with victory in the Watton Mini Hockey Tournament on Sunday 29th April.

The squad of Edward Briggs in goal, Daniel Byrne, Rio Iaccarino, Tom Bailey, Michael Milne-Brown, Tom Gourlay, George Harrad, Kieran Myatt and Kieran Limb put in three strong performances against Dragons, Derham and Watton to emerge winners on goal difference over Dragons.

The first match, against Dragons, was a closely fought affair, but remained goalless to the end.

Dereham were up next and City took the win courtesy of a fine hat-trick by Harrad.

With the tournament result clearly resting on goal difference, the team were instructed to be ruthless against a young Watton team and they didn't disappoint, taking the win 6:0 with goals from Byrne, Harrad, Bailey and a hat-trick from Limb.

So, a fine victory from a great bunch of lads brings the season to an end. All the under 10s have worked hard all season and have developed well together.

For me and Sam Myatt, with a great deal of assistance from Graham Limb (amongst others) and with the support of Team Manager Anna Hipperson and Sarah Anthony, it has been a real pleasure coaching this group of boys throughout the season. Thanks to them and to their mums and dads. See you in September.

Colin Brown

---
One for Sorrow, TWO for JOY - U10 Girls Triumphant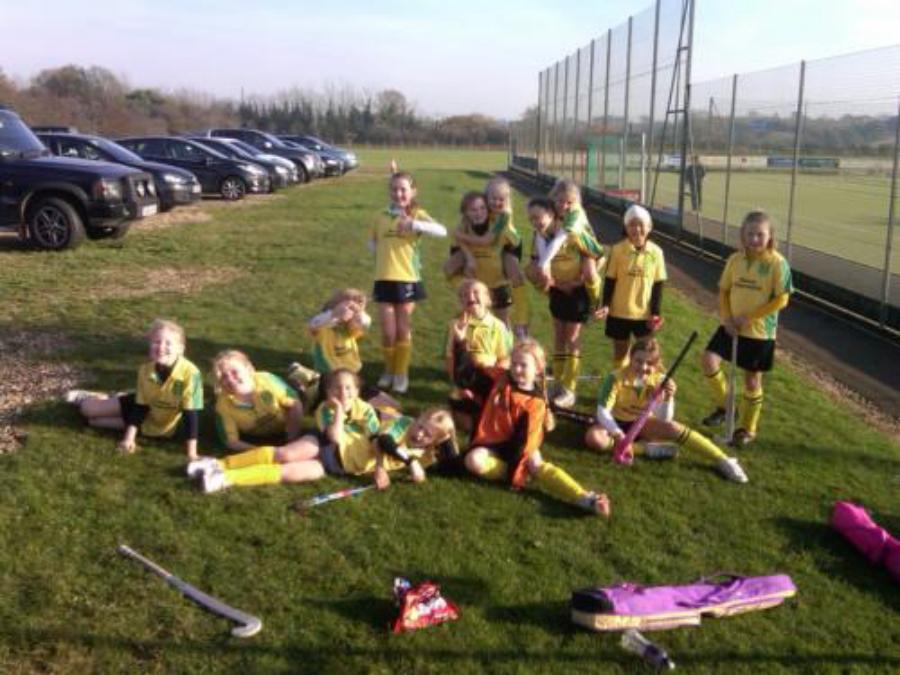 Only two weeks after travelling to Kings Lynn two NCHC U10 girls teams made the trip to Harleston for their club tournament. The Lions were looking to continue their undefeated season. Tilly Mann and Claudia van Poortvliet came into the squad after their performances for the Tigers at Pelicans. With seven teams in the tournament it was going to be a good test of the team's stamina as well as ability if they were to be successful again.

Dereham were up first and two goals from Rachael Phillips ensured a winning start in an easy if disjointed performance with Dereham not managing a shot on goal in the game.

Pelicans were next and another goal from Rachael gave us a 1-0 win. Again this was not a flowing performance with mistakes being made and chances missed. The team were grateful for a great piece of goal keeping from Verity Wills who saved from a one on one break following two missed defensive tackles on the edge of the "D".

We found our scoring sticks in the next game against a young Magpies "B" team. The game was played almost entirely in the Magpies half with Verity not touching the ball the entire game. Goals from Maya Barnes(2), Anna Brook(2), Claudia(2) and Tilly gave us a 7-0 win with a number of other clear chances going begging.

Tigers showed that they were playing confidence in the next game and although they did not create any scoring opportunities they tackled and defended well. Goals from Maya and Anna were enough for a 2 -0 Lions victory.

Ipswich provided the opposition in the penultimate game – a game that again saw Verity not touch the ball and all the play in the Ipswich half. Goals from Maya, Claudia and Rachael(2) resulted in a 4-0 scoreline although again this could have been doubled if the numerous chances were converted.

The final game was against Magpies "A" who were also undefeated but had drawn one of their games so the girls knew that avoiding defeat would give them the winners medals. We dominated possession but only had a goal from Maya in the opening two minutes to show this dominance. From their possession Magpies did put pressure on the defence for the really the first time in the tournament but solid defending and strong tackling from Ellyn Roberts and Tilly ensured that Verity was again not called upon to save a shot.

Another tournament victory with a record of 6 wins from 6 games, 17 goals scored and 0 conceded. All the girls played their part in the success but for her all round forward play Anna Brook was player of the tournament.

Team: Verity Wills, Ellyn Roberts, Tilly Mann, Rachael Phillips, Maya Barnes, Claudia van Poortvliet, Anna Brook


Ian Roberts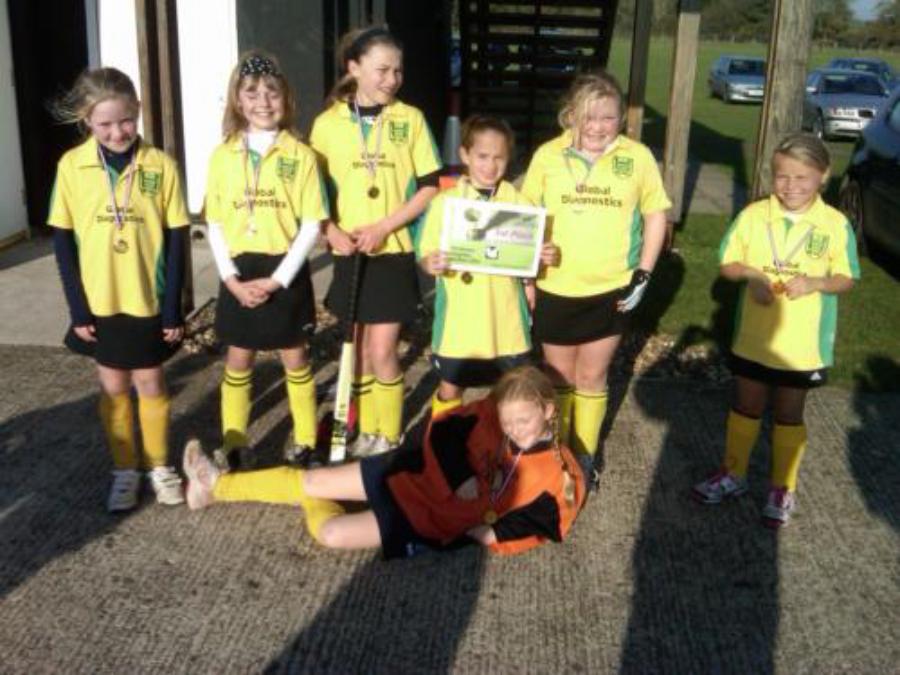 ---
U10 Girls Sail High in Kings Lynn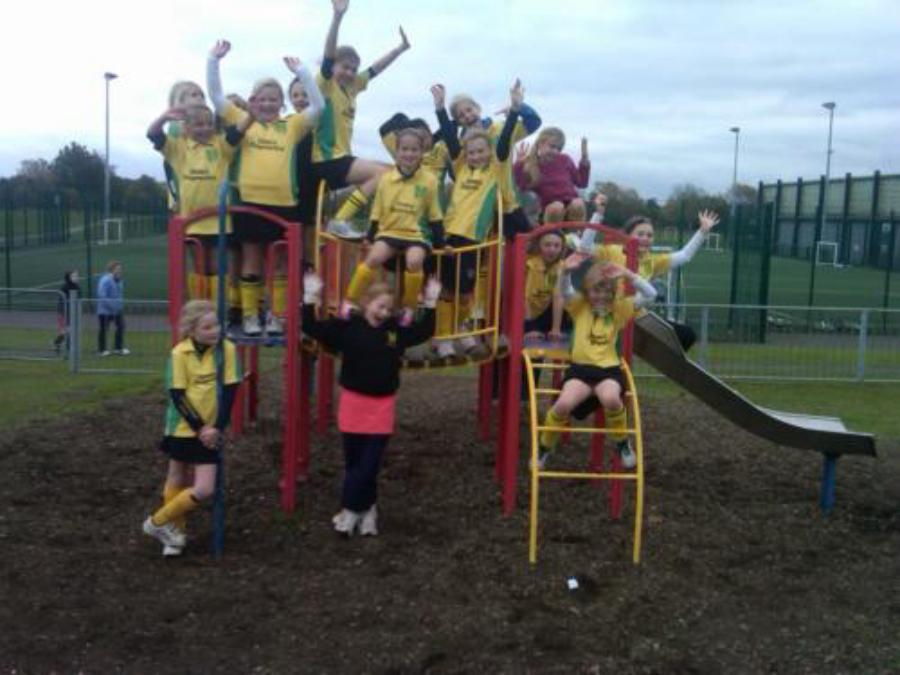 After the success of our own tournament we again had two teams in the Pelicans tournament with 16 girls making the trip to Kings Lynn.

Norwich Lions started against Pelicans and were soon on top with a goal from Maya Barnes. They continued to dominate the game and scored further goals from Victoria Garson and Amy Barker on her club debut to give a 3 – 0 scoreline.

Norwich Tigers faced Dereham in their first game. Very few goal scoring chances were created by either side and the game finished 0 – 0.

The next game was between Lions and Tigers. Lions again dominated the possession and created several chances but found the "on loan" Pelicans keeper and Tilly Mann, Emily Spencer and Emily Bloom in the Tigers defence on form. The deadlock was eventually broken with a goal for Rachael Phillips to give Lions a narrow 1 – 0 win.

Tigers were next up against Pelicans. Again defences were on top with Tilly again looking solid with Verity Wills in goal showing her developing ability in that position. Claudia van Poortvliet showed good skills in creating a chance for Emily Bloom which went narrowly wide as the game ended 0 – 0.

Lions faced Dereham and for the first time in the tournament were put under pressure with Rachael and Ellyn Roberts having to make tackles to prevent Dereham creating any clear chances. Verity was tested on a couple of occasions and kept another clean sheet. Anna Brook scored the all important goal to give Lions a 1 – 0 win although enough possession was held to have given the score a more healthy look.

Both teams had to face Magpies in their last games. Lions were first up and scored early on with a goal from Rachael. They continued to enjoy the majority of the play but again Verity had to be alert to clear from Magpies attacks. Anna scored a second goal and again chances were created to have put the game beyond doubt – as it was it finished 2 – 0 to give Lions a 100% record with seven goals scored and four clean sheets.

Tigers put up a great defensive display in their game with the outstanding Tilly Mann and Verity Wills dealing with most Magpies attacks. Every player involved gave top performances and another clean sheet was maintained. Even though no goals were scored the team were not over run and 3 draws and a narrow defeat was a good outcome for this inexperienced team.

Rachael Phillips was the Lions and Tilly Mann the Tigers players of the tournament. In addition Verity Wills must get special mention for playing in 7 of the 8 games and keeping a clean sheet in every one.

Lions: Verity Wills, Ellyn Roberts, Victoria Garson, Rachael Phillips, Maya Barnes, Anna Brook, Sze Chit Chan, Amy Barker, Elsa Scott

Tigers: Verity Wills, Tilly Mann, Emily Spencer, Claudia van Poortvliet, Amelie Hitchings, Jess Loose, Emily Bloom, Ella Bartram

Ian Roberts and Geoff Spencer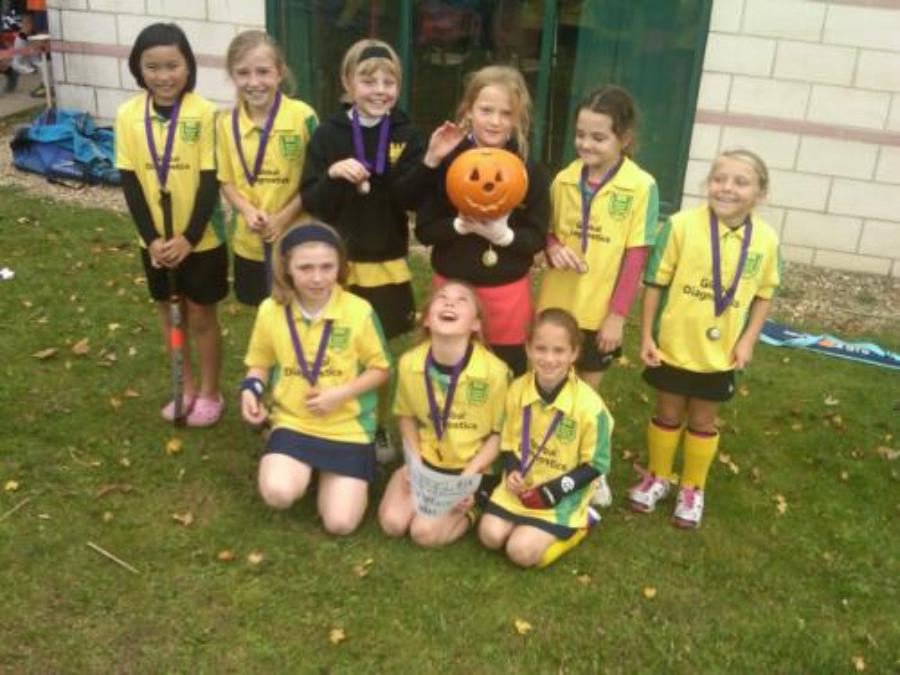 ---
U10 Mixed Team Conquer Suffolk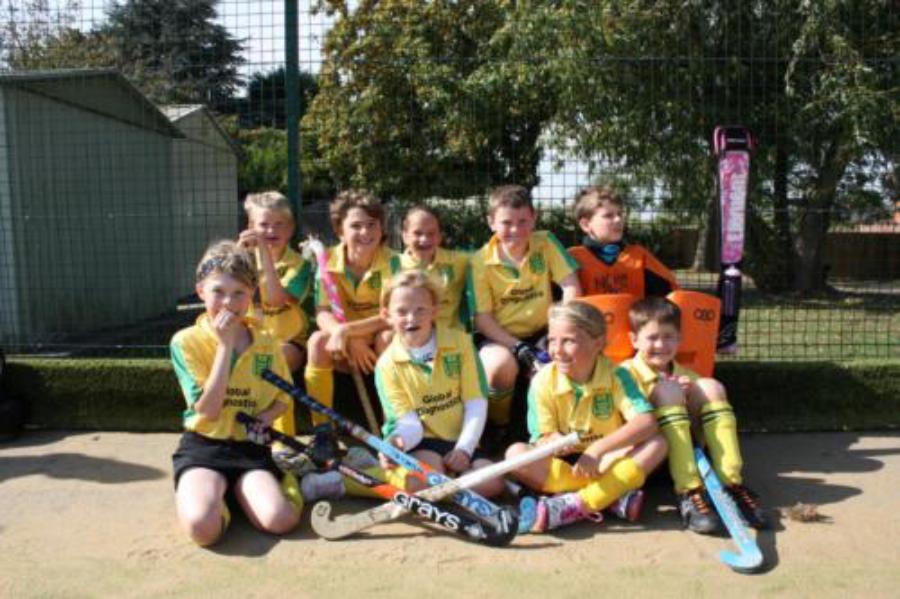 An email from Sarah: fancy taking an U10's mixed team to a tournament at Ipswich HC on the 25th September? "Seems like a good idea" replied Colin – so it was that we were enjoying the pleasures of the A140 on a sunny Sunday morning with five U10 boys and 4 girls who had never played together as a team before.

Our first game was against Ipswich 'A' team who, we were told, play mixed hockey at this age group as the norm. As expected, it took the team time to get used to each others game and for the boys to realise that the girls could actually play!! Several chances were created but not taken and good defending by Norwich resulted in a creditable 0-0 draw.

Next up were Sudbury 'B's and we began to play together as a team creating chances with goals coming from Rachael Phillips, Kieran Myatt, George Harrad, Tom Bailey and Maya Barnes to give us a 5-0 win which could have been doubled but for a fine performance from the Sudbury keeper. Verity Wills, Ellyn Roberts, Maya and Rachael all realised that they could compete with the boys and came out of their shells in this game.

We went into the final game against Bury St Edmunds 'B's, knowing that we needed to win by 5 goals to top the group after Ipswich had beaten Sudbury 9-0. We attacked from the start and with the exception of a couple of breaks from Bury, which were dealt with easily by Ellyn Roberts and Daniel Byrne in defence, we spent the game in the Bury half. Unfortunately, we could only score four goals with 2 a piece for George and Tom which meant that we had to play the winners of the other group to reach the final.

Sudbury 'A's were our opponents in the semi final. Again we played much of the game in Sudbury's half but were restricted to half chances by good defending. At the other end Michael Milne-Brown in goal had to be alert on a couple of occasions to deal with Sudbury attacks. With around two minutes of the match remaining the score was still 0-0 although we had the advantage of 2 short corners. Rachael, who again covered every blade of Astroturf, won possession from one of the Sudbury boys and got the ball to Tom in the right hand corner – he drove the ball across the area and George was there to flick the ball in - 1-0 to Norwich and we were in the final to meet Ipswich 'A's again.

We started the final confidently and had much of the play but Ipswich were competing and looked dangerous on the break. From one of these breaks Daniel won a tackle inside his own half and took the ball forward before passing 30 meters to George on the left – he took the ball on and passed into the area to Tom who beat a defender before scoring – the goal of the tournament which demonstrated how well we were playing as a team. Michael was then called upon to make a vital save to preserve our advantage as Ipswich pressed with again Daniel and Ellyn looking strong in defence winning a number of important tackles. We kept attacking and another good series of passes around the area gave George a chance which he took well to give us a 2-0 lead. Verity, Maya, Kieran and Rachael all played a significant part in the game and gave 100% - we were the champions!

Everybody agreed what a great experience it was for the players who really gelled as a team after that first game – we played 5 games without conceding a goal against experienced teams, all of whom play mixed hockey on a regular basis and all the players should be extremely proud of their performances – it would be unfair to single any one player out for player of the tournament as this was a real team show in every game.

Talking afterwards the consensus was that we should try to do more of these mixed games, certainly during the season on a Sunday morning with "in club" games and consider an inter club tournament later in the season.

Colin Brown (U10 boys) and Ian Roberts (U10 girls)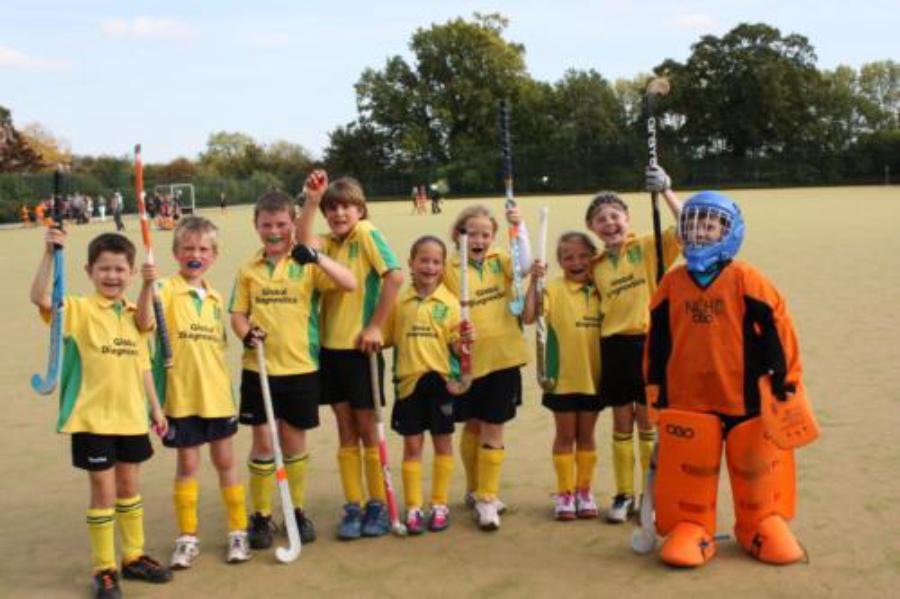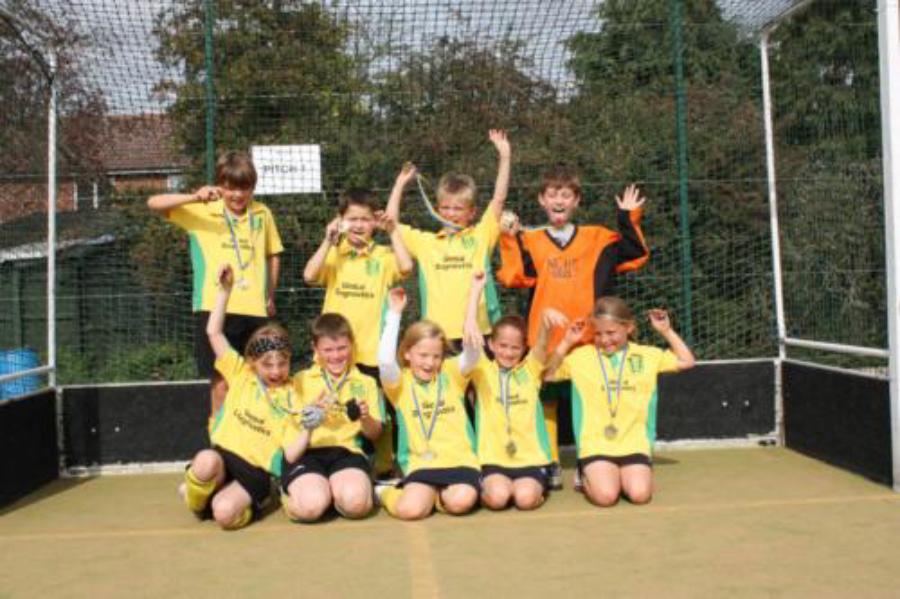 ---
U10 Boys Snatch Well Deserved Silver
The first of the Mini Club tournaments provided a great opportunity for the new U10 crop of boys to gain some valuable experience in match play. With just Magpies and Pelicans able to enter teams, each team was played twice. The Norwich squad was Michael Milne-Brown, Daniel Byrne, James Parsons, Keiran Limb, Kieran Myatt, Tom Bailey, Tom Gourlay, George Harrad, Rio Iaccarino and Monty Platt

The first match against Magpies resulted in a 0:0 draw with strong performances from the whole team in an end-to-end encounter with neither team able to convert some good approach play into goals. Tom Gourlay's industrious efforts on the left earned him man of the match.

Against Pelicans, the Norwich defence were severely tested throughout the match, but were able to hold out until the end after two great saves from 'keeper Michael Milne-Brown, earning him man of the match. The whole team's performance in this game turned out to be particularly good when it was realised that the Pelicans team we had played were actually the under 12s!

The repeat match against Magpies resulted in a 2:0 loss for Norwich and a painful injury for Tom Gourlay. Kieran Myatt's defensive efforts earned him man of the match with the remainder of the team rallying well from the two early goals, but ultimately unable to pull a goal back.

The final match against the correct Pelicans team brought a deserved win for the team with Keiran Limb scoring the winning goal after relentless pressure from Norwich. Keiran was awarded man of the match for both the goal and his tireless efforts on the left wing.

Overall Norwich were placed second and more importantly, learned a great deal about tournament hockey and had fun doing it. Whilst it is very difficult to single out individual performances when all the squad played well, the coaches settled on George Harrad as player of the tournament for his incredible workrate throughout.



---
Norwich City Boys U10s are East Region Runners-Up!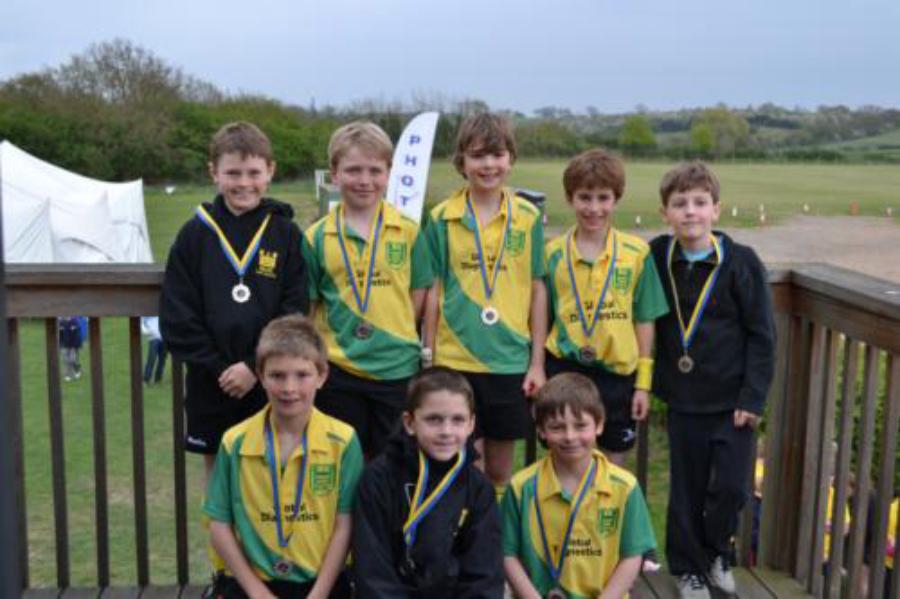 After winning five tournaments out of five this season, the Norwich City U10 Boys team turned up as Norfolk Champions at the East Finals with a sense of excitement. It was going to be a long day, with seven teams playing in a round robin.

First up were Bury St Edmonds. Norwich started brightly and it wasn't long before Jack van Poortvliet deflected in a corner for the first goal. Cameron Cook added two more, including one lovely piece of skill, before Harry Paterson lifted the fourth into the net. With the job done, City switched off slightly, allowing Bury to come through the middle. Two Norwich players went for the same tackle and the ball bounced free to an unmarked Bury player, leaving Michael Milne-Brown in goal with no chance. But whilst we don't like to concede, a 4-1 win over the Suffolk champions was a great start to the campaign.

Next up, against Cambridge, Norwich dominated throughout. Cameron Cook scored a hatrick, as did Harry Paterson, with Daniel Phillips scoring one for a conclusive 7-0 win. Norwich continued strongly by beating Saffron Walden, the Cambridgeshire champions, 6-0, with five from Cameron and Daniel a lovely solo goal. By now it was extremely hot and the boys were ordered to remove their thermals and take on some water!

It was clear from the results that the last three opponents would be the hardest. First of all, Harleston Magpies, who have been getting better all season. However, Norwich played well with, the defence of Tom Bailey, Jack Watling and George Harrad holding firm and the midfield dominating. In the end Norwich won 3-0 (Cook, Jack vP and one own goal off Daniel's cross).

Next it was Hertford who had beaten Magpies earlier in the competition. Some good scouting had identified Hertford had scored most of their goals from a short corner routine, where the ball was played back to the injector to score, so we gave Harry the job of spoiling the move. The tactic worked a dream, much to Hertford's consternation and with that threat eliminated, Norwich were able to take control of the game. Dan opened the scoring, Cameron got another hat-trick and George Harrad popped up for the fifth – 5-0!

And so to the last match. Both Blue Hornets, the Essex Champions, and Norwich had won five games out of five and everything was riding on the game. With our superior goals scored and goal difference, a draw would be good enough. With a large and lively crowd watching, Norwich started strongly, but were knocked back when Blue Hornets scored twice within the first three minutes. Both goals were fast breaks through the middle and Norwich weren't alert to the threat. Lesser teams would have folded, but not this group of Norwich boys. They fought back strongly, piling the pressure on, and just before half time Harry managed to get the ball home. 2-1! The second half continued in a similar manner. Norwich had all the ball and were trying desperately to get the one goal they needed to be Regional Champions. However, the eight minutes passed too quickly, and we couldn't quite convert. The Boys were very disappointed, but it was a good final and Blue Hornets were worthy opponents. Norwich were cheered off by both our own and Blue Hornets supporters after an excellent match.

So, in the end we finished runners up in the East Finals and the boys were very disappointed. However, to come second in the East of England is something to be proud of and the Boys will be stronger as a result.

It has been a great season for the U10 Boys. In six tournaments, their record is: played 26, won 23, drawn 2 and lost 1. Goals for 111, against 5. This team have a great future ahead of them.

Both Colin and I would like to thank all the parents for their support throughout the season, but most of all to the boys for being such a pleasure to coach and making our job very easy and enjoyable!

Al Paterson

PS For more photos, click on Gallery page
---
U10 Boys "youth" team do us proud at Pelicans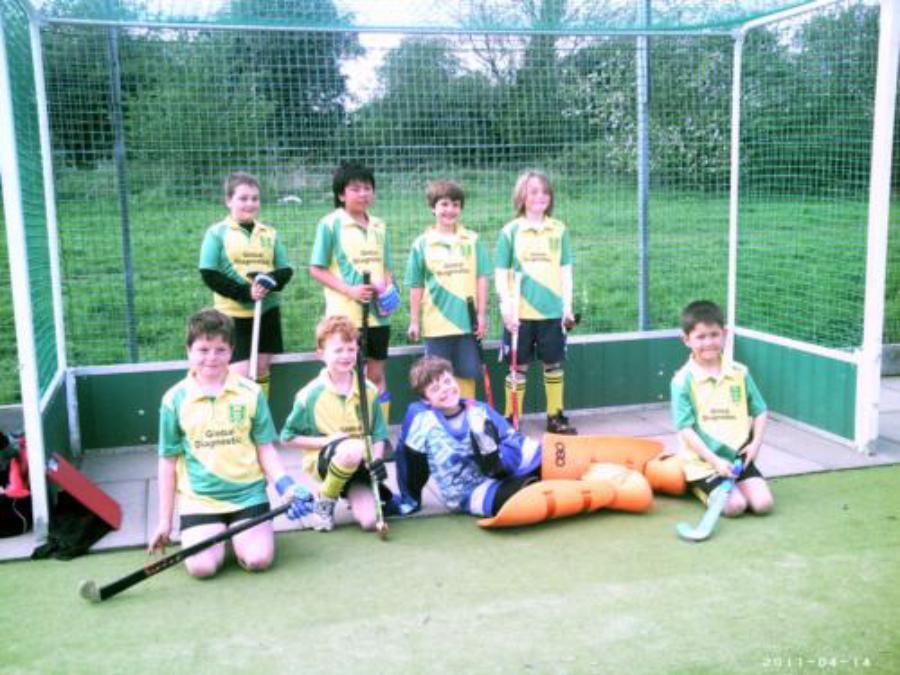 The Pelicans Tournament 2011 saw Norwich City field a young U10's team. With only three players destined for the U12's next season it was an opportunity for the rest of the boys to gain that all important match experience before next year. There was a low turn-out therefore the two teams, Pelicans and Norwich City, would play each other twice.

The first game was a very close affair with Pelicans winning 1-0, but they had to fight for the win. It took a while for the Norwich boys to get into their stride during the first half but, due to the agility of Matthew Fish in goal and the dogged determination of Yu-Hin Chan, it remained all even at half time. The second half was a totally different game, Norwich had the upper hand with James Parsons, Kieran Limb and Kieran Myatt working the pitch well up front and doing everything they could to try and get a goal, but unfortunately they just couldn't get it in. Norwich were caught unawares by one of the few Pelicans breaks and despite the strong defence of Gus Sanders and Tom Gourley, Pelicans scored and the final whistle blew.

The boys performed very well in the second game albeit this is not reflected by the 3-0 score to Pelicans. The passing improved tremendously during the course of the two matches with their accuracy getting better with every touch. This game saw Yu-Hin Chan perform 'out of his socks', he was strong and rallied the team showing his strength as a player. Alex Pollard took on a role in defence and put in some very important tackles. Again the trio up front worked well together but were just missing the final shot. Matthew Fish proved that he is a force to be reckoned with when it comes to goalkeeping and should do well in the U12's next season. It was a very warm day and the boys should be proud of their achievement, they played well as a team and should do well in the season ahead.

This tournament saw Hing Kai Chan and Simon Parsons manage the team as Al and Colin were away with the other U10's team. I am sure the boys would like to thank Hing Kai and Simon for their help, especially Simon who gave the team talks. The talks were very informative and technical, not sure how much the boys took in or understood but Simon seemed enthusiastic!
---
Norwich City U10s at Dereham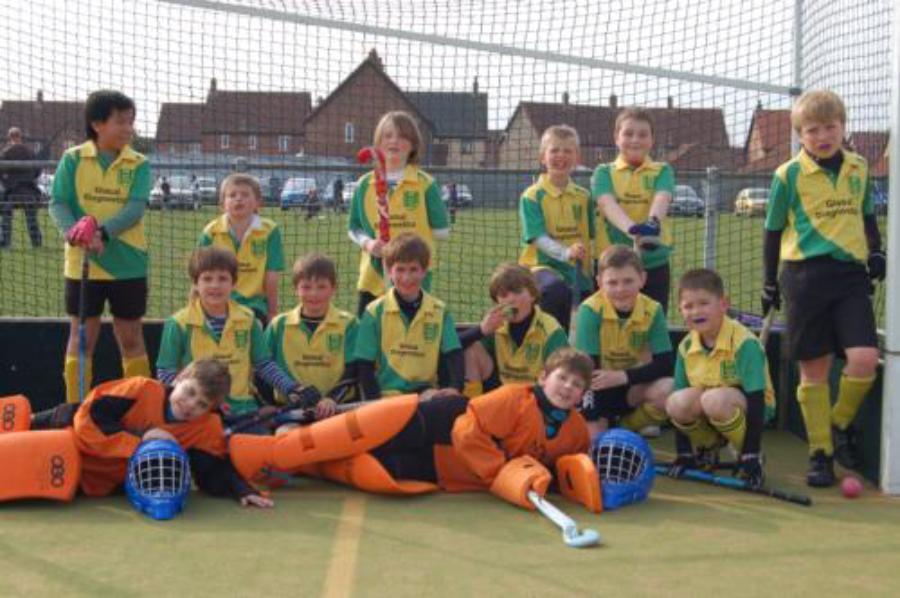 Norwich City put two teams into the Alex Hill Memorial Tournament at Dereham, the A team being made up of the "old hands" and the Bs largely consisting of younger players who had not played in a tournament before.

The A team had the spectators on the edge of their seats in the first match against Pelicans. The boys won short corner after short corner without converting and it was only seconds before the hooter that Harry Paterson managed to push the ball home for a 1-0 victory. Next up was the Norwich City derby: despite the B team's valiant defence and the barracking from their parents, the As were not to be stopped. The score was 7-0 – Cameron Cook 5, Daniel Phillips 1, Paterson 1.

Against Dereham, the As were back to their best , and won 7-0, with goals from Phillips 4, Cook, George Harrad and Paterson. Pick of the bunch was a solo effort from Daniel Phillips where he dribbled from the halfway line through the Dereham defence to score. The As beat Harleston B team 6 – 0 (Paterson 4, Harrad 2), then completed their whitewash with a 3-0 win against Harleston As (Paterson 2, Phillips). Whilst the results appear one-sided, our defence of Tom Bailey, Daniel Byrne and Michael Milne-Brown had to remain alert throughout to snuff out any opposition breaks. This was the A team's fifth tournament win this season and stands them in good stead for the East Finals on April 16.

For the B team, the day was about getting experience of being in a tournament and having fun. Whilst the results didn't go for them, the team surprised everyone with the way in which they got stuck in and improved during the day. Yu-Hin Chan had a storming game in defence and James Parsons showed some excellent dribbling skills. Dougie Tomlinson was a revelation in the way he played, Alex Pollard got stuck in with some good tackles and Kieran Myatt was a threat up front.

The Bs best game was a 0-0 draw against Dereham which could have gone either way. For City, Gus Sanders broke free and nearly beat the keeper with a good shot, whilst at the other end a Dereham break was foiled only by the bravery of Matthew Fish charging out of his goal.

Overall it was a successful day for City, with the A team winning another tournament and the Bs gaining some great experience to kick off their hockey careers.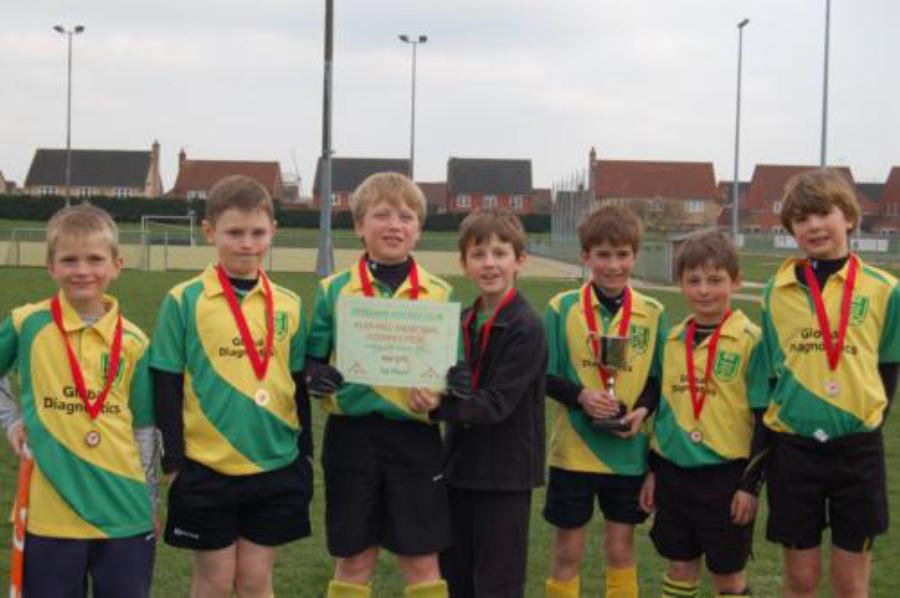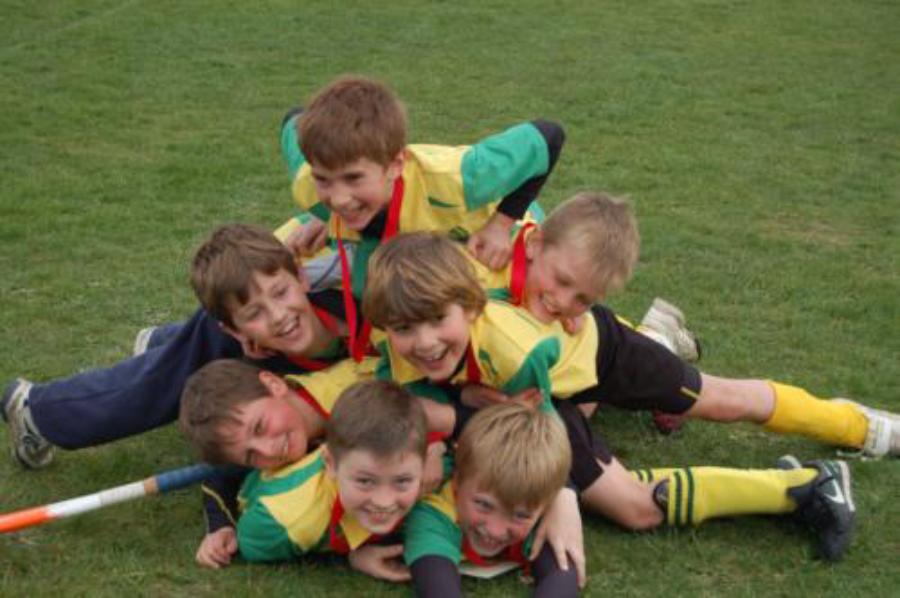 ---
Norwich U10 Boys Win Watton Tournament!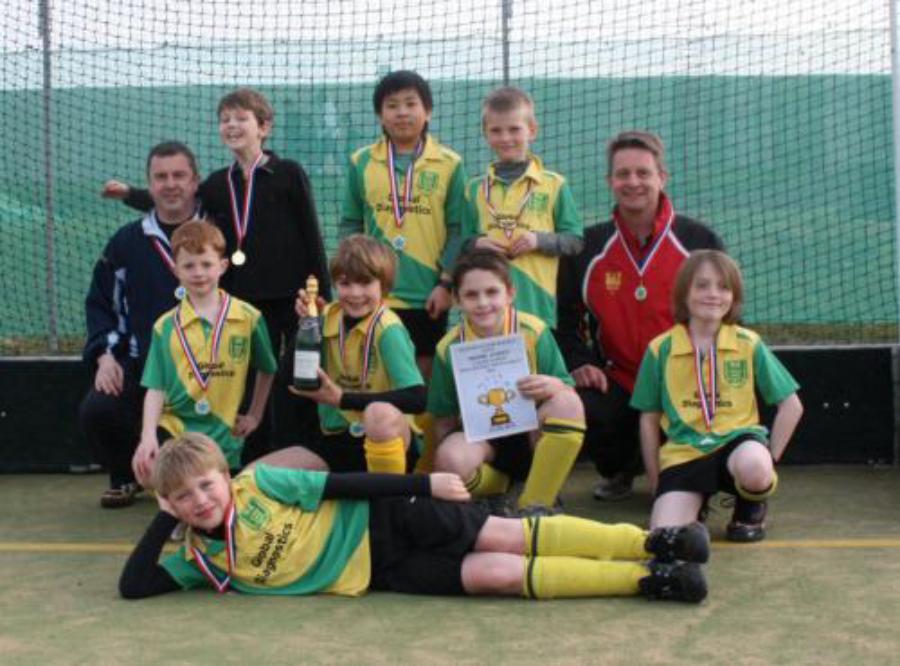 A low turn-out meant that the three participating clubs would play each other twice. Playing together for the first time and with two boys making their competitive debuts, Norwich City were held to a 2:2 draw in the opening match against Pelicans, with George Harrad grabbing the opening goal and Cameron Cook securing the draw.

The second match, against Magpies, was a tightly fought affair which saw the midfield of Yu Hin Chan, Jack Watling & Tom Gourlay working hard to cover the whole pitch. The deadlock was broken by a Cameron Cook goal, which proved enough to secure the win.

City's second meeting with Pelicans saw the team working together strongly to record a 5:0 win with Tom Gourlay and Yu Hin Chan both scoring their first tournament goals, sparking Cameron Cook to follow up with his first hat-trick of the day. Amongst Cook's goals was a true end-to-end team effort begun when goalkeeper Michael Milne-Brown cleared the ball from the city D with a strong kick to Daniel Byrne who laid the ball off to midfielder Harrad who, in turn, picked out Cook whose unerring composure in front of goal allowed him to draw the keeper out and subtly push the ball into the bottom right corner.

Norwich's last match was another meeting with Magpies which was a great opportunity to demonstrate the benefit of tournament hockey for these young players. The defensive pairing of Daniel Byrne and James Parsons gelling into a unit able to skip happily through the match, while centre-half Jack Watling lead a strong midfield and scored the opener, before Cameron Cook once again sealed the win with another hard-working hat-trick.

Another great tournament win for this year's very strong Under 10 group. Roll on next week!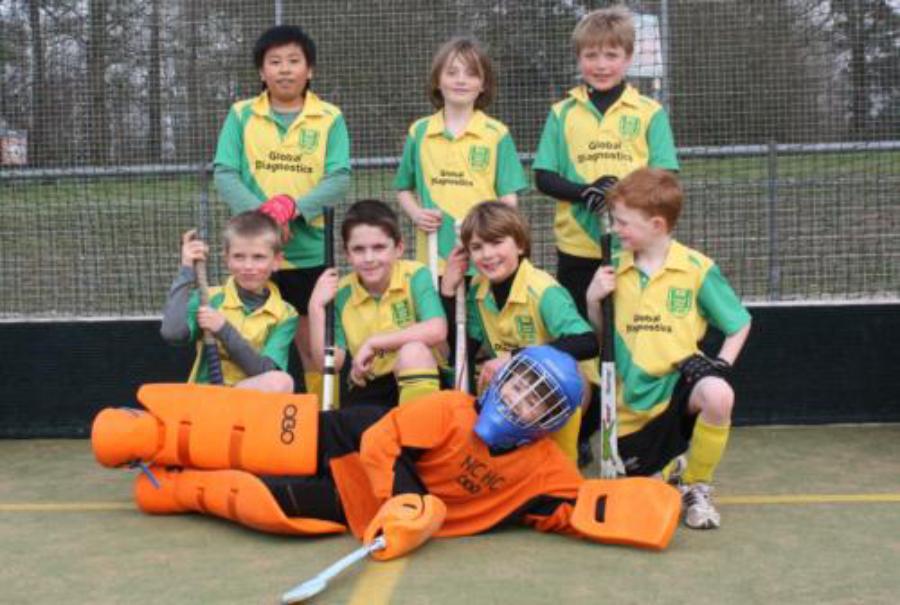 ---
Norfolk Under 10 Girls Tournament - 13 March 2011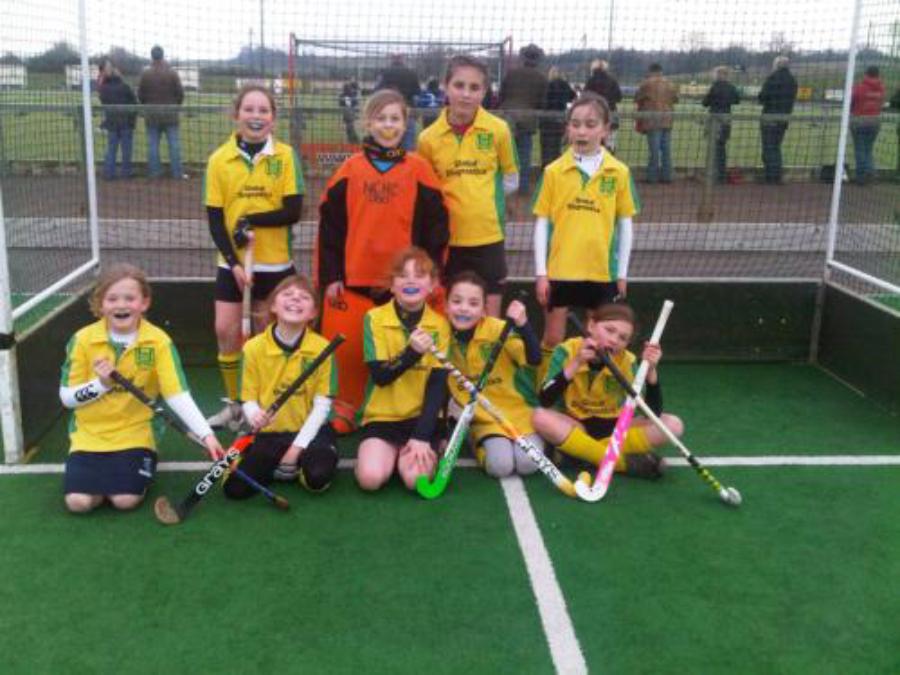 Norwich City Under 10 Girls finished as runners-up in the Norfolk Championship. It took the first two matches for the coaches and the girls to find their feet. In the first match against Dereham there wasn't too much teamwork but the girls were still strong enough to win 4-0 (Emma Richardson 4). In the next match against Magpies B despite enjoying the lions share of the possession City were unable to find a way through the Magpies B defence and the spoils were shared as the match remained scoreless.
Next up were Watton and the girls started to pass the ball around. The first goal resulted from a good passing move. Molly Crabtree battled well in the circle to win the ball and set up the second for Anja Wimmer. When Watton did break Verity Wills and Ellyn Roberts were on hand to ably mop up the attacks. City's fourth goal started from a quickly taken 16 yard hit by Ellen to Rachel Buce on the wing. Rachel moved it on to Molly who in turned played it into the circle for Emma Richardson to score her third of the match.
The penultimate match was against Magpies A and despite losing 0-3 the team performed well. Kate Shearer playing her first match in goal was called into action for the first time and made some fine saves and clearances. Although getting a foot to the first she was unable to keep it out, the second was arguably struck from outside the circle and the third was going wide until unfortunately deflected in off one of our sticks. It wasn't all one way traffic, with the Magpies keeper having to make a number of saves.
The girls went into the last match knowing that a win would see them finish as runners-up and they did not disappoint. Another good performance where the ball was move around led to goals from Emma and Molly. Victoria Garson and Anna Brook produced some determined running in midfield.
Well done girls on a good performance, you improved as the tournament progressed.
A big thankyou to Ian Roberts for his help running the team.
Ali Wardale

---
Norwich U10 Boys Crowned Norfolk Champions!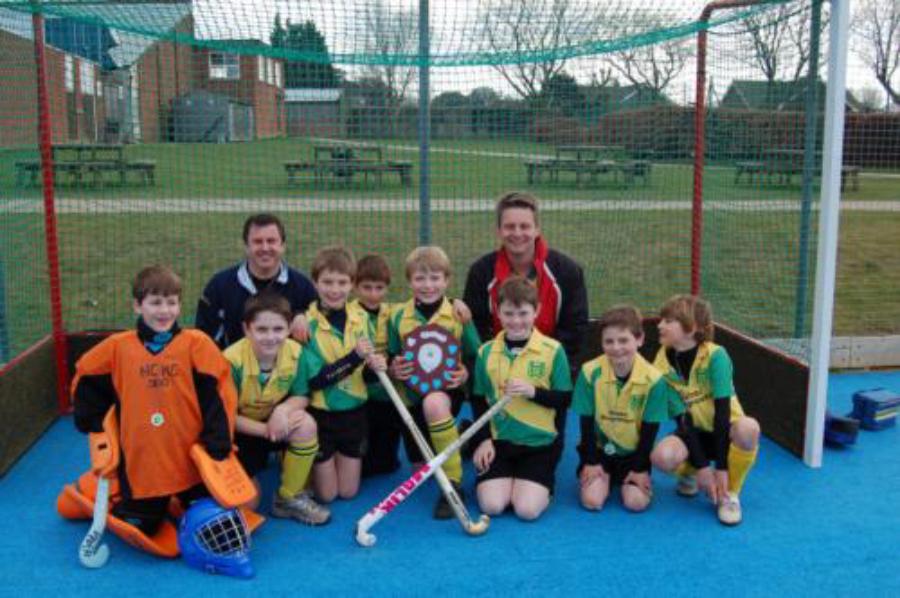 The Norwich City u10 Boys team won the Norfolk Championship today playing some exceptional hockey. Our first match was against an inexperienced Dereham team. Often in these situations, the stronger team eases off or starts trying to elaborate, but not our team who were clinical in passing the ball and ruthless in execution. We won 20-0, with goals from Cameron Cook (9), Harry Paterson (3), Daniel Phillips (3), Jack Van Poortvliet (3) and Jack Watling (2).

The next match was a different proposition – Harleston Magpies were a well organised team, getting bodies behind the ball and proving difficult to break down. After a few frustrating minutes, the boys started believing in themselves, picking up the ball speed and taking on defenders. Daniel Phillips opened the scoring, with Harry Paterson converting the next and Dan grabbing a second for a 3-0 victory. Special mention needs to be made of Michael Milne-Brown who stayed alert and made an excellent save when Magpies broke free.

And finally, we took on Pelicans. Norwich started quickly and spent most of the game in the opponent's D; every time Pelicans did break out, their attack was snuffed out through well timed tackling from Jack Watling, George Harrad and Tom Bailey. We won 9-0, with goals from Paterson, Cook (5), Van Poortvliet (2) and Phillips.

After winning all their games, the Norwich team were delighted to be presented with the trophy by none other than NCHC legend, John "Frosty" Ingham! Overall today it was an excellent team performance, based on good passing and a high workrate – it would be impossible to pick out a player of the tournament because all the boys played well. We now represent Norfolk in the East Finals on 16 April; it will be interesting to see how the team stacks up against the strongest teams in the region.

Al Paterson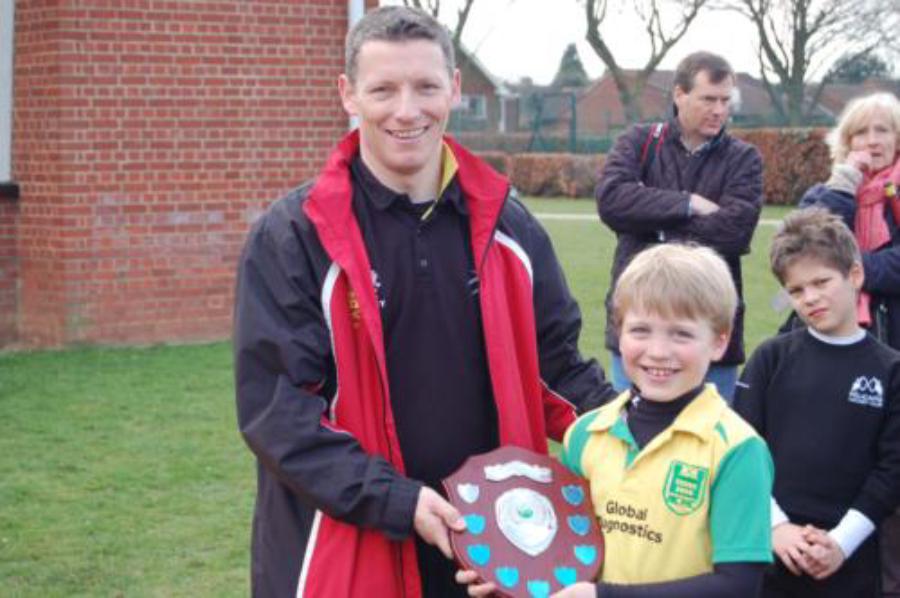 ---
---
youth@norwichcityhc.co.uk
[2017-2018]
[2016-2017]
[2015-2016]
[2014-2015]
[2013-2014]
[2012-2013]
[2011-2012]
[2010-2011]
[2009-2010]
[2008-2009]
[*]