Youth Hockey
2009-2010

U10

U10 Boys win Harleston Tournament!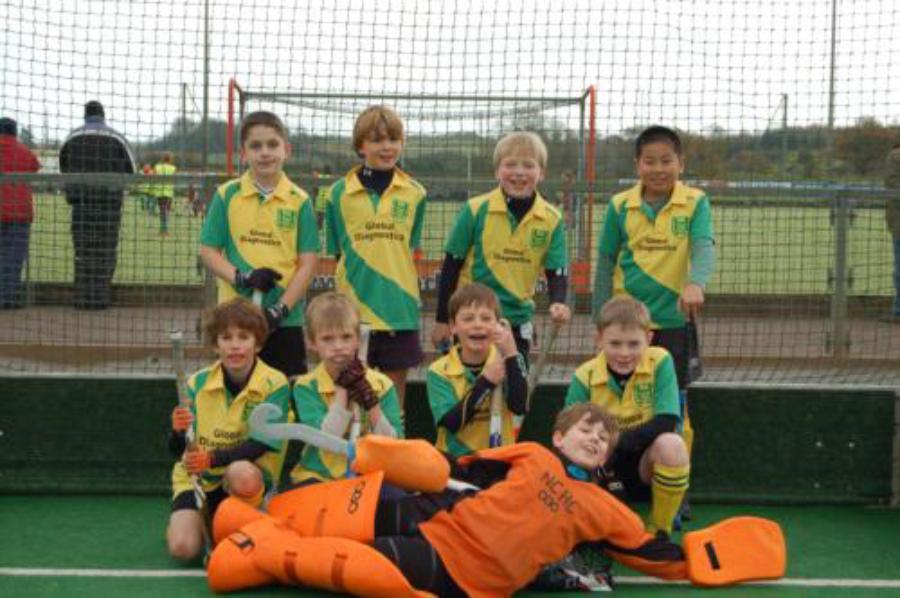 The U10s cheered up a cold early morning at Harleston with a rousing Happy Birthday to George Harrad and after that they let the hockey do the talking. First match against Dereham was an impressive 8-0 victory, with Cameron Cook scoring five, and Harry Paterson a hat-trick. However this was not a two-man show – the victory was built on some good support play, particularly from Jack Watling and Tom Bailey.

We underestimated Watton in the next match and were a little taken aback by the speed with which they started. George Harrad, Yu-Hin Chan and Daniel Byrne all had to make last ditch tackles to keep us in the match, and keeper Michael Milne-Brown needed to be alert throughout. We clawed ourselves back into the match, and finished strongly, throwing everyone forward, but sadly weren't able to convert our chances. 0-0.

This served as a wake-up call and it was back to business as usual against Pelicans. The team started much more strongly, with some ruthless passing and tackling which put us on top. The first goal came from a classy Daniel Phillips dribble before he slipped a slide rule pass through to Harry to hit first time into the corner. Harry then broke through to set Cameron up for a good 2-0 victory against a strong Pelicans team.

Norwich finished against Magpies B & A teams. Magpies Bs were particularly well organised and took some breaking down. Daniel P had a lot of attacking ball down the left wing but it was proving difficult to score against the massed ranks of Magpie defenders. However, a little of the Phillips magic managed to thread a ball through, which Cameron swept home for the win.

Finally against Magpies A, the team really came together and played some beautiful attacking hockey. We won 6-0, with three to Cameron, two to Harry and one from Daniel Phillips, and the Harleston Tournament was ours! The team unanimously gave George, as birthday boy, the proud honour of leading the team up to collect the certificate and medals.

So, in summary, the stats were: Played 5, Won 4, Drew 1, Lost O. Goals for 17, Goals against 0. What was especially pleasing was the boys played like a real team, the passing and tackling was very good and the whole squad made a contribution. A Great Day for Norwich City!

Al Paterson

---
3rd Place in 1st Tournament of Season for U10 Girl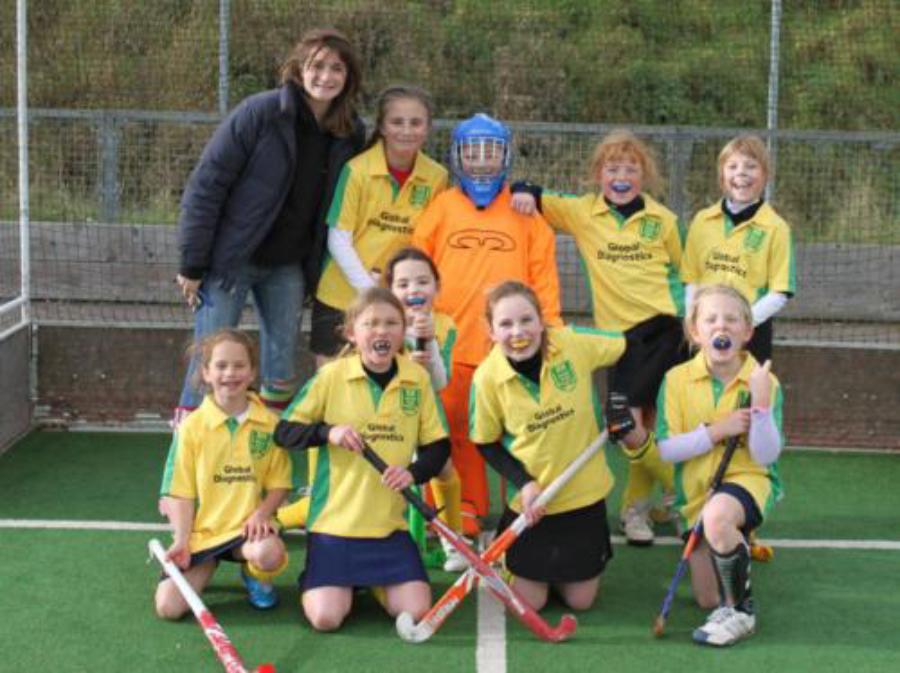 The U10 girls got off to a very promising start with a 5-0 win over Dereham on the unfamiliar water-based pitch. With a hat trick from Emma Richardson, the captain, the team was in good spirits with Anna Brook and Rachael Phillips also managing to whisk it past the goal keeper who was diving around and giving the girls a harder task to convert the goals. Anja Wimmer was Player of the Match for her enthusiasm, her ability to spread the game down the wing and to find space.

This win buoyed the spirits and a confident team stepped onto the pitch for the second game against Watton. Anna and Emma were again on the score sheet with some superb dribbling round many defenders to make the game a 2-0 win. Anna's hard work gave her the well-deserved Player of the Match award for her sprints down the line with the ball and, the intimidation she put on their defence.

Unfortunately, the third game against Pelicans was stolen from us. It was 1-0 to us 5 minutes into the game with a great goal from Molly Crabtree, then we lost 2-1. Some excellent goalkeeping from Estelle Carver, who only put the kit on a couple of weeks ago, was produced. However, their tactical passes were too much for the defenders, so a disappointing 2 goals went in. However this did not dampen our spirits. Emma was Player of the Match as she showed determination throughout the match which held the team together and kept fighting.

The fourth match against Magpies 'B's saw a well-deserved 3-0 win to the girls. A superb goal was converted by Victoria Garson when she dribbled past many defenders then neatly put the ball away into the bottom left hand corner. Rachael and Anna also scored some good goals with deflections from a good pass in by Anja from the right hand side. Victoria was the Player of the Match in this game as she did not give up whenever the ball was around her and kept fighting to give the defenders something to worry about.

The fifth and final match was the decider and, unfortunately, we lost 3-0. However, there was some excellent defending by Ellyn Roberts and Verity Wills as they kept going even when the score started to go further one-sided. Verity was Player of the Match in this game as she had a lot to do and although didn't want to play defence rose to the challenge well and took on the attackers even when it was a one-on-one situation.

Coach and Manager: Emily Anthony

---
U10 Boys Win Home Tournament!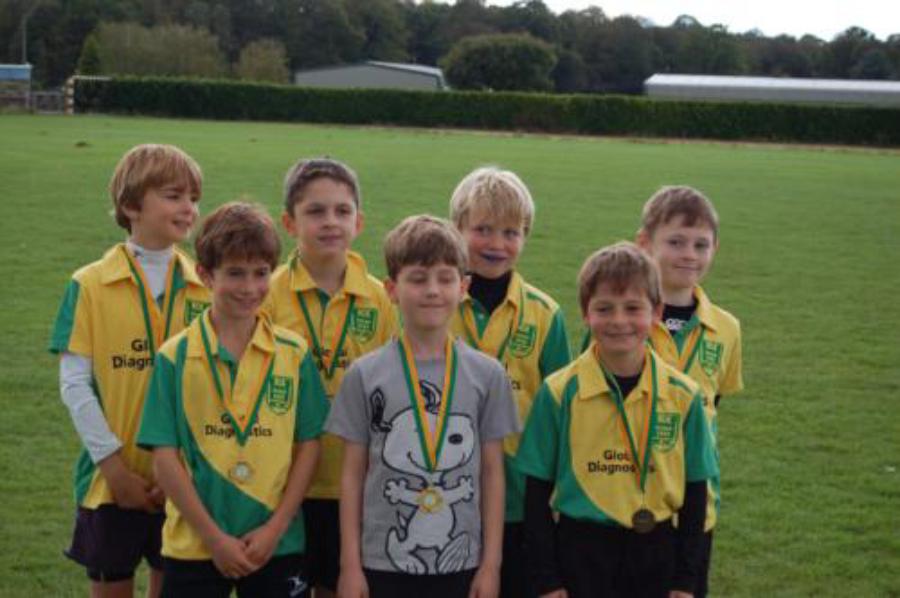 It was great for the U10 Boys to get a tournament so early in the season, and with only four teams in the tournament we had the luxury of longer games and a midday start. However, our boys are used to being on the pitch on Sundays before most people are even awake, and the lie-in seemed to have affected them as they started sleepily against an inexperienced Dereham side. Norwich had all the play but it was nearly halftime before Harry beat two players and passed to Daniel Phillips to shoot home. This got our team going with Cameron Cook scoring three good goals. The final score was 4-0 to Norwich but it is fair to say we should have scored many more!

Next up was Magpies. This time Cameron opened our account with a real poacher's goal. Next Harry and Dan had some lovely interplay down the right hand side before crossing for Jack Watling to sweep the ball home. Finally Daniel Phillips scored the goal of the day, with a lovely solo run down the right before feinting to pass and beating the goalkeeper on the nearside post. It wasn't all Norwich though. Magpies were a nippy team who broke away a few times, but fortunately Tom Bailey and George Harrad at the back defended well and mopped up any counterattacks. 3-0 to Norwich.

Finally against Watton, the team moved up a couple of gears. Jack, Tom and George tackled well and made sure the ball stayed forward. The Daniel and Harry combination worked smoothly for Cameron to score a well taken goal. Daniel slotted home next, before Harry scored a hat-trick, two of them from short corners. I would like to say these were well coached, but for some reason the boys decided to ignore the routines agreed in training (words will be had!). Michael Milne-Brown in goal was alert to the risk of a breakaway, but unfortunately for him the only real action he saw all day was in the warm-up. It won't always be like that! 5-0 to Norwich.

In summary, this was a great start to the season, with Norwich winning the tournament with relative ease. Still, there are plenty of areas for us to work on at training over the next few weeks and I expect the team will get better and better.

Player of the Tournament: Daniel Phillips.

Al Paterson

---
U10 Girls clinch Yazoo East Region Title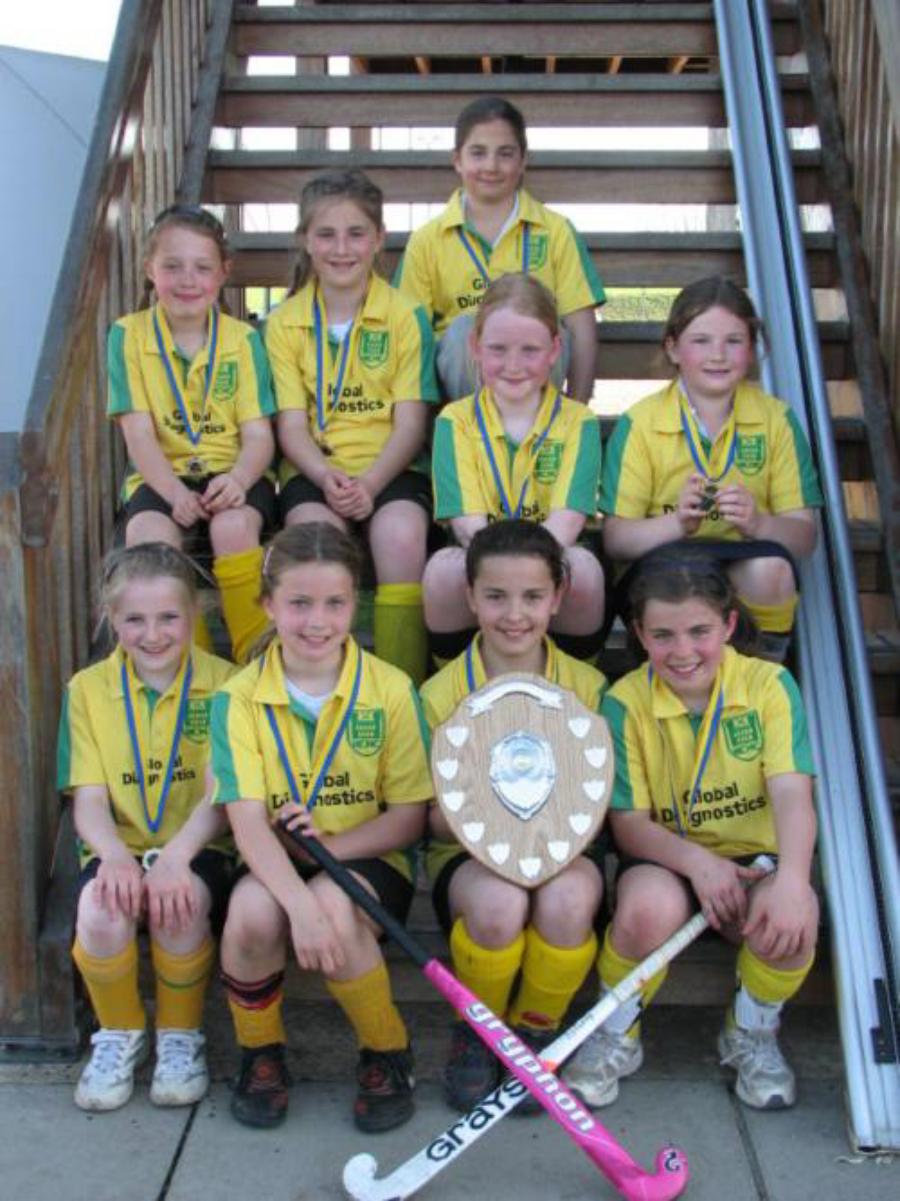 Having won the Norfolk round of the Yazoo Mini Hockey Club Championships without conceding a goal, Norwich City Hockey Club U10 girls played in the East Regional Finals on Saturday 17th April, held at Harleston. The girls played clubs from across the East of England, each representing their counties, including Bury St Edmunds, Colchester, Chelmsford, Canterbury and Sevenoaks, in an all day final. The girls won all of their matches demonstrating a very superior level of hockey against the best of all the East of England hockey clubs. In total they conceded just one goal throughout the day, whilst scoring 9. The team comprised Maddie Anthony, Jemima Fennell, Victoria Findlay, Abbie Ingham, Grace Kidner, Emma Richardson, Lauren Rowe, Anna Tighe and Evie Wills. Their coach Adrian Fennell said 'that he had never seen such dominance at a regional level and this was a team that should be watched out for in the future, they showed a winning determination on attack whilst the defence was virtually impenetrable'.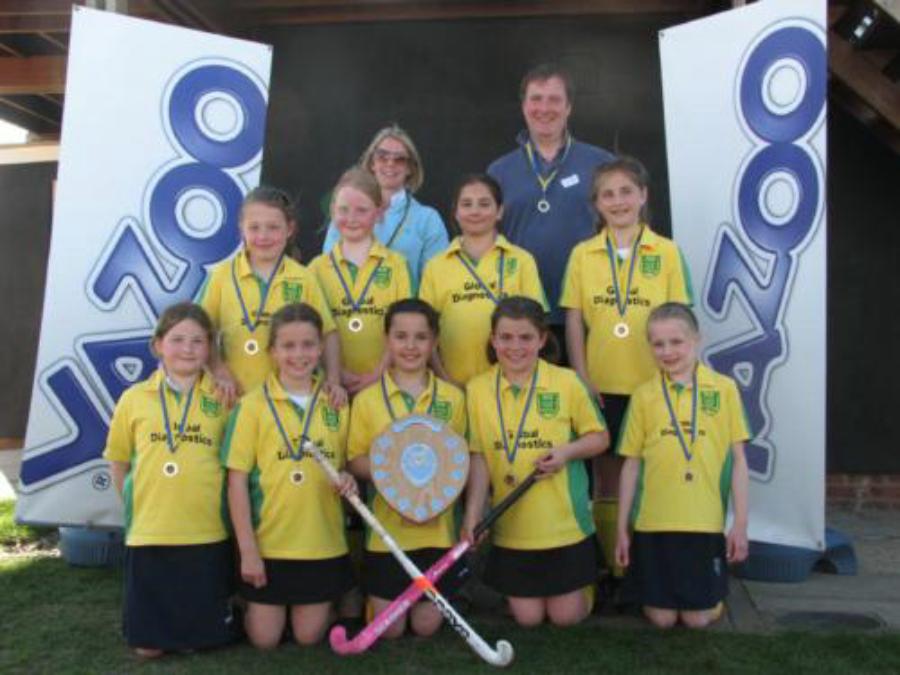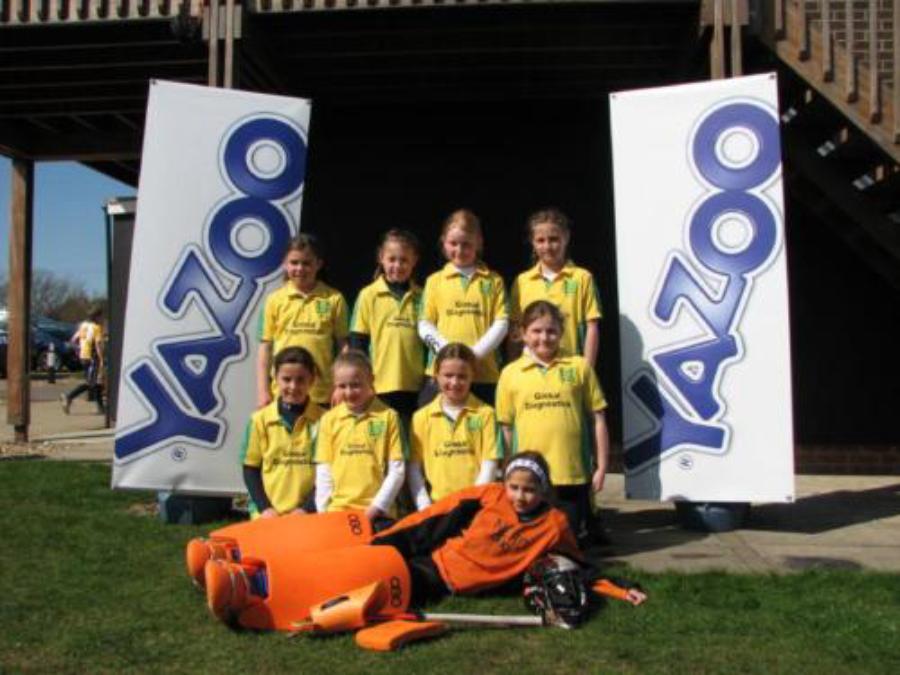 ---
U10 County Championship – Gresham School 21 March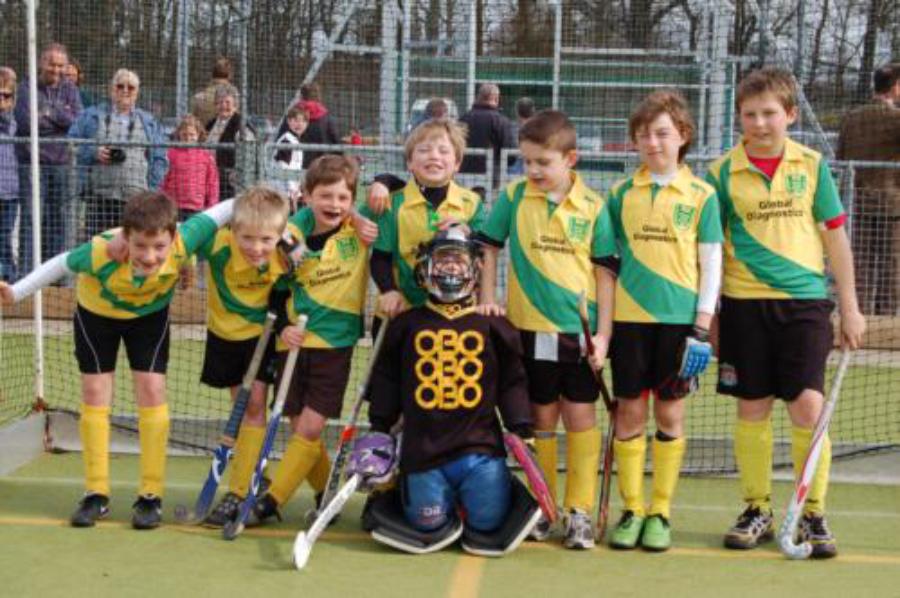 We entered the U10 County Championship with a very young team – six of the squad were from the U9s including Michael, our goalie, who is not yet 8 – and our aim was to gain experience rather than win.

We started against Dereham in a fast, end-to-end match, the team fighting hard for the ball. Luke Byrne tackled strongly at the back and Tom Spencer saved the team with a clearance off the line, before we really got going. In the second half, we worked out the long ball was key and twice Luke Byrne struck balls from our 16 all the way through to Cameron Cook (on a goalscoring bonus scheme), who finished clinically. A great two nil win.

Next was the Harleston Magpies side who beat our U11s at Watton a few weeks earlier. We started off nervously, allowing Magpies to dominate and were only 3-0 down at half time thanks to some good goalkeeping from Michael Milne-Brown. However, our team started to believe in themselves and in the second half played tenaciously, fighting for every ball. Norwich got their just desserts with Harry Paterson scoring a good goal – the only goal Harleston conceded all day – and despite losing 5-1 we finished the stronger team. A good lesson in self-belief.

And finally Pelicans. Our team got into top gear, playing some beautiful hockey. Sam Bingham and Joseph Wales played beautifully on the flanks, terrorising the defence. Cameron Cook was dangerous up front (particularly if you were standing anywhere near the goal) and Harry Paterson tackled tenaciously in midfield. We scored quickly, Cameron roofing the ball, much to the goalkeeper's surprise. We carried on in the same vein, with Jack Watling knocking one in on the near post and Cameron getting his second. We continued to dominate in the second half, with Joseph Wales and Harry Paterson each scoring good goals, before Cameron completed his hat-trick. A fantastic 6-0 victory, with the whole team playing superbly.

All-in-all it was a very good day's work, with a good second place in the tournament and young Master Cook decidedly richer after a five goal haul. It bodes very well for the upcoming U9 tournament and next year's U10 county championship when we will have much the same squad.

Squad: Tom Spencer, Joseph Wales, Harry Paterson, Luke Byrne, Sam Bingham, Michael Milne-Brown, Jack Watling, Cameron Cook
---
U10 Girls are Norfolk U10 Champions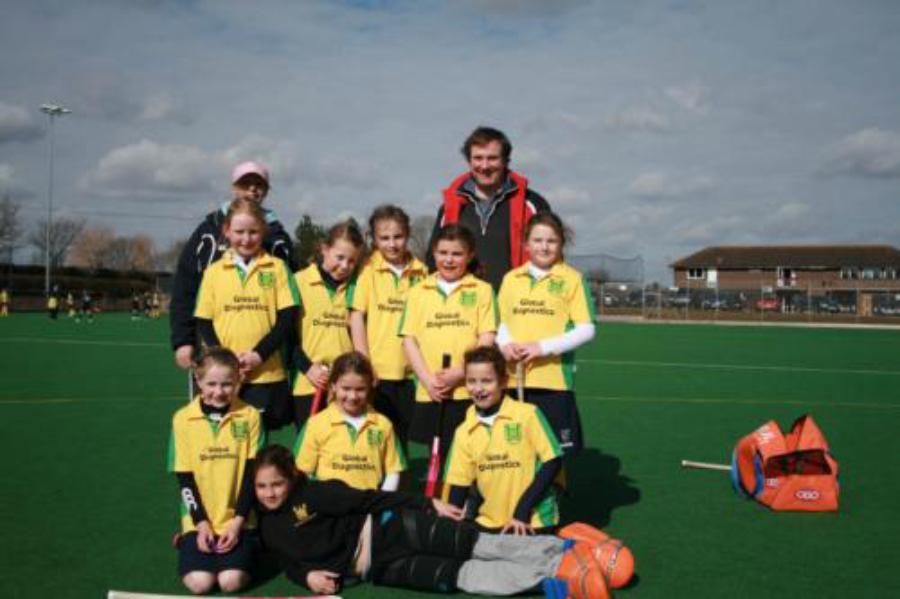 'The Norfolk leg of the Championship comprised teams from Norwich City, Pelicans, Dereham and Magpies, with each team playing against each other twice.



Our first match was against Pelicans and we started with a solid 2-0 win with Abbie Ingham showing off her shooting skills by scoring both goals. In attack she was ably supported by Grace Kidner, Victoria Findlay and Emma Richardson, with all the girls moving the ball around and passing up the wings. We played our second match against Dereham with some concerns, but these were ill founded with some blistering play from the attack. Abbie again demonstrated her goal skills by scoring two, but Victoria Findlay was having nothing of that and also scored two, whilst Lauren Rowe decided to pop another one in to make it 5-0. All three were again supported by Grace making sure that she was setting up the ball for them and tackling hard. The defence of Anna Tighe and Evie was always ready and alert but with such a blistering attack, they were seldom in demand.



The third match was against Magpies and the tables were turned. This is where our defence of Evie Wills and Jemima Fennell really came into their own, the game went from end to end, and each time Magpies attacked they just couldn't get it over the line, with Maddie Anthony making some brilliant saves. Lauren came back in to support and guarded the top of the D, making it an all round effort. Abbie showed off her goal scoring skills and drilled a goal in and we won 1-0. Emma showed some fierce attacking and was moving the ball superbly up the line.



It was now the half way stage and we had to do it all over again!



The fourth game was against Pelicans and by now a little tiredness was showing and as our positioning slipped this meant that the defence were again busy with Anna working hard and moving the ball out whilst Maddie was warming up her goal keeping skills, but without too much threat as Abbie and Lauren were up to their old tricks and scored one goal each, giving us a 2-0 win Victoria and Grace were also very strong in attack and showed how much of a team effort it was. We swiftly moved on to the fifth game and by now the girls were definitely getting a little tired and so we only beat Dereham 2-0 this time, but still a vital win.



Our last game was against Magpies and after a good team talk the girls went on to the pitch with fire in the eyes! Again the defensive skills of Jemima, Anna and Evie were brilliant, but it was Maddie's diving and gymnastic goal keeping that just meant Magpies just couldn't score. Our attacking was spirited and we so nearly scored on a number of occasions. In the end it was a 0-0 draw, meaning....



WE HAD WON!! 12 goals for and none conceded. A brilliant result and a fantastic team effort. We are now going forward to the East Round on April 17th. It is hard to pick a girl of the tournament when they did all so well, but the honour goes to Abbie for her 6 goals'.



A big thank you to all the parents for their excellent support and to my Manager Sarah Findlay.



Adrian Fennell


---
---
youth@norwichcityhc.co.uk
[2017-2018]
[2016-2017]
[2015-2016]
[2014-2015]
[2013-2014]
[2012-2013]
[2011-2012]
[2010-2011]
[2009-2010]
[2008-2009]
[*]